Corfu's apron shot from the tower on a busy Monday noon.
Introduction
The international airport of Corfu is located just south of the island's capital.
The airport was built into a beautiful lagoon and a big part of the runway is actually surrounded by water. On the eastern side of the airport there is Kanoni hill which is running along the runway and which offers spectacular views down on the runway. This must be the main reason why Corfu is one of the post popular airports for plane-spotting, as you are very close to the action, have a wonderful overview and a sensational backdrop.
Traffic
Corfu's summer traffic is different on every day of the week, and every day seems to belong to a different region of origin.
The most planes you will see are the ones of Thomson Airways (UK), Thomas Cook (UK), TUIfly (Germany), Air Berlin (Germany) and Aegean Airlines (Greece). Easyjet and (starting in the 2013 season) Ryanair are also pretty frequent visitors. Besides those, many of the common leisure carriers like Jet2, Novair, Transavia or Transaero show up a couple of times per week
Planning your stay: If you want to book a night at one of the runway-view accommodations, I recommend taking Friday night. Arrive early on Friday, spot the english wave on Friday, and after a good night's sleep you're ready for the german wave on Saturday.
| Day | Regions |
| --- | --- |
| Monday | Busy day, lots of British charters |
| Tuesday | Quite a lot from german speaking countries plus some Easyjets |
| Wednesday | Very limited traffic, only 10-15 movements per day |
| Thursday | About the same as Wednesday, some Ryanair flights |
| Friday | Busiest day of the week: Lots of British charters plus some nordic airlines |
| Saturday | Lots of german plus some nordic flights |
| Sunday | Quite limited traffic; some french and greek airlines plus Ryanair |
ATC Frequencies (as of 2005)
Incoming traffic is being handed off by Brindisi or Athens to APP who directs them near the airport. Then, about overhead, they change to the Tower frequency where they stay until shutdown.
Corfu is equipped with an ATIS-, APP- and TWR-frequency which are in use daily. Departing aircraft are handed off to APP ("Kerkyra Radar") who clears them about to FL200. Then they have to switch to a Radar station, Brindisi for westbound flights and Athens for eastbounds.
| Station | Frequency |
| --- | --- |
| Corfu ATIS | 126.35 |
| Corfu GND | 121.7 (never in use) |
| Corfu TWR | 120.85 |
| Corfu APP | 122.35 |
| Brindisi Radar | 132.075 |
| Athens Radar | 125.67 |
Procedures
As the wind is usually calm, both sides of the runway may be used as the controllers and pilots please. Rwy17 may be a little more popular: Planes reaching Corfu from the north (which most european charters are) can fly straight in, and upon departure, there's no need for a backtrack here. If Corfu is busy with arrivals, Rwy35 is preferred, because the aircraft are able to vacate the runway right after landing, without the need of a backtrack.
Still, even with runway 17 in use, you will be doing fine from the spots at the 35 (southern) end. Arriving planes usually taxi all the way to the end to perform their 180° turn. Departing aircraft are quite low here, and great action shots can be taken from the Kanoni hill.
Where to stay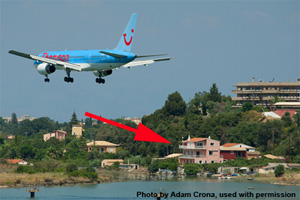 There are several hotels at the Kanoni area around the Rwy35 threshold, but they don't offer runway views. The old spotter's favourite named Hotel Royal, whose rooms did, is closed now (12/2011).
However, Pension Anna Bouzi (pictured on the left) is located close to the runway, and offers formidable views (plus a kind hostess). Some photos taken from there:
Spotting Points
Spot 1: Kanoni Hill
The Kanoni hill is the hill running along the runway on the eastern side. The southern tip of the hill, just east of the Rwy 35 threshold, is one of the most famous sightseeing spots: It offers view of Mouse Island (Pontikonisi) and a cute little white monastery. However, it offers equaly good views of all airplane movements!
The views from here are special because here you are actually standing above the threshold area, and so there are many possibilities for great shots with a sensational backdrop. From this point you have a superb overview and you can see the whole runway lying below. From this place you see the planes during the whole approach to Rwy35 until they finally pass you at the same level or some feet below you when they're on final. The point is equipped very well, there are small stores and two restaurants (and more within a five minute walk), so have a seat on the terrace, have a cold drink and watch the planes. That's the holidays you've always dreamed of, right?
| | |
| --- | --- |
| | Bus Nr. 7 from downtown Corfu, about a 10min ride. Or take a taxi to Kanoni Hill |
| | Two restaurants with runway view terraces, souvenir shops, several hotels |
| | Side-ons: 60mm for a B767, 120mm for A320/B737. Up to 400mm for action shots of Rwy 17 takeoffs |
| | Landings/Backtracks Rwy 35, Rollouts/Takeoffs Rwy 17 |
| | First half of the day |
| | | | | | |
| --- | --- | --- | --- | --- | --- |
| Approach Rwy 35 | 90° during Final Rwy 35 | Touchdown Rwy 35 | Climbout Rwy 17 | Backtrack Rwy 35 | Rollouts Rwy 17 |
Spot 2: The Dam and surroundings
Just in front of the treshold of Rwy35 there is a dam running across the lagoon, connecting the Kanoni Hill with the other side. Depending on your position on the dam there are many different kinds of shots possible and there is a big variety you can try out! From this dam, which is built for pedestrians, bikes and motocycles only, you have a good view on planes approaching Rwy35 (quite low over your head) as well as on planes backtracking Rwy35. If the aircraft are taking off from Rwy17 they are too high for good shots, but you can try ;)
| | |
| --- | --- |
| | From Spot 1, walk down the stairs (5 minutes) |
| | None; buy drinks at Spot 1 and take'em with you! |
| | 25-75mm for landings Rwy 35, 150mm+ for planes on the runway |
| | Landings Rwy 35, Backtracks Rwy 35, (Takeoffs Rwy 17) |
| | All day |
| | | | | | |
| --- | --- | --- | --- | --- | --- |
| Backtrack Rwy 35 | Near the dam | Deccelerating on Rwy 17 | Takeoff Rwy 17 | Sunset shots | On the dam |
Spot 3: The Beach
On the western side of the treshold of Rwy 35 just at the end of the dam there is a small, sandy beach. There you can rent sunbeds and umbrellas for 2 Euros per day. So you can lie in your sunbed and watch the planes go by - not bad, eh? To take shots of runway movements, you need to climb back up onto the dam. But hey, it's just 10 meters away. That's doable, even on holidays, right?
| | |
| --- | --- |
| | From spot 1, go down the stairs and accross the dam (10 minutes). |
| | No snacks, no toilets. Bring them from spot 1. Sunbeds and umbrellas can be rented at the beach. |
| | 75mm for landings Rwy 35, 250mm for runway movements |
| | Landings Rwy 35, Backtracks Rwy 35, (Takeoffs Rwy 17) |
| | Second half of the day |
| | | | | | |
| --- | --- | --- | --- | --- | --- |
| The Beach! | Backtrack Rwy 35 | Departure Rwy 17 | Final Rwy 35 | Very short final Rwy 35 | That's Corfu! |
Spot 4: Nisos Taverna (overlooking the approach Rwy 35)
West of the final approach area, a taverna named "Nisos" has opened some years ago. It is overlooking the lagoon and the threshold of Rwy 35, and thanks to its open air terrace, it provides perfect views of Rwy 35 movements. In case you don't wanna spend your afternoons lying on the beach (Spot 3), and rather sit in the shade and have a cold one while watching planes, this is your place! See their website for menu, opening times and pictures!
| | |
| --- | --- |
| | Cross the dam behind the runway, continue straight up to the main road (2-3mins), and the taverna will be on your left hand side. 15 minutes from Kanoni. |
| | Come on, it's a taverna! :) |
| | 100mm for landings, 400mm for runway views |
| | Landings Rwy 35, Line-ups Rwy 35; departures and roll-outs on Rwy 17 possible |
| | Second half of the day |
| | | | | |
| --- | --- | --- | --- | --- |
| The taverna seen from Kanoni Hill | View from the Taverna | Landing Rwy 35 | Backtrack Rwy 35 | |
Spot 5: Line-up Rwy 17
This spot lets you get extremely close to the action. Planes landing on Rwy17 fly very low here - and for take offs, traffic on the road close behind the runway is stopped by a red light because of the jet blast. Yep, you're that close! There are spots on both sides of the runway axis, so this can be used as an all-day spot. In addition, you have a great view onto the general aviation apron, in case you're noting regs. On the western side, you're next to the apron of the firefighting planes and may be able to get close-up views of them taxiing in and out.
| | |
| --- | --- |
| | Leave the terminal to the north (left when exiting the building), and follow the road along the fence - 10 minute walk. |
| | Nothing at the spot, but the terminal's not far away. Some small supermarkets in the vicinity. |
| | 50mm for side-ons on the runway, up to 200mm for more creative shots. |
| | Landings Rwy 17, line-ups/takeoffs Rwy 17, taxiing/apron shots (heat haze is an issue here) |
| | All day (afternoon side offers better photo angles though) |
| | | | | |
| --- | --- | --- | --- | --- |
| Taxiing from the apron | Holding short of Rwy 17 | Lining up Rwy 17 | Firefighter returning home to western apron | |