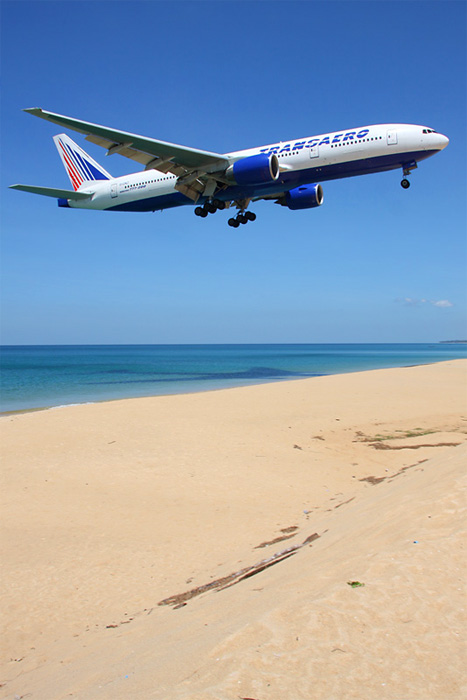 Introduction
Phuket Airport is Thailand's second largest airport behind Bangkok's Suvarnabhumi airport. The airport, which is located about 30km north of the bustling resort town of Phuket, sees about 7 Million passengers annually. As it is the main gateway to the tourism destinations around the Phuket peninsula and the whole of southern Thailand, traffic is significant: Besiders scheduled flights by local carriers, there's a fair share of heavy European charter planes dropping in for a visit. Built close to the sea, the airport offers very nice possibilities for photography when Rwy09 is in use, which seems to be the case most of the time.
Traffic
Thai Airlines: There are regular shuttle flights by Thai Airways to Bangkok, using heavy equipment like A300, B777, A330 and even B747. Local carrier Bangkok Airways operates a HUB at Phuket, with A319/A320 and ATR72 taking off to various (tourism) destinations around the country. Phuket is also visited by Thai no-frills carrier Nok Air (737) and One-Two-Go/Orient Thai (MD-80/747), if they get their operating licence back.
Other airlines from the region which serve Phuket include Air Asia (B737, A320), Malaysia Airlines (737), SilkAir (A320) and Tiger Airways (A320).
On the charter side, things are far more unpredictable. Every major European charter airline has connections to Phuket, using their heavy aircraft. Frequent visitors are Air-Berlin (A330), Transaero (747/772), Finnair (757!), Thomas Cook (A330) and TUIfly (B747). But there are many others, depending on the season. Qatar Airways (A330) has started flights from Doha, too.
The high season for Phuket is european winter (November to February).
For flight information I recommend checking Phuket on www.flightstats.com. The flight information there was about 90% correct during my visits. Traffic intensity varies heavily from day to day, so be sure to plan ahead or you might be heavily bored!
Another good source to see which airlines are currently serving HKT is its Wikipedia entry.
Safety/Security
Generally, I have always felt safe spotting at the locations outlined below. But keep in mind that Thailand is a poor country (compared to western standards) and act accordingly.
Strangers: On the beach you should be safe. Although I didn't make any negative experiences with the local people there, it might be a good idea to hide your camera in your bag when there's nothing going on. After all, people around there are mostly rather poor, and even though the Thais are really, really nice, you never know what the sight of such expensive equipment could cause.
Police: Generally, spotters seem to be tolerated, as long as they behave normally and don't stay near the fence for too long. However, if you're told to move away, please do so without starting an argument. This is always important, but especially so in Thai culture.
Various: I don't know if there are rip tides in the sea, so be careful when taking a swim. Be aware, there's no lifeguard, no supermarket nearby and shade from trees is rare
Where to stay
If planespotting is to be one of the main purposes of your stay in Phuket, consider not staying at Patong Beach (the main tourist area 30km to the south of the airport), but closer to the aviation action. There is one accomodation right next to the airport, and then there's a flock of excellent beachfront resorts located in the village of Nay Yang, a 2km/25min leisurly beach walk away from the main spotting point. This village also features some yummy local restaurants, and would be your closest point to get food and drinks while spotting. The village is quite peaceful and laid-back, so if you want to party every night, this is not the place for you. But it is the perfect choice for a relaxing beach holiday close to the airport.
Right next to the Airport: Phuket Airport Hotel. No luxury resort (2 stars only), but it gets okay reviews. Closest to the airport.
In Nay Yang village: Dewa Phuket Beach Resort. A 4-star luxury resort, with huge rooms, a large garden area, and access to the beach. Closest hotel to the airport in the village. I'd personally prefer this one over the Indigo Pearl (see below).
In Nay Yang village: Indigo Pearl Beach Resort. This one's even a five star resort, but there's not that much of a difference to the Dewa. What sets it apart is its stylish industrial design, which either you like or you don't. A little further from the airport than the Dewa.
Here's a short video I put together about planespotting in Phuket. The first minute shows me riding my bike from my hotel room at the Dewa all the way to the spotting point!
Spotting Points (Western End)
The only good location to spot from is Nai Yang Beach, a long and extremely beautiful stretch of sand that covers the west coast for some kilometers, including the airport area. The beach was even better than the one in my (5 star) hotel, so take your swimming gear with you. There aren't any sunbeds or umbrellas available, and the beach is empty except for some locals having a walk with their families.
This location is only suitable when Rwy 09 is in use, which is luckily, most of the time. Usually Rwy 09 is definitely in use the first half of the day. Afterwards it all depends on when the wind switches. Runway directions may be switched anywhere between 1PM, 5PM, or not at all.
For the other runway direction (27) there aren't any suitable spots that I know of. I have heard of cases where people trying to spot at the other end (East) were sent away by the police.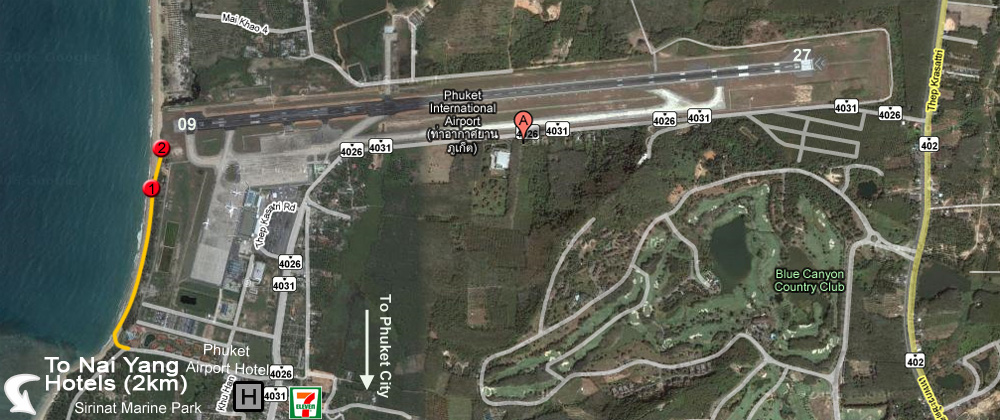 Getting to the spotting points
Coming from the Nai Yang Hotels: Either walk all along the beach. Or use the road leading north. When the road curves to the right, leave the road and continue straight ahead along the beach.
Coming from further away: Although the beach is basically within walking distance from the terminal, this isn't a good option. Security doesn't like it, because the way leads along the whole apron. So the best option (besides a rental car) is using a taxi to get near the spots. However, this can be quite an adventure, since most taxi drivers' english skills are somewhat limited. I found this graphic which describes the way to "Phuket Airport Hotel" in thai, and showing it to the drivers worked perfectly. So I encourage you to print this one out (click it for larger version)!
If you're driving yourself, that's the description: Driving north on the main road to Phuket airport, about 600m before the airport, look out for a 7-11 supermarket on the right. About 100m after this one, there's a street heading off to the left (there should be a sign for Phuket Airport Hotel somehwere, but don't rely on that). The hotel's about halfway down that street. If you drive on, it passes a barrier and then takes you right down to the waterfrontfront, where it turns left and heads south again.
Park/Exit at this corner. From there you have to walk north on the beach for about 15 minutes to get to the spots and the runway (orange path in the map above).
Graphic by www.phuketairporthotel.com
Spot 1: The Beach
Not much to say here. Just position yourself anywhere on the beach you like and wait for the arrivals to come. There isn't too much shade available on the beach (except from a few trees), and the nearest kiosks/supermarkets are a 20min walk south in the Sirinat Marine Park/Nai Yang village. So it's best to bring with you what you need.
From here you can take pictures of arriving aircraft. Since you're looking north, the light's basically good throughout the whole day.
Please stay somewhere on the beach and don't set up "base camp" just by the airport fence, as this will upset security and they are likely to send you away.
| | |
| --- | --- |
| | See above. Finally, it's about a 15min walk along the beach from the nearest road. |
| | Nothing. Closest food stalls/supermarkets are at least 20min away. Take everything you need with you. |
| | 35mm (for a 747 from quite close) to 200mm (further away) |
| | Planes approaching Rwy 09 over the beach. Climbout shots of heavies departing Rwy 27 are possible, too. |
| | All day; traffic tends to pick up after noon |
| | Do not stay close to the fence for long. Not much shade available. No food/drink available. Sometimes a buffalo herd roams around. |
| | | | | | |
| --- | --- | --- | --- | --- | --- |
| From quite far away (170mm, heat haze) | Closer (28mm) | Very close (20mm) | Climbout Rwy 27 (285mm) | Feet in the water! | From under the approach path |
Spot 2: The Mound
On the beach, near the line-up point for Rwy09, there's a mound which allows views over the fence of aircraft taxiing to and lining up Rwy 09 and low departures taking off on Rwy 27.
However, security doesn't like people standing there! If you remain standing on this mound permanently you are very likely to be sent away pretty soon - and so are the other spotters that happen to be there, too. So, please don't do that. Instead, stay down at the beach and just dart up to the mound if there is an aircraft lining up. And before doing so, check if there's a police officer/car/motorbike around.
| | |
| --- | --- |
| | Walk to the fence from spot 1 |
| | Nothing, see spot 1 for details. |
| | 30-100mm for aircraft lining up, 100-200mm for further away taxiways (vacating 27), 400mm for takeoffs Rwy 27 |
| | Aircraft lining up Rwy 09, vacating Rwy 27 (heat haze), heavy takeoffs from Rwy 27 (heat haze) |
| | Second half of the day (facing east) |
| | Don't stay up on the mound for too long. Same warnings as for spot 1 |
| | | | | | |
| --- | --- | --- | --- | --- | --- |
| Taxiing to line-up Rwy 09 | Lining up Rwy 09 | Lined up Rwy 09 | Takeoff Rwy 27 | Vacating Rwy 27 before the end | The mound (on the right, near the fence) |