By Jonas and Marlin Lehmann

Disclaimer
The hobby of plane-spotting is neither understood nor supported by the local authorities in the UAE. It is therefore likely that this hobby will run you into some kind of trouble sooner or later - while "trouble" may range from a simple check by police, the formatting of memory cards or the seizure of photography equipment all the way to being questioned at a police station or even to imprisonment.
Taking pictures from the hotels mentioned below should generally be a relatively save option. Whenever you do venture out to more exposed spots, please make sure to keep a low profile. Use a car so you can move quickly. Only stay at a certain location as long as you really need to. Hide your camera on the floor of the car whenever you're not using it. Take care not to raise suspicion with your behaviour though.
We would like to state very clearly that you are performing photography and plane-spotting in Abu Dhabi exclusively at your own risk, even if you follow the tips and instructions in this guide. Neither the owner of this website nor anyone working on this or other guides shall be held responsible or liable for any negative experiences, more severe consequences or the loss of your property.
Traffic
First of all: The aircrafts from the UAE which are shown on below on the traffic overview "UAE Traffic" are all based in Abu Dhabi! The home of all Etihad Airways aircrafts is at Abu Dhabi except one aircraft in wet-lease with Air Seychelles (HM) (reg: A6-EYY, in Air Seychelles color scheme). This one is flying SEZ-JNB-SEZ-AUH. There is a second Air Seychelles too (reg: A6-EYZ) which is operating for Etihad only at the moment. This A330-200 is not in use for any european destinations but rather for middle east destinations. The traffic in AUH compared to Dubai is less diverse and much lesser movements at all. Etihad dominates strongly at the airport of the capital of the United Arab Emirates, however, the flag carriers of surrounding countries provide some variation!
UAE Traffic: Flag carrier Etihad Airways (A319/320/321

, A332/333, A345/346, B773), Abu Dhabi Aviation (DHC8), Royal Jet (B737), United Arab Emirates (A319/320, B737, B747, B772/773, RJ85), Rotana Jet (E145)

European: KLM, Swiss, Air France, Lufthansa, Turkish Airlines, Air Astana, Air Berlin, CSA

Asian: Biman Bangladesh, Cathay Pacific, Virgin Australia, 

Hainan Airlines

,

Jet Airways and Garuda Indonesia coming soon

Middle East: Qatar Airways, MEA, Naft Airlines, Nas Air, Gulf Air, Saudi Arabian, Yemenia, Oman Air, Royal Jordanian, Egyptair, Shaheen Intl, Hainan Airlines, Air India

Cargo: Etihad Crystal Cargo (including some leasings), China Airlines Cargo, Maximus Cargo, Midex, etc.
Runway Usage
The Nadia International Airport has two runways. Rwy 13R / Rwy 31L and Rwy 13L / Rwy 31R. The Runway Usage depends like on the most airports worldwide on the wind. Runway 13L/31R is not very often in use, cause the taxitimes are much longer than the taxitimes of the parallel runway, so 13L/31R is just for a big clearing in the final or in case of runway works on 13R/31L. Abu Dhabi is handling with one runway only.
Caution
The hobby of plane-spotting is not really understood in this part of the world, and it isn't uncommon to run into troubles. The safest strategy is staying at a hotel that offers plane views (thankfully, there are a couple of those around AUH!). If you're more adventurous, there are some spots around the airport that are good for taking pictures. However, try to keep a low profile at any time.
More hotels suitable for spotting can be found over at plane-spotting-hotels.com.
ATC Frequencies
Approach Control:124.400M(127.500M)(128.100M)
ATIS:125.100M
Ground Control:121.750M
Tower:119.200M
Spotting Points
(click on map to download a larger version of it!)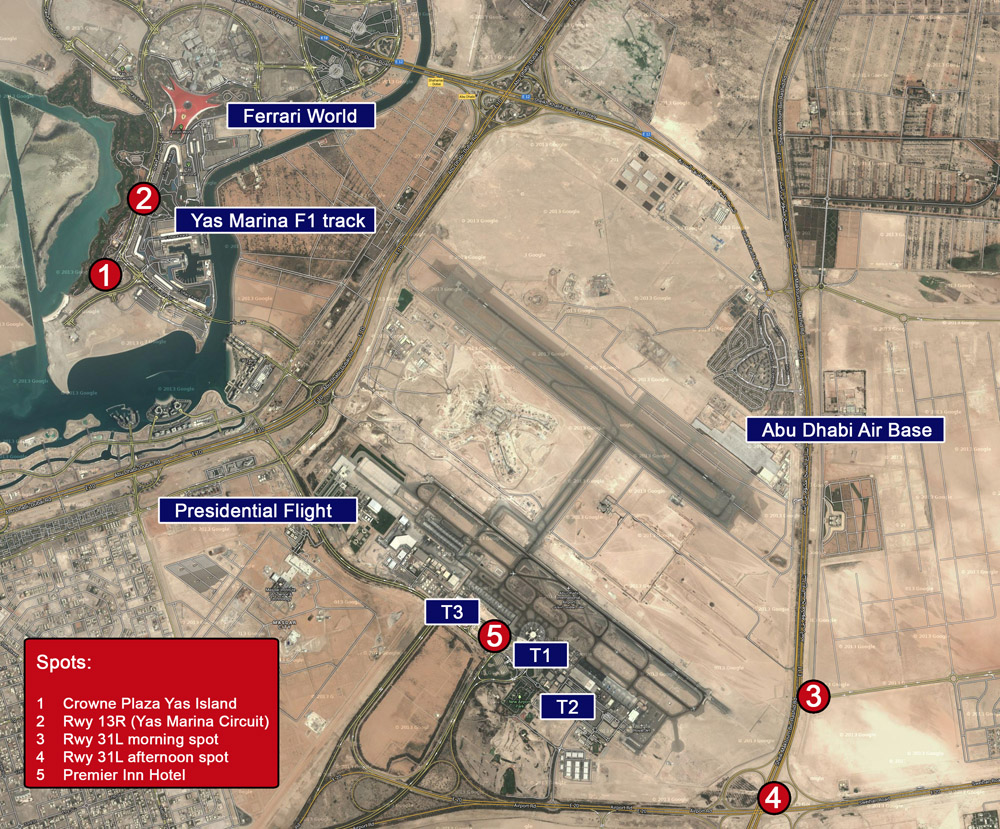 Spot 1: Crowne Plaza Hotel Yas Island
The Crowne Plaza Hotel is a four star hotel on Yas Island with 428 hotelrooms. The hotel is located in the final approach of runway 13R. You can take pictures from the balcony.
| | |
| --- | --- |
| | Taxi to Yas Leisure Drive, Hotel Yas Island |
| | Lots of different restaurants available inside the hotels. |
| | 145-300mm for approaching and departing aircrafts. |
| | Arrivals onto Runway 13R and departures out of Runway 31L |
| | Second half of the day (shots below were all taken in the morning though) |
| |   |
| | | |
| --- | --- | --- |
| Rwy 13R arrival at 130mm | Rwy 13R arrival at 130mm |   |
Spot 2: 
Rwy 13R Morning Spot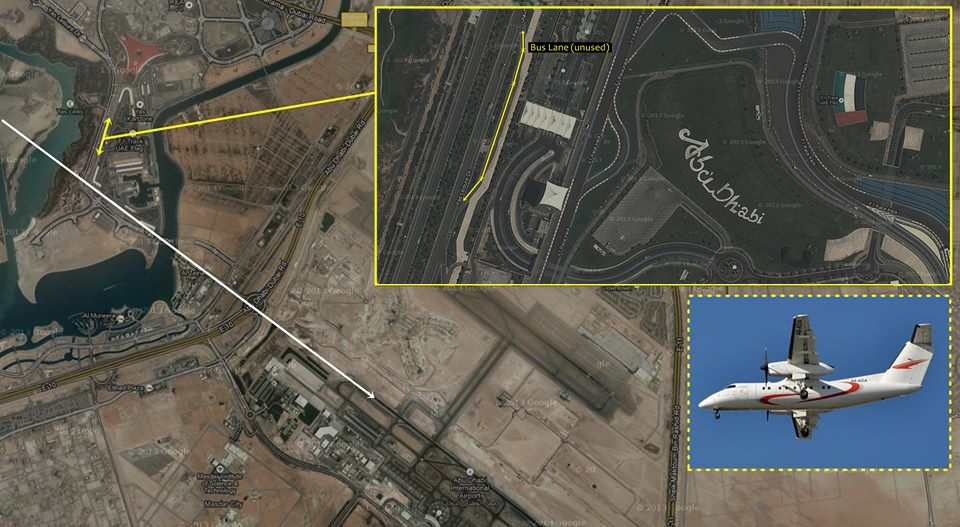 Spot 2 is located between the hotel areas and the ferrari world, next to the Yas Marina Circuit (or more precisely, at the "West Entrance" of the race track). The spot allows views of planes coming into land on runway 13R. Usually you have no problems with the Abu Dhabi Police by taking photos of the approaching planes, apart from that I've never seen a police car on Yas Island.
| | |
| --- | --- |
| | Take a taxi to the Ferrari World. Turn left with direction Yas Marina Circuit (F1-Race-track) along the Yas-Leisure Drive |
| | Lots of different restaurants available inside the hotels. |
| | 145-300mm for approaching aircrafts. |
| | Arrivals onto Rwy13R |
| | First half of the day. |
| |   |
| | | | | |
| --- | --- | --- | --- | --- |
| Rwy 13R arrival | Rwy 13R arrival | Rwy 13R arrival | Rwy 13R arrival |   |
Spot 3: 
Rwy 31L Morning Spot
This spot is a few kilometers southern of the Rowdat Al Reef Palace on the parallel neighbourstreet of the E20 to Abu Dhabi. Follow the street after passing the Rowdat Al Reef Palace for 2.4 kilometers (3 minutes by car) until you're reaching the roundabout. Stop here. Welcome to Spot 3! The next useful discription of this locality is "Al Fallah City".
| | |
| --- | --- |
| | A car is necessary to come to this spot! |
| | No restaurants nearby this point, take some food with you |
| | 145-300mm for approaching aircrafts |
| | Arrivals onto Rwy31L and (low) departures out of Rwy13R |
| | First half of the day |
| |   |
| | | | |
| --- | --- | --- | --- |
| Rwy 31L arrival | Rwy 31L arrival | Rwy 31L arrival |   |
Spot 4:
Rwy 31L Afternoon Spot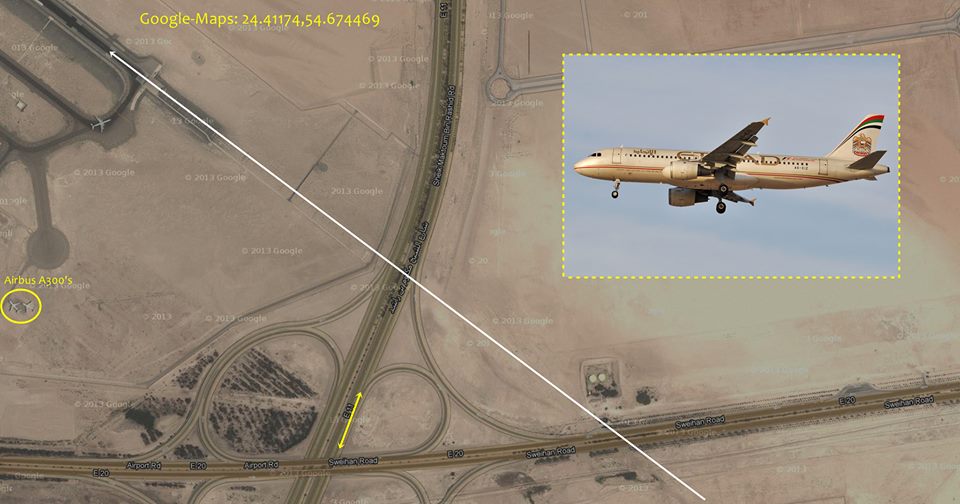 The spot is located on the breakdown lane of the highway E11 in direction Dubai, very shortly before the exit for E20 direction Abu Dhabi /Al Haiyir. Next to the highway is the storage place for two A300 in Midex basic colors. They are in quite poor condition.
directly on the E11

no much options to have a meal, take your meal with you

70-200mm for arriving aircrafts

Arrivals onto Rwy31L,

parked acfts on the Royal Jet apron, two A300 in storage

Second half of the day

be attentive of the police, it's illegal to stop here
| | | |
| --- | --- | --- |
| Rwy 31L arrival | Rwy 31L arrival |   |
Spot 5: The Premier Inn Hotel Abu Dhabi Airport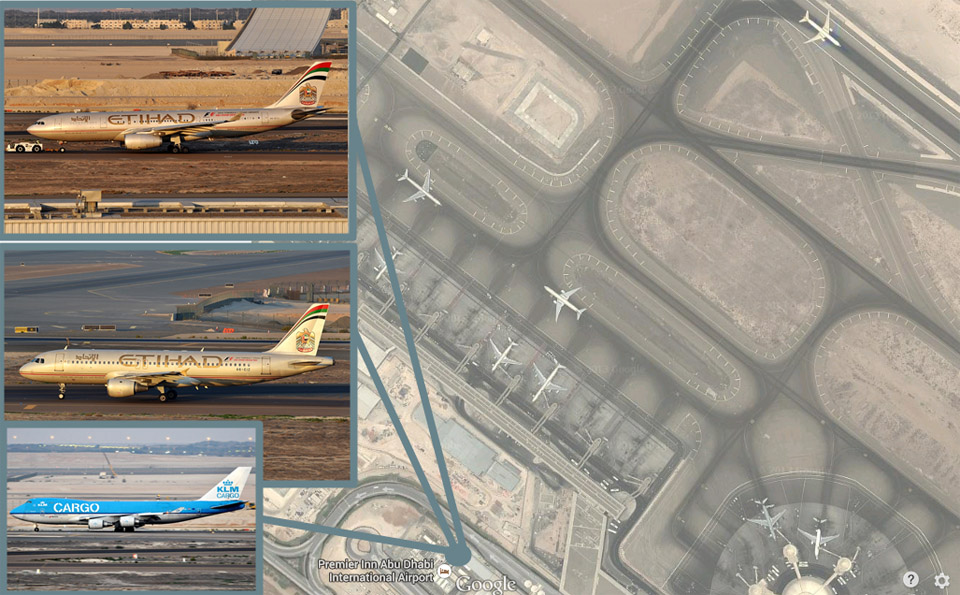 | | |
| --- | --- |
| | Premier Inn's rooftop - 5 minutes walk from Terminal 3 |
| | You can order a meal from the hotel's restaurant |
| | 70-350mm for arriving aircraft |
| | All runway operations of runway 31L/13R plus the close-by taxiways, plus partly of 31R/13L (in the distance) |
| | Second half of the day |
| | Don't disturb other hotel guests - smile and behave to make sure spotting remains tolerated by the management! |
| | | | |
| --- | --- | --- | --- |
| Taxiing on taxiway Y | Pulled on taxiway Y | Rwy 31L |   |
.