Introduction
In 2012, 35 million passengers and close to 300'000 aircraft movement positioned Barcelona's El Prat airport as the clear number two in Spain, behind Madrid's Barajas airport. And while its bigger brother in the capital does indeed welcome all the shiny names of South American aviation, Barcelona's focus lies more on European traffic - and quite a few summer flights from Russia. But even if it's lacking in foreign widebodies a bit, being the 9th-busiest airport in Europe there is always something to spot here!
The airport features three runways and two terminals. It is located about 12 kilometers southwest of the city centre, but frequent airport busses make the transfer a breeze. Since all spots can be reached via public transport, Barcelona is relatively easy airport to take pictures at, and is a perfect destination if if you want to combine sightseeing and planespotting.
Traffic
Use Spain's AENA's official Airport timetable for day-to-day real-time flight information. It shows aircraft types, too!
The three strongest carriers in Barcelona are Vueling, Ryanair and Easyjet, making up roughly 27%, 12% and 7% of the traffic. Good old Iberia comes in fourth, with only a 4% share of the market. Apart from those, Barcelona gets the normal blend of European standard traffic, with a notable presence of Norwegian Air Shuttle and Wizzair. Northern African airlines like Air Algérie, Royal Air Maroc and Air Arabia Morocco can also be seen.
Widebody airplanes can be spotted from Aerolineas Argentinas (A340), American Airlines (B763), Air Canada (B763), Air Transat (A330), Avianca (A330), Delta Airlines (B763), Emirates (B77W), Pakistan International (B772), Qatar (A330), Singapore Airlines (B77W) and United (B763). Especially the rarer of those airlines can't be seen daily though.
The one thing that sets Barcelona apart from other similarily-sized airports is the huge amount of Russian airlines to be seen here, especially in summer. Of the about 8'000 annual flights to and from Russia in 2012, roughly 1'800 are accounted by the scheduled Aeroflot flights (mostly Airbus narrowbodies). The rest is made up by all the lesser known airlines. Among those:
| | | | |
| --- | --- | --- | --- |
| Airline | Flights in 2012 | Aircraft | Remarks |
| Transaero | 1'400 | B738, B763, B777, B744 | 1-2 aircraft based in BCN in summer |
| Ural Airlines | 500 | A320/A321 | |
| Orenair | 500 | B738 | |
| Nordwind | 400 | B757 | |
| Kolavia | 350 | A320/A321 | |
| I-Fly | 300 | B757/A332 | |
| Rossiya | 300 | A320/B763 | |
| Red Wings | 300 | T204 | |
| UTair | 160 | B757 | |
| Yakutia | 120 | B757 | |
The lion's share of the Russia flights happens on Saturdays, with Sundays and Wednesdays coming in second.
It's a bit hard to get hold of schedules of those flights, so predicting the amount of Russian traffic in advance can be a bit hard. Have a look at those sources:
Chartex.ru

lists many flights to Barcelona (Барселона), especially from all three Moscow airports. Includes aircraft types.

NTK-Intourist has a good list of this year's flights from several russian cities. Includes aircraft types.

A simple search on google.ru for a certain city pair (e.g. "vko-bcn") can turn up good results, too.

Flightstats.com shows most flights, too. So once the season has started, you can check a particular day's timetable from a week or two ago. For example, this is the timetable filtered by DME - BCN flights on Saturday, July 27th 2013. This could help plan the next Saturday.
The official AENA airport timetable is quite helpful for short term searches (24h into the future). Searching for all major Russian origins will do the trick. Aircraft types are shown, too, once you click on the extended information for a flight.
Operations
Terminals/Taxi:
The newer Terminal 1 (in the south) is used by Vueling, Iberia and most of the bigger/mainline carriers including Aeroflot
The older Terminal 2 (in the north) is used by low-cost carriers (Ryanair, Easyjet, etc.), smaller or more exotic airlines (including Air Transat), and all english and russian charter flights
One thing to note is that all airplanes taxiing from Terminal 2 to the departure runway in the south will need to taxi around the western end of the northern runway and then taxi around the whole of Terminal 1. See the spot map below for this taxi route (yellow).
Runways/Winds: Barcelona's airport has got three runways. Two parallel runways 07/25 and one crossing runway 02/20. The runway usage is very simple (if no exceptional weather prevails). During the day (0700-2300), only the two parallel runways are in use. Preferentially, the westbound runways (Rwys 25) are in use. According to the Spanish AIP, this system is held in place "up to wind components of 10 kt tailwind, gusts included, and/or 20 kt crosswind". Only once these limits are surpassed (i.e. strong winds from the east), the eastbound configuration is used (Rwys 07). With both configurations, only the northern runway (07L/25R) is used for landings and the southern runway (07R/25L) is used for departures. Since the departure runway is only 2'700m/8'700ft long, heavy airplanes will need to depart from the northern runway.
Note: Between 2300 and 0700, Rwy 02 is used for landings and Rwy 07R for departures, if winds allow. If there are strong winds from the west, only Rwy 25L is used for both landings and takeoffs.
Here's the runway usage at a glance:
Runway System
Condition
ARR Runway
DEP Runway
Visual

Preferential

Calm or westerly winds
Rwy 25R
Rwy 25L
(25R for heavies)
Subsidiary
Easterly winds >10kts
Rwy 07L
Rwy 07R
(07L for heavies)
Looking at the prevailing winds over the year tell us:
In winter (Dec/Jan): Winds that would require Rwys 07 to be used (i.e. winds from N, NE, E, SE) occur during about 70% of the total time.

This dominance of northerlies/easterlies suggests frequent use of Rwys 07; however, as the average wind speed is only around 7 knots, the preferential system may be kept in use on a lot of occasions.

In summer (Jun/Jul): Winds are more balanced. Winds that require Rwys 07 occur during about 55% of the total time. However, since the mean wind speed is only around 5 knots, the preferential system will be kept in place on most occasions.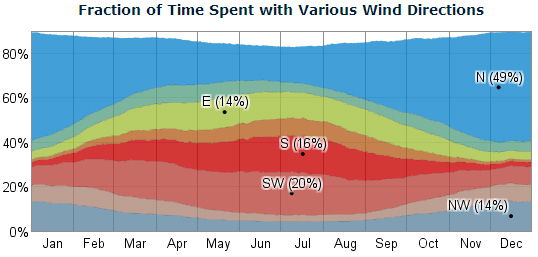 (Weatherspark, retrieved July 2013)
ATC Frequencies (as of 2013)
Taken straight from the Spanish AIP's database for Barcelona.
Station
Frequency
Barcelona ATIS
Arrival: 118.650
Departure: 121.975
Barcelona Arrival
High Altitude: 121.150, 125.250 (NE), 126.500 (SE), 127.700 (NW)
Intermediate Altitude: 124.700
Low Altitude: 119.100
Barcelona Tower
Arrivals: 118.100
Departures: 118.350
Barcelona Ground
North: 121.700
Central: 121.650
South: 122.225
Barcelona Clearence
Delivery: 121.800
Getting Around
There are three helpful bus connections, also pictured in the spotting point map below:
There is a free shuttle bus between Terminals 1 and 2, running every four minutes
Local Bus PR1: This bus line runs between the two terminals, but routes via the airport town of El Prat on both legs, also serving its Renfe station. There, you can catch suburban trains, or Bus PR3 down to the spots in the east and south of the airport.
Local Bus PR3: This bus heads from the Renfe station southeast to the cemetary, which is located right behind the treshold of Rwy 25R (Spots 2 and 3). On weekends and public holidays of the summer months (April to October) plus daily during the high summer season (July/August), this bus line continues on along the southern perimeter of the airport, serving the popular El Prat Beach (Playa de El Prat) and the photo locations (Spots 4 and 5) there. See the following links:
Spotting Points
Map, including spotting points, hotels and popular Bus routes (PR1 and PR3).
(click on the map for a larger version which is perfect to print on A4)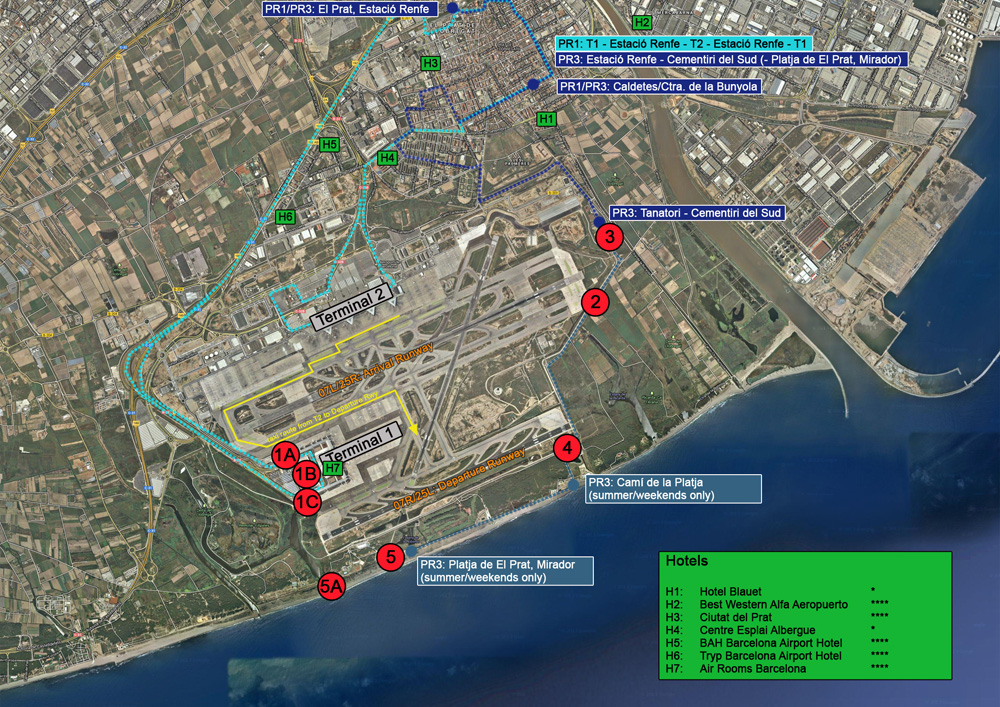 Spot 1: Terminal 1 sidewalks and carpark
Very easily reachable and convenient spots can be found around Terminal 1. Thanks to the terminal's U shape, both ends of the sidewalk/road up on the departure level provide good views of one of the runways. A high car park, located in the middle of the U shape, provides additional, elevated views.
Head to Terminal 1 and walk to either the northern (Spot 1A) or southern end (Spot 1C) of the sidewalk on the Departure level (10min from the terminal). Do *not* walk past the end of the sidewalk onto the road, police doesn't like that at all! Alternatively, head to the top floor of the car park located behind the terminal (Spot 1B).
Supermarkets and restaurants abound inside Terminal 1
1A: Fantastic for landings on Rwy 07L. Plus all aircraft departing from Terminal 2 (i.e. all Russians/Charters) pass by this point regardless of runway operations.
1B: The car-park offers very good views in either direction, especially of landings Rwy 07L and late-afternoon departures off Rwy 25L.
1C: Great for late-afternoon line-ups on Rwy 07R. Climbouts off Rwy 25L can be a bit high.
250mm should be enough for all spots here, taxi shots from Spot 1A can be taken with as little as 100mm.
Spot 1A is good from sunrise till about 3PM, Spot 1C from about 4PM till sunset. Check www.suncalc.net for exact sun postions!
For Spots 1A and 1C, do stick to the side-walks and don't walk on the road past the end of the side-walks. Police is very likely to shoo you off in a matter of minutes!
| | | | | | |
| --- | --- | --- | --- | --- | --- |
| Aircraft taxiing from Terminal2 (Spot 1A, 330mm) | Acft taxiing from T2 past Spot 1A, with a good view of planes on T2 remote stands (115mm) | Approaching Rwy 07L (Spot 1A, 250mm) | Low departure off Rwy 25L (Spot 1B, 235mm) | Looking at Rwy 07R and its holding area from Spot 1C (150mm) | View of Spot 1A, marking the northwestern end of the sidewalk up on the T1 departure level. |
Spots 2/3: Approach Rwy 25R
On both sides of 25R's approach axis there are good spots from where standard approach shots can be taken.
Leave the town of El Prat towards the south, on Carrer de la Bunyola. The area of the cemetary (near Spot 3) is the pefect place to park your car (see StreetView). Alternatively, take bus PR3 to the stop called Cementiri del Sud, which is its terminal stop in the winter season. This road running along the eastern airport perimter is also equipped with a dedicated bike lane, so pedalling your way there is a third good option.
Spot 2 (StreetView): Follow the main road toward the south, crossing the approach path. About 500m after the runway axis you will notice the famous Spotters' Platform on the left hand side of the road.
Spot 3 (StreetView): Position yourself at the southern end of the Cemetary complex, i.e. where its access road (Camía de Cal Met Natrus) meets the main road again.
No food at the spot, the closest would be in downtown El Prat (or maybe down on the beach).
Planes arriving on Rwy 25R (i.e. all arriving movements when Runways 25 are in use).
200mm should do for the standard approach shots, however more focal length leaves more room for creativity.
All day. Remain at Spot 2 from sunrise till about 3PM, and move north to Spot 3 for the rest of the day.
| | | | |
| --- | --- | --- | --- |
| Plane landing on Rwy 25R from Spot 2. | Approaching Rwy 25R from Spot 3 (400mm). | Approaching Rwy 25R from Spot 3 (135mm) | The platform at Spot 2 (copyright Google StreetView) |
Spot 4: Line-up Rwy 25L
Line-ups on Rwy 25L (the main departure runway, except for heavy jets) are a bit hard to photograph, as there are multiple layers of fences between you and the runway obstructing the view.
From Spots 2/3, continue south on the main road, which, after crossing the 25R approach path, will run parallel to that runway for about 1km. At the next roundabout turn left (third exit), and continue toward the sea. Once you've crossed the axis of 25L, you can start looking out for a place to park your car.
Alternatively, take Bus PR3 (extended weekend/summer route only) to its stop called Cami de la Platja, right down at the sea, and walk back to the runway for about 5 minutes.
No food at the spot, the closest would be in downtown El Prat (or maybe down on the beach).
Planes lining up and departing on Rwy 25L.
a
Basically only the area south of the runway is really suitable for photography, which means that your preferred time of photography will be between sunrise and 3PM.
A ladder is needed here in order to see over the fences!
| | |
| --- | --- |
| Currently I don't have any photos from this location. | |
Spot 5: Rwy 25L banking shots from El Prat Beach
One fantastic thing about Barcelona operations is that all departures off Rwy 25L need to make an immediate left turn after take-off, for noise reduction purposes. Of course not all airlines fly this turn in the same impressive way - but you can get some really interesting shots here. The other fantastic thing is that the viewpoint where you get those shots is located right on beautiful El Prat Beach. Additionally, a tower originally meant for bird-watching allows (limited) views onto the runway, too. Doesn't get much better than that!
| | |
| --- | --- |
| | From Spot 4, continue on the road that runs along the beach for the whole length of the airport, until it finally ends at a large car parking area. Alternatively, the extended summer route of Bus PR3 runs all the way there, too. Right at the beginning of this parking area, you will find the small wooden tower which allows you to look over to the runway. For the banking shots, I find it best to continue westward along the beach for an additional 500 meters until you get to a small stream or estuary (Spot 5A). |
| | No food at the spot, the closest would be in downtown El Prat (or maybe at the eastern end of the beach). |
| | Planes taking off from Rwy 25L (Spot 5) and banking left immediately after takeoff (Spot 5A). |
| | 300mm should do for side-on shots, but especially for the banking shots, it is adviseable to have 400mm or more. |
| | From sunrise until about 3PM. |
| | From the wooden tower, views of the runway can be obstructed by an area of high brush/trees, which also creates quite a lot of heat haze. |
| | | | | | |
| --- | --- | --- | --- | --- | --- |
| 25L Takeoff from Spot 5 (tower). Note the heat haze (275mm) | Rotation on Rwy 25L from Spot 5, obstructed by the brushes (150mm) | Early/hard banking off 25L (Spot 5A, 400mm) | Late/gentle banking, almost a straight climb-out (Spot 5A, 310mm) | Spot 5, including Bus PR3 | View from Spot 5A along beautiful El Prat Beach - note the aircraft taking off |
Places to stay
With Barcelona being just outside the Top 10 of European airports, there are plenty of hotels in the airport area, catering primarily to transfer passengers with early or late flights. Of course, thanks to their proximity to the airport, these hotels are fantastic bases for spotting trips, too. Here's a list of the ones I found (as of August 2013). See the spotting points map above for their locations. However, it seems like none of them are suitable for photgraphy right from the hotel grounds or rooms.
Otherwise, you can also stay in downtown Barcelona and catch the airport bus for your spotting trips. If you want to do that, I recommend staying close to Plaza Espanya or Plaza Catalunya, which is where the airport bus has its downtown stops. There are lots of hotels in that area. Twice I stayed at the 3-star NH Hotel Barcelona Centro (Website | Tripdadvisor [89% thumbs-up]), which is only a 5min walk from the Airport Bus' Plaza Catalunya stop, and also perfectly located for sightseeing right inside the old town.