Welcome to a trip report that spans seven time zones, includes ten flights on five different airlines, and most importantly, bids farewell to two iconic three-engined planes in passenger service – the Douglas DC-10 and Aurigny's Britten-Norman Trislander.
Having been born in 1987, Douglas DC-10s had already been something quite special when my interest in aviation photography materialized at the age of 14. While I managed to still grab pictures of 40 or so of the elegant birds, I missed the chance to fly on one. This changed two years ago during a stay in Abu Dhabi, when I hopped on Biman's DC-10 to Dhaka and stayed there for a couple of days – what a great experience! A kind local even took me for spotting on the apron of Dhaka's airport – which was great fun until a couple soldiers with MGs discovered us and took us to the airport police for a lengthy interrogation. Long story short, my camera's memory card since resides in the desk of Dhaka's airport police chief – and with it all my great memories of my only DC-10 flight.
Hearing that Biman was about to finally retire its last DC-10 in the beginning of 2014, I decided that I wanted my history with this iconic plane to end in a more positive way, and I also wanted to make peace with Bangladesh in general. I intended to replace these memories that had been taken away from me with even better ones – and the only chance to do that would be to travel back to Dhaka, and fly on the DC-10's last passenger flight from Bangladesh to Birmingham. Surely 14 hours on this plane would heal all wounds!
For the return from the DC-10's destination Birmingham back to Switzerland I planned a little detour via the Channel Islands, originally including three flights on Aurigny's soon to be retired Britten Norman BN-2 Trislanders, before heading home on a Flybe ski-service from Southampton to Geneva. Put on a map, it looked like this: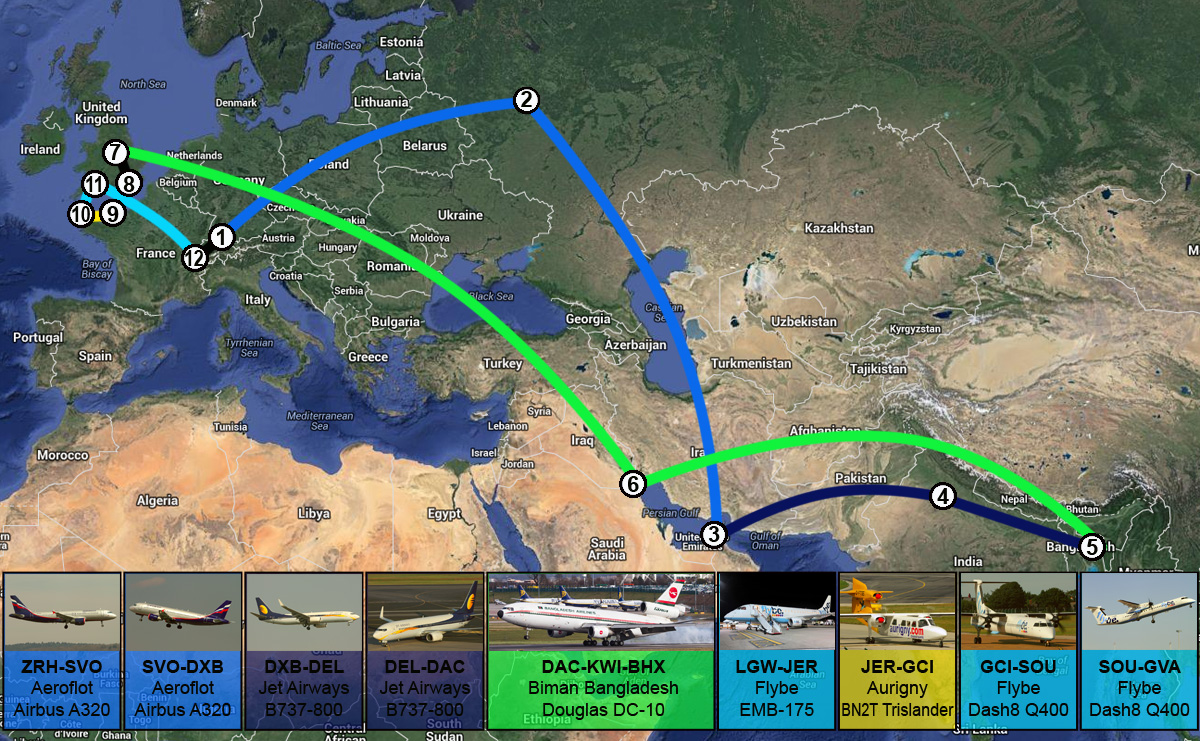 Finally the big day came. The Aeroflot flight is one of the last ten to leave Zurich before the night ban, and so I had one of the most relaxing starts of a trip ever. Enjoy dinner at home, do some last packing, drive to the airport, check in at an empty counter, walk through security with all crowds already gone, making it to the gate within 20 minutes of entering the parking garage. Time for the flight!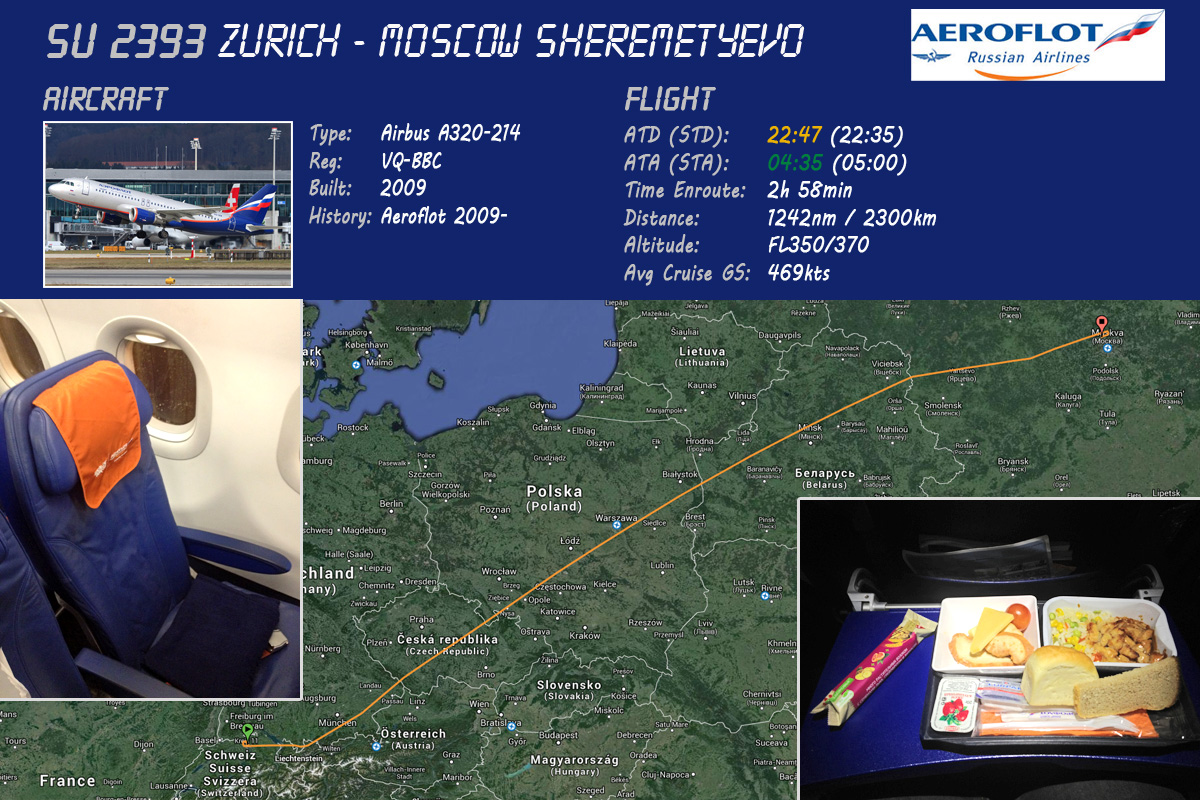 The flight was half empty and the seat next to me remained free (a treat that would continue on 8 of the 10 flights of the trip!). It was already my third time aboard an Aeroflot A320, but once again I was surprised by the generous seat pitch, the clean and inviting design of seats and cabin, and the general feeling of space and comfort. A choice of decent hot meals was served too – accompanied by an array of my most beloved Aeroflot snacks: Two different variations of bread that were equally dry and instantly made you crave a whole bottle of water. And then there was the highlight, a muesli bar that seemed so hard and unbreakable that me and friends had already considered it a secret throwing or stabbing weapon of the Russian armed forces. And surely a dentist's delight, too!
The flight itself was uneventful, we completed the journey to Moscow in just under three hours and touched down 25 minutes before schedule despite leaving 10 minutes late. I quickly passed through the passport and extra security checks, left them all my liquids (a total liquid-ban for hand luggage was in place during the Olympic Games), and proceeded on to the so-called "capsule hotel" inside Terminal E. Once again the reception staff amazed me with their lack of friendliness and efficiency (it took 5 minutes just to pull up my booking!) – but then again, it was 5AM and maybe they were tired. Anyway, finally Room Nr. 2 welcomed me, and the two beds were sure a welcome sight! :)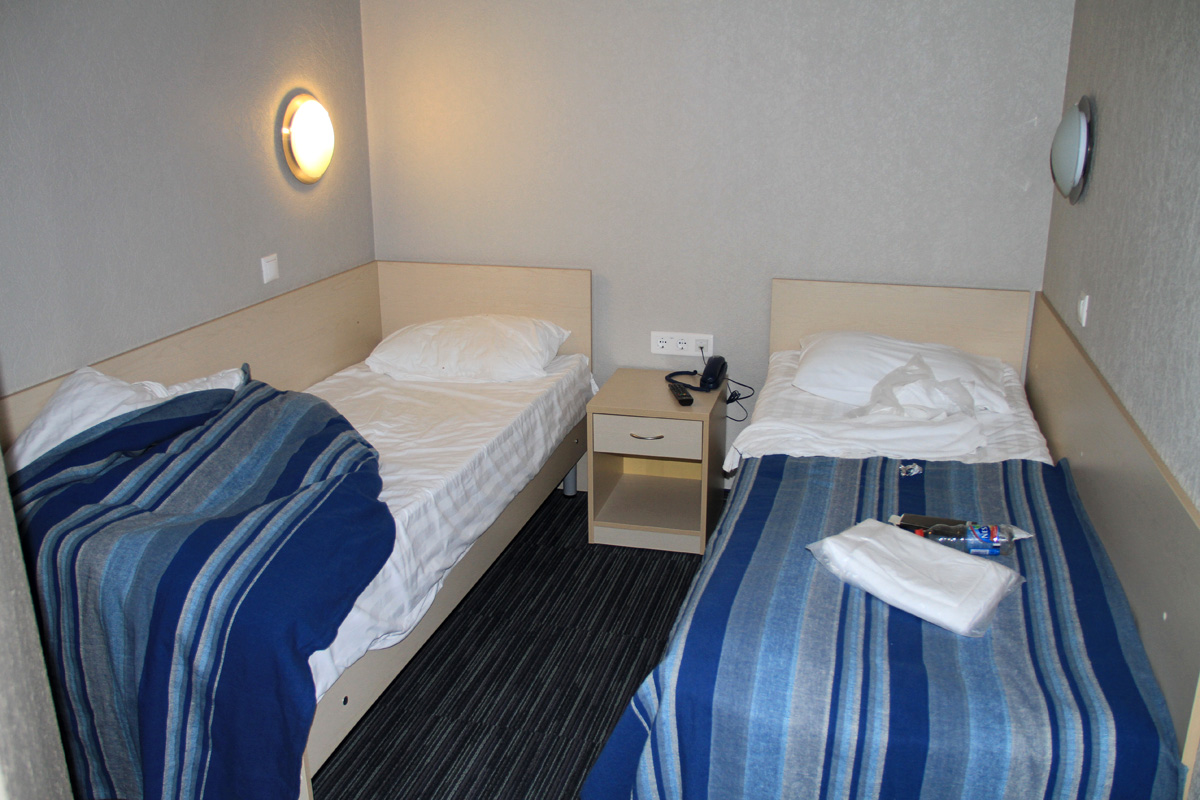 There were only a couple hours of sleep to be had though. The main reason for transiting through SVO was my desire to take pictures of the Russian traffic the whole day, and so that's what I did. However, like during my first visit the weather once again didn't cooperate and low clouds, drizzle and fog made for some very challenging conditions. I still got some nice shots though! This one's bittersweet, as Aeroflot's IL-96's days are numbered, too. 2014 really seems to be the year of aviation farewells! Little surprise then, that inside that very plane sat five other aviation enthusiasts, savoring the IL-96 on its flight to Istanbul!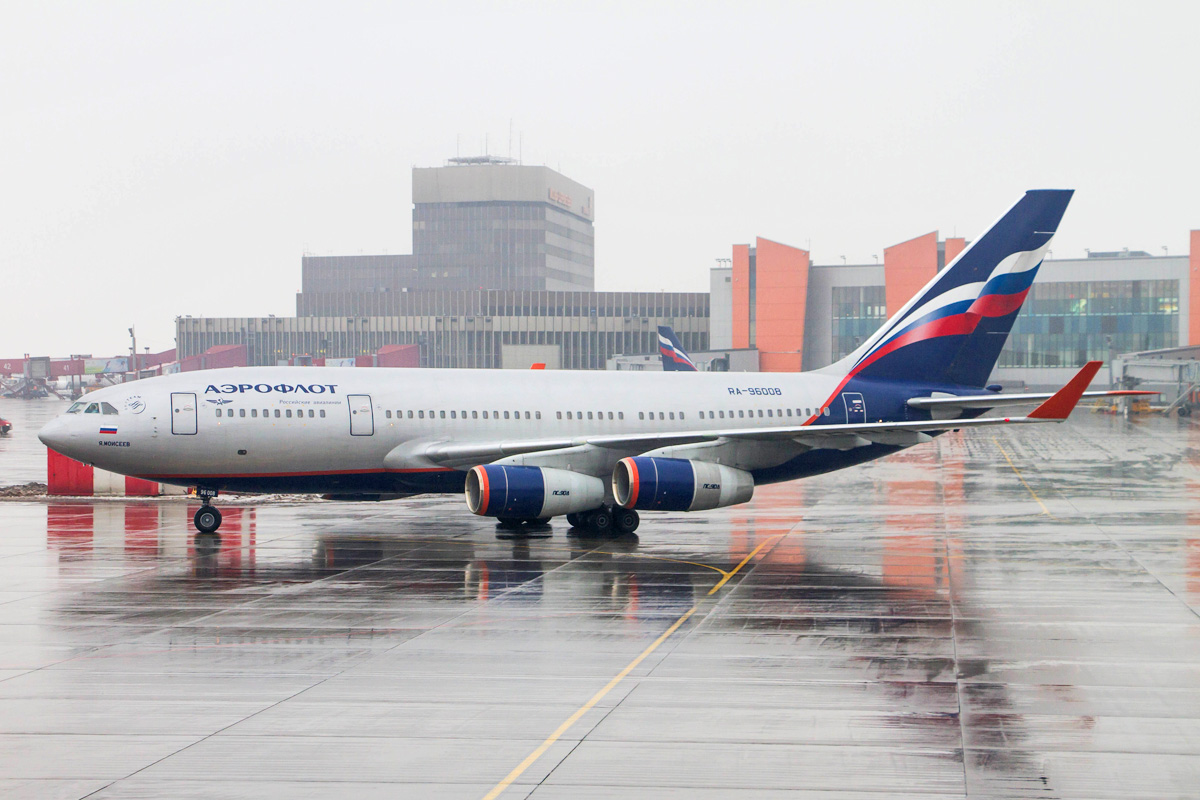 There are not too many truly interesting airlines at SVO, as the traffic is mostly made up of Aeroflot and its affiliates. So I just went for their new flagship…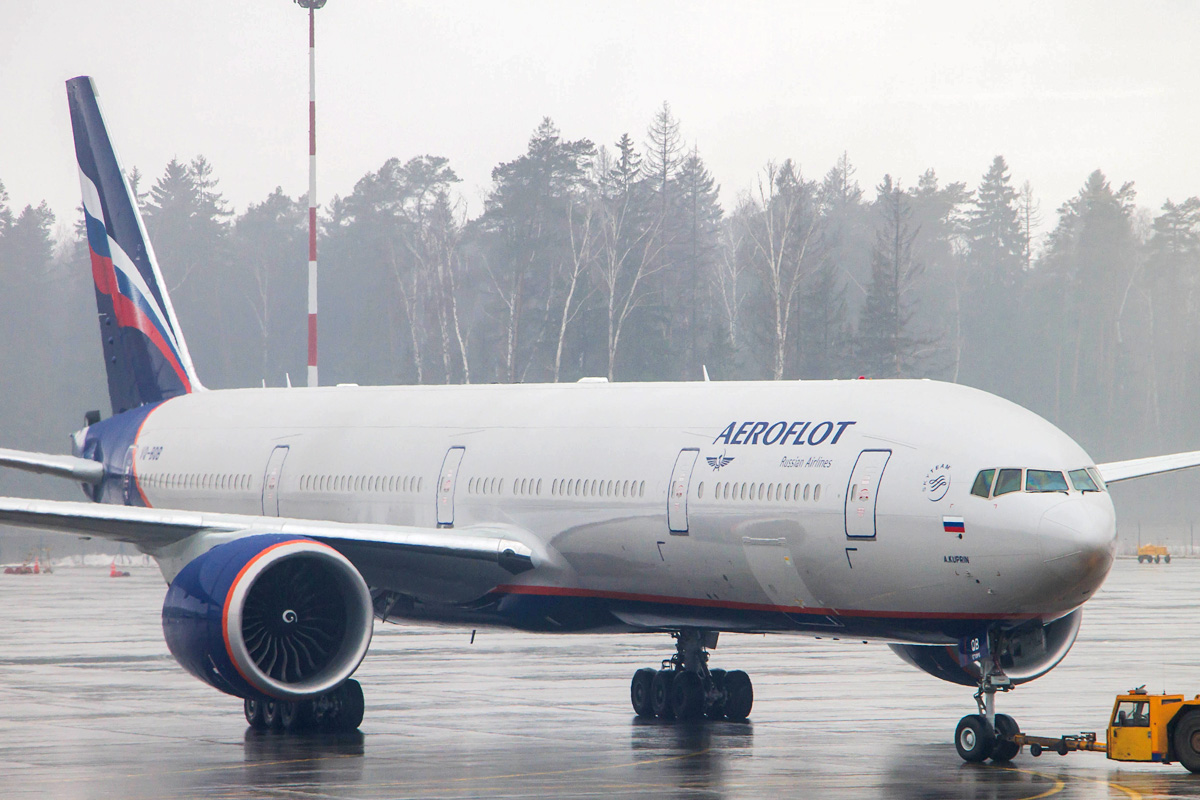 After dusk had ended a full day of tiresome spotting and running around the terminal the whole time, it was time to relax and get airborne myself. My longest flight in a narrow body was about to start, riding Aeroflot's A320 all the way south to Dubai, a pretty long trip of 5 hours 40 minutes or 2'200 nautical miles.
Once again the service was impeccable. A generous dinner was served, consisting of mashed potatoes, a salad with some fish filets plus an unidentifiable dessert. The rest of the time I spent catching some sleep, playing iPhone games, and during the last 90 minutes, gazing down at the seemingly endless chain of mountains that spread over most of what I saw of Iran; snow-covered peaks glistening in the moonlight. Really quite beautiful!
Descending into Dubai I had already hoped we would be 45 minutes early, but I forgot how crazy air traffic gets here around midnight. We flew several holdings out in the Gulf, then proceeded on the standard right hand downwind, and finally lined up with the ILS to 30L about 25 miles out. What a waste of fuel (and time)!
After immigration I quickly grabbed a cab to the Nojoum Apartments hotel, got upgraded to a 3-bedroom apartment on the second floor from the top, and when waking up a few hours later, this was the view I was presented with!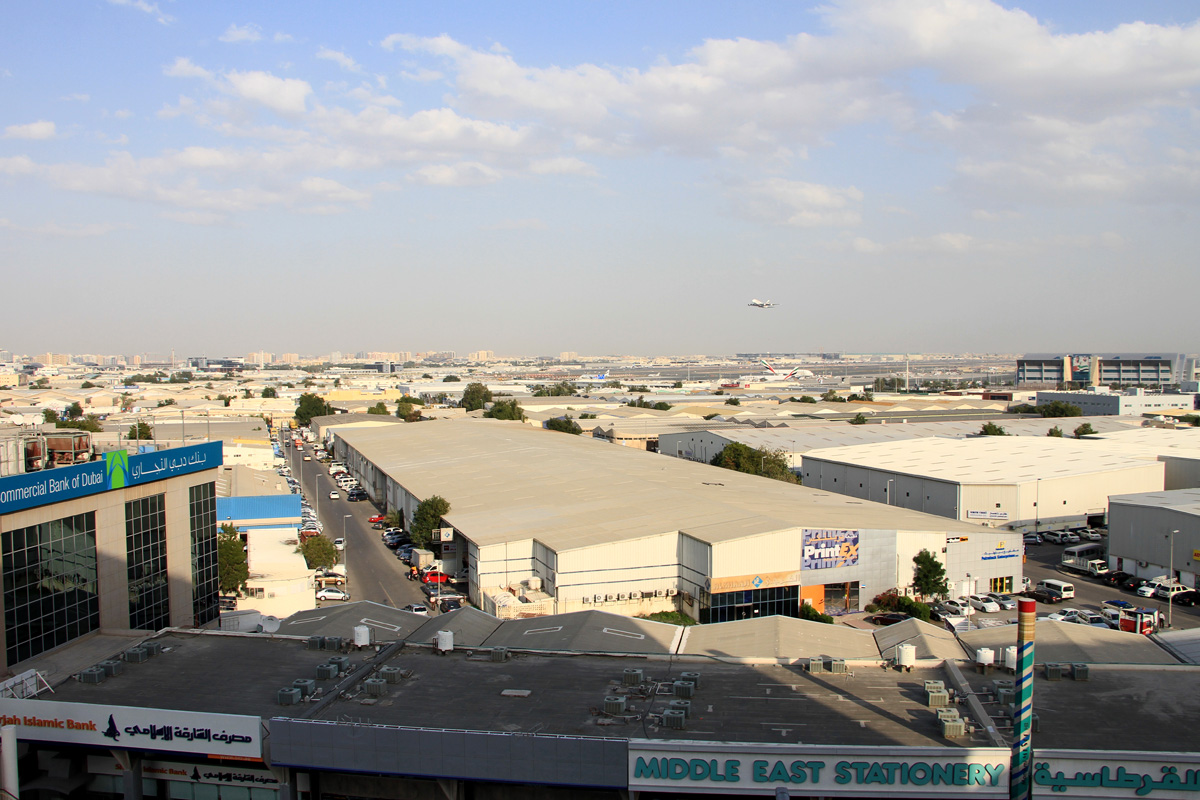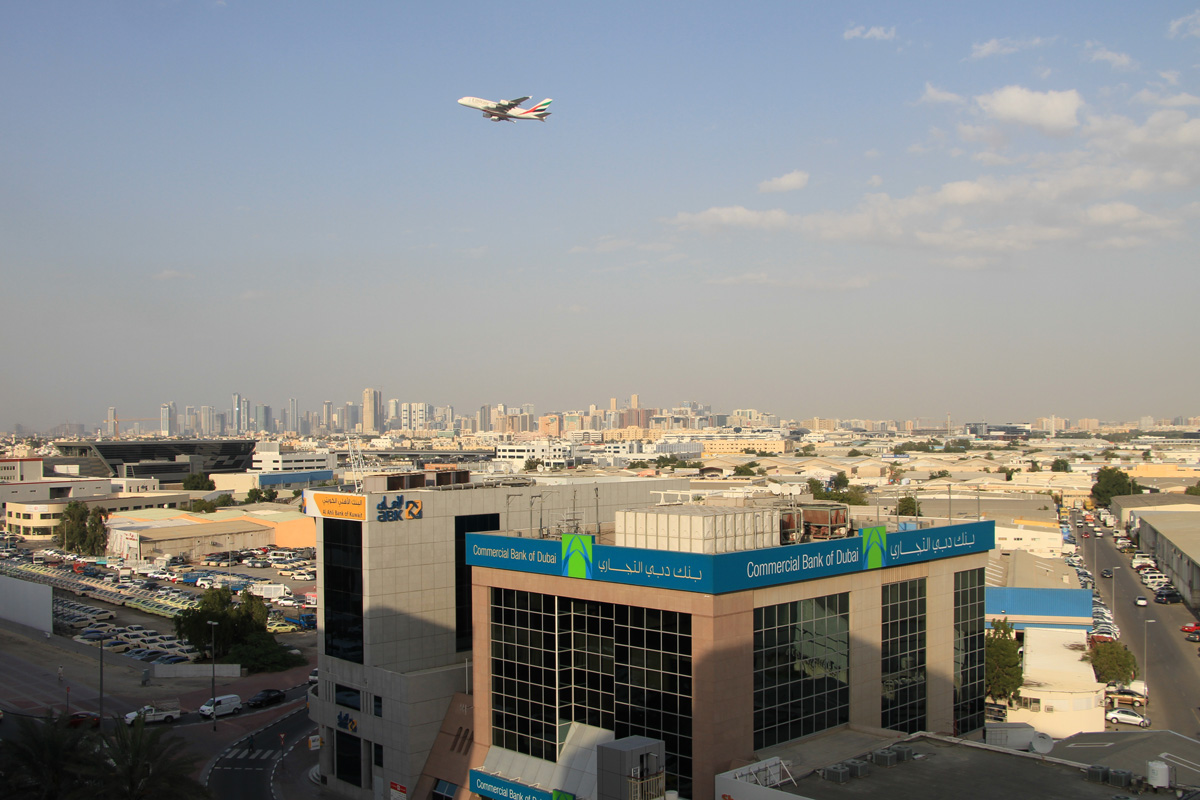 The next three days were spent spotting from my balcony during the day, and eating out and shopping at night. On the third day Runways 12 were in use, and so I headed to the Nojoum's rooftop pool and enjoyed my planespotting time in style (accompanied only by a Bangladeshi pool attendant who couldn't believe I would be in his home city the next day)! Who spots the Emirates 777?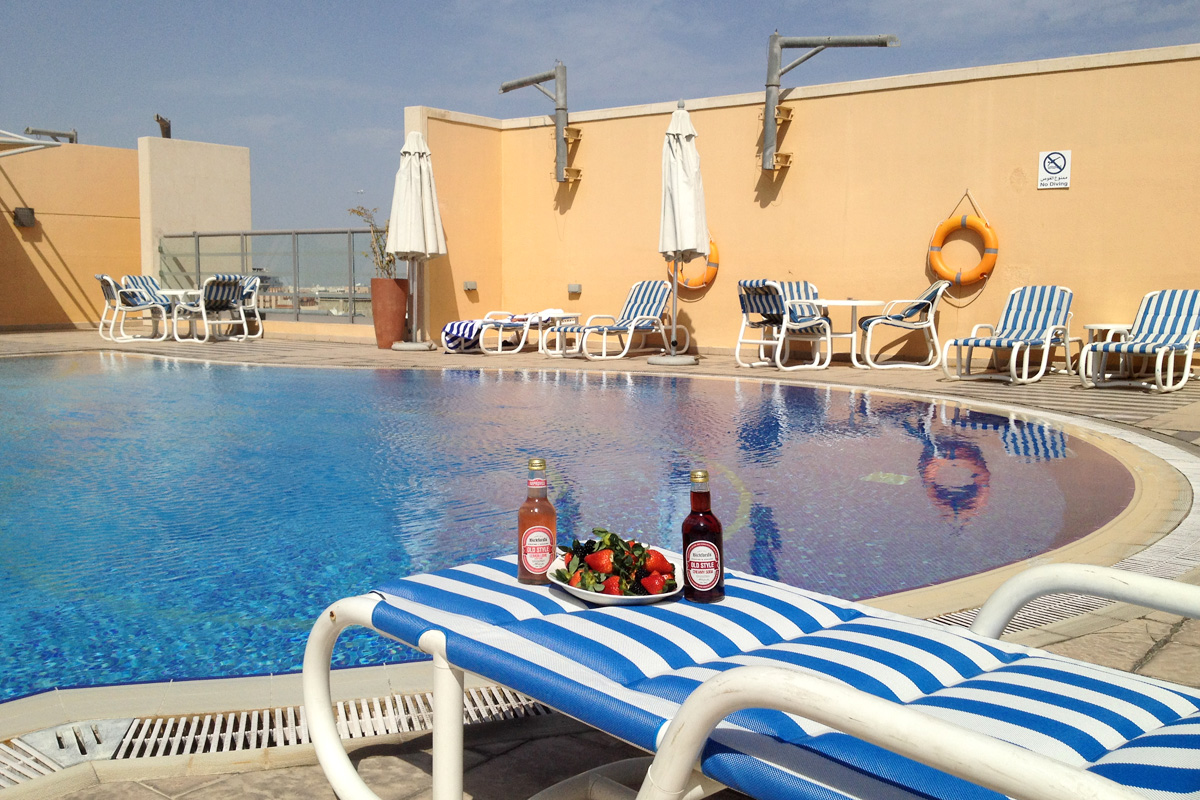 This was some of the stuff I got during the 3-day stay – the Tu-134 taking off sounded like a fighter jet as it roared over my head!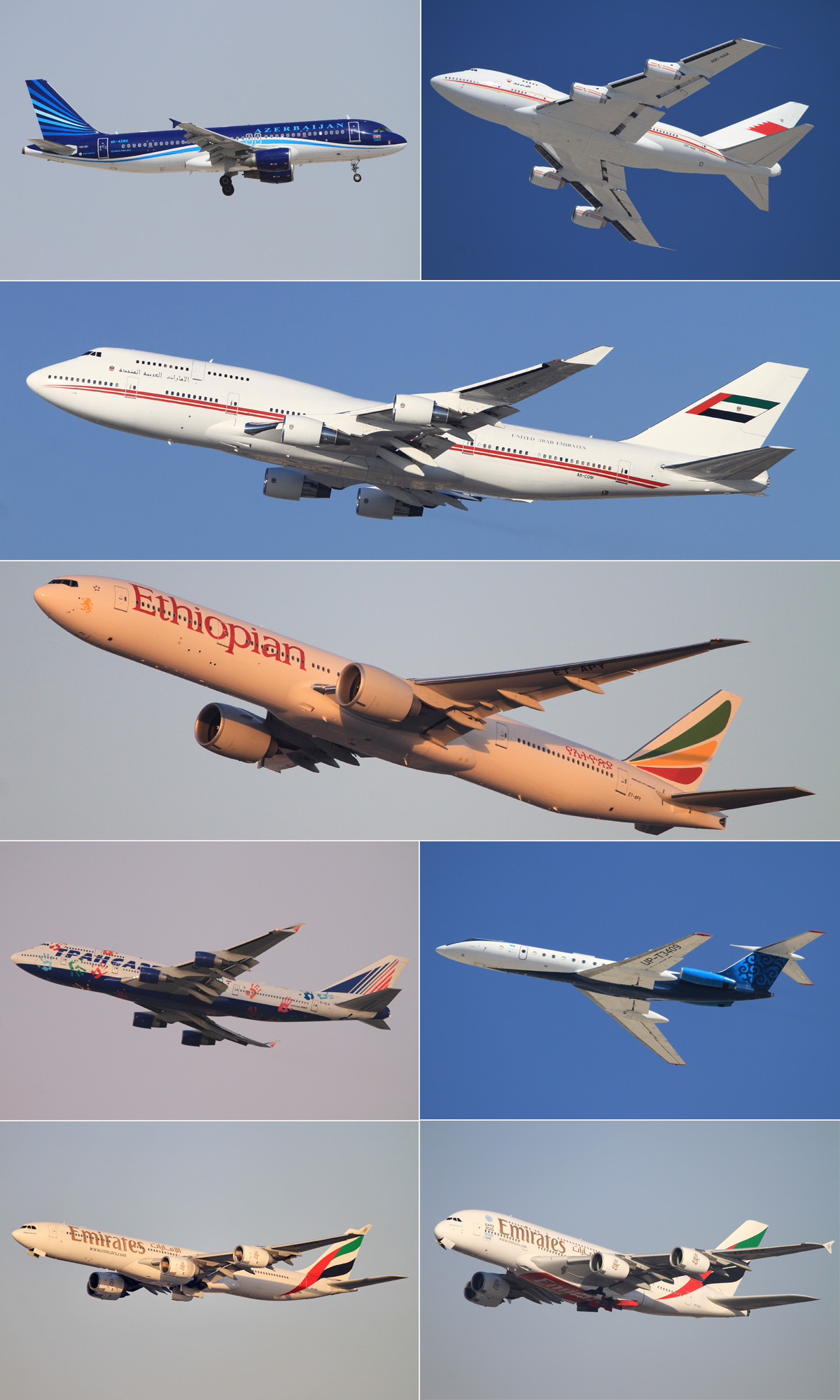 Just before midnight it was time to leave again and head a bit further east. Jet Airways would take me to the Indian capital, Delhi – just another 3-hour red-eye flight :)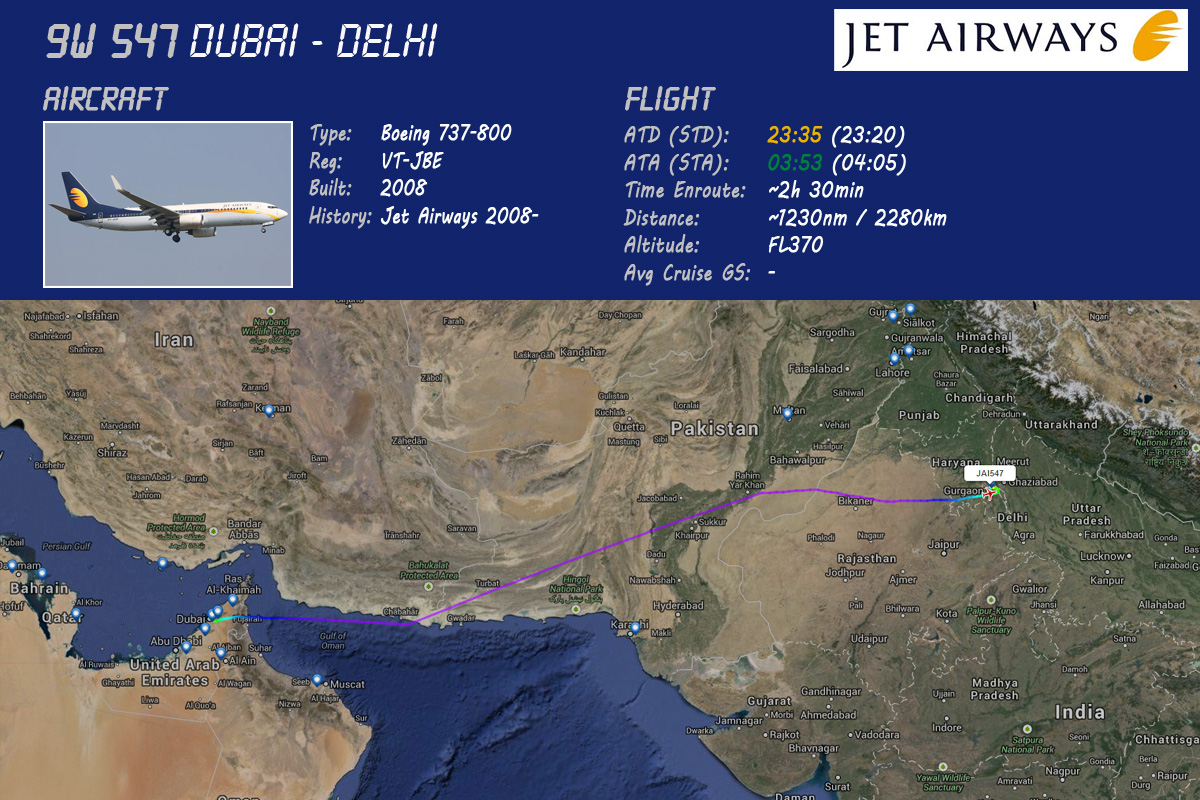 Inside the 737 I was positively surprised by the modern seats featuring a personal IFE, something yet unheard of in narrow bodies in oh-so-progressive Europe! And so I spent most of the time flipping through the channels, looking at place names I constantly failed at pronouncing correctly, and enjoyed the newest Indian wedding fashion :)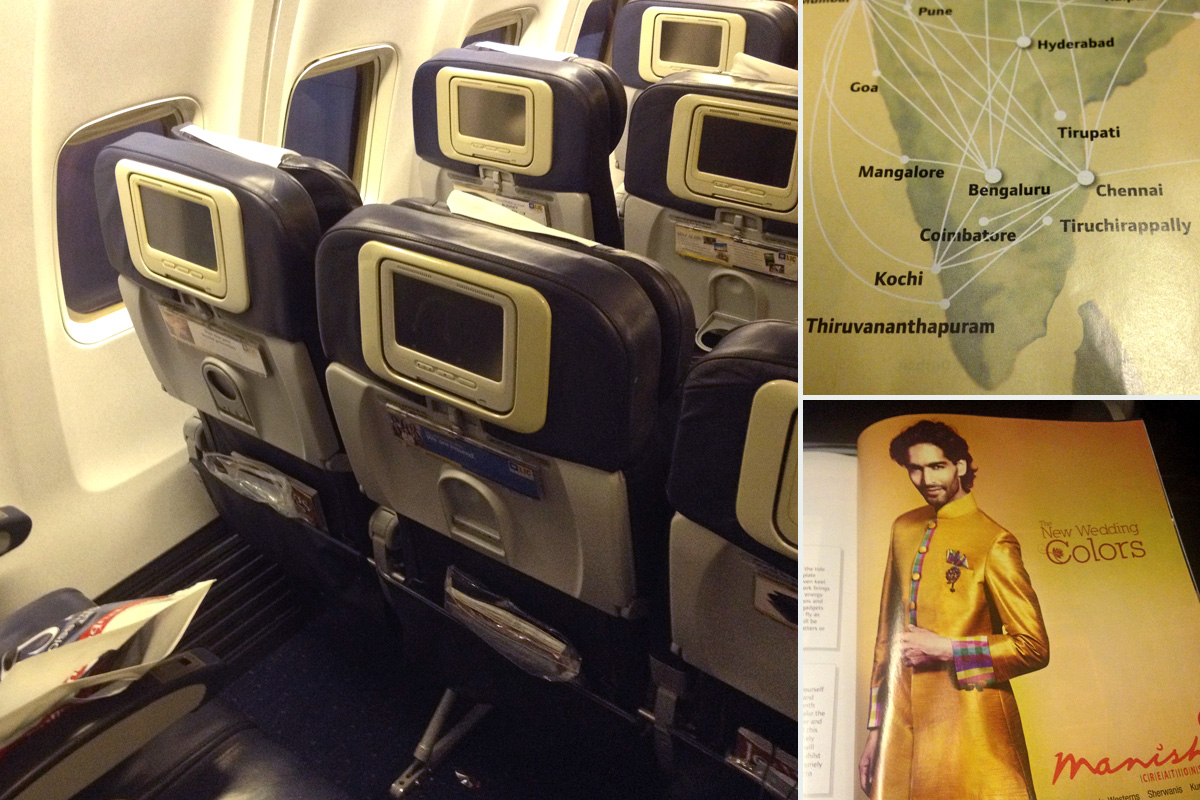 A choice of two meals was offered; I went with the sweet-sour chicken with rice, which was pretty nice. Just no idea what that dessert ball was and after one bite I didn't dare continue eating :). Next to it you see a selection of IFE pages; astonishingly it even featured American country music. Wondering if there's Indian music on US carriers too? :D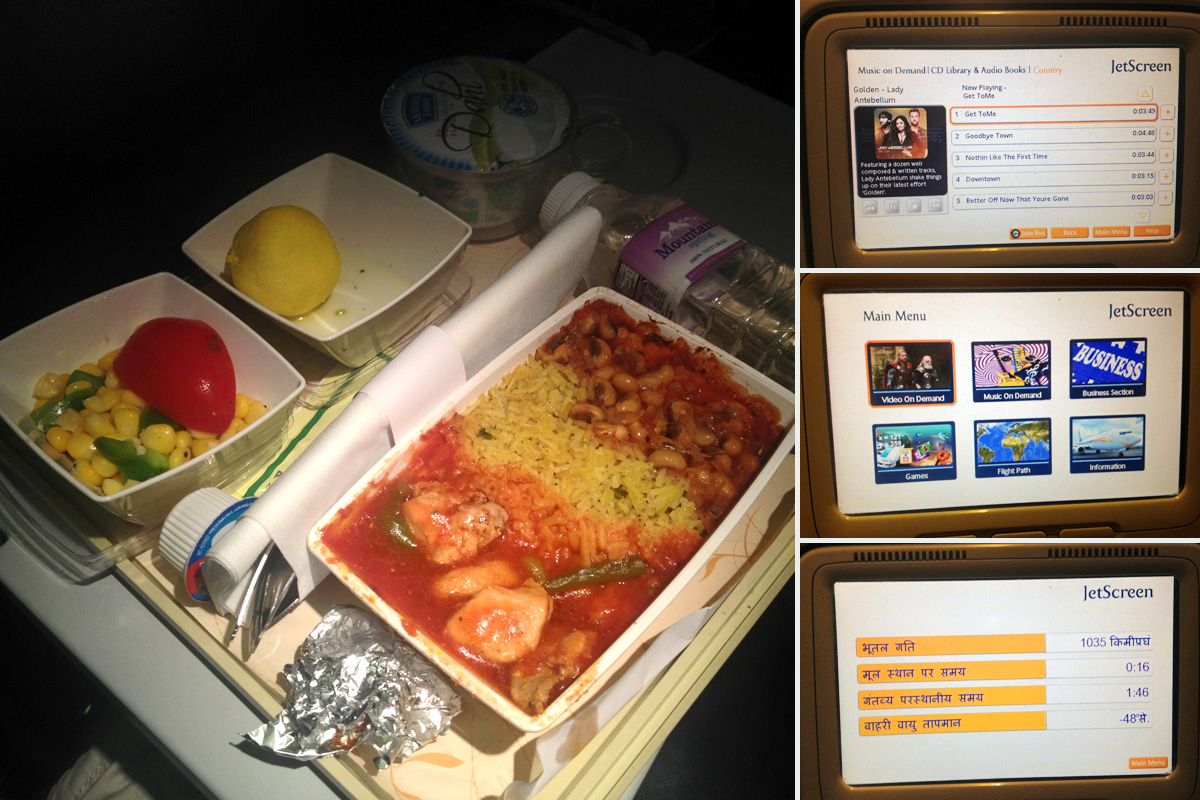 I had never been to India before, and so I was pretty excited even if I only stayed inside the terminal. Adding to that were the rumors that passengers with a longer transfer time would be kept in a small and windowless transit area – something I needed to avoid at all costs since I was only here to take pictures!
However, entry into the airport went without problems. I just had to show my boarding passes at the transfer desk and label every piece of hand luggage (even my plastic bag from Dubai Duty Free) – a hint of Indian bureaucracy here. Then proceed through security (where the tags were indeed closely scrutinized) and then I was though (the tags were again analyzed while boarding my next flight by the way). I was greeted by a large and modern terminal that looked like they do everywhere around the globe…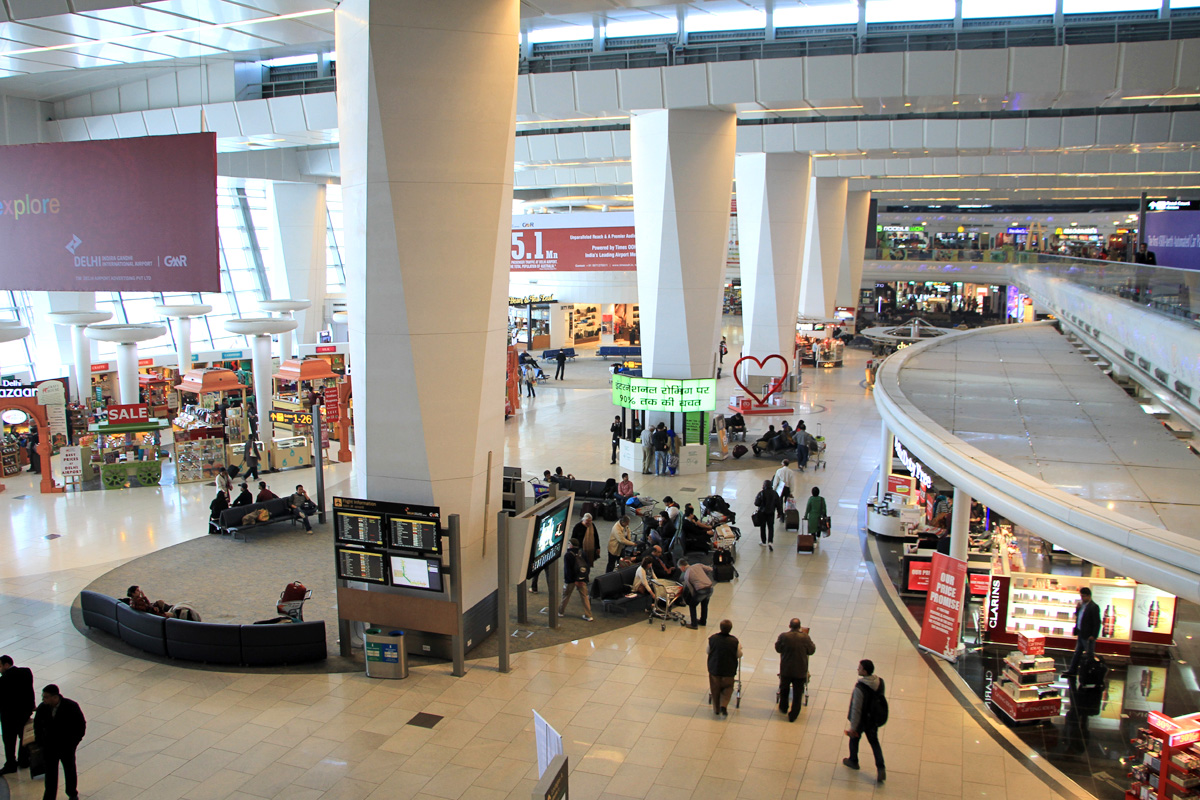 …with only little distinctively local decoration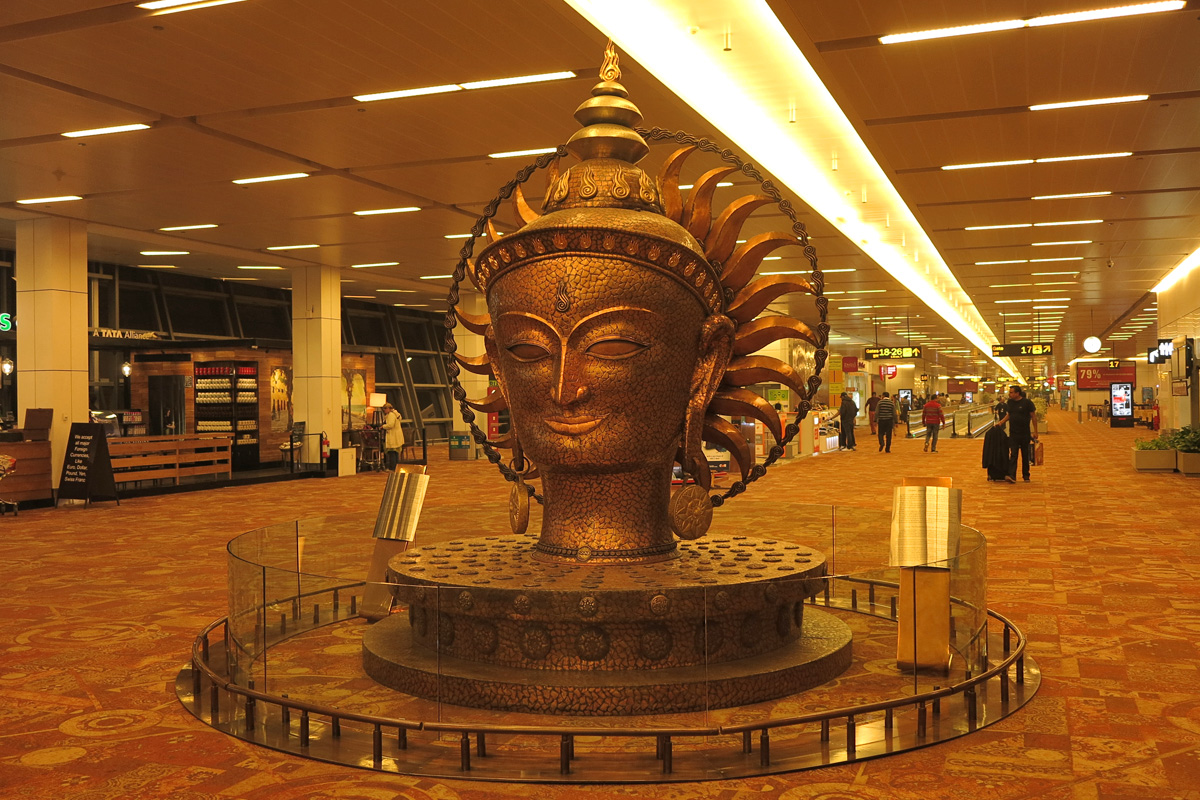 Waiting for the sun to rise, I browsed through the terminal, visited the nicely decorated restrooms, had a Chicken Maharaja Mac (obviously the Indian version of a Big Mac) and admired some carefully crafted ad wording – NOT. Oh and of course I always had to carry my labeled and stamped plastic bag with me! :D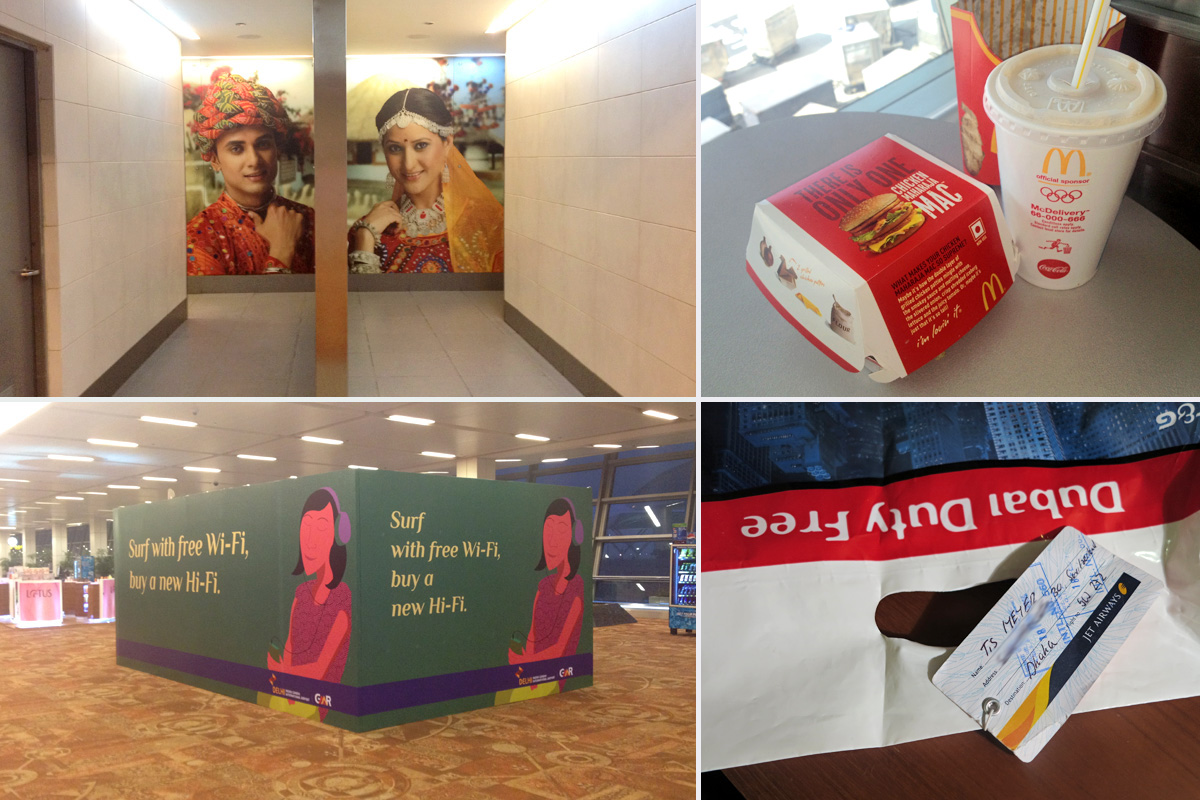 When daylight arrived I took a seat in the southwestern corner of the lower level of the main shopping area, where large windows allowed good views of one domestic (first picture) and one international pier.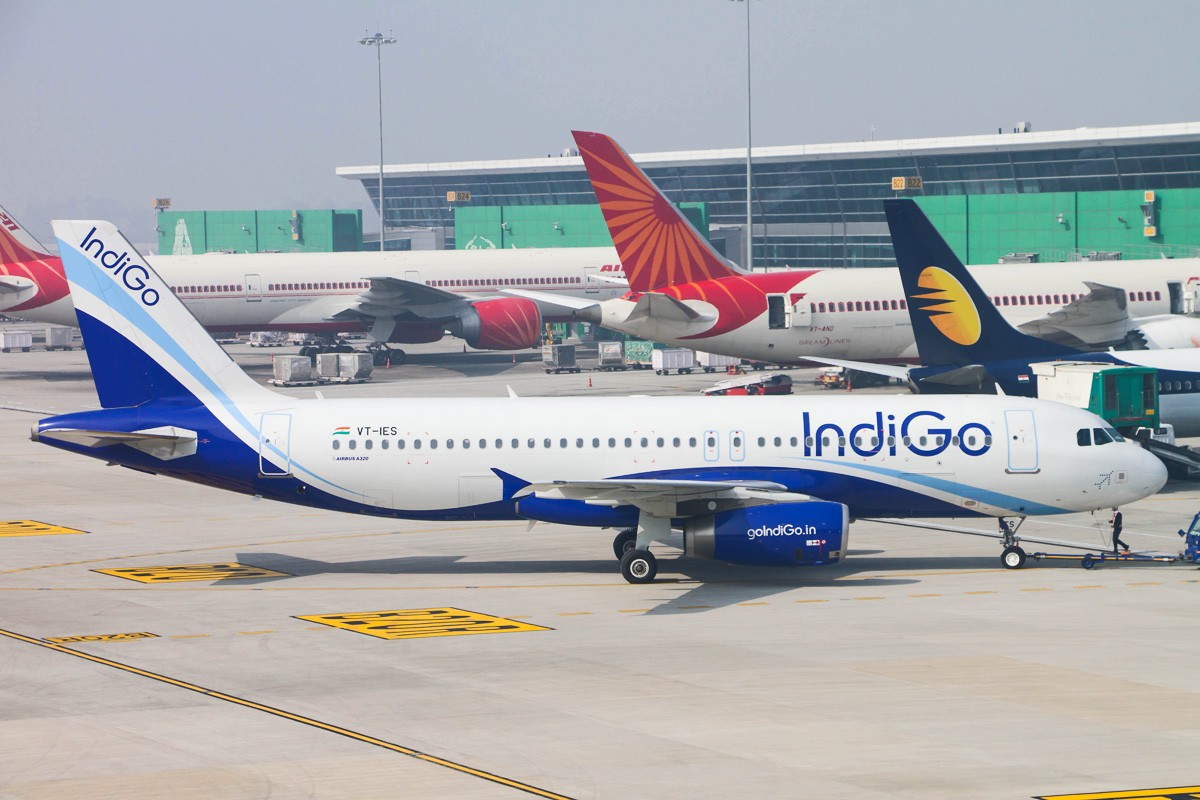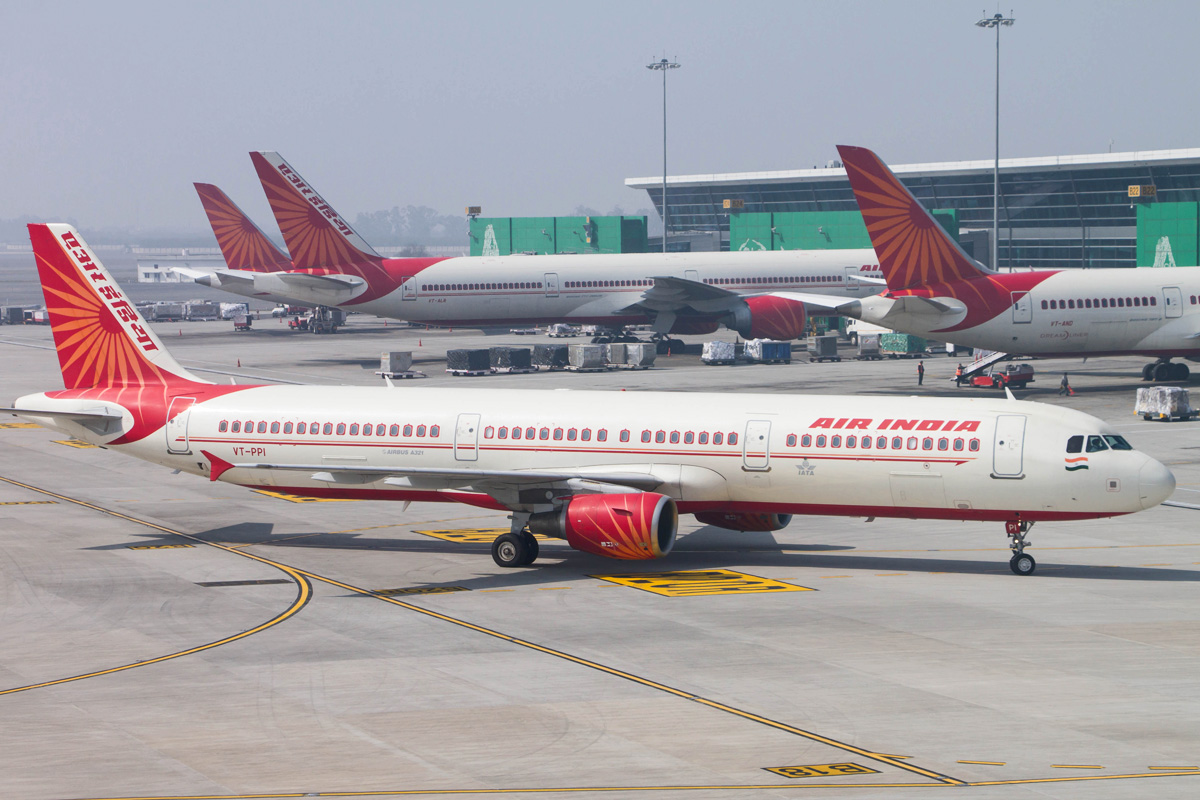 Unfortunately I managed to miss two B787s arriving at their gates during a brief 5-minute visit to the restrooms, but apart from that I'm quite happy with what I got. No problems with security whatsoever, but a nice easy glimpse into Indian aviation. After noon I walked to my own gate for my onward flight to the Bangladeshi capital, once again carried out by a 737-800 of Jet Airways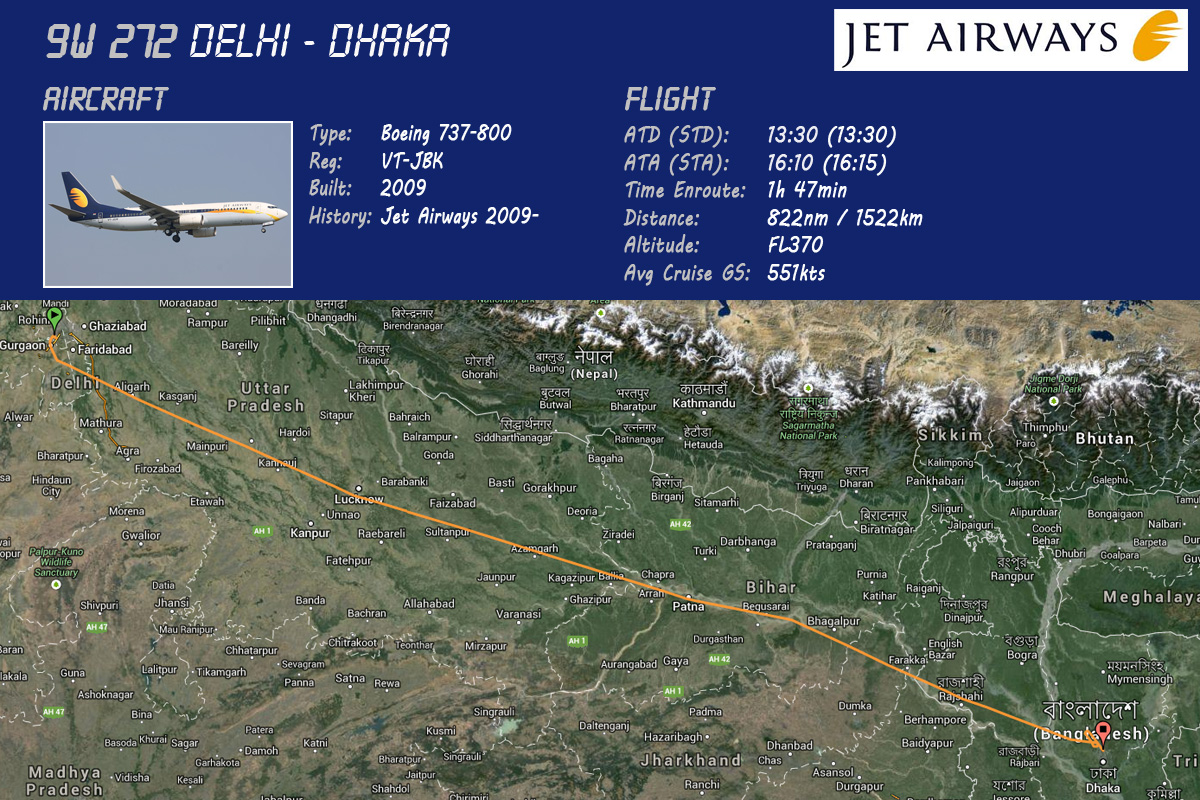 We departed out of Runway 29, and with a series of left turns made our way east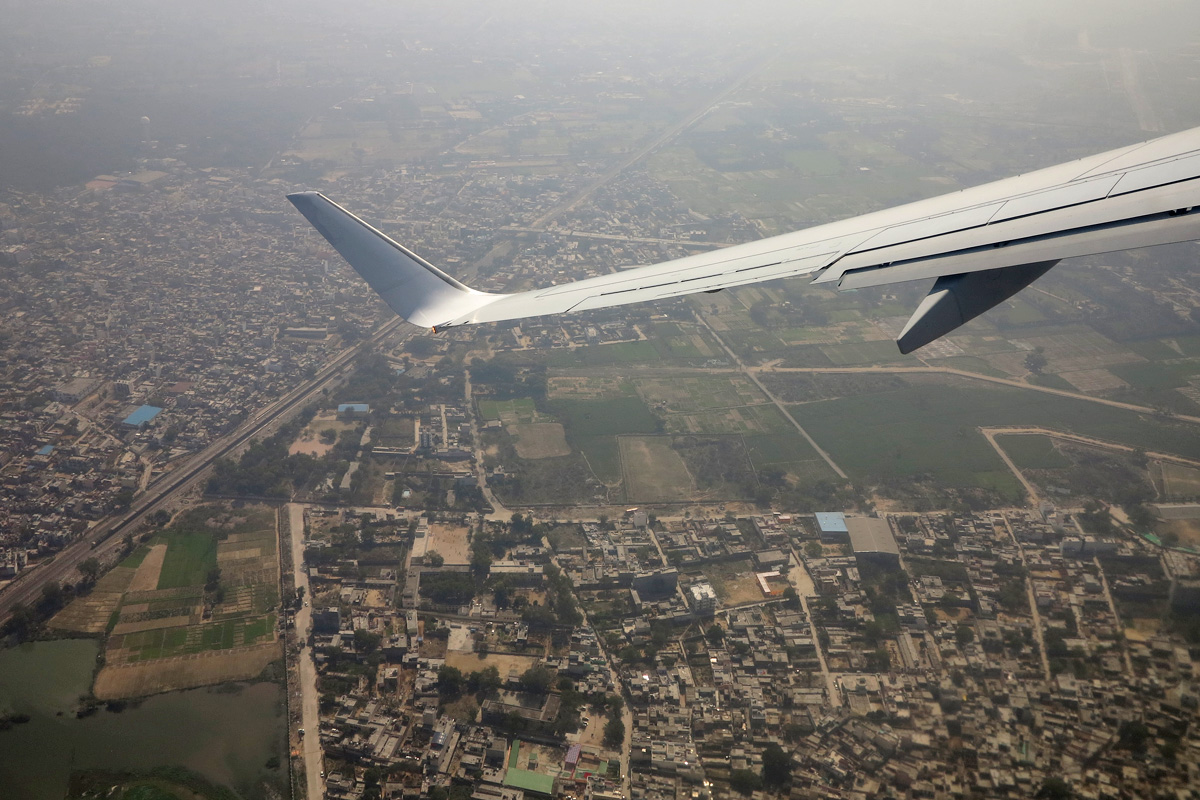 This allowed for some brief impressions of the land below, before the layer of smog and haze killed the views…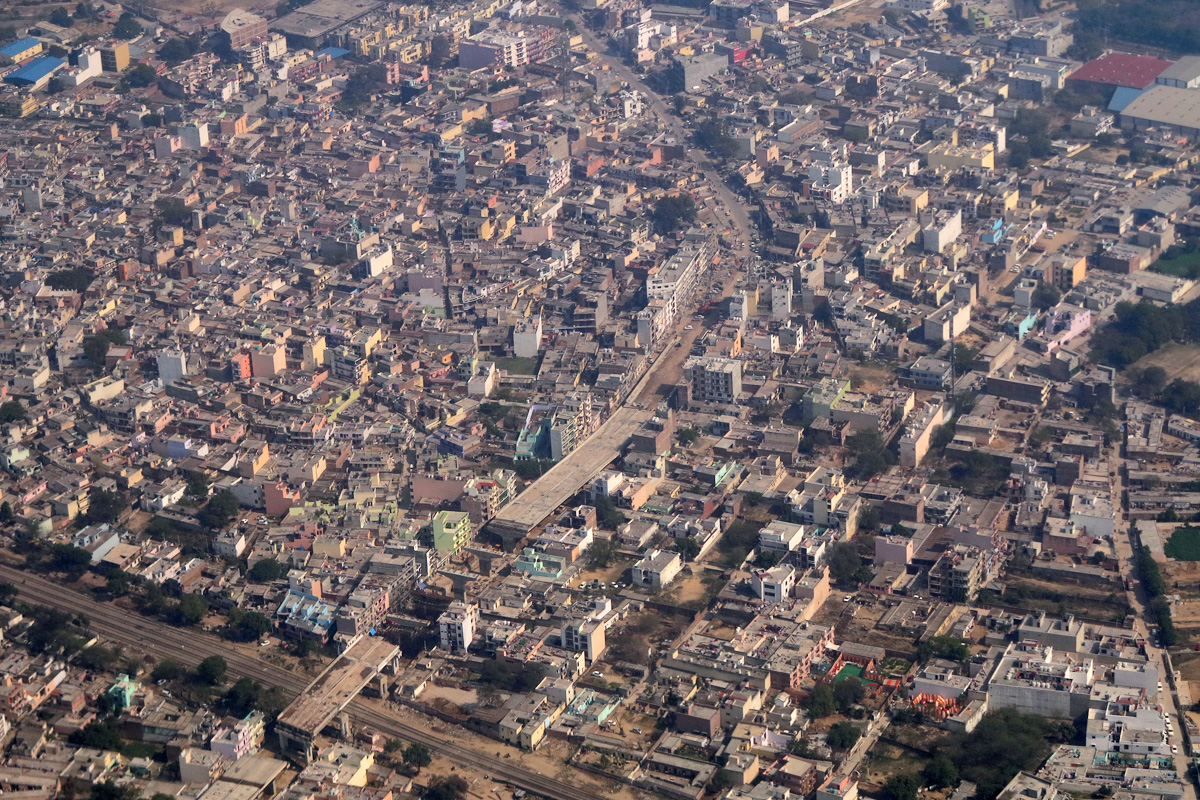 Time to enjoy lunch! Some deliciously spiced chicken curry plus some Indian bread which was warmed up and handed out separately. The same strange dessert was once again waiting in vain to be eaten :)

I rather enjoyed the view out of the window, where in the distance the Himalaya chain accompanied us for most of the trip. I think I even spotted the world's highest mountain, Everest.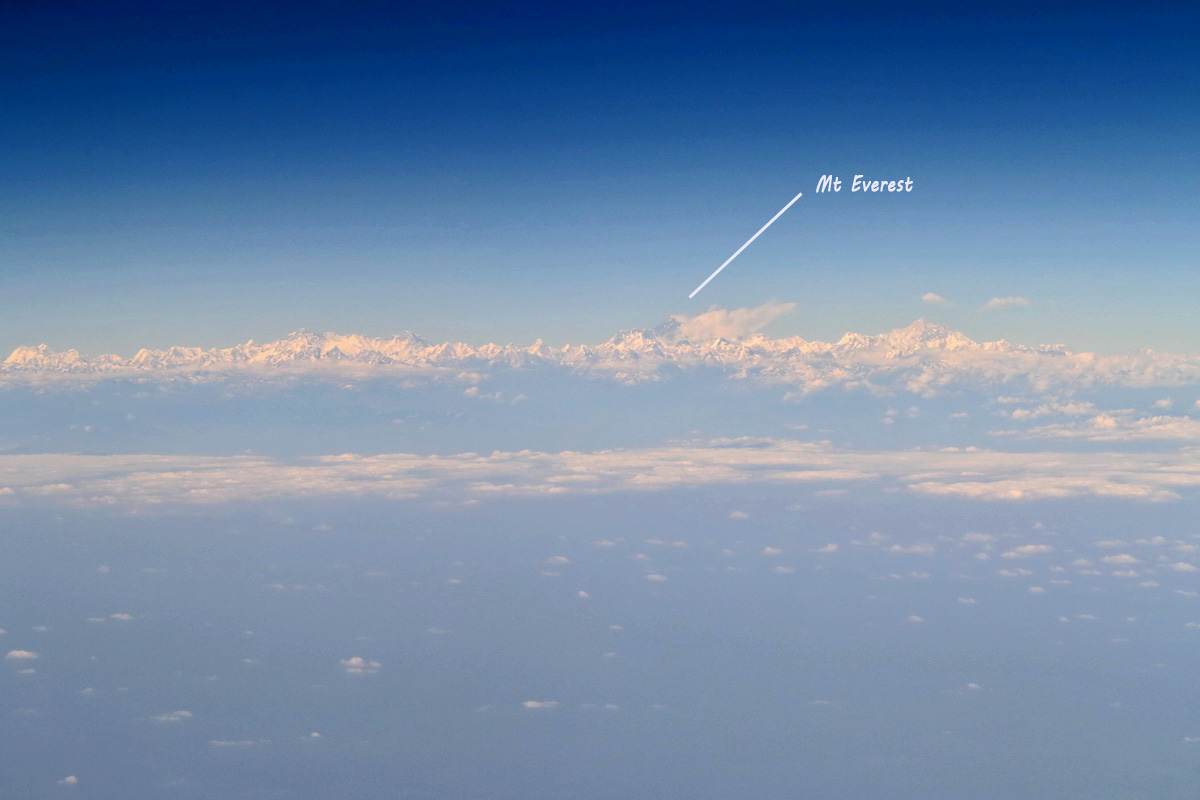 Descending towards Dhaka I got a nice view of the Jamuna River, one of Bangladesh's three largest bodies of water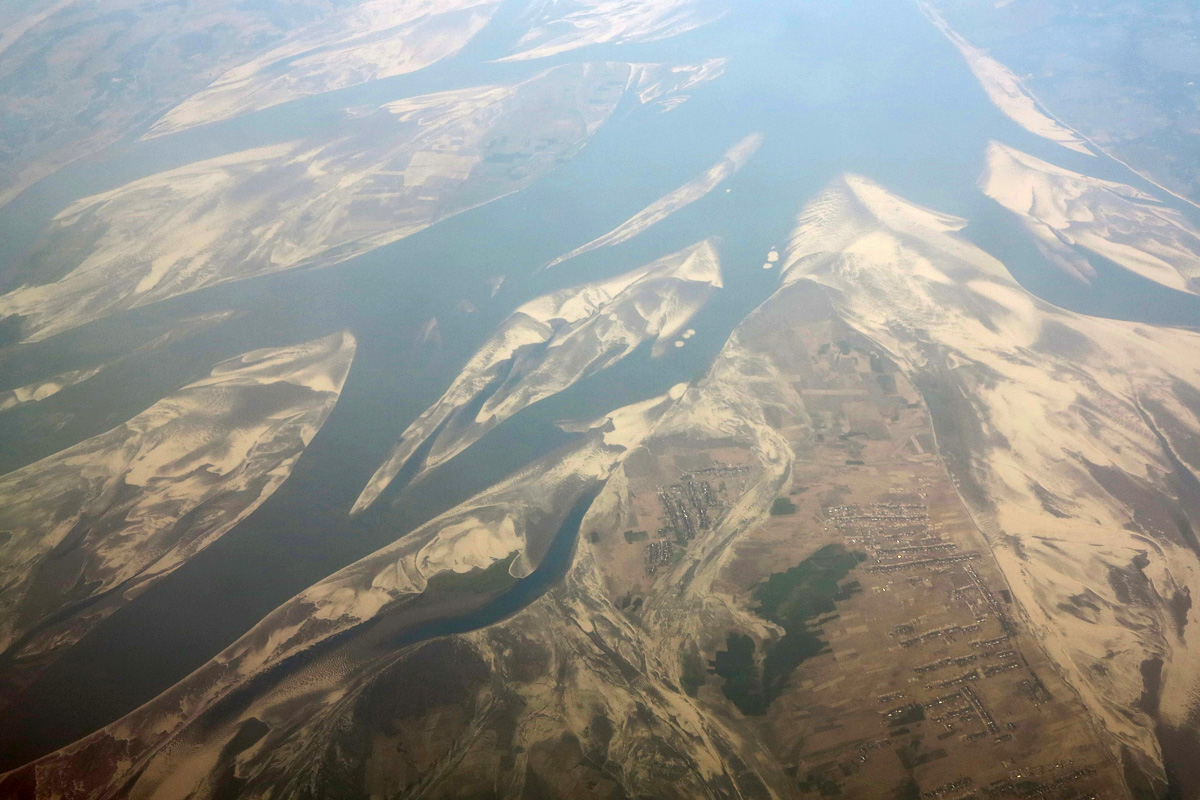 Finally we performed a 270-degree turn, headed north and carried out a VOR/DME approach to Rwy 14. Along the way I caught some glimpses of the beautiful countryside, mainly made up of wetlands and rice patties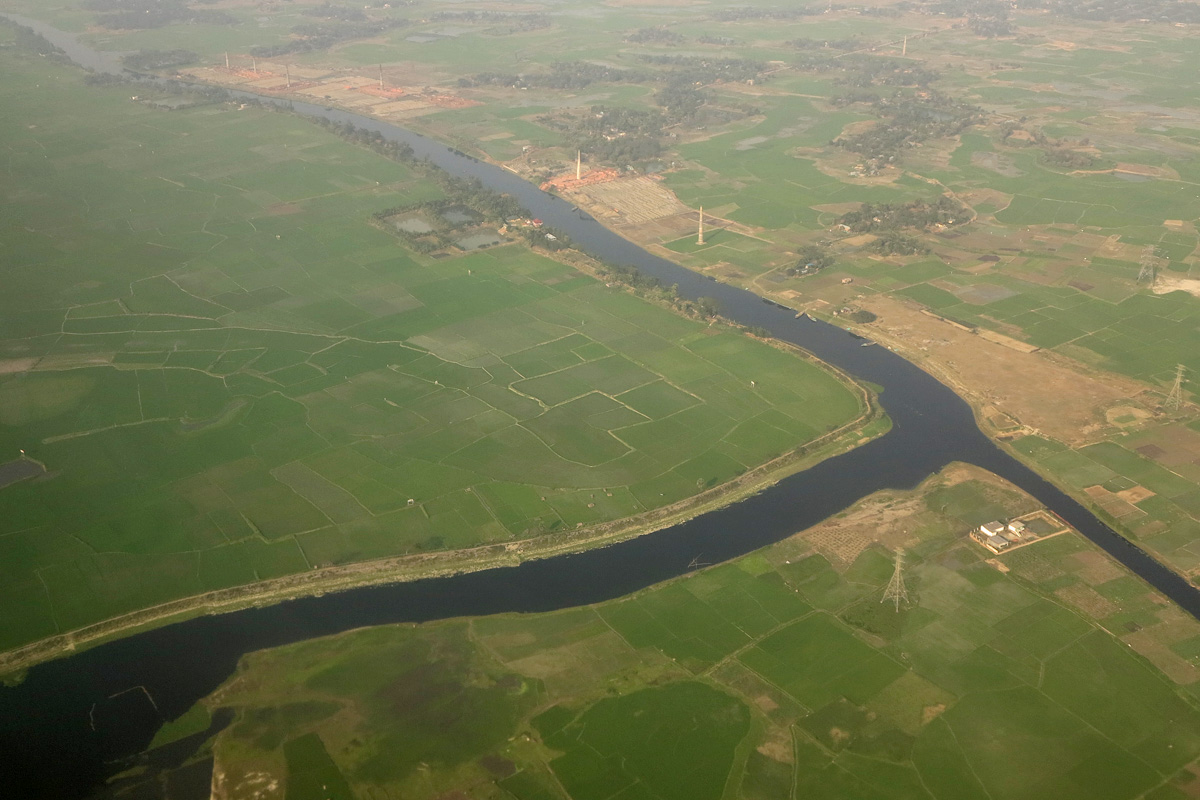 Some minutes later we were on final approach, with the scenery looking distinctly different now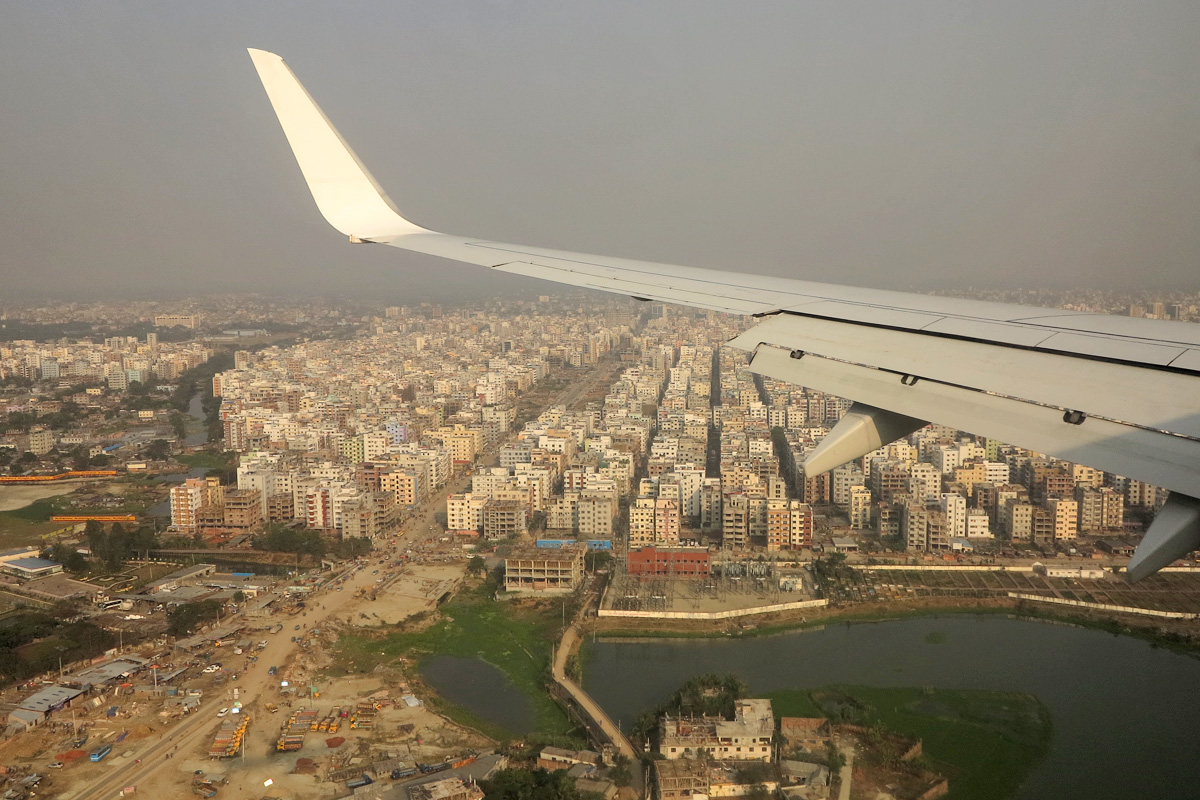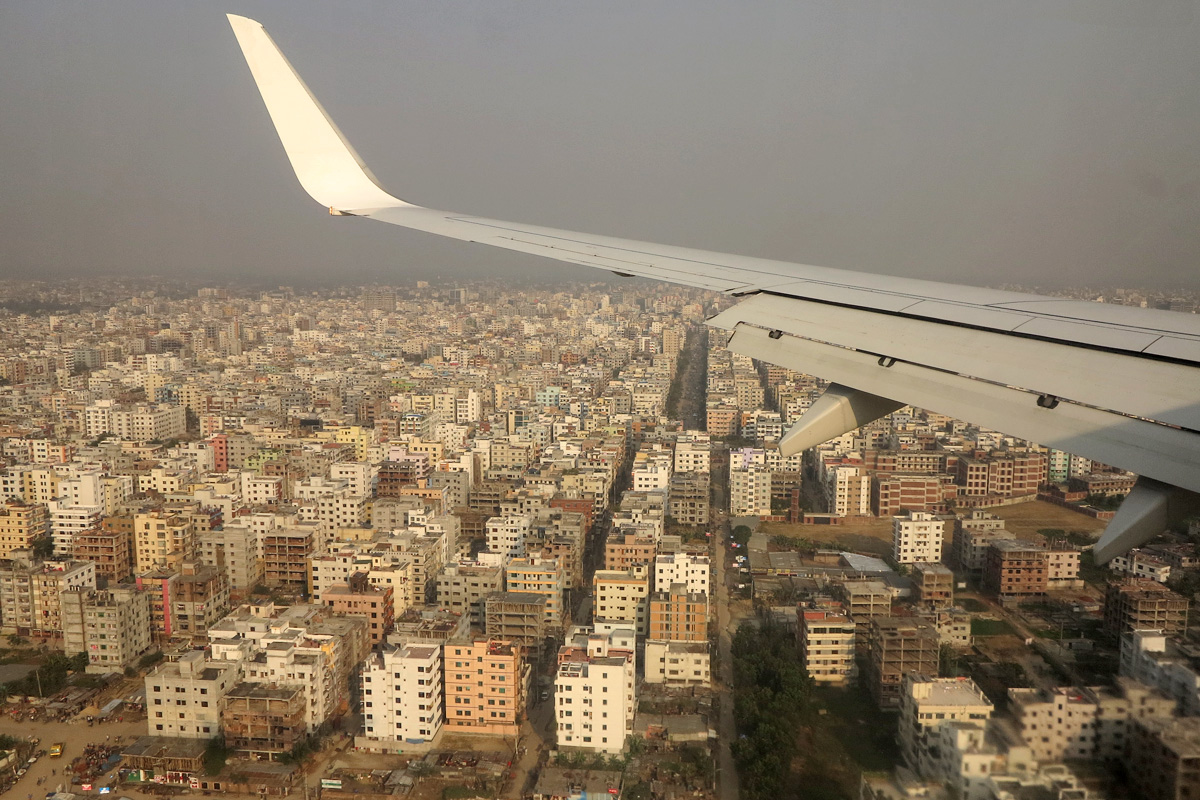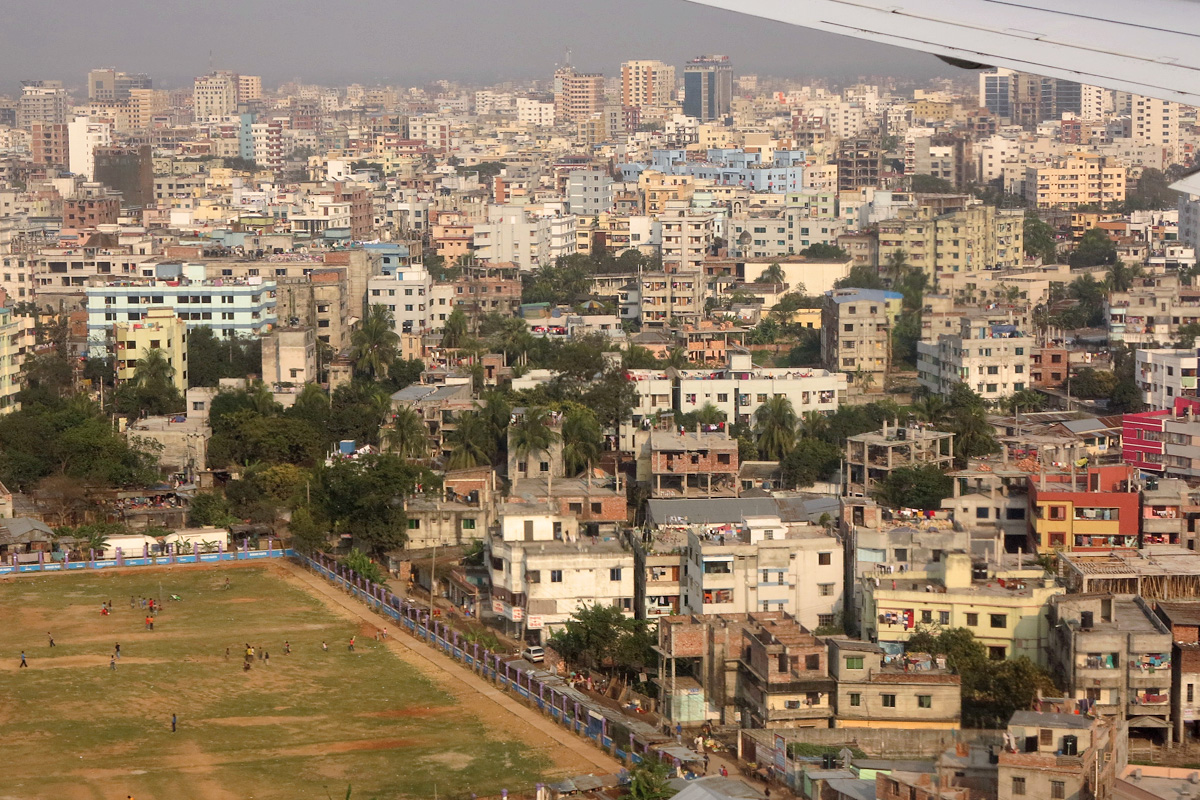 Welcome to the land of DC-10s! Too bad that only one of them was still in flying conditions (it was in the hangar)!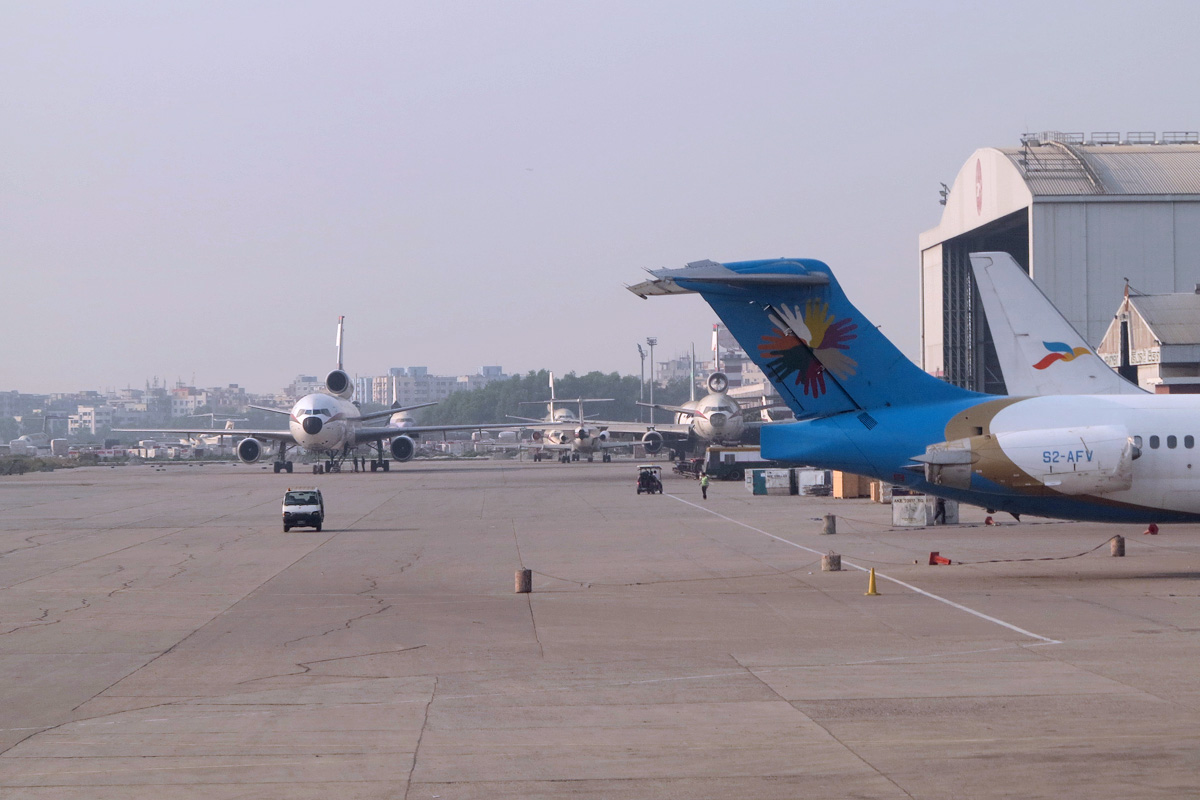 Walking through the terminal I was even treated to a view of Biman's catering complex :)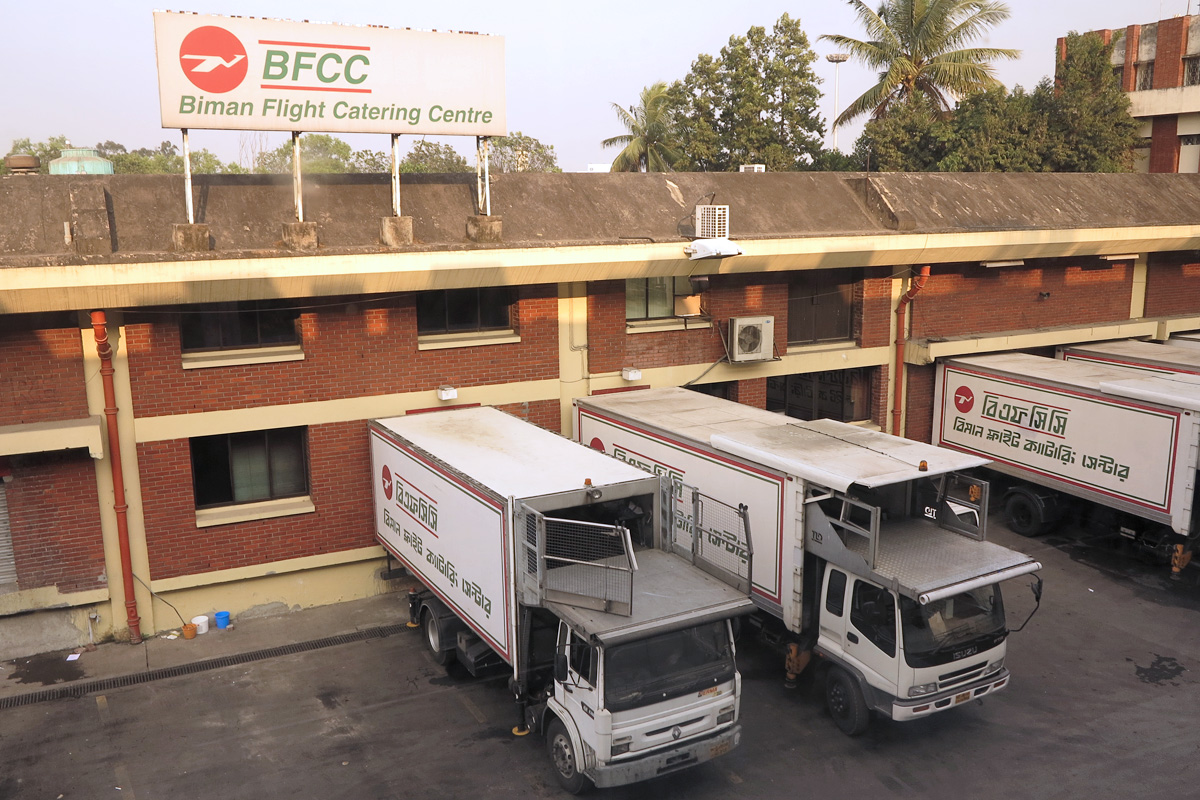 Then it was time to enter the country. Half a dozen forms were filled in, 50 Dollars plus 1 Dollar in taxes were paid (the latter in Indian Rupees just for the fun of it), and without problems I received my stamp and my 5-day visa on arrival.
Welcome to Bangladesh! It was my second time in Dhaka, and the 10-minute ride from the airport to the hotel proved to be almost as noisy, colorful an adventurous as I had remembered!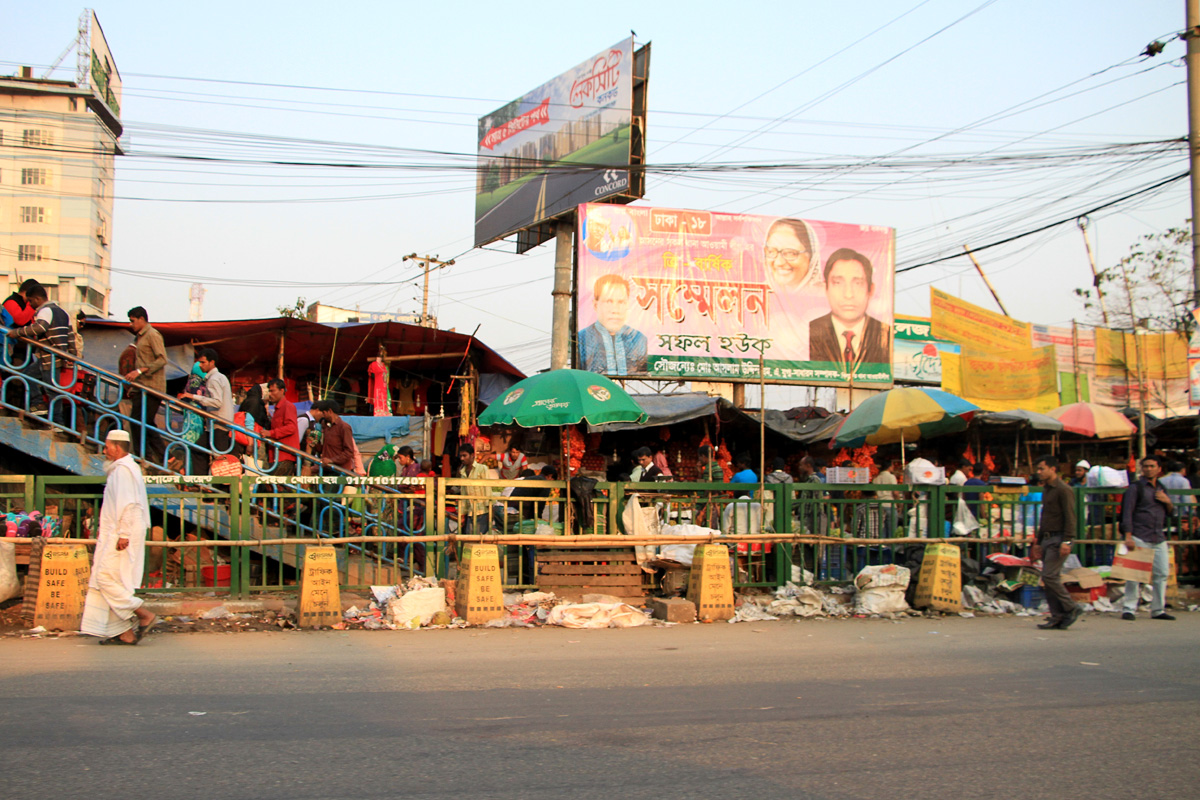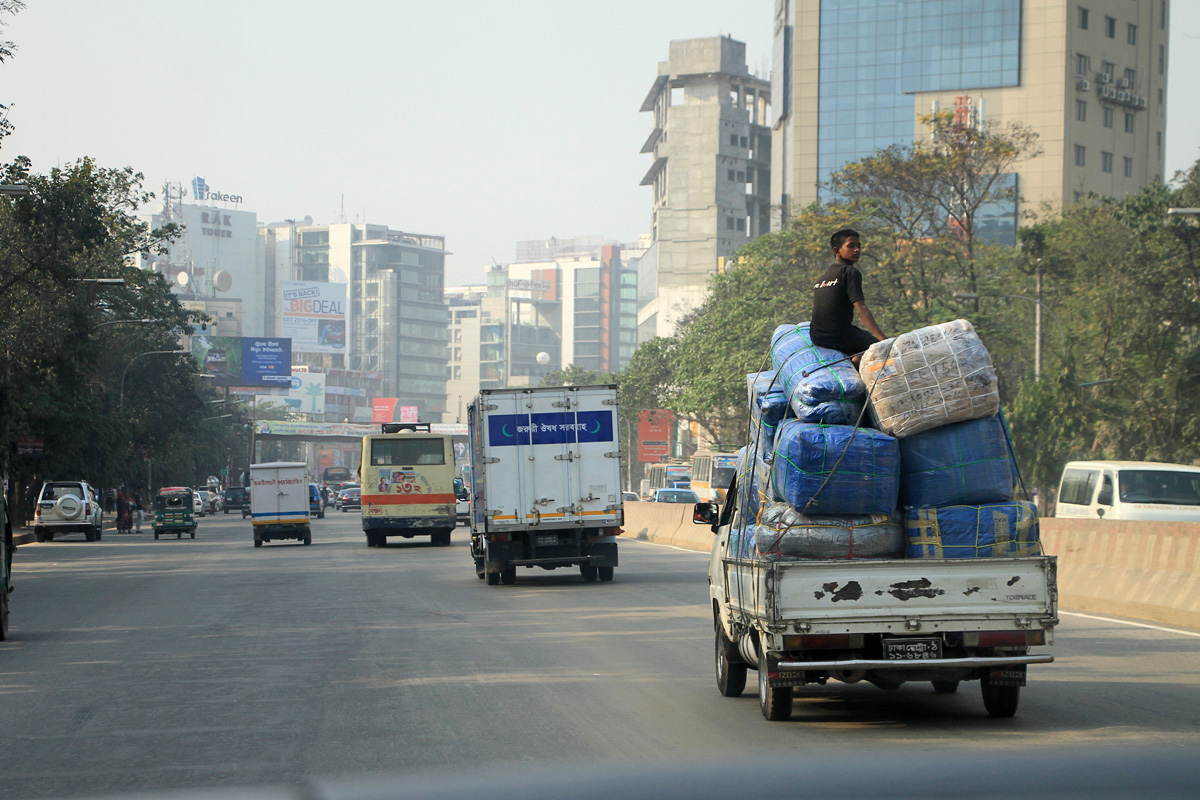 I went for an early rest, and then took a cab out to the airport at 5AM to welcome a friend from Switzerland who would join me from here on. Back to the hotel and back to bed for another couple hours of sleep.
We had included one rest day as a buffer in case anything went wrong on our way here – which was almost the case for my friend. His flight on a Darwin Saab 2000 from Geneva to Rome (to catch a Kuwait Airways connection from there to Dhaka) happened to be on the exact date one now infamous Ethiopian pilot decided to pay Geneva a surprise visit. My friend's Darwin flight was thus cancelled. Fortunately, this was just done to replace it with a larger Swiss Avro RJ100, taking not only the Darwin passengers, but also some stranded Ethiopian crew and pax to Rome (their actual destination).
So we had a day in Dhaka at our disposal, and since we weren't too inclined on touristy sightseeing, it was entirely used for planespotting instead! We spent the morning in the driveway of our hotel, the Radisson, from where climb-outs from Rwy 14 could be photographed. My last memories of planespotting in Dhaka aren't too fond, and after a photo session on the apron my memory card remains with the airport's police chief to this date. So I was understandably worried when we were suddenly approached by a bunch of officers. However, it turned out they just wanted to take pictures with us forgeiners, and were very kind and fascinated by our hobby!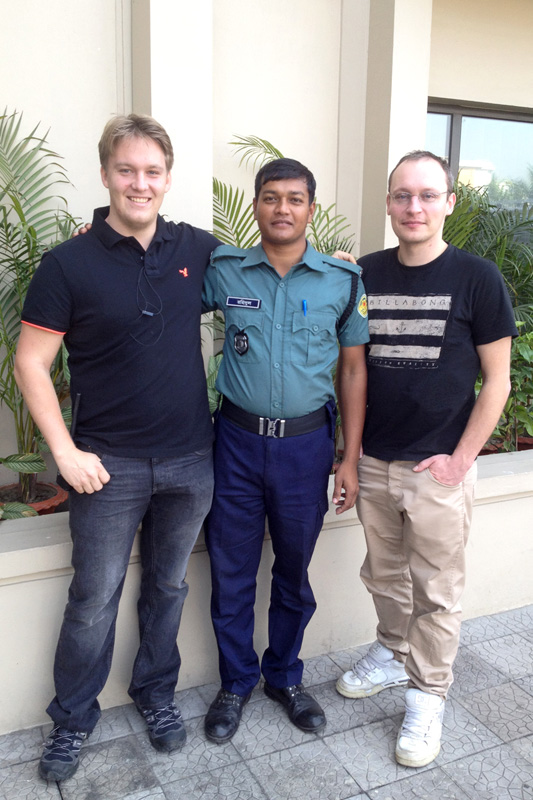 Later in the day, a hotel cab took me to the arrival section of the same runway, where I would meet a couple locals and several visiting spotters. Even the drive there was an experience on its own!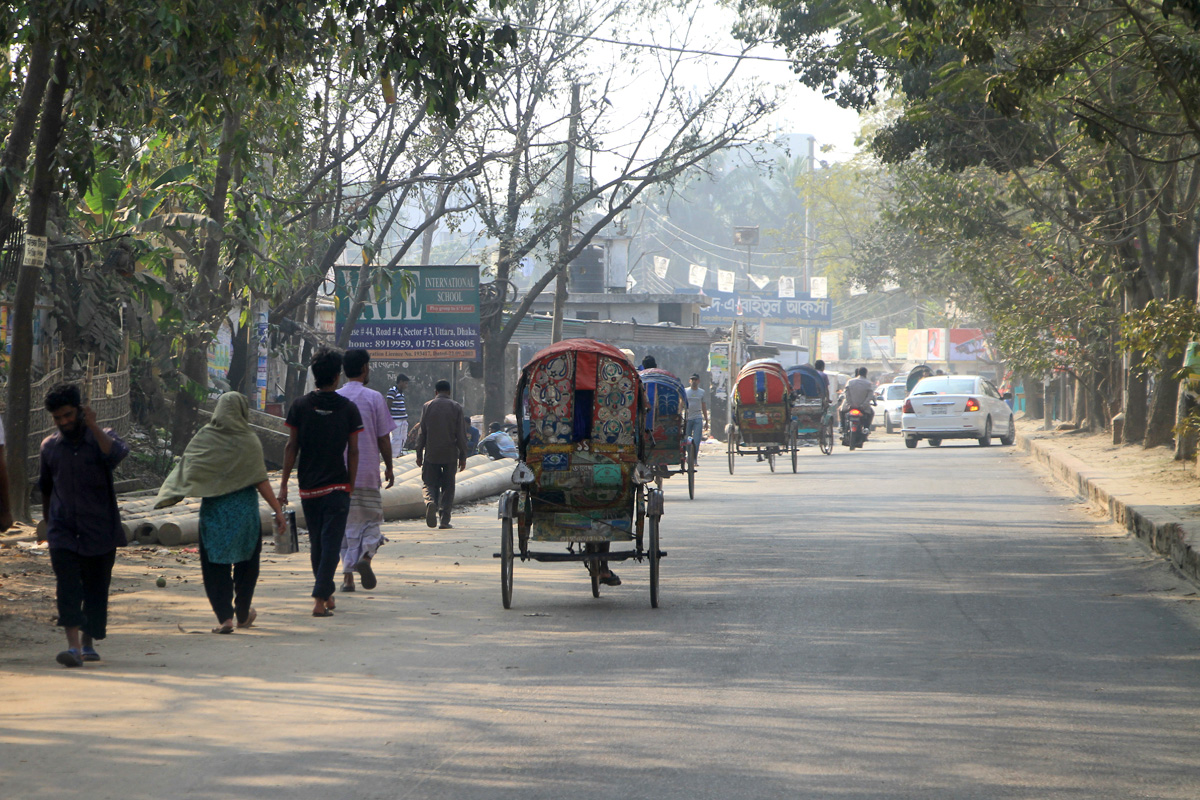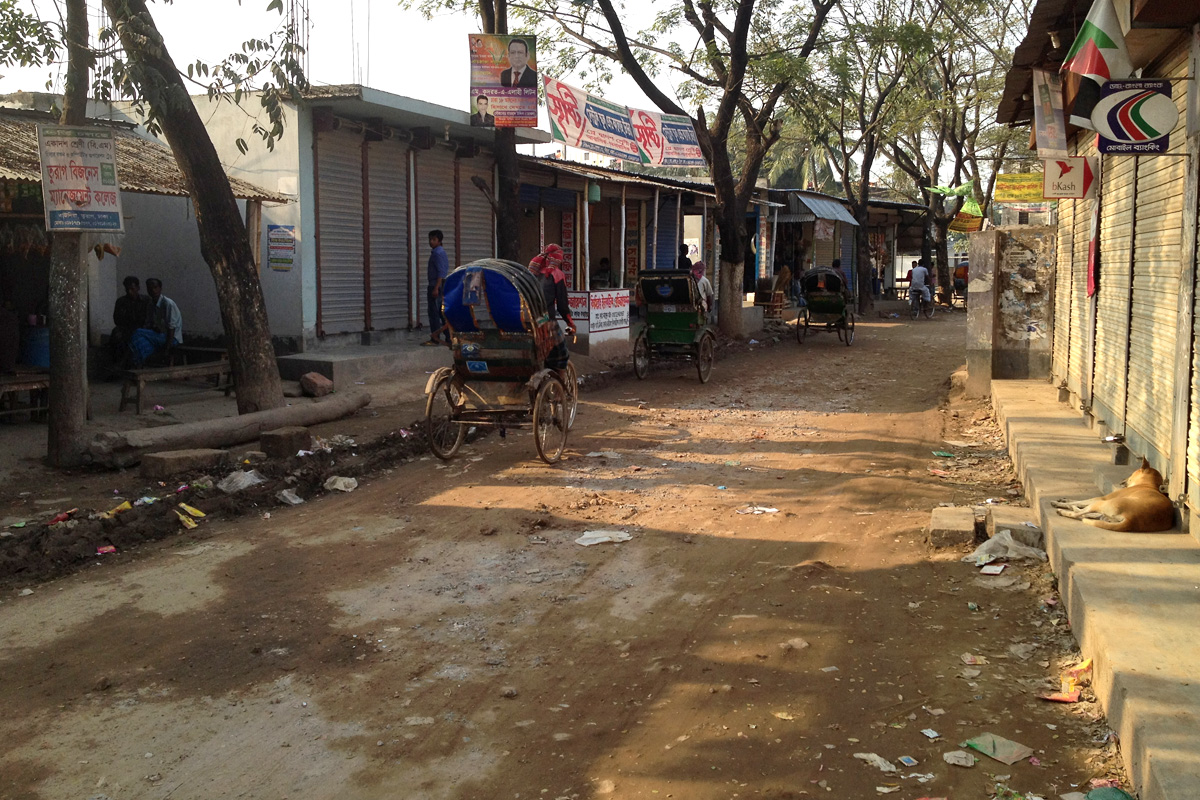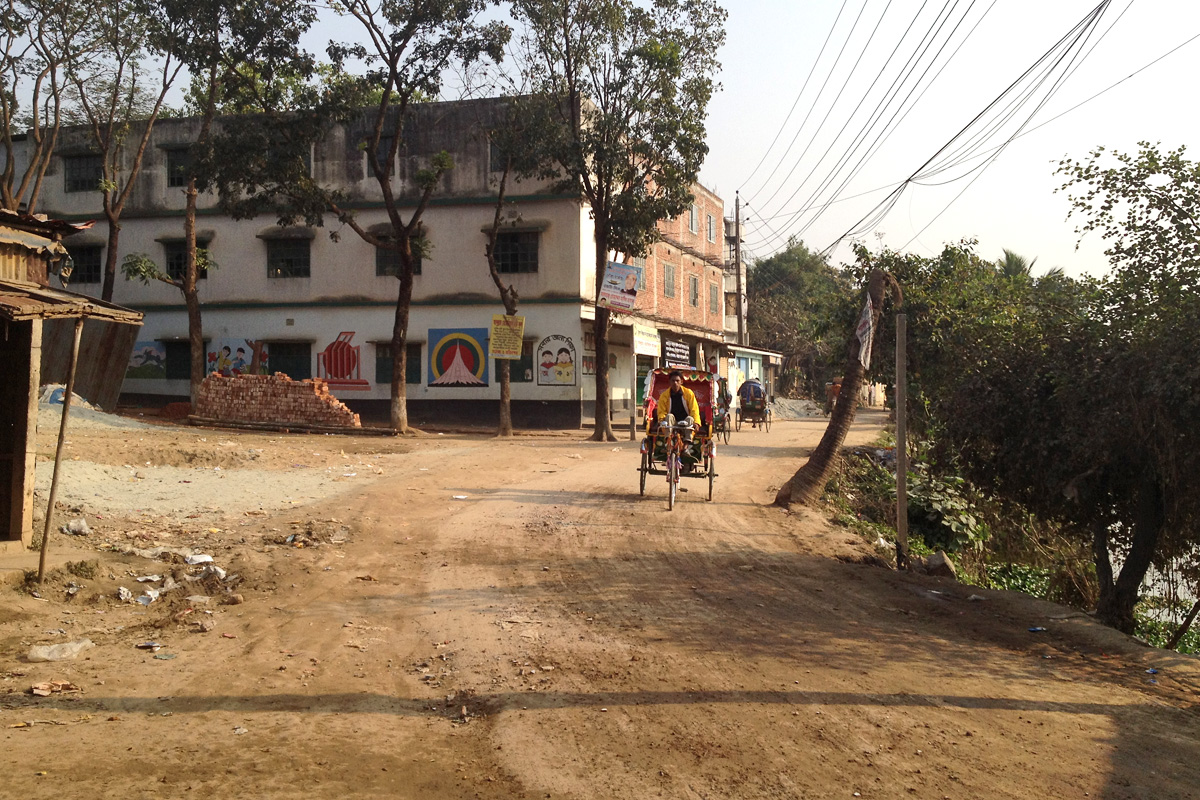 But it paid off: On a rooftop of a local family's house, I was in good company of half a dozen other visiting enthusiasts and enjoyed a perfect view of the runway and all the interesting traffic: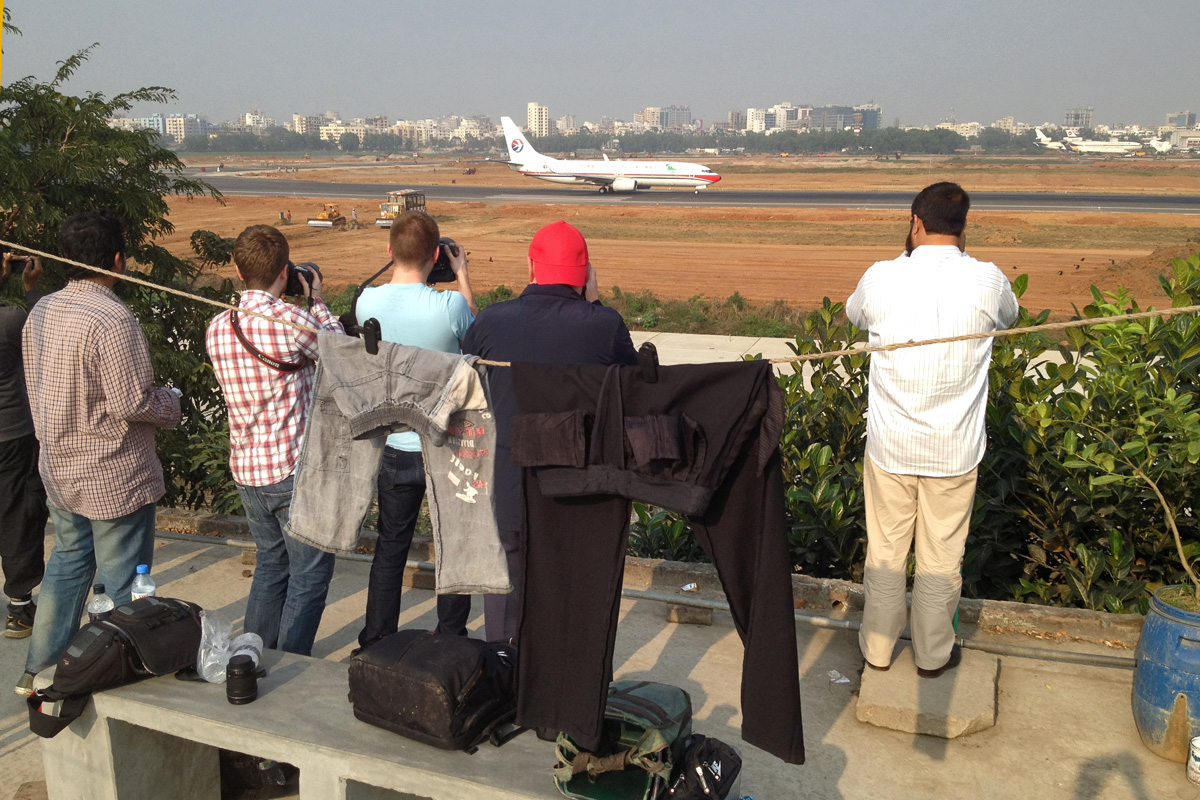 Here's a small selection of some of the stuff we saw there (the A310 being taken from the Radisson earlier).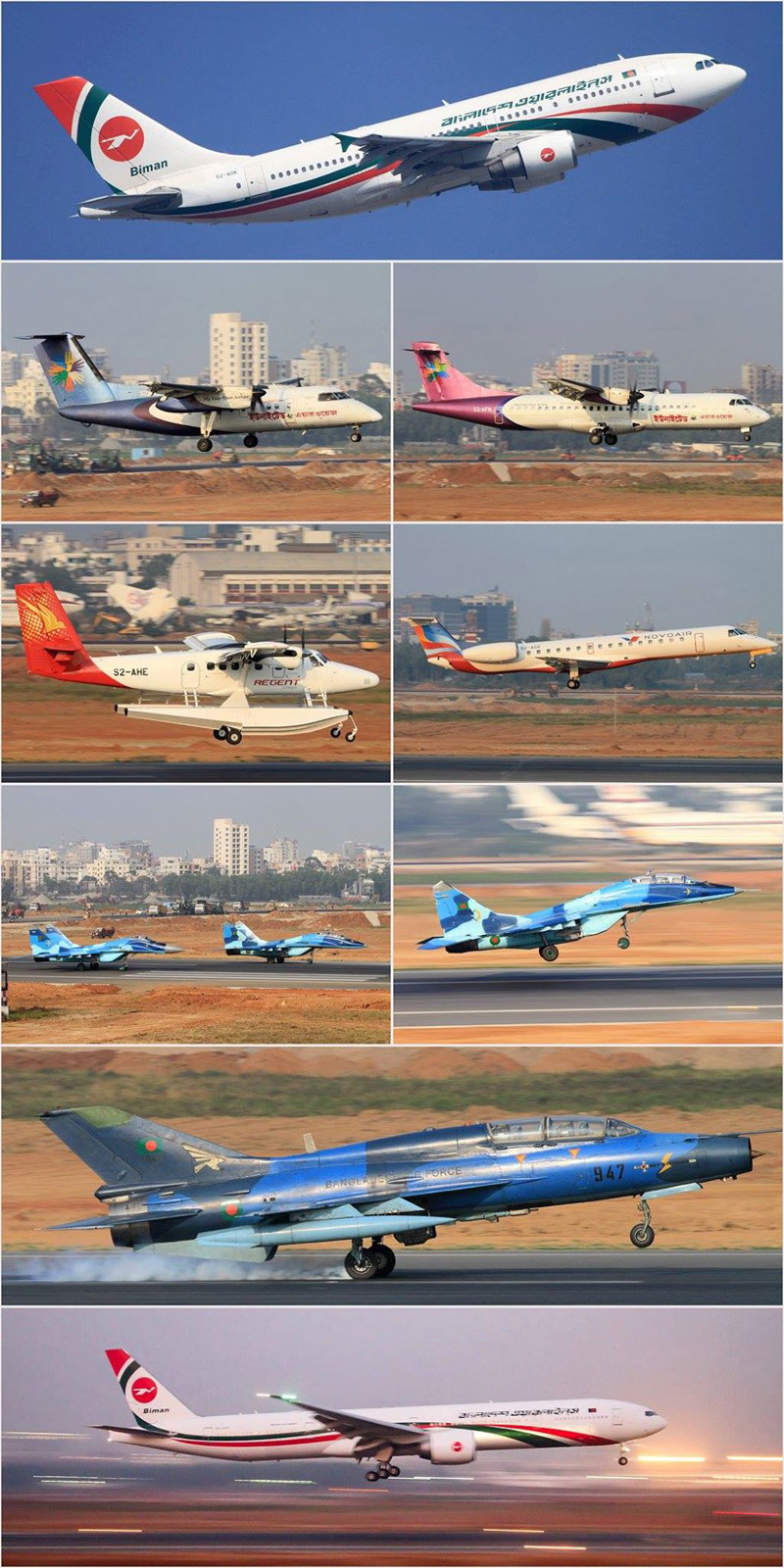 After a sumptuous dinner at the Radisson and a short night's sleep, the big day had finally come. The last commercial DC-10 passenger flight (that's how Biman billed it) was about to take place, and I was on it! Yet, when me and my friend pulled up outside the international terminal shortly after 6AM, it was just business as usual and we seemed to be the only westerners for miles.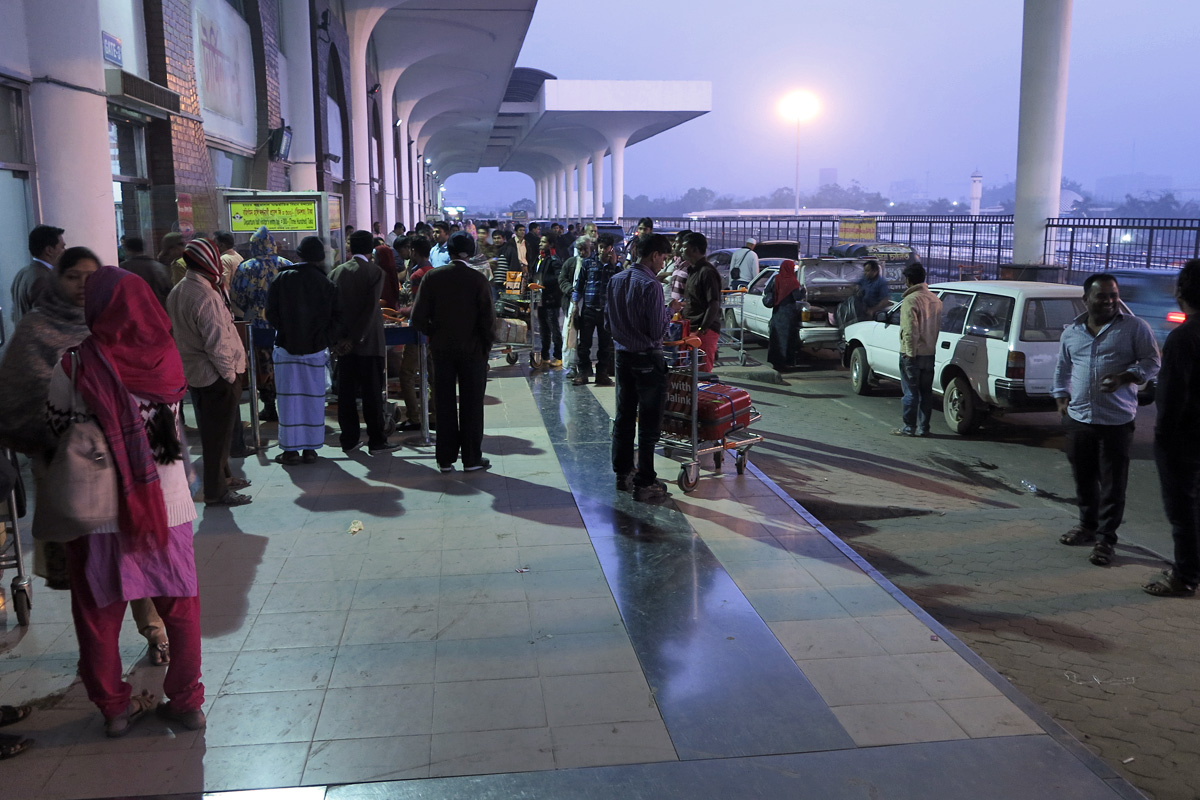 We joined the loud and scrambling mob of locals to pass through security screening at the terminal doors, and when inside, lo' and behold, our flight was on the screens!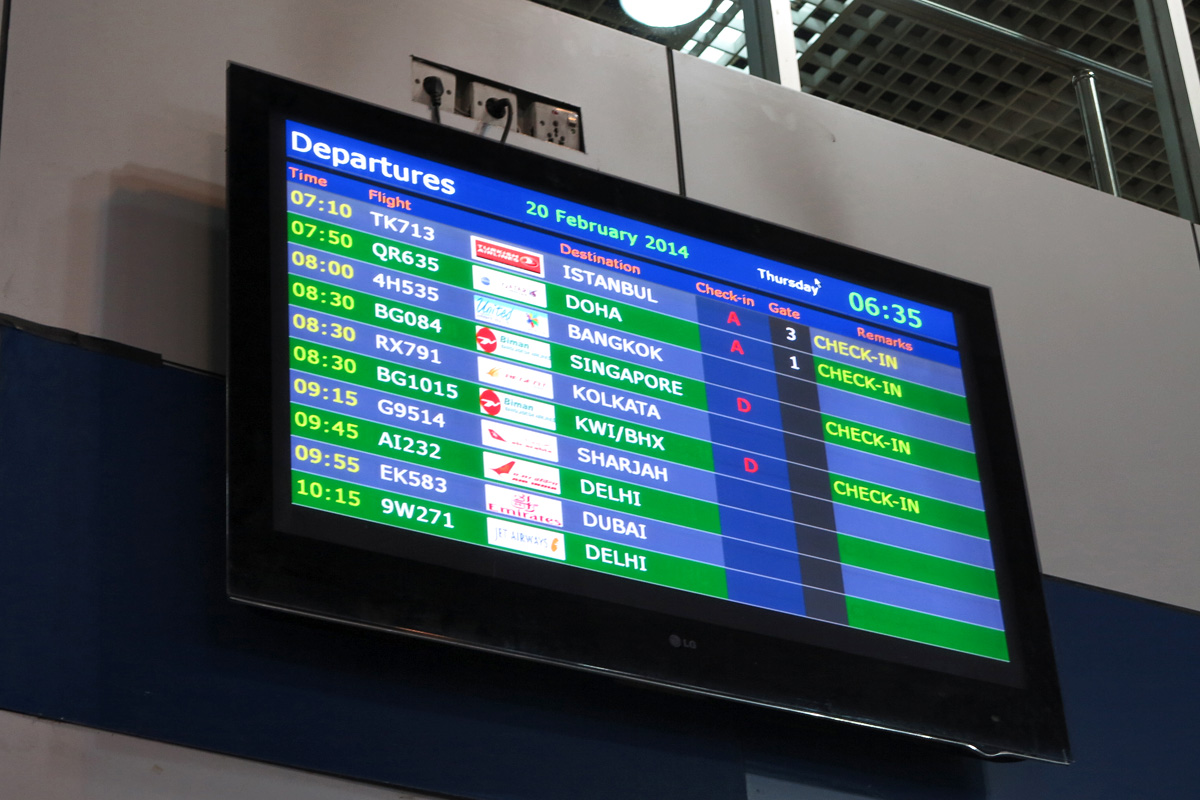 While looking for the check-in desks I turned around to catch a shot of Dhaka's busy terminal – and also of the female soldier, as Bangladesh is one of only a few muslim countries to have women (and quite a lot of them) in its armed forces. Plus I find the blue uniforms quite fancy!
Finally we found the check-in desks, were instantly waved to the priority line, and registered for the special flight. Not knowing that the DC-10 would be almost empty, we begged and pleaded for seats in rows 7 and 8, hoping for good views of the engine. Total time spent in that seat later? 30 seconds :D.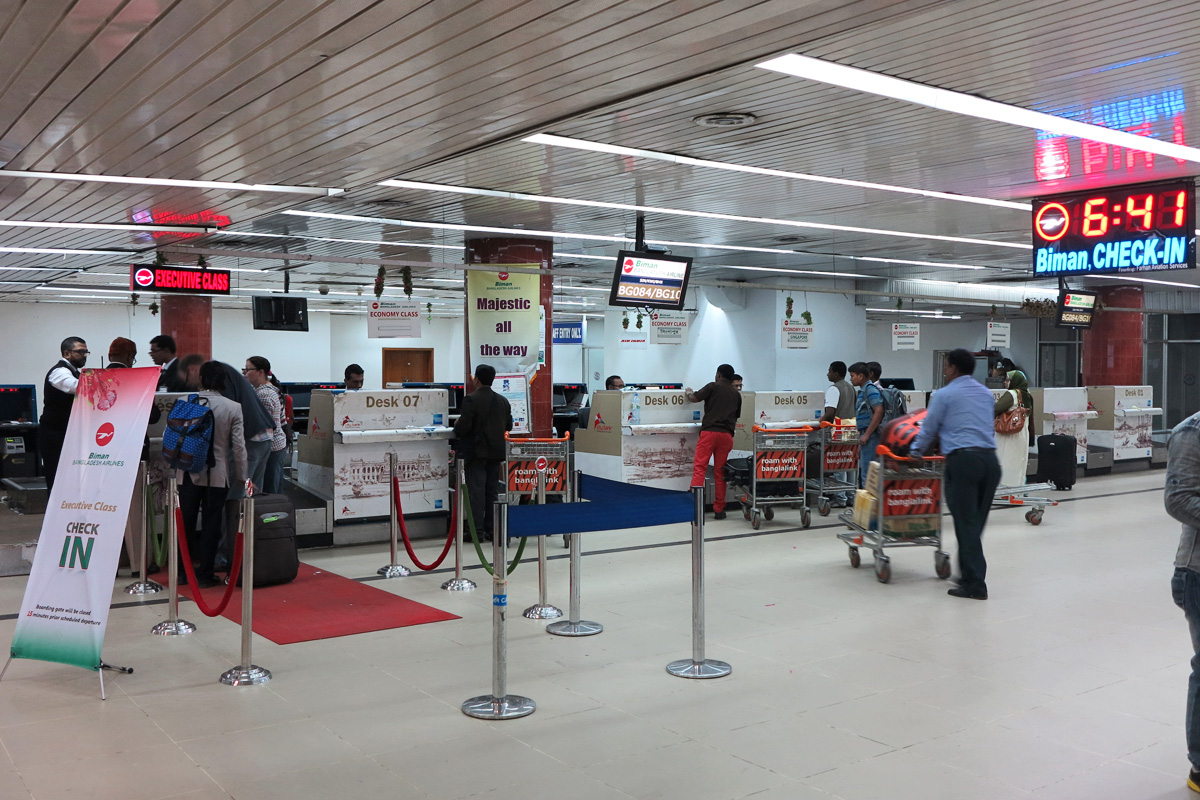 Here it is, my boarding pass for the historic flight!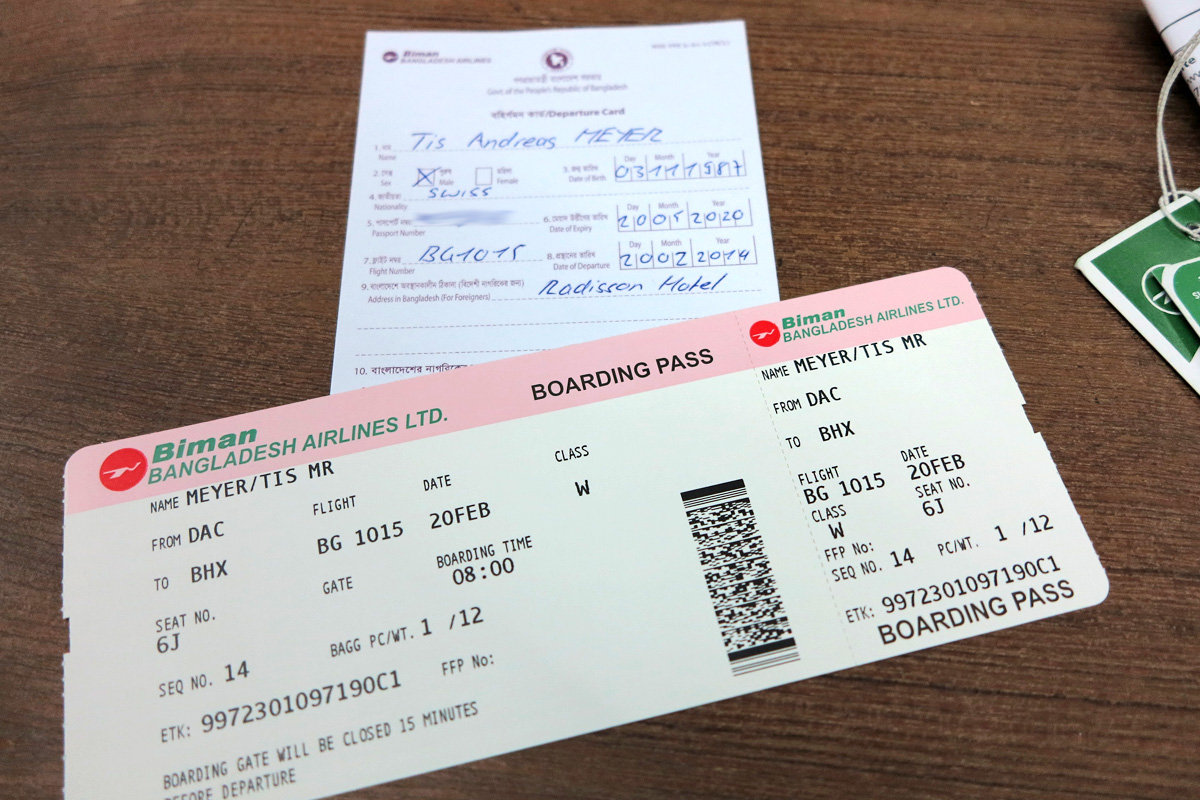 We made our way through passport control, lingered around the duty free shop in search of some last-minute souvenirs, and met more and more familiar faces along the way. We all headed to gate 2A where another security screening took place, before we all assembled in the gate lounge.
When a total of about 35 enthusiasts had assembled, handshakes, travel stories and lots of aviation gossip were exchanged – something that would be carried on for the next fifteen hours too. Most people knew each other from past exciting trips somewhere on this planet, and new faces were quickly and warmly welcomed too.
Finally the time had come to board. Travelling in style, this beautiful bus took us to the DC-10, which was parked on a remote stand to allow better photography.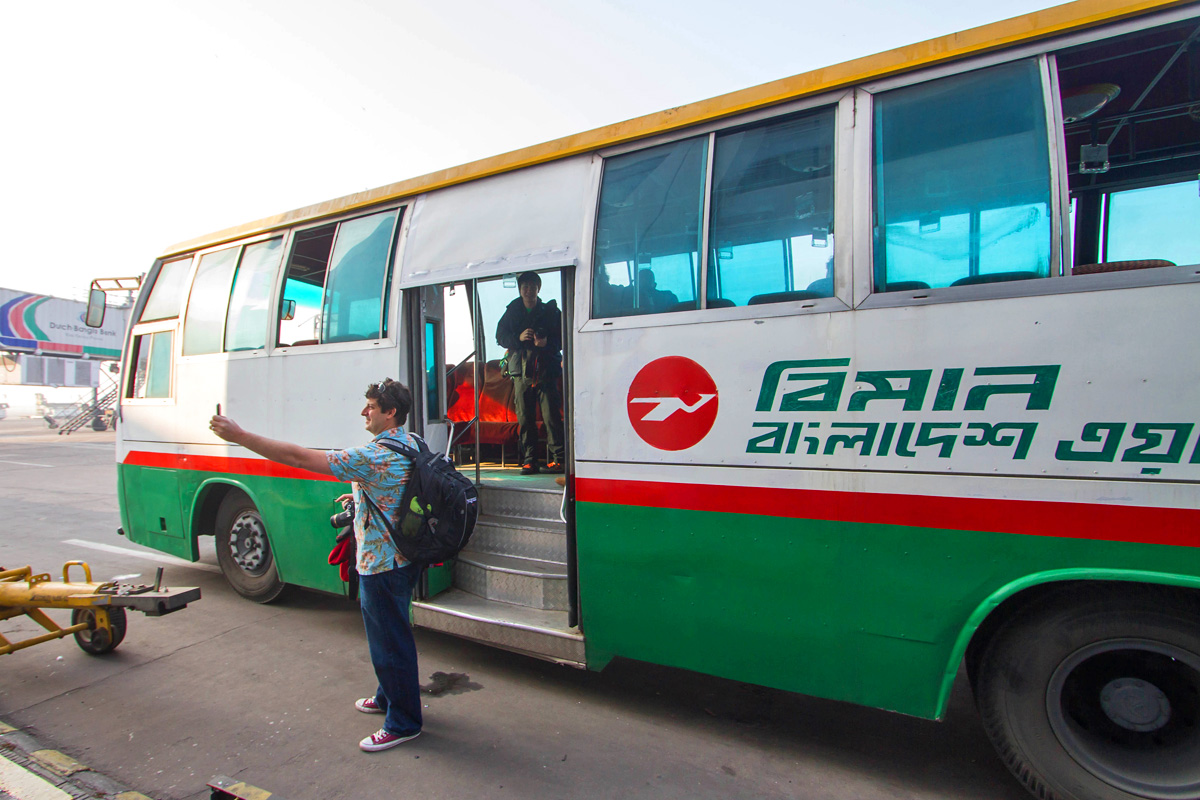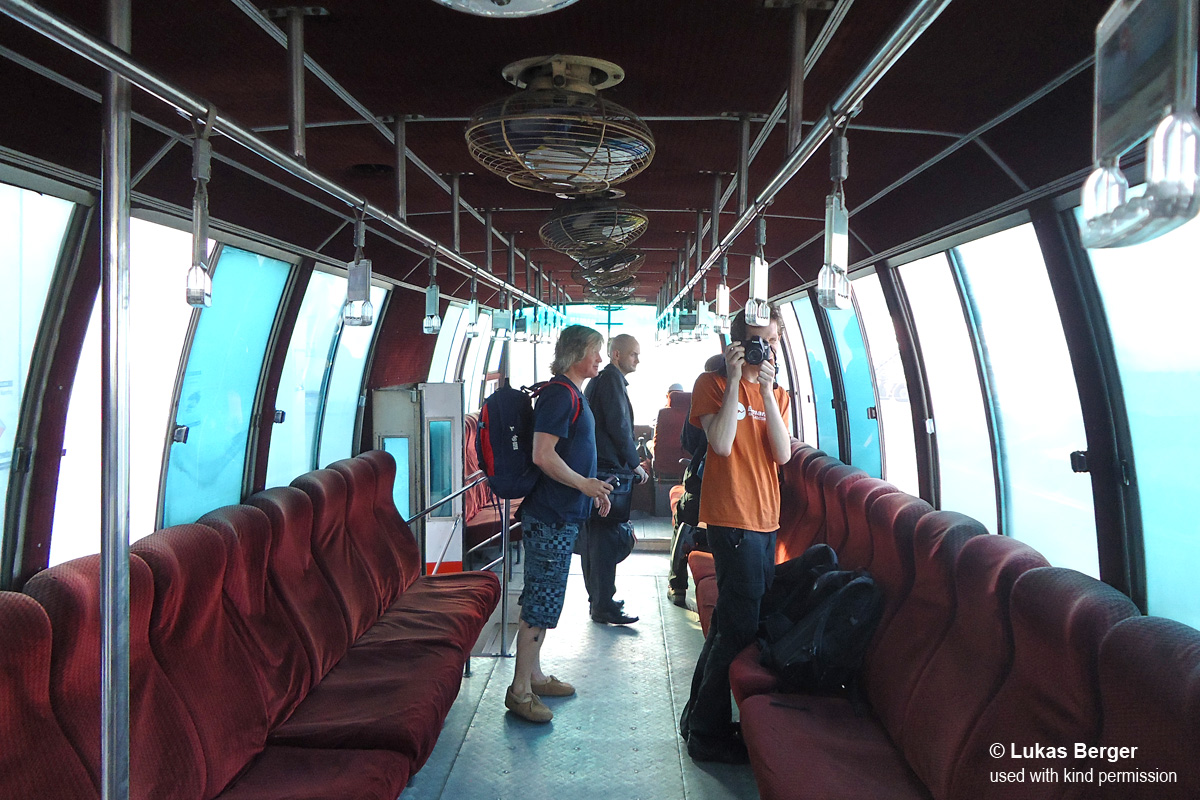 And here she is! Beautiful S2-ACR, the penultimate DC-10 built, delivered new to Biman on December 30th, 1988. And what a party is going on around it!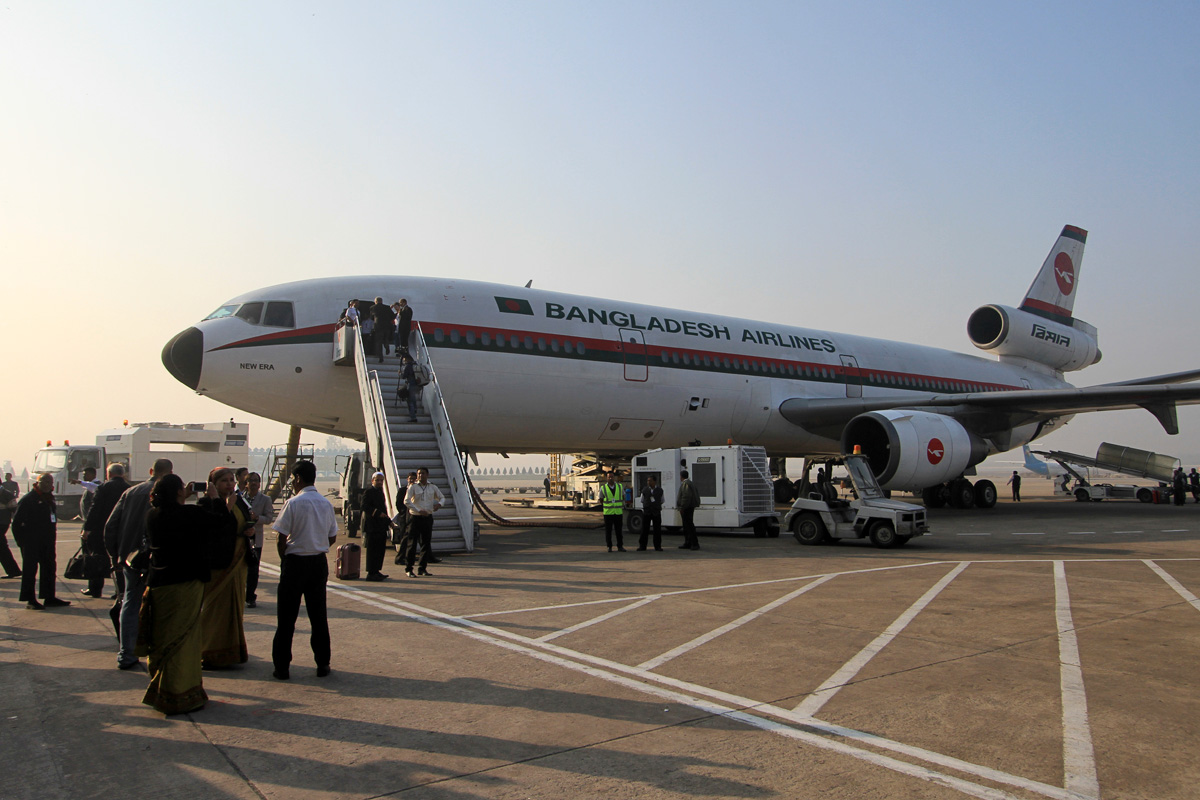 Cautiously, some of us ventured over to the correctly lit side of the DC-10. No problem with the authorities here!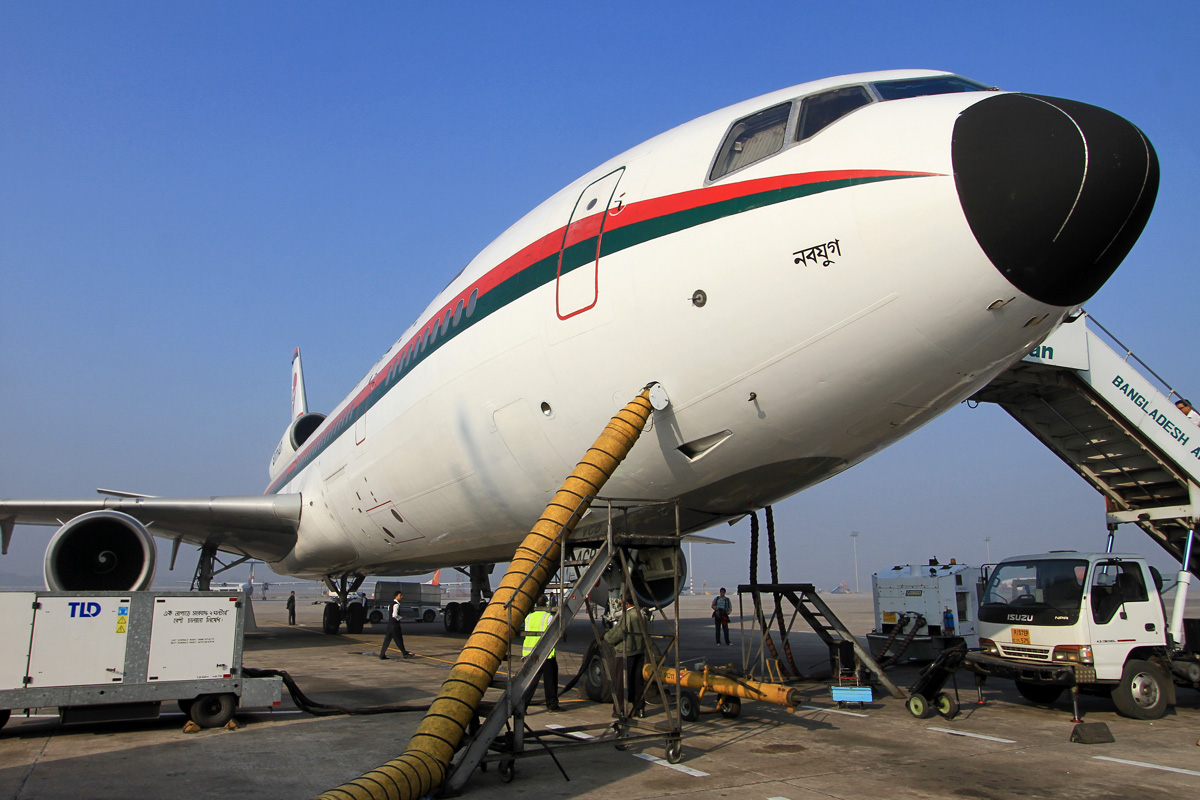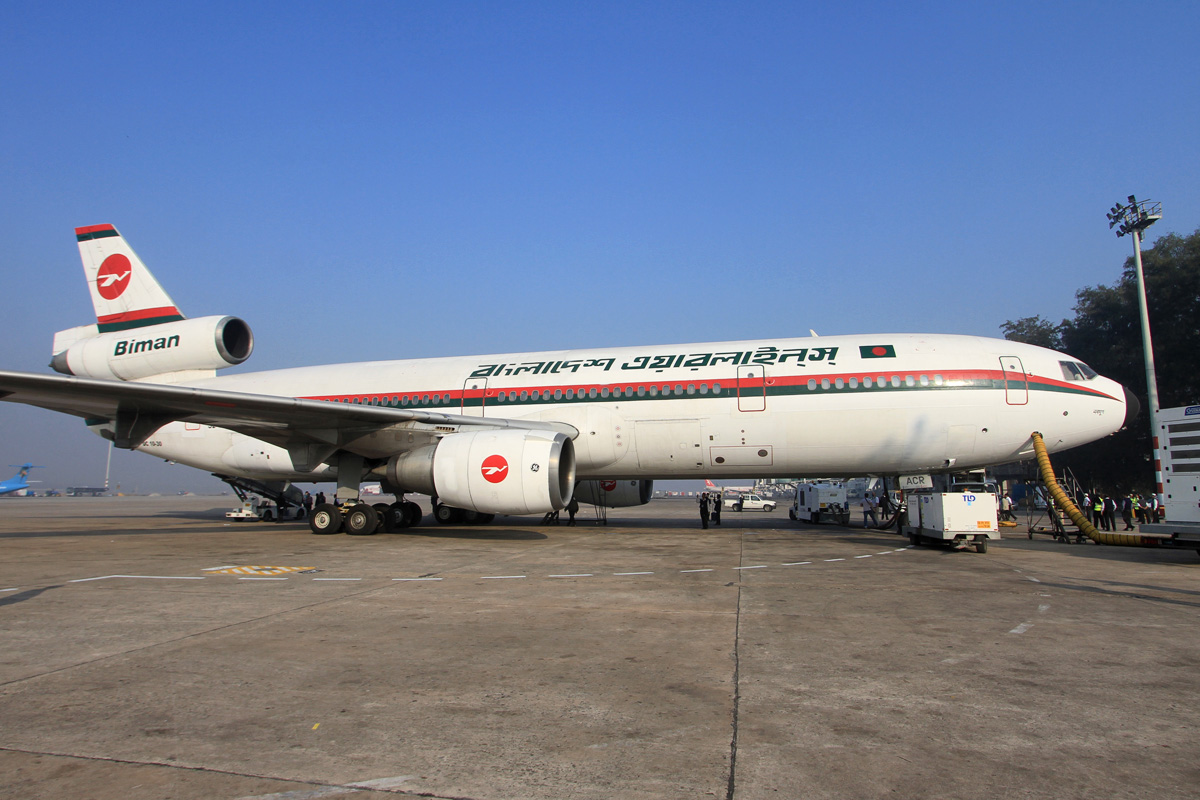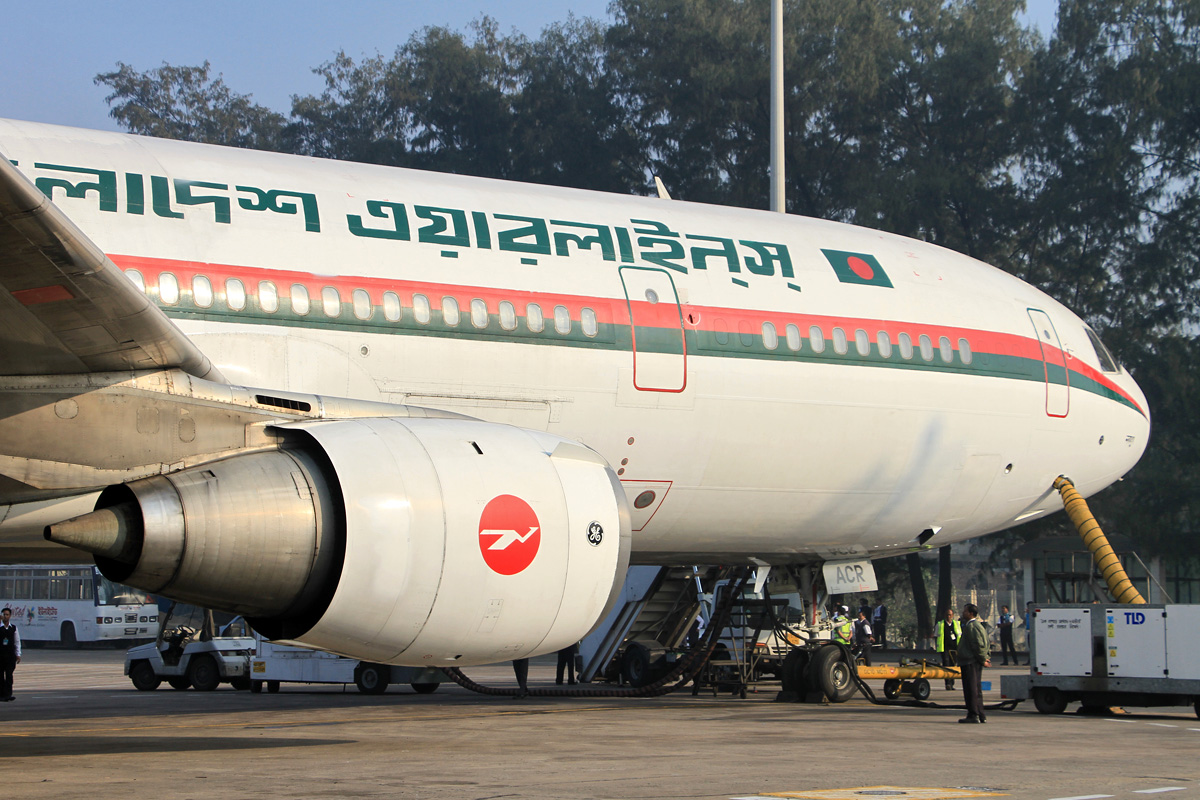 We were already in great spirits before we'd even boarded – what a memorable moment!
(photo by Karib Ahmed, Bangladesh Aviation Hub, used with permission)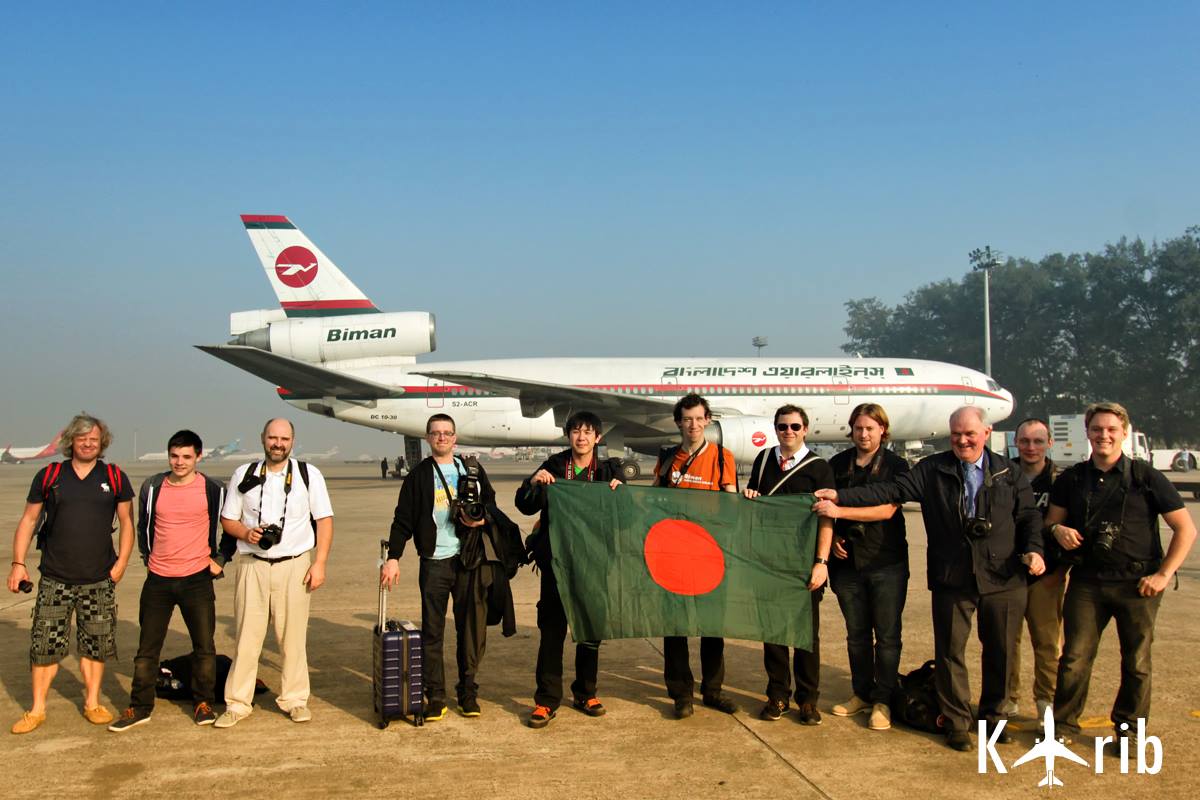 Then it was soon time for these two guys to spring into action and push the aircraft out of its parking stand
But not before everyone had boarded 'New Era' – whose name, which had always seemed a bit odd the past few years, felt downright strange on this occasion!
One more look at the elegant outside before I popped in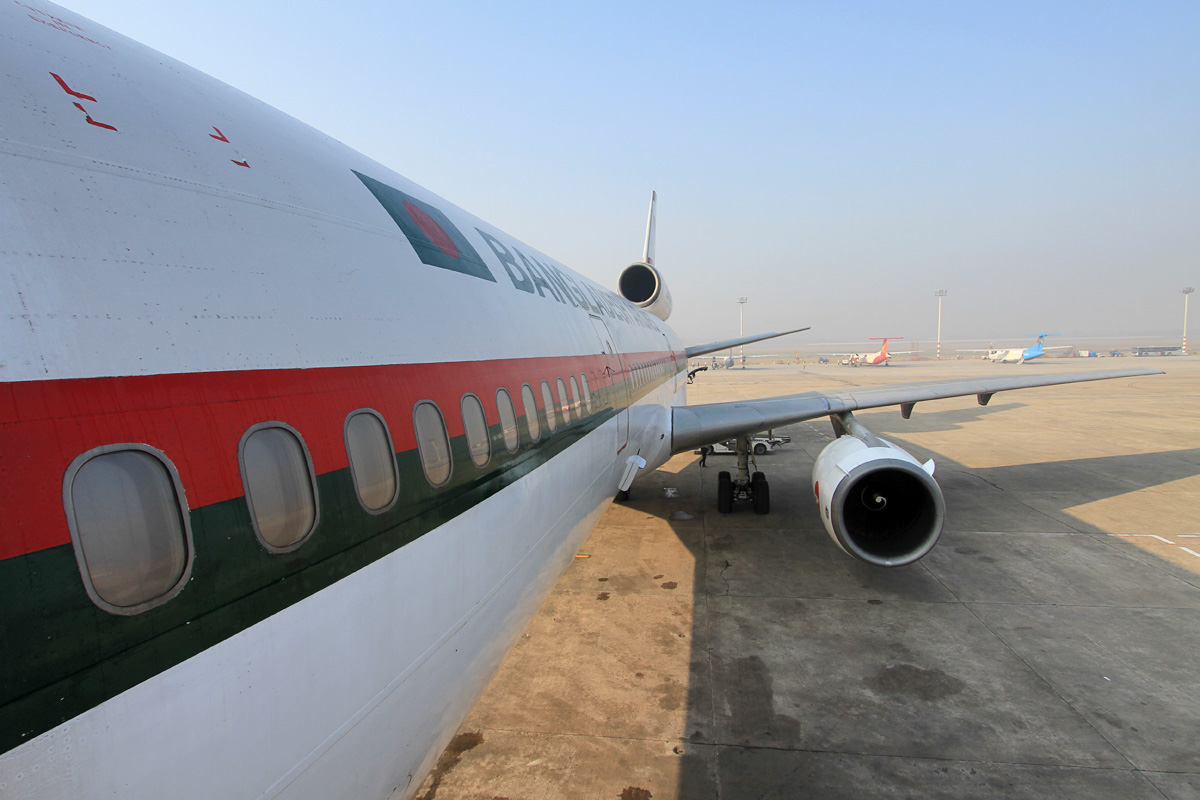 Inside, the first impression was of the front cabin. A bit dimly lit, but this made it just more cozy and intimate!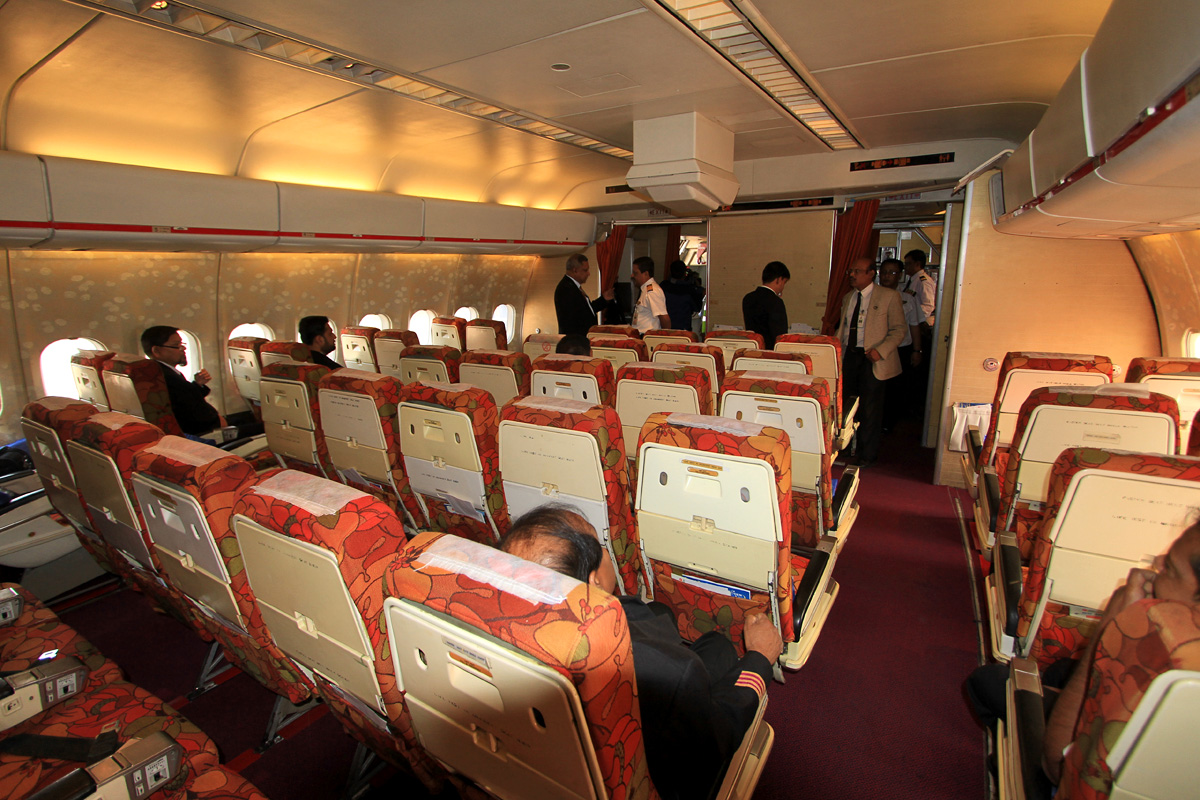 Bangladeshi TV was present, too, and asked some of the enthusiasts on board for their take on the important event
It took some time until all interviews were completed and all locals had left the plane. Finally the doors were shut, the few happy passengers welcomed in Bangla and English, and the adventure began!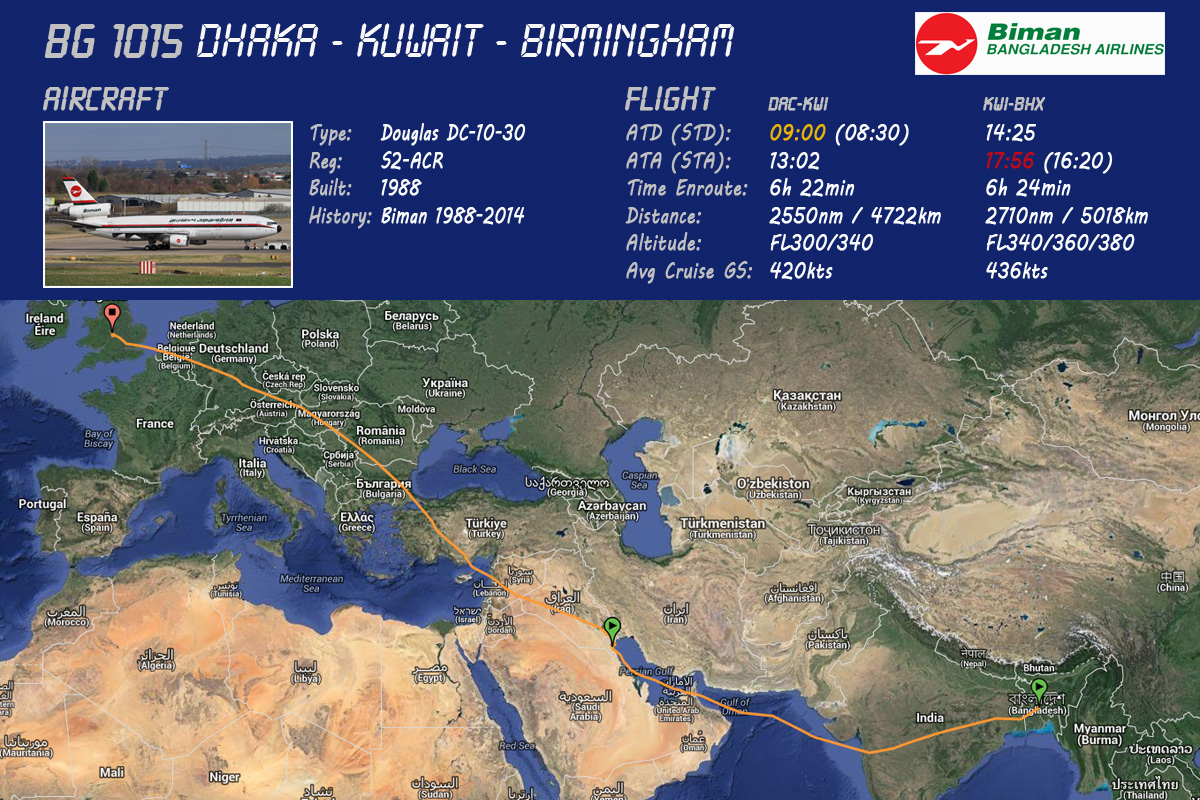 After pushback, we taxied out to Rwy 32, bidding farewell to the colorful batch of regional turboprops. The DC-10 had probably seen the arrival of each and every one of them, and now it was the old lady's time to say goodbye!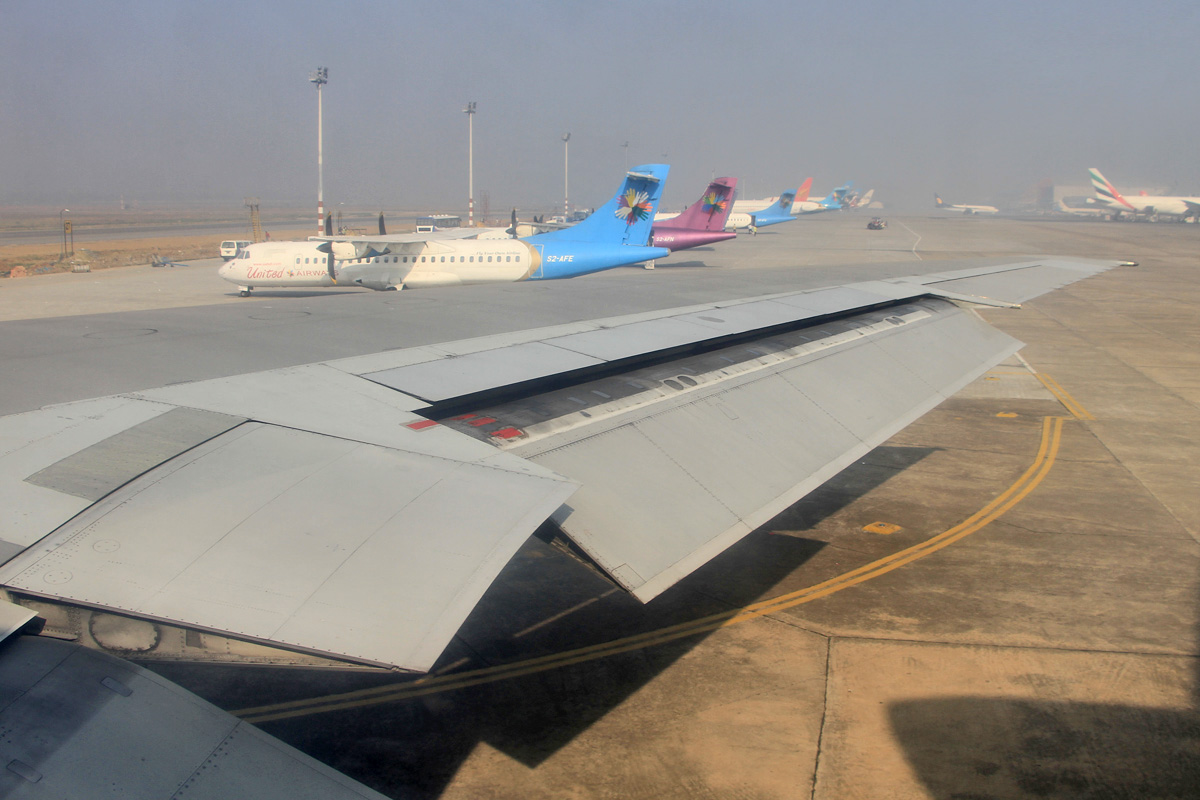 Everywhere along our taxi route, ground staff and airport workers stood and waved goodbye – quite touching! The DC-10 had been the national carrier's flagship for over 30 years, a symbol of national pride in a struggling country. A plane you dressed up for when you got the chance to fly on it, and an experience you raved about for months after. Thus, for the locals, it's not a simple matter of 'get out the old, bring in the new'. For decades, the DC-10 has been a trusted workhorse here, and farewell was understandably hard!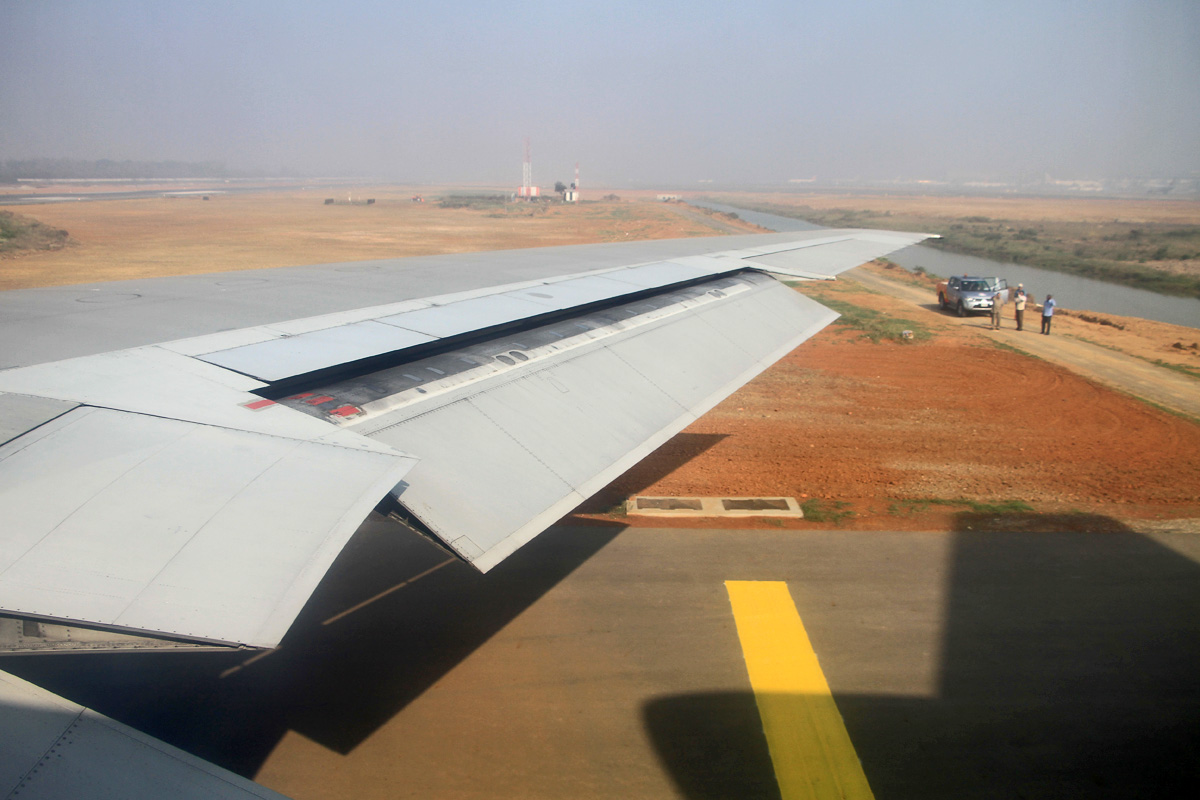 But all good things must come to an end, and for Dhaka airport, this started with our line-up onto Runway 32 for the DC-10's last take-off from its homebase.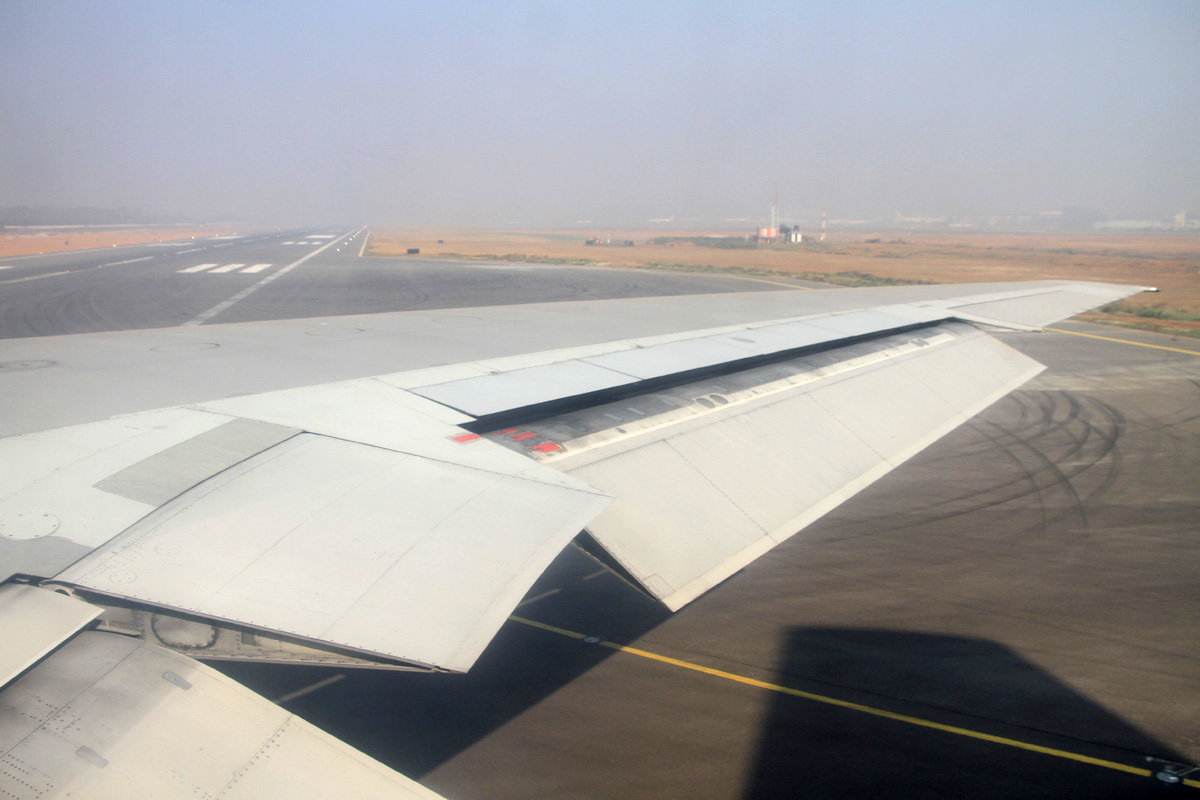 The three thrust levers were advanced, the three engines started howling, and ever so slowly, the heavy old DC-10 gained speed. The takeoff run wasn't just as fast as expected, yet it still took only half the runway (roughly 1.5km or 5'000ft) to get airborne. At a groundspeed of about 140 knots, the pilots gently raised the old lady's nose, pointed it towards the hazy sky, and away we climbed!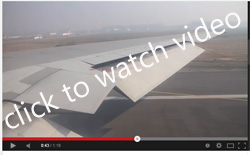 (video by me)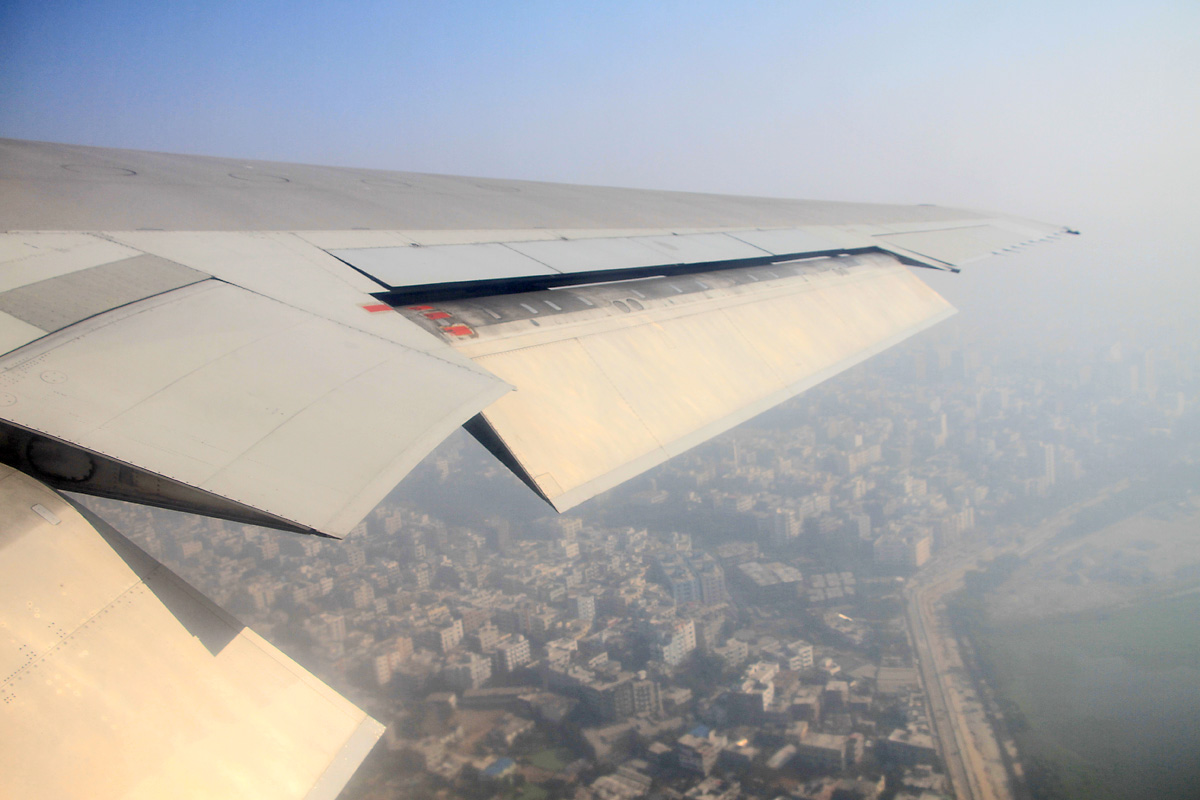 A last farewell to Bangladesh before we lost sight of the ground below and climbed to 30'000 feet. Climb rates were pretty nice at first, briefly averaging around 3'700ft/min between 4'000 and 10'000ft. The total climb time to FL300 took 13 minutes, resulting in an average rate of 2300ft/min.
As soon as the seatbelt signs were extinguished at 10'000 feet, everyone got out of their seats, shuffled about the cabin, and inspected every nook and cranny!
Here's the middle section (which in a two-class layout would be the front economy)…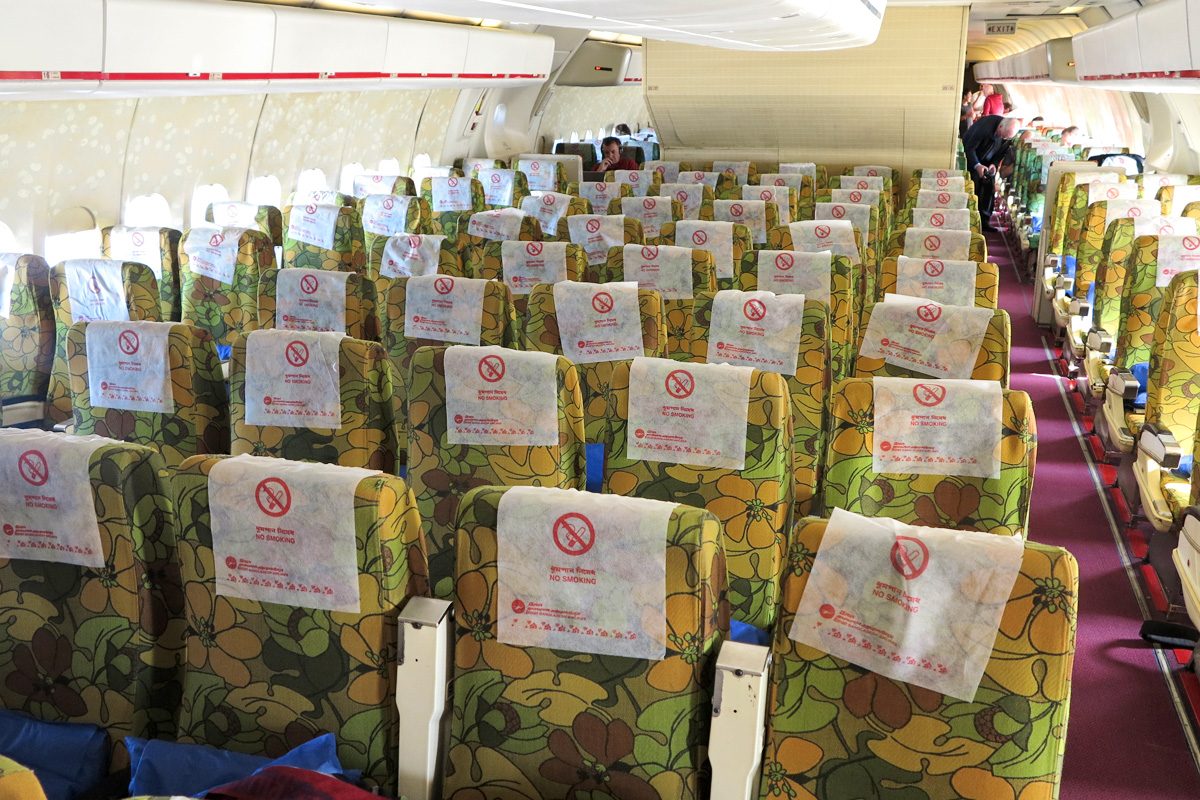 …and here the even more colorful back half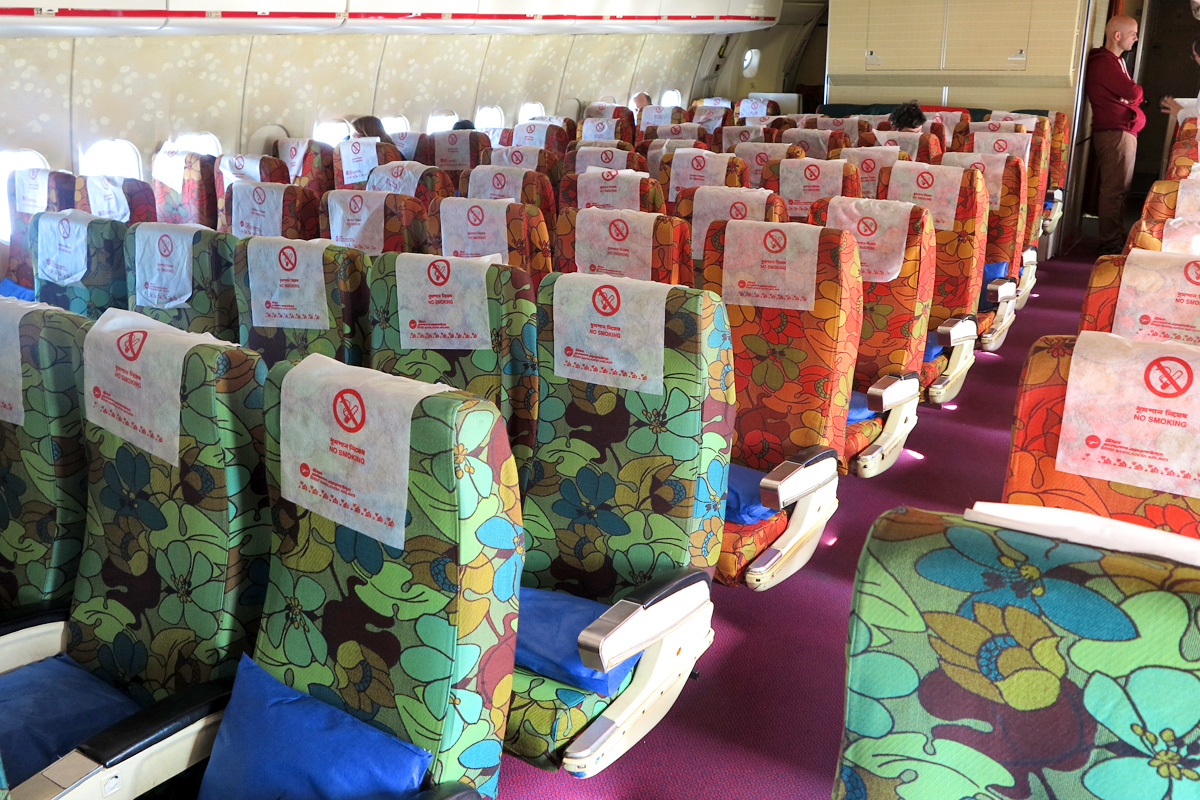 One of our group had even brought along a Bangladesh flag, which proudly rested on some of the empty seats for most of the flight. Much to the delight of the crew, who were amazed at the foreigners' interest and appreciation for their workplace, but also for their work, their country and their hospitality. The crew opened up considerably and were very understanding of our special needs and strange behavior – never minding a couple pictures or the odd joke!
Here's a look at the very back of the cabin, where four restrooms are located.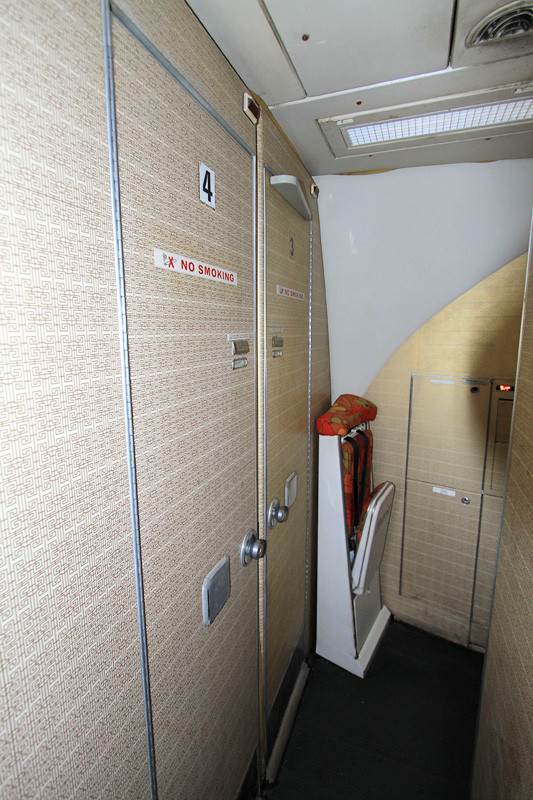 I have no clue why, but inside these restrooms there was one hell of a noise!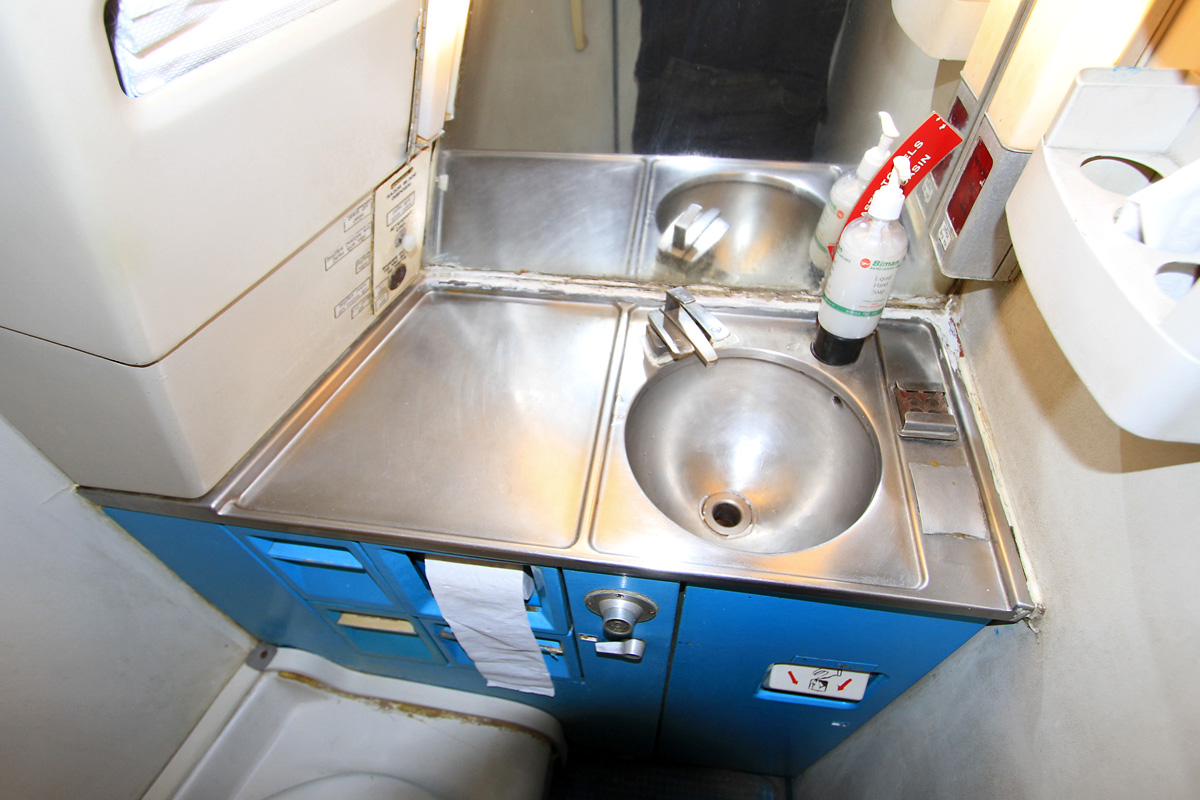 Yet, with their dated feel, they were charming nonetheless!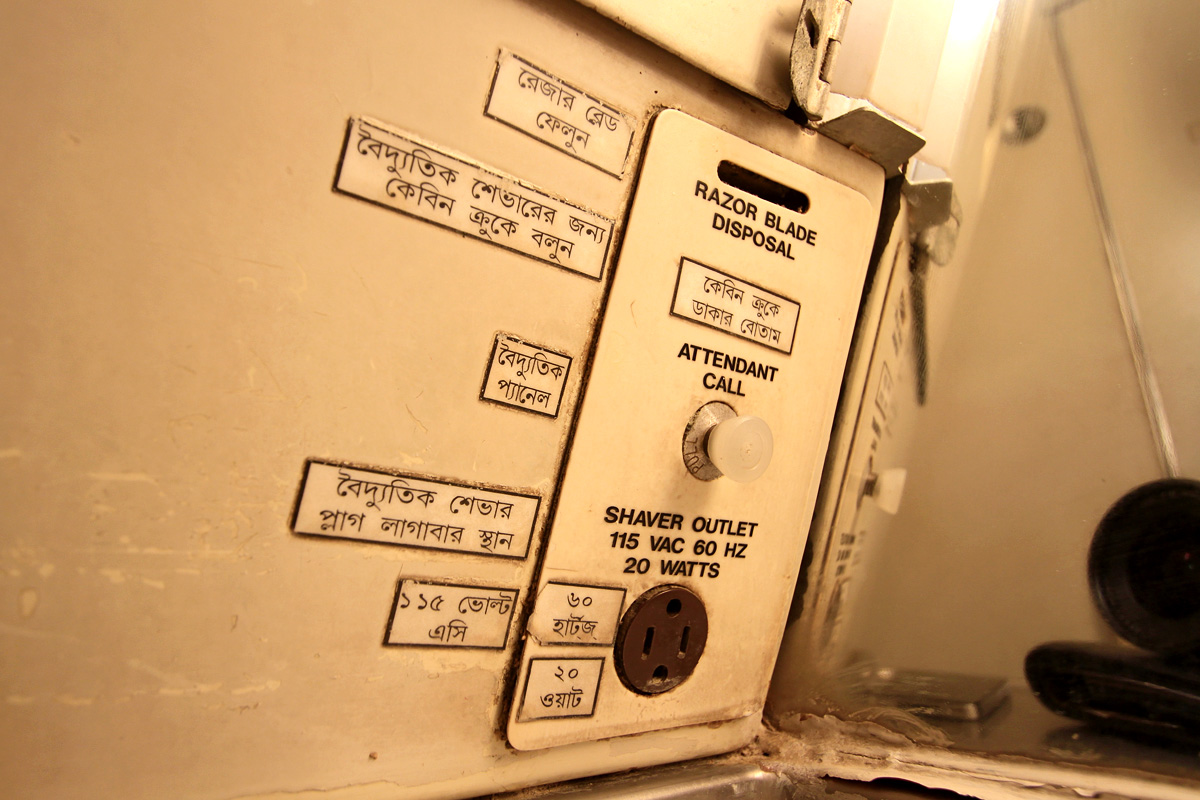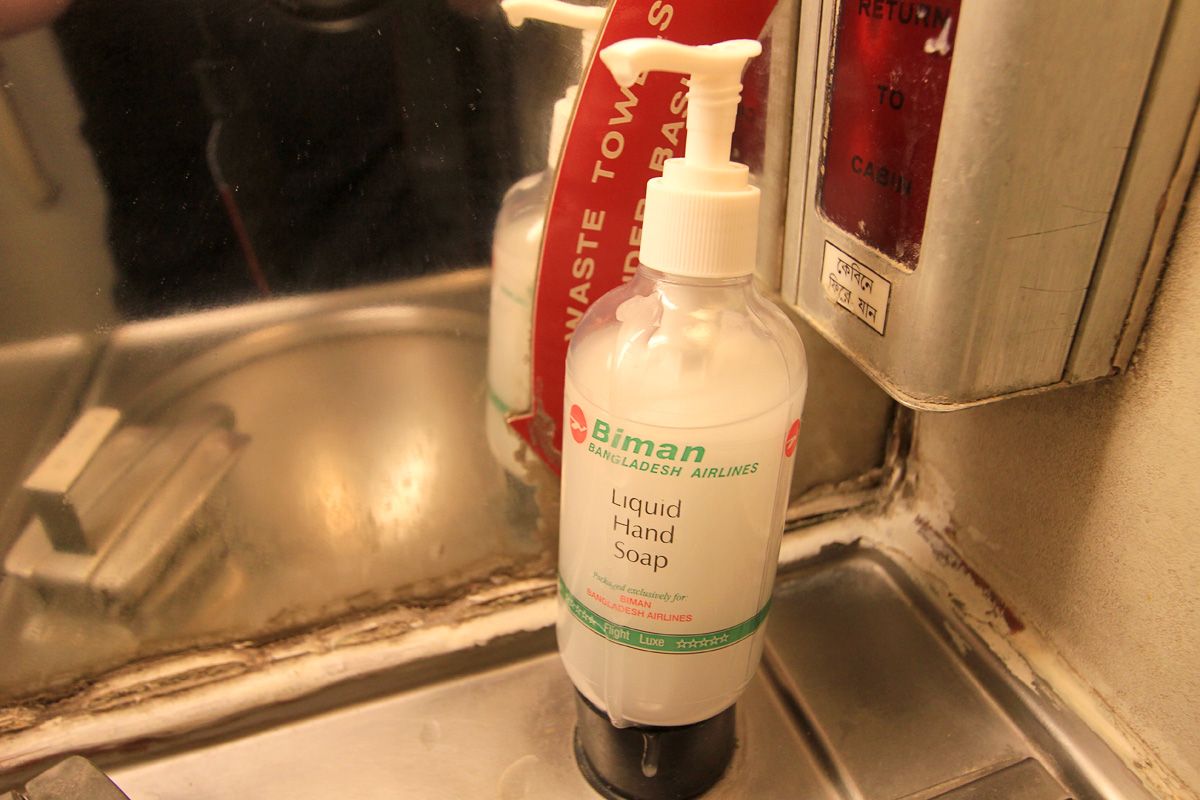 Back to the seats, which also justified a closer look. And yes, the fitting channel selection was done on purpose :D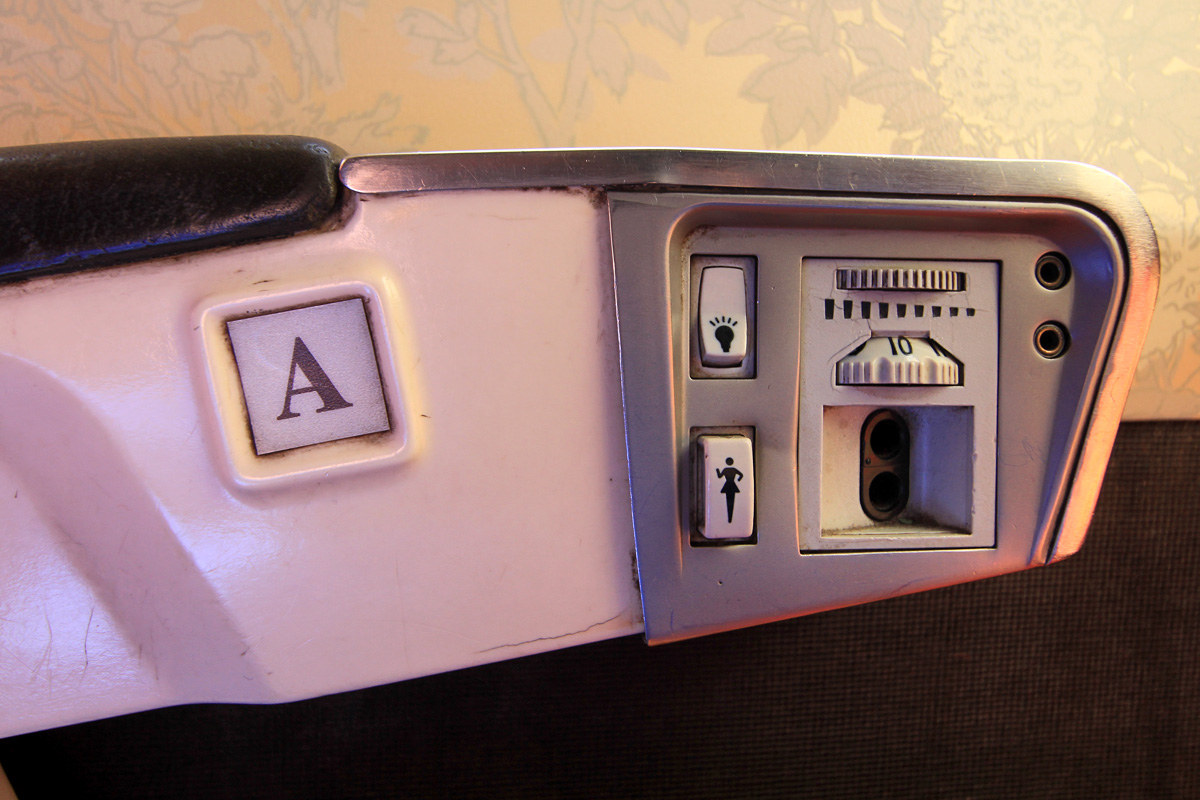 If you like, follow me around on a walk-through from the front to the back of the DC-10's cabin!
(video by me)
Just over an hour after departure, brunch was served – one could choose between Indian-style chicken curry (which I took), the infamous Biman Burger, or scrambled eggs.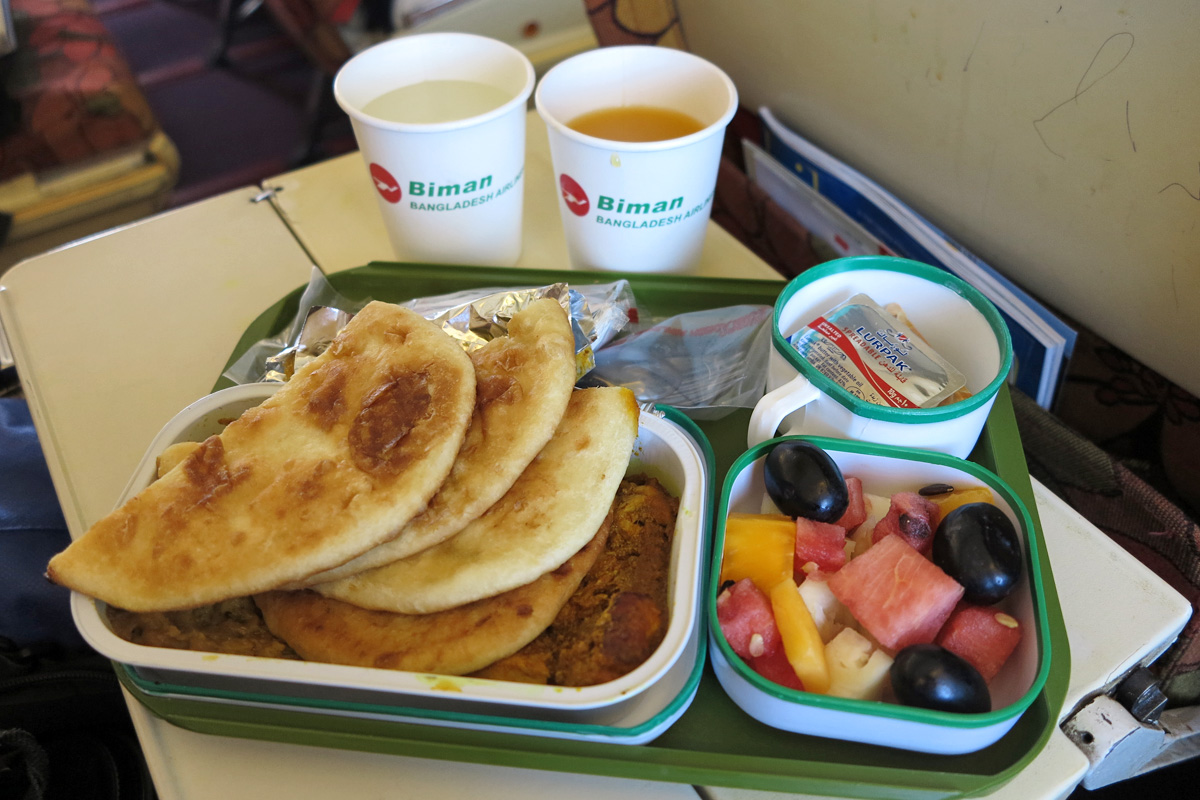 There was not much time to enjoy eating though! Just when they were finished with handing out meals, the crew passed through again, this time presenting each passenger with a flight certificate marking the special occasion (my Swiss travel companion can hardly contain his excitement about the present!)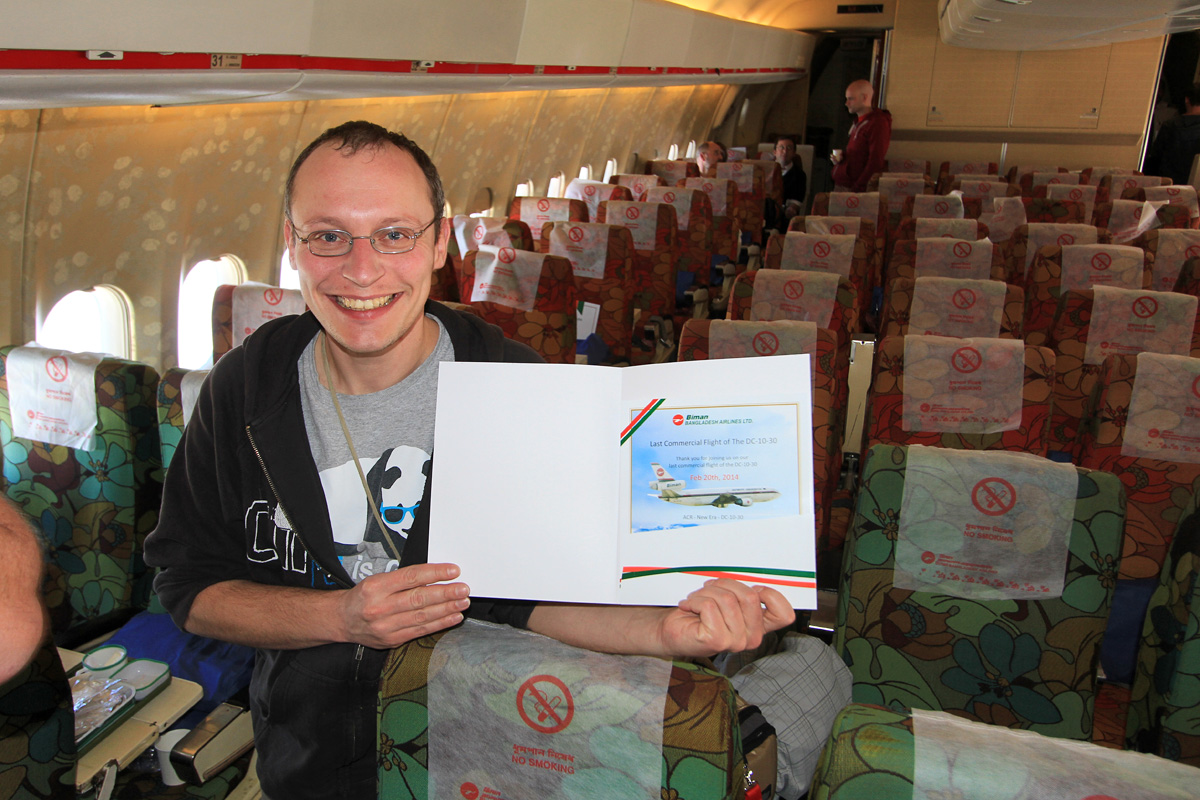 I had just barely squeezed into my seat again, when suddenly the crew assembled for a spontaneous group photo with the flag. How charming!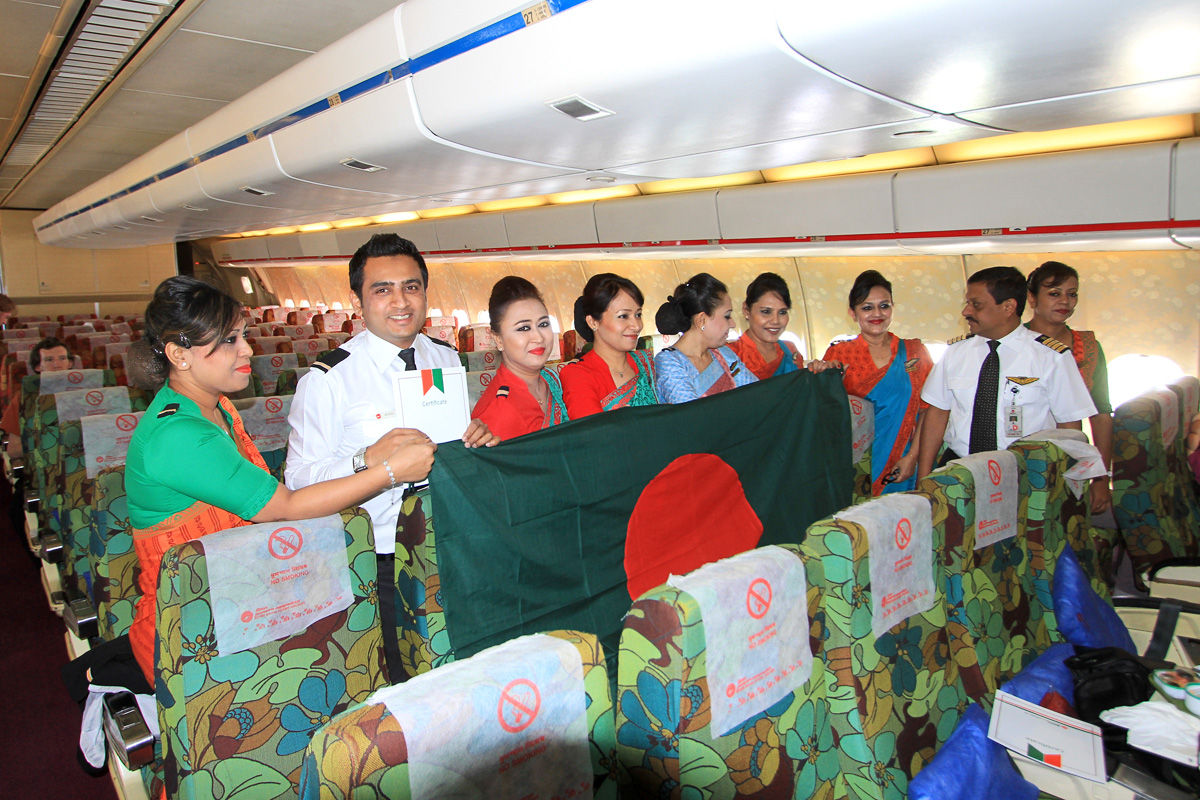 The next highlight was soon to come, as the Captain had announced that the cockpit would be open for visitors now – something nobody wanted to pass up on! After twenty minutes of queuing, my time had finally come: Welcome to the front office!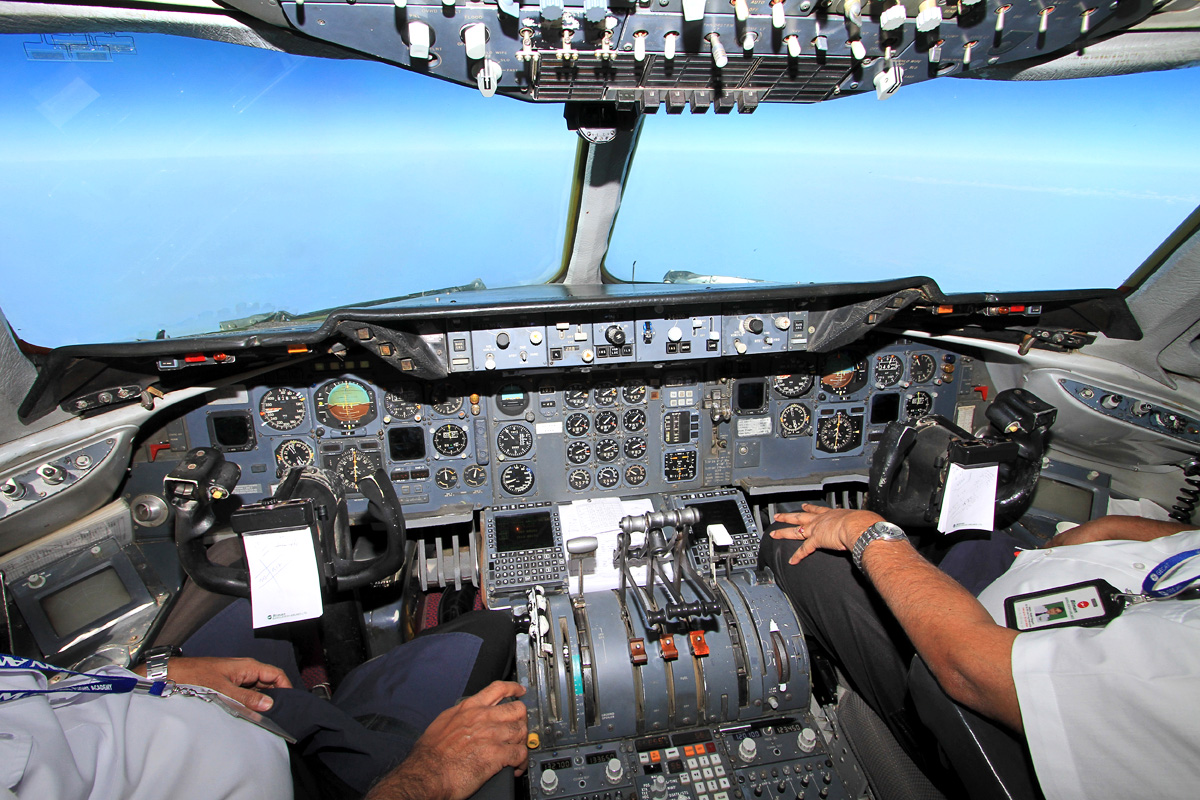 A slightly closer look reveals that we had climbed to 34'000ft in the meantime and were now travelling at Mach .828. The pilots would have loved to climb to FL360, but an Emirates 777 occupied that level just in front of us. And even though we were slowly over- (or rather under-)taking it, we stayed on 34'000ft for the remainder of the flight.
Checking out the Captain's primary flight instruments, you can see all important flight parameters, and even spot said Emirates on the VSI/TCAS, 2'000ft above us (+20).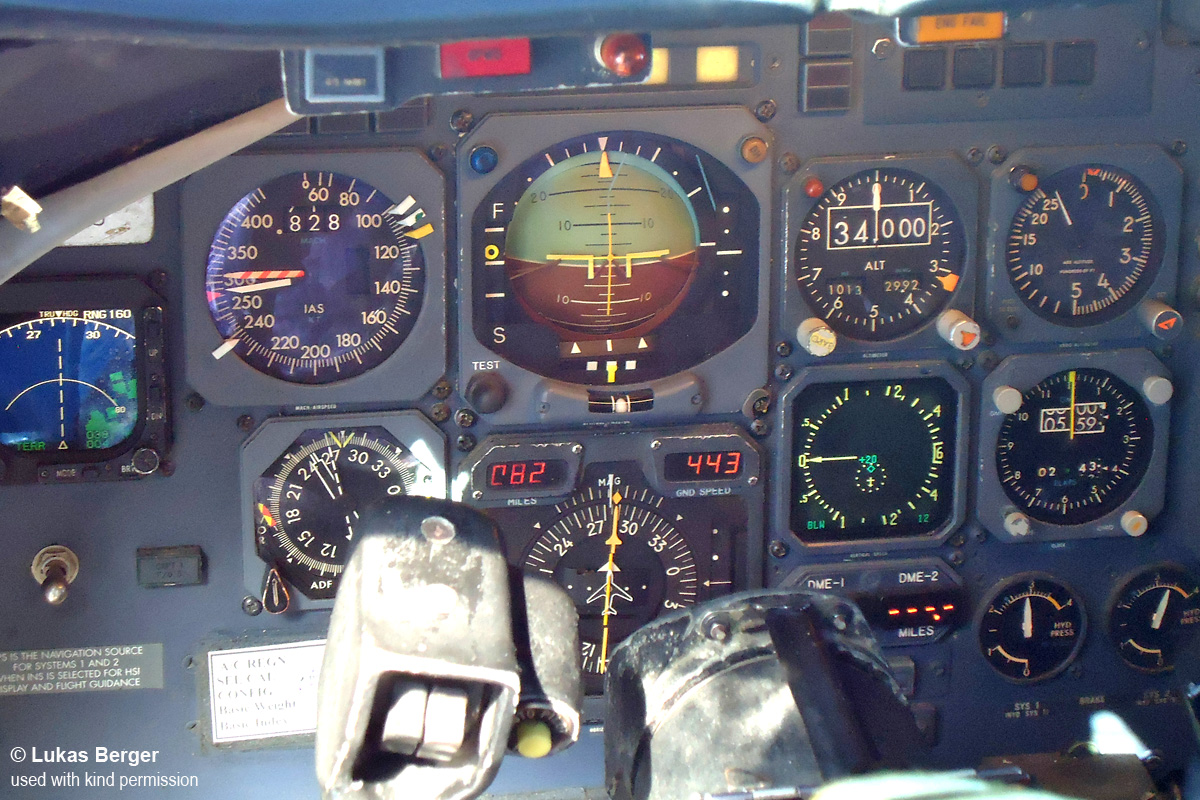 Turning a bit to the right reveals some engine data, plus a handwritten list of power settings lying on the center console. Each engine reads a fuel flow of about 2,5t per hour, amounting to 7,5t per hour total, which is supposedly about what a fully loaded 77W burns in mid-cruise – carrying of course at least 100 more passengers with one less engine to maintain.
The FMC shows that we're inbound BIDIX, a fix on airway L505 just off the western coast of India. Another 1412 nautical miles to go to Kuwait, which we should reach at 0917Z, another 3 hours and 20 minutes at that point.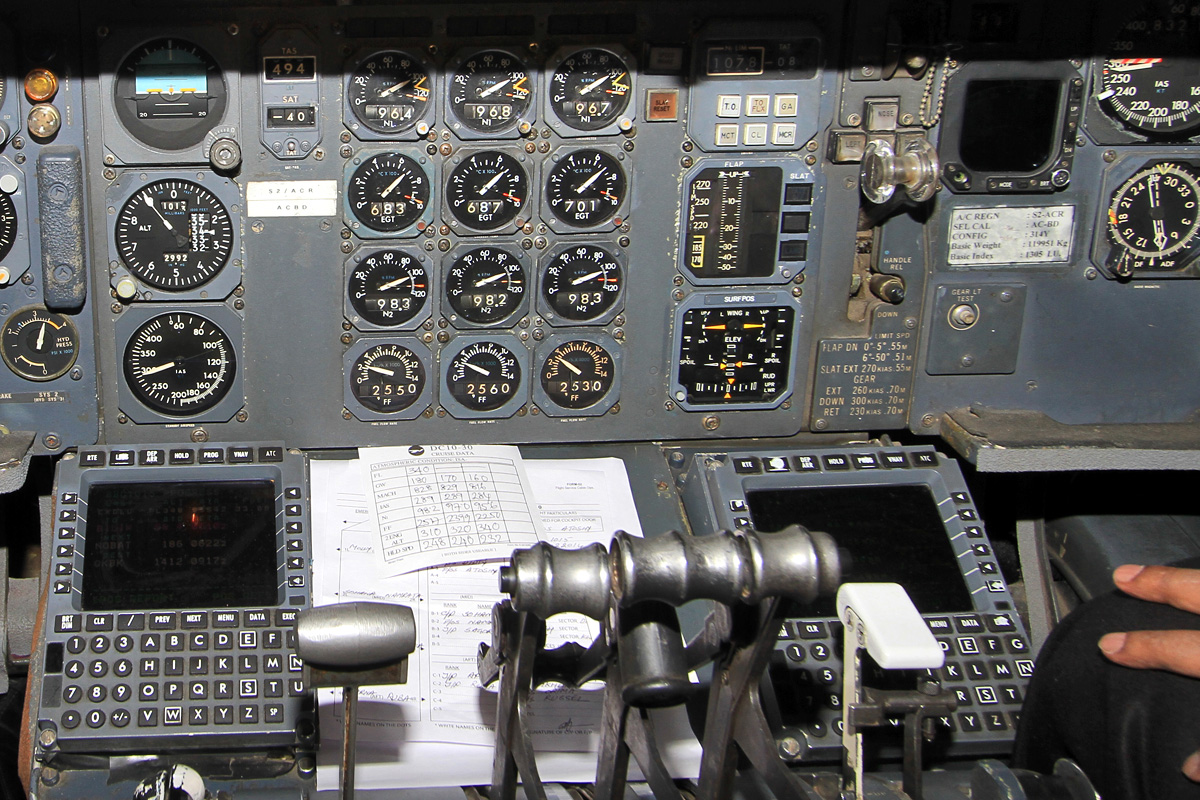 Just as interesting is the flight engineer panel. It reveals that during the elapsed 2h40min we have already used around 24 tons of fuel. Another 32,5 tons were still in the tanks (leaving our gross weight at 164 tons at that point). This means that the total fuel loaded for the first leg was about 56,5 tons. PFPX (a pretty realistic flight planning tool for flight simulation), loaded with the same airway route and real weather, indicates a release fuel for a 77W with 35 pax at 52t, and at 64t for a fully loaded one.
As the second leg from Kuwait to Birmingham was of almost the same duration, it is safe to assume that a similar amount of fuel was loaded there as well. This translates into a total fuel load of about 110 tons.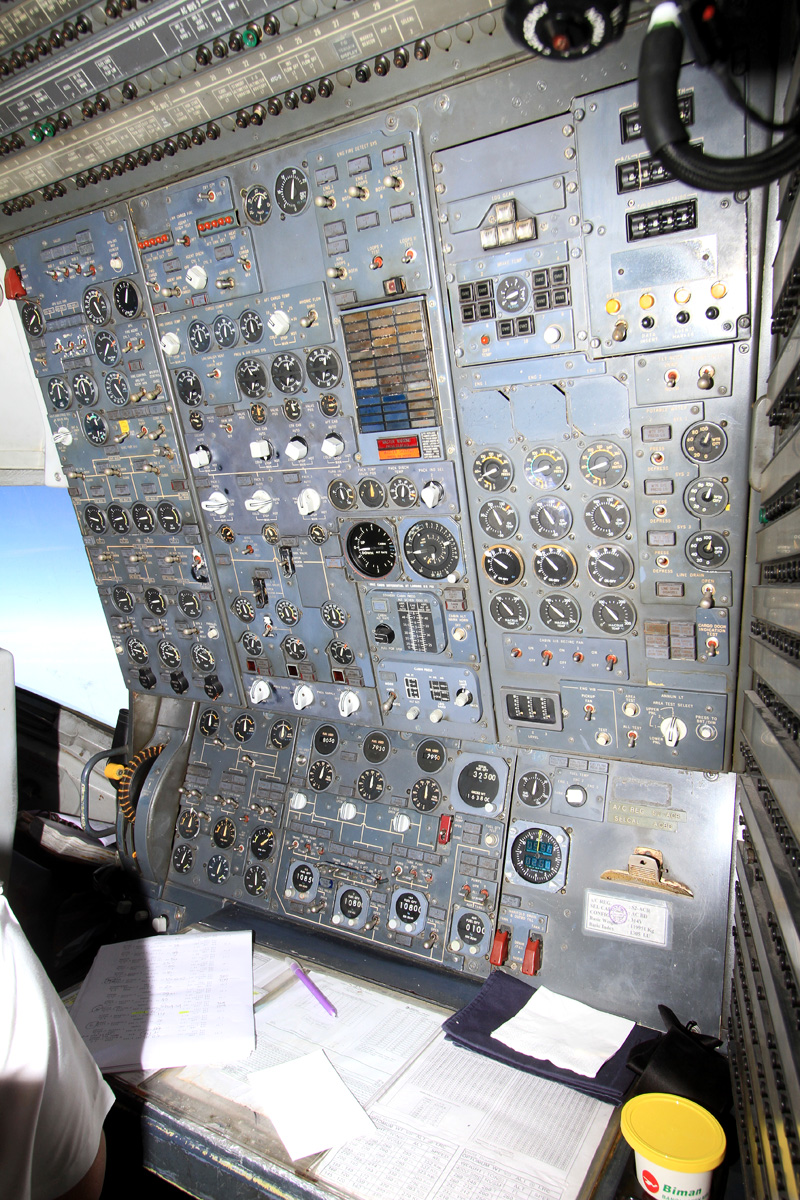 A last view of the spacious flight deck while I make way for the next one in line :)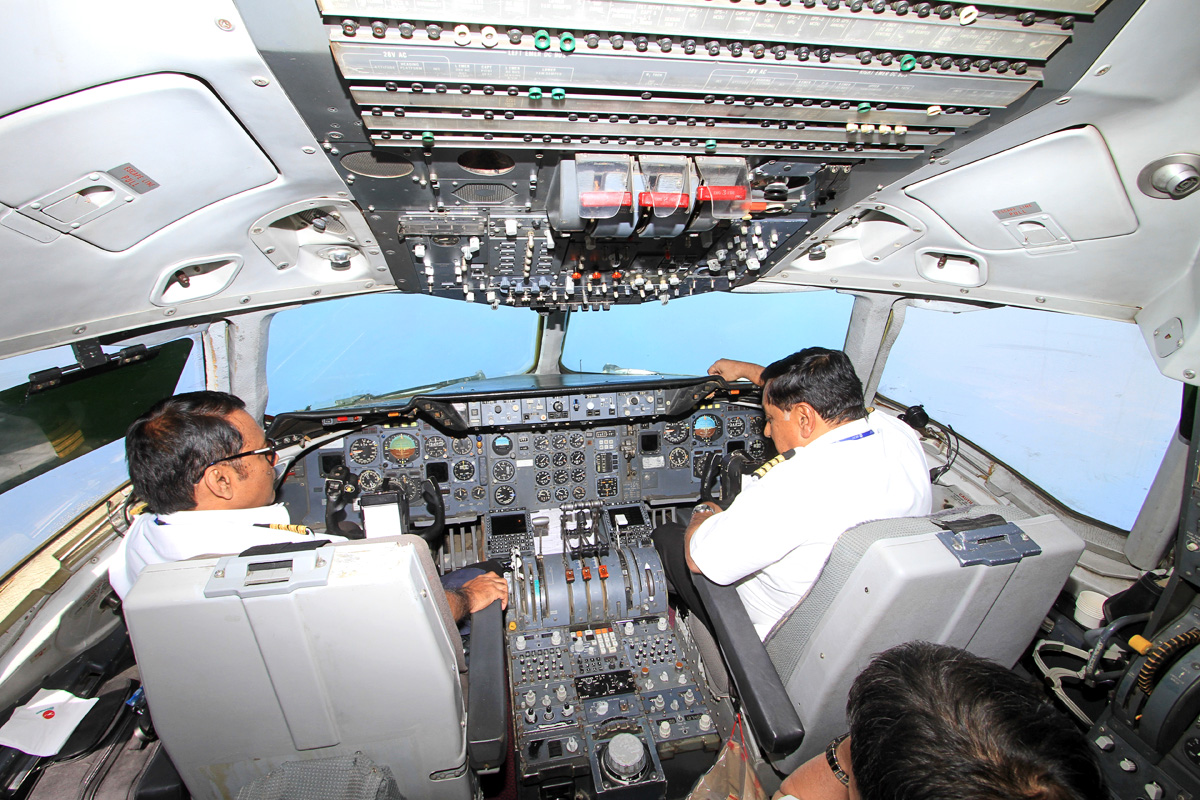 When everyone had visited the cockpit, people dispersed into smaller groups again, visited friends they hadn't seen in a while at their seats, or simply took a nap stretching out on the five middle seats - like myself :-).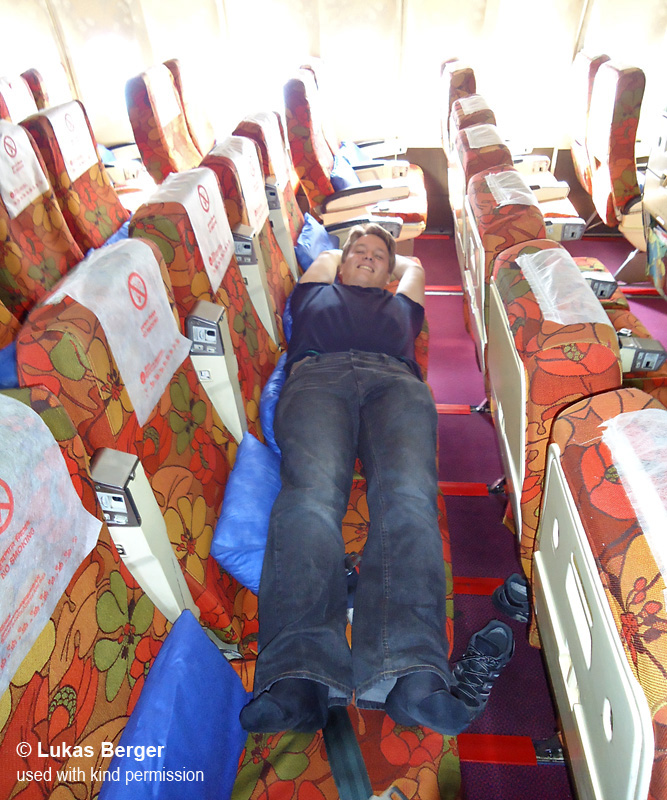 However, excitement rose again quickly when someone pointed out we were overflying Dubai. And really, there it was! The airport where I had just spotted three days earlier, plus a bit of Dubai Creek and the old town surrounding it.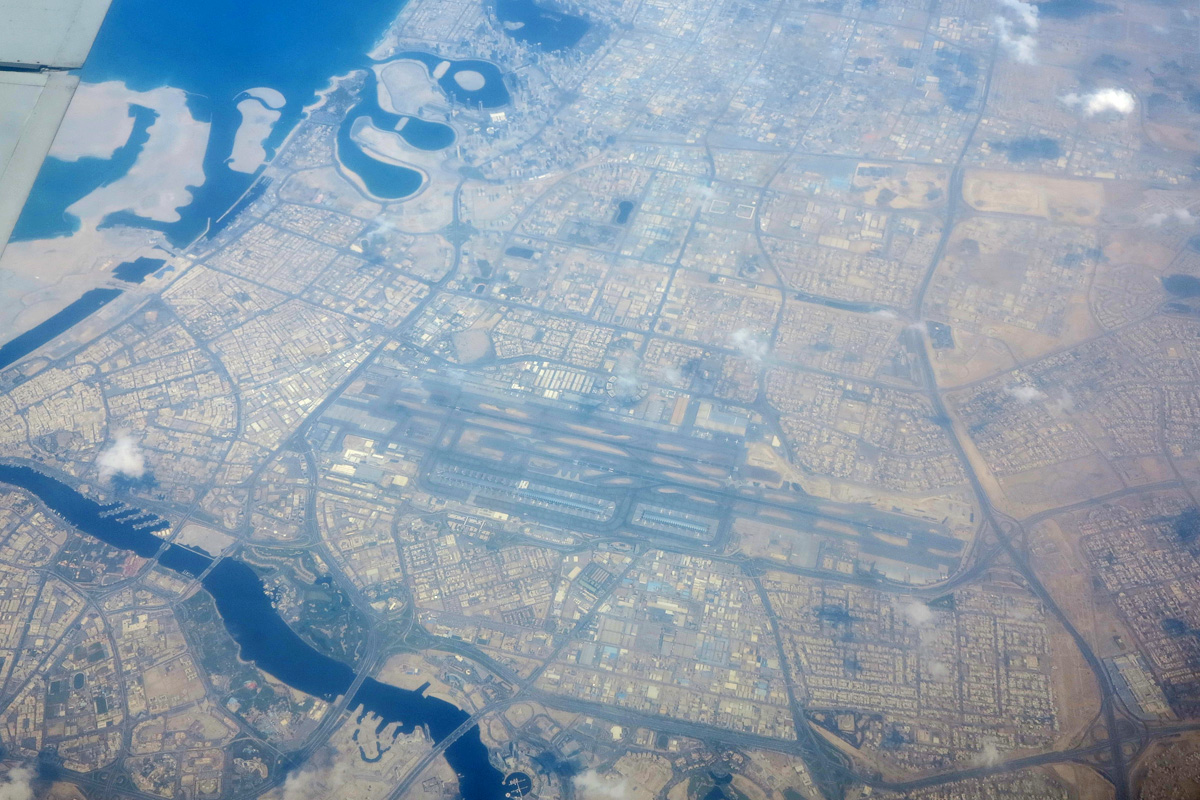 Switch sides, and you get to admire the 'new' Dubai: The first artificial palm and a new part of town called Dubai Marina, which I've seen growing each year on many a beach holiday there. At the bottom you can also make out infamous Burj Al Arab, and if you look closely, you can see the Marina runway used by Pilatus Porters who drop skydivers. What a sight! And quite probably 34'000ft is just about the right distance to admire this crazy city from!
Passing Dubai also marked our turn onto the home stretch, the last hour up the Gulf toward our intermediate destination of Kuwait City. Finally the descent began, and the next soil and sand that came into view already belonged to Kuwait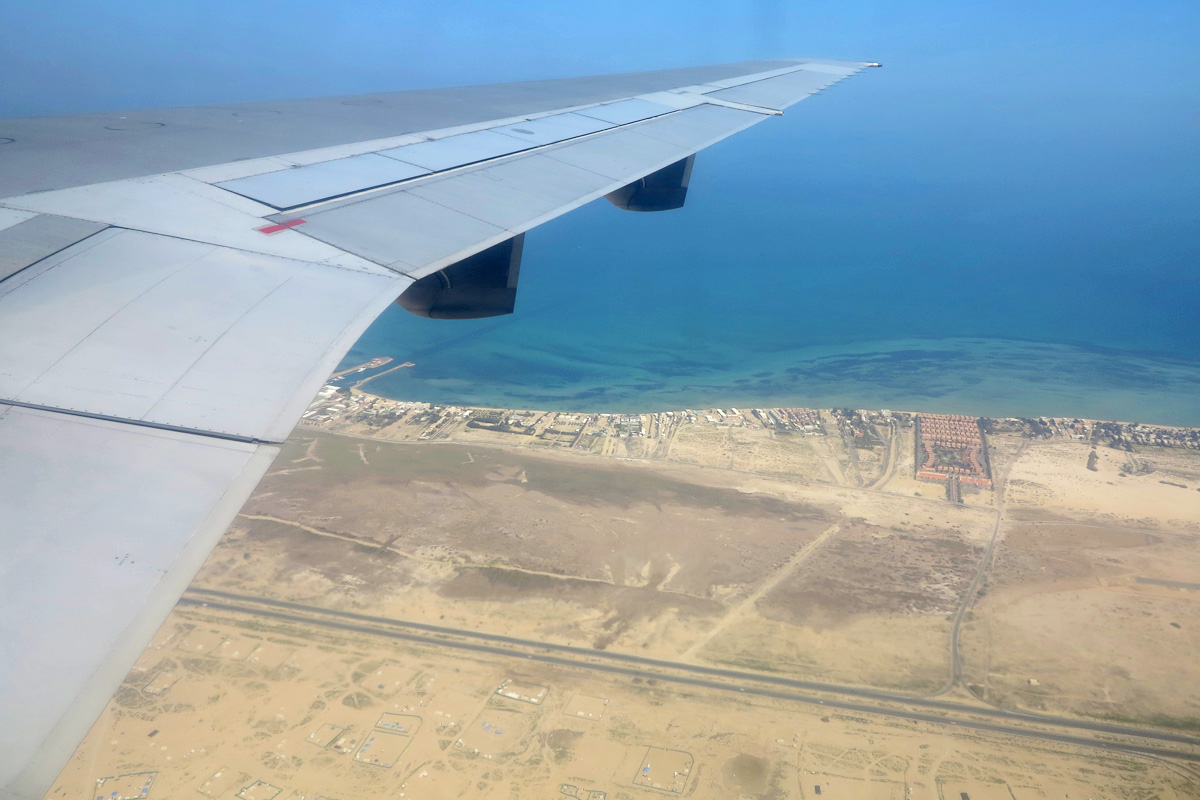 We lined up for a straight-in approach to Rwy 33R, and the huge flaps were slowly extended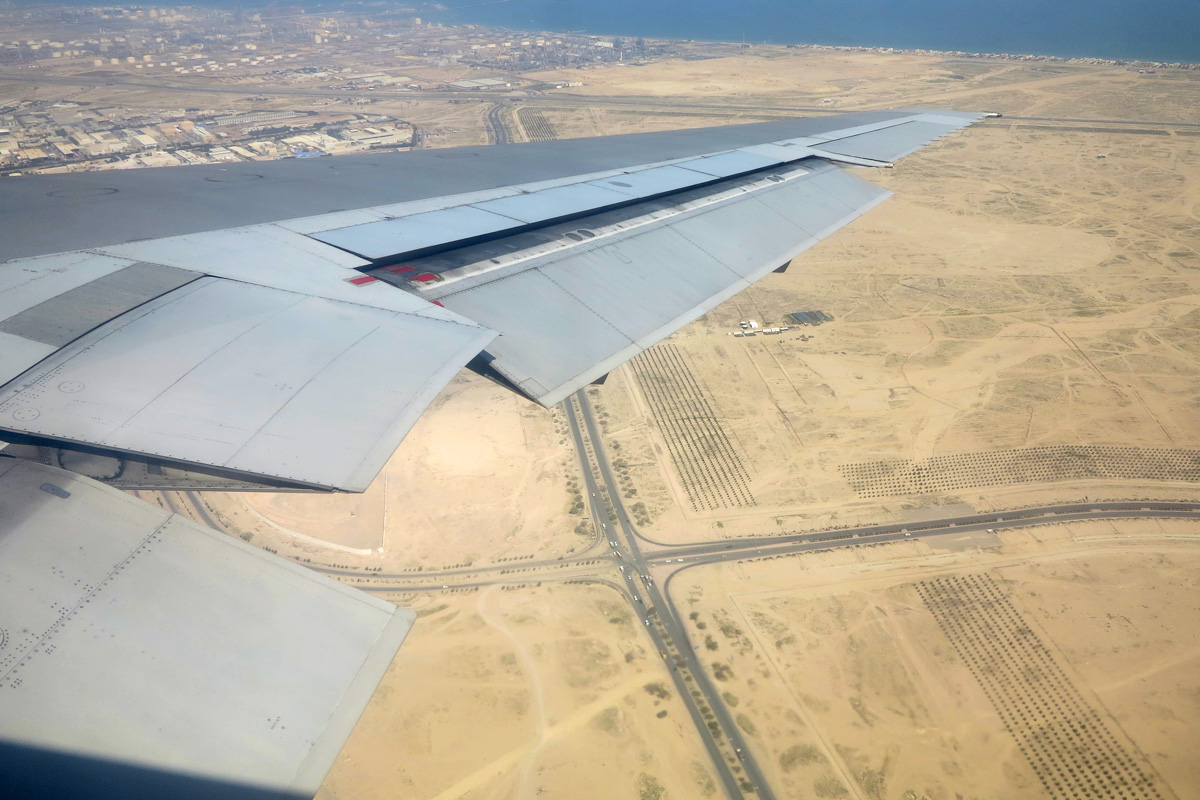 Finally we are fully configured for landing with only a couple miles to go, closing in on the runway with an IAS of about 145 to 150 knots.
The landing turned into an inadvertent show of the DC-10's capabilities: From the firm touchdown it took a mere 15 seconds, or 1km, to slow the aircraft to taxi speed – landing much shorter than the A320 behind us. Later, rumors spread that the pilots had selected the maximum autobrake setting out of habit, forgetting about the light passenger load and missing freight. Thus, when the brakes kicked in with the full force used to stop a heavily loaded DC10, it almost screeched to a halt on Kuwait's runway.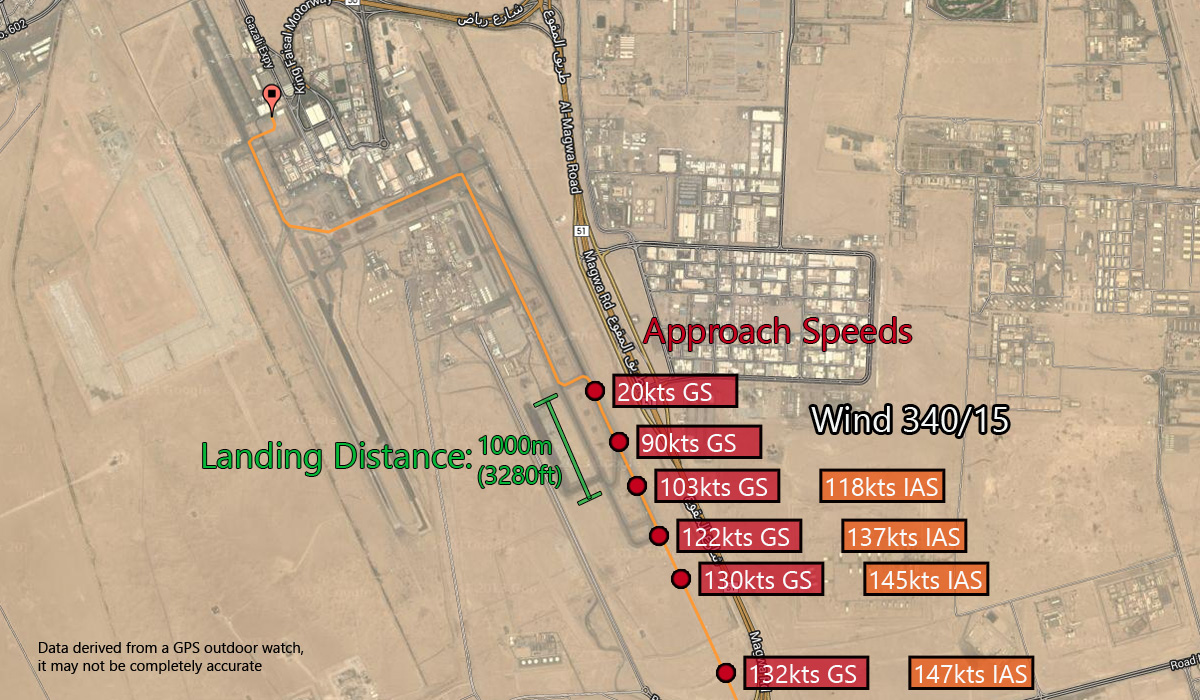 Welcome to Kuwait, which, at that point, must have been a plane geek's dream: Regular flights of Air Koryo, some old A300s still going strong *and* now a visiting DC-10 – that's pretty hard to beat!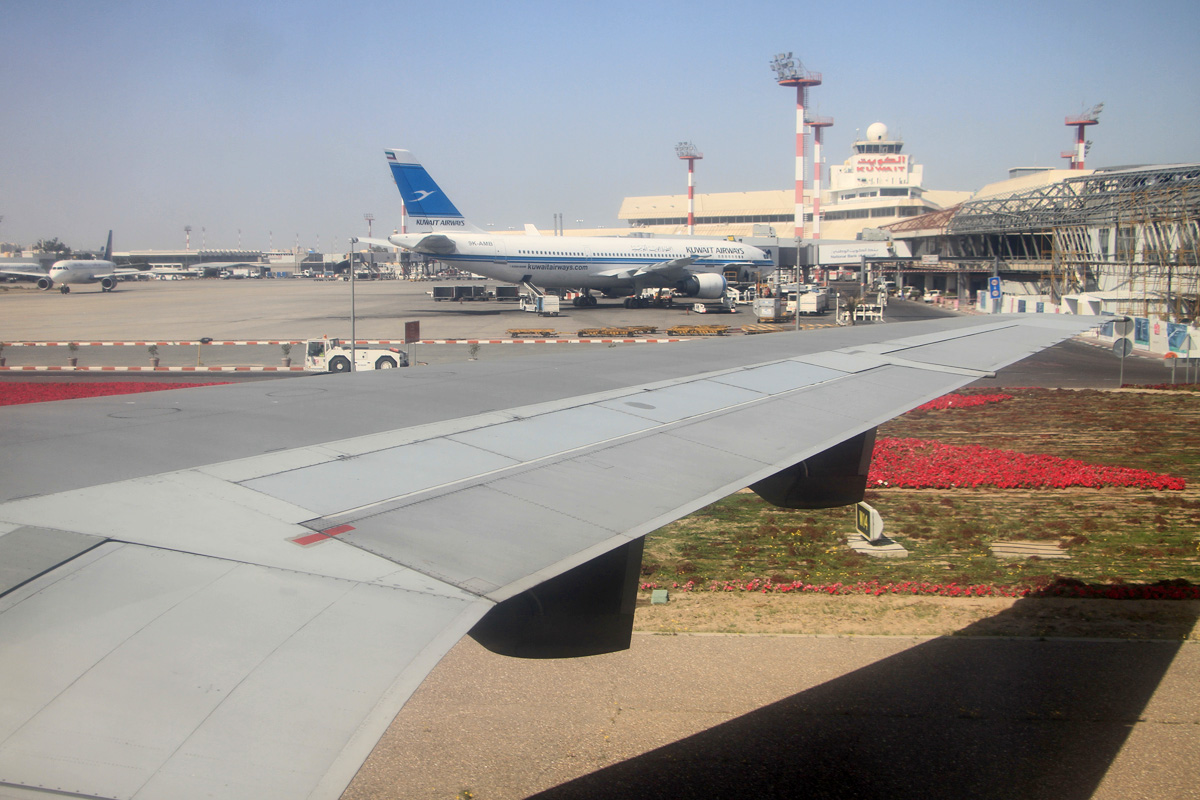 Even for us, there was plenty to see! Kuwait had just received its first C-17 aircraft a few days prior, and we taxied past it. We also passed one of the two elusive A340-500 of the Kuwait Government.

Probably the biggest attraction, however, was our very own plane! Even the crew of this German Learjet 60, operating for the UN, dashed for their cameras!
We parked on a remote stand on the cargo apron and remained there for a bit over an hour, while we were fueled and loaded with new catering. Everyone who attempted to set even one foot outside the aircraft was immediately shooed back, but staying inside and watching the ground crew was pretty interesting, too – something you don't usually get to see as a normal passenger.
Finally we were ready to go again, another myriad of announcements in English and Bangla (for whom?) were followed by the engines spooling up, and a few minutes later we headed down to 33L for the second flight of the day. Always with us: The unique shadow of our plane's characteristic tail that no passenger will be seeing anymore from now on!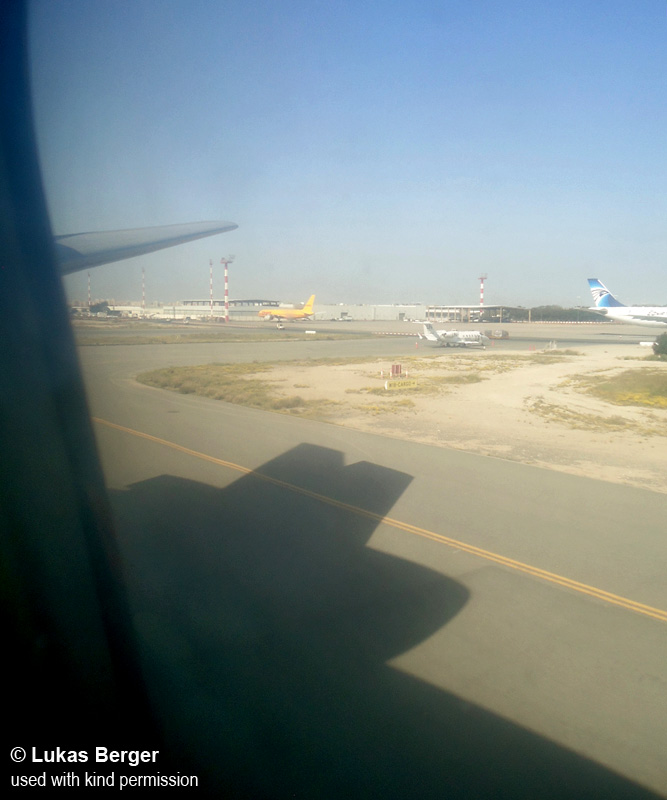 Once again, take-off was relatively gentle and a stark contrast to the performance showed on landing. Over the runway end we had reached about 900ft, but enjoyed a nice view of KWI's terminal and "our" apron (in the lower left).
Climbing out, we passed a major interchange of the Sixth Ring Road…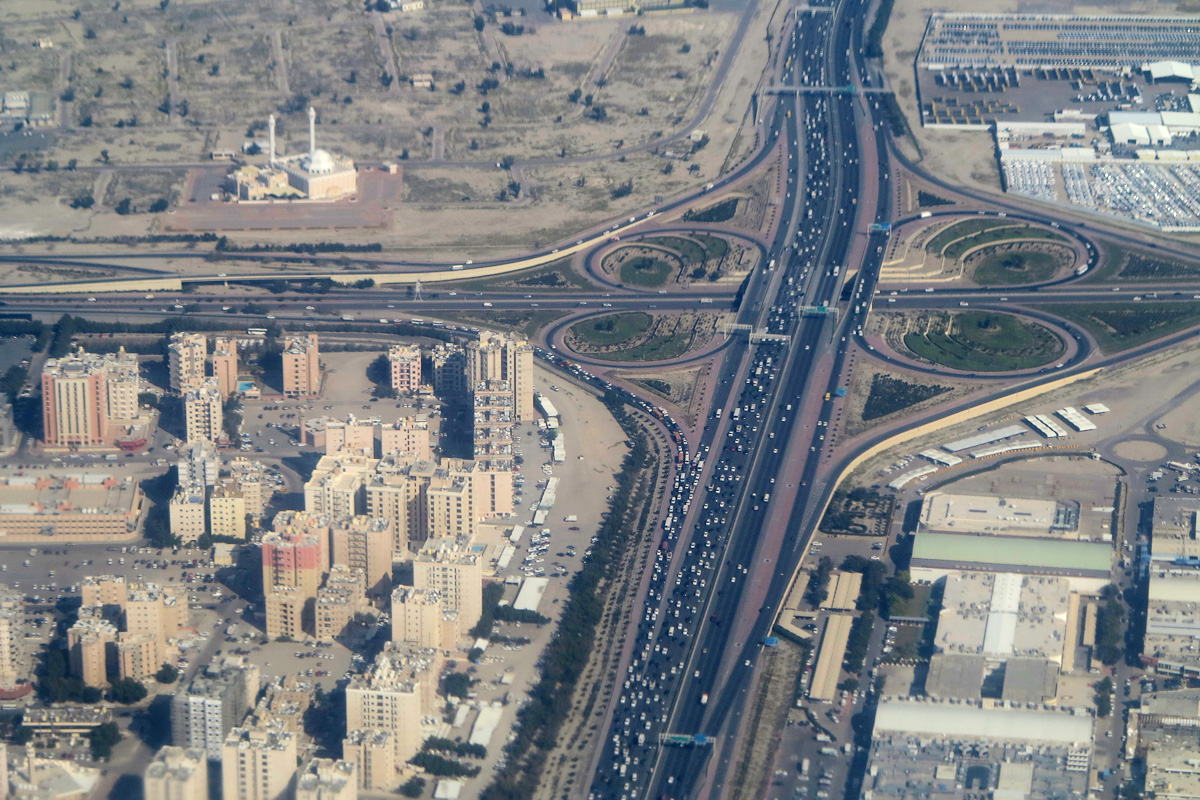 …and then caught a glimpse of downtown Kuwait, while turning right heading for the Gulf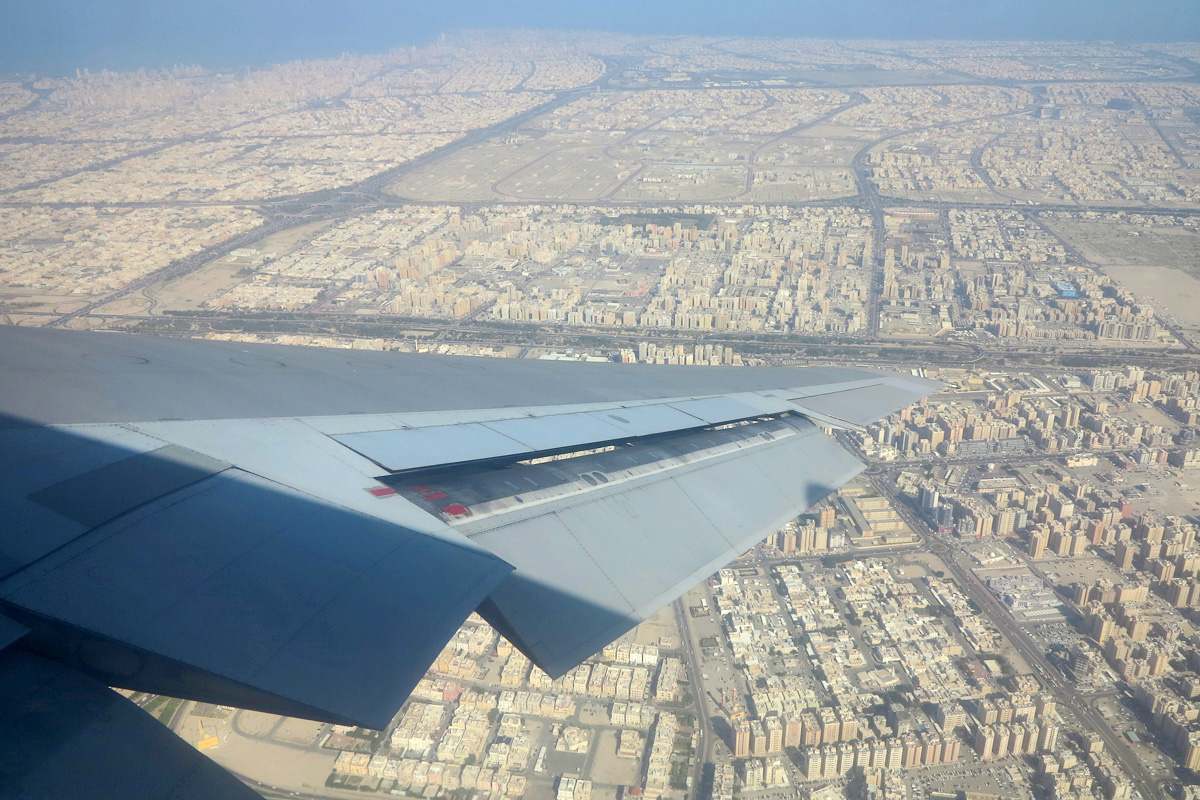 Quickly, another meal was served – with only 35 passengers (and very cooperating ones at that) it didn't take long! This time the quality seemed even better, and my Sweet and Sour Prawns (the other choice was chicken) were very tasty.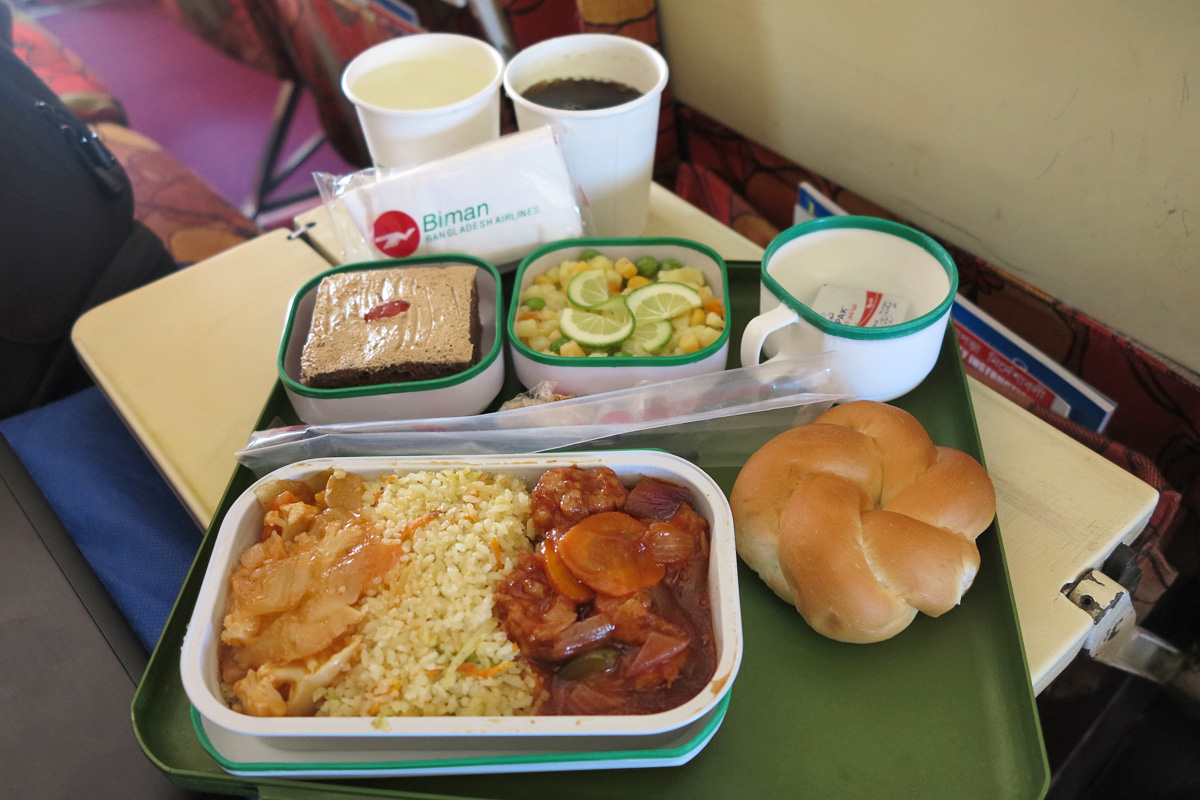 Our flight path led us over the seemingly endless Syrian desert, the first part belonging to Iraq and the second one to Syria itself. Peacefully cruising above some of world politics' best-known hot spots always feels a bit surreal to me.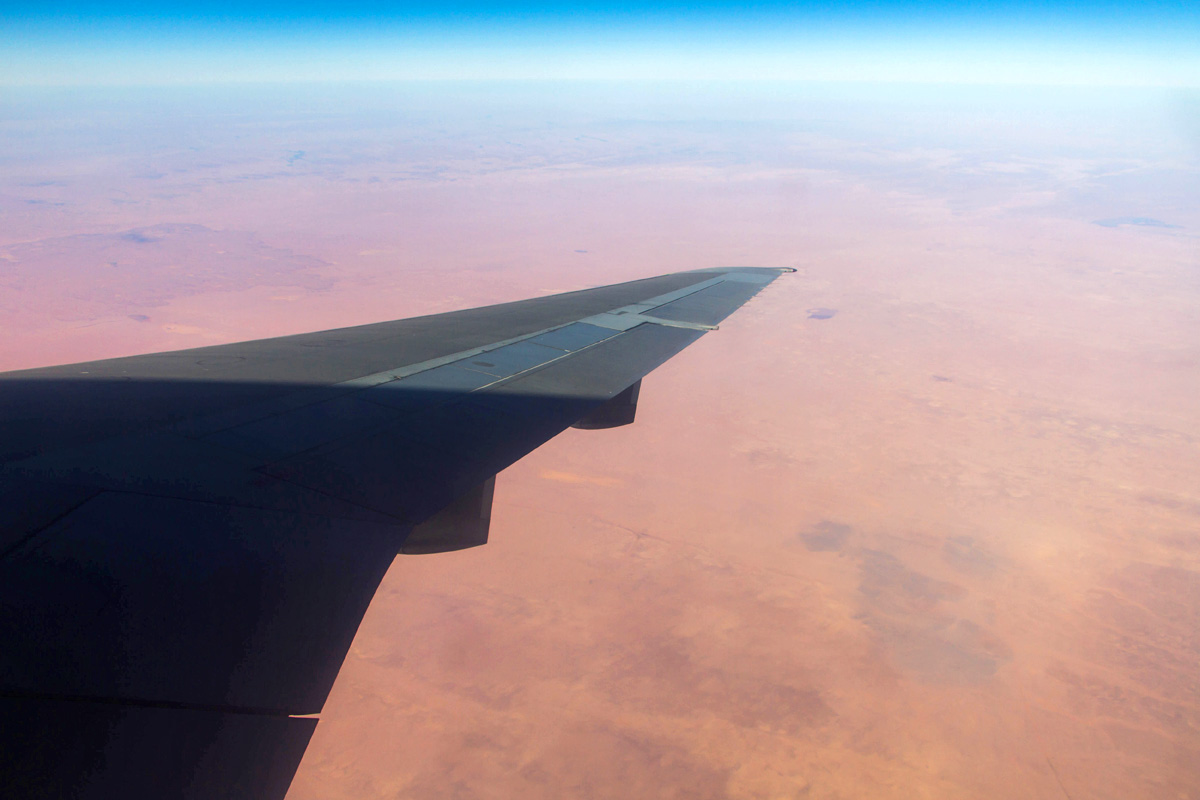 High time to turn my attention to my stylish ride again – for example to the lovely seat and cabin design, which is rumored to have been inspired by Singapore Airlines' interior of that time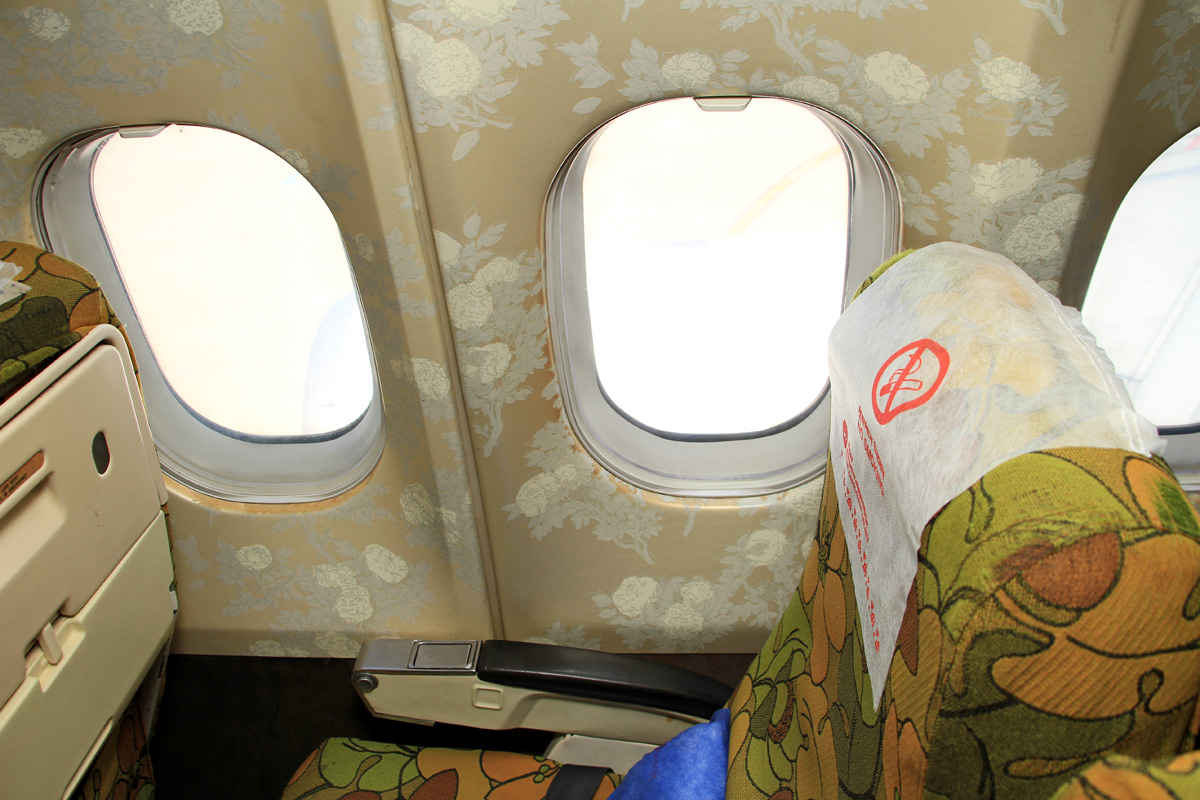 Another 6 hours inside one of the world's great jets at your disposal and you start getting creative :D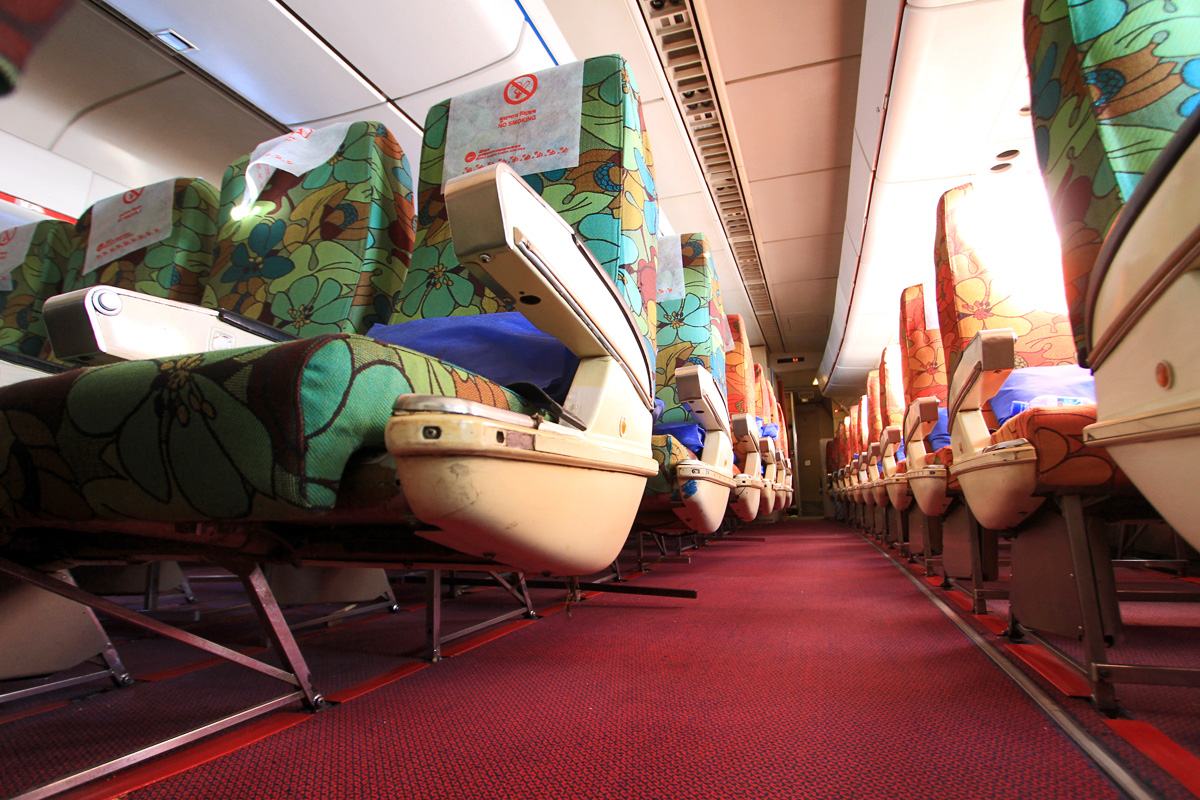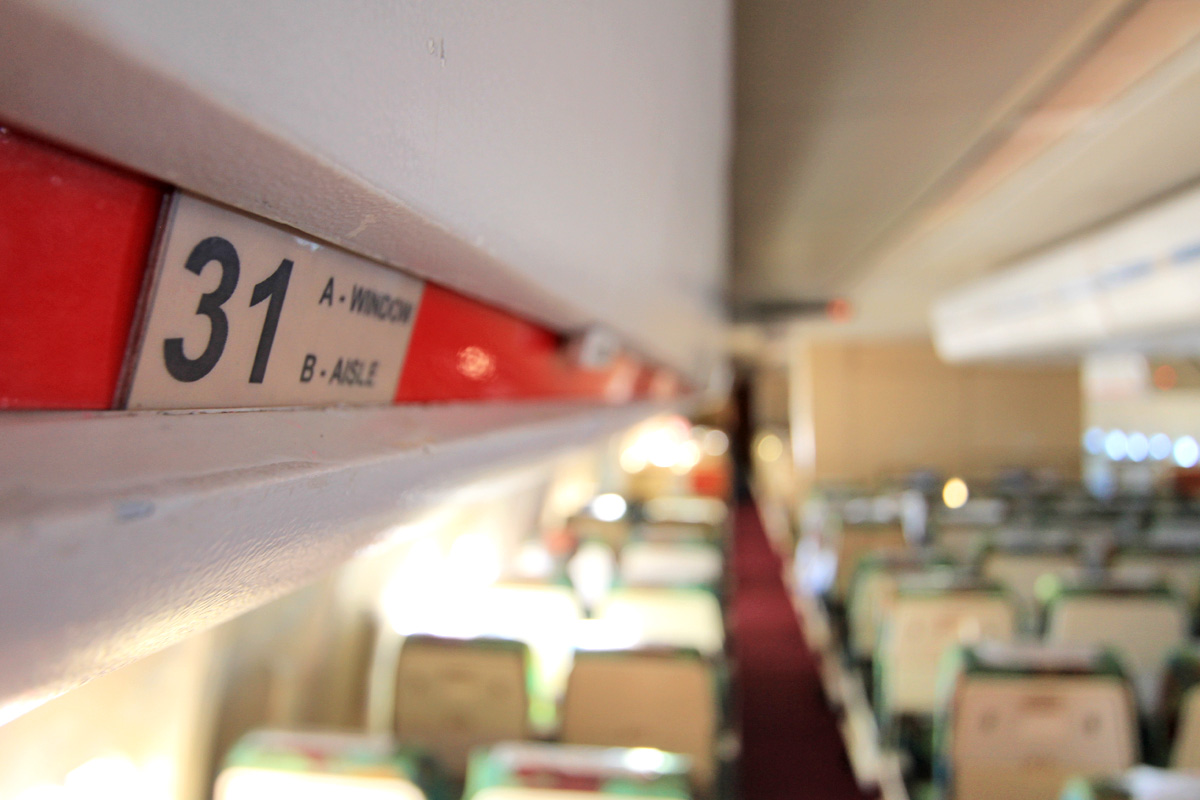 On the other hand, this was one occasion you didn't just want to spend occupying your seat. Even more so with regards to the very…umm…cozy seat pitch!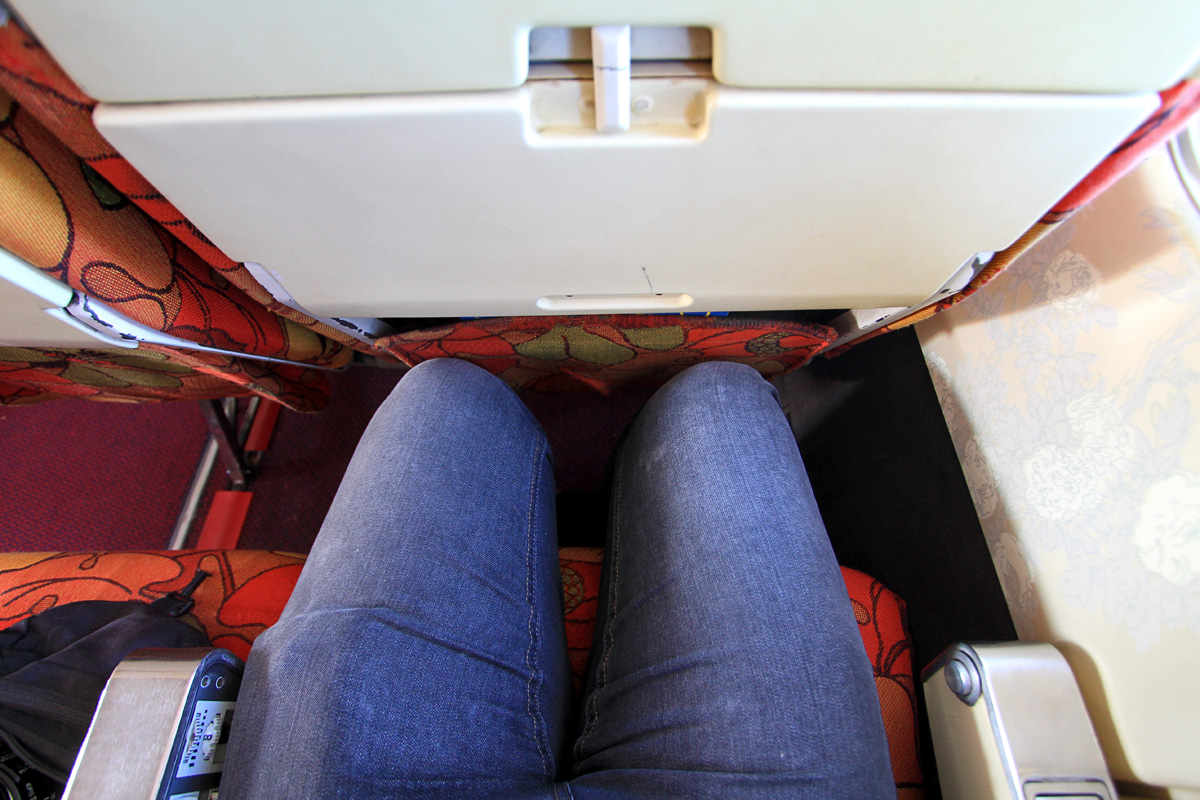 Thus, we were all glad for the next attraction outside. The perfect city to mark our transition from Asia to Europe: Istanbul, with its busy Atatürk airport seen at the bottom, the peninsula housing the famous Hagia Sophia in the middle, and the gracious Bosporus Bridge faintly visible near the top spanning the strait.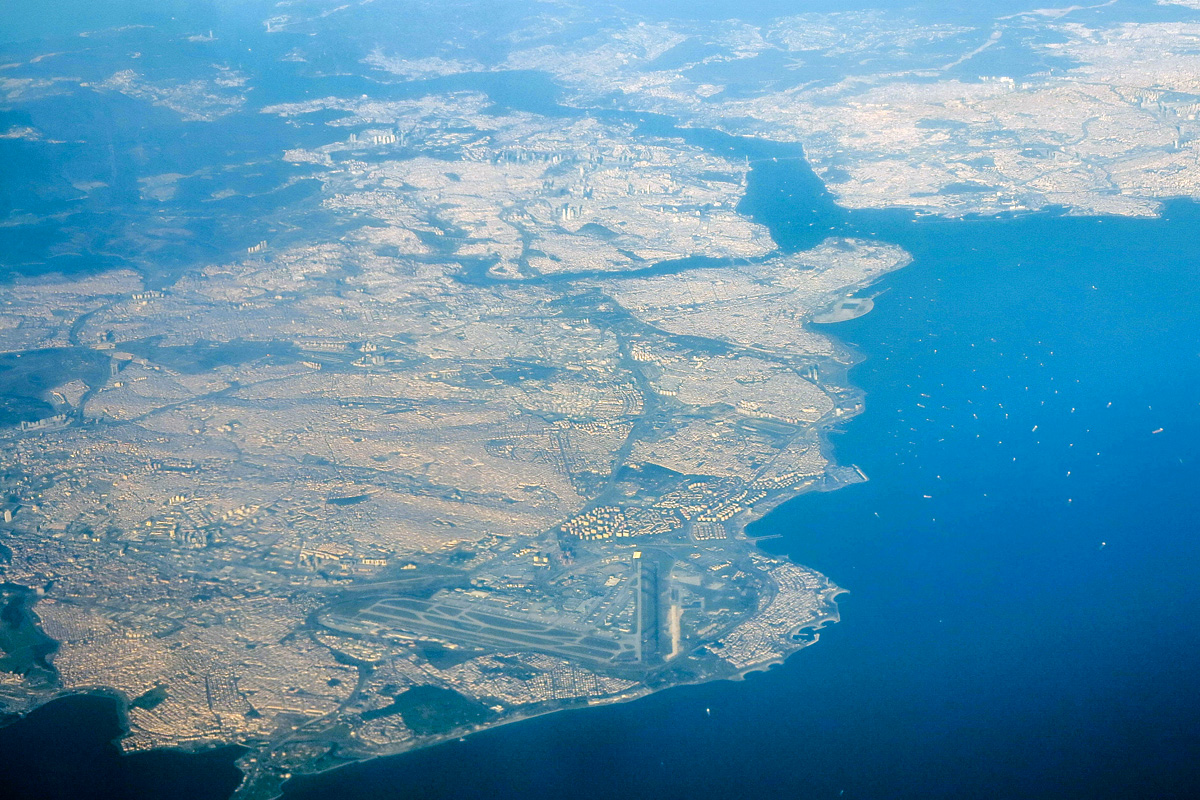 Even if tiredness inevitably started to creep in, our arrival in Europe worked as a wake-up call, motivating everyone to go and have a last good, close look around the mighty DC-10! Here are some impressions from the rear galley: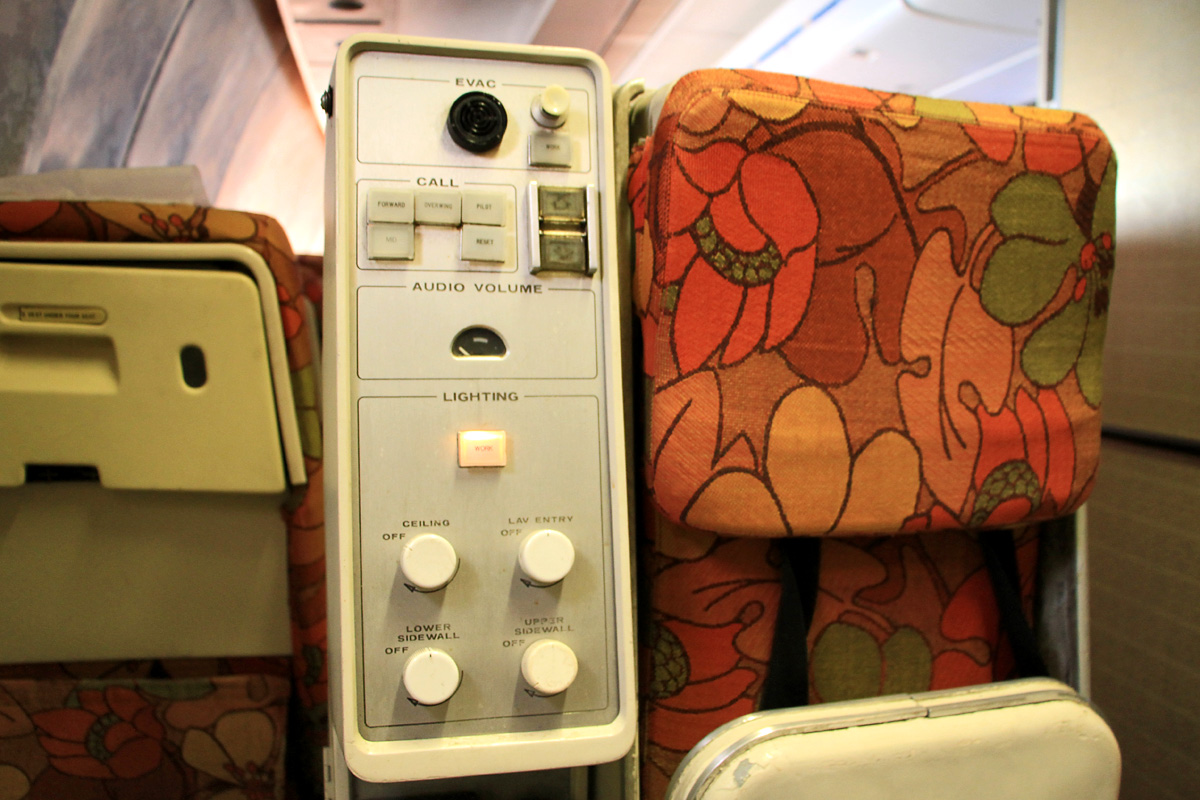 We were running about 90 minutes late, and so when we had reached Germany and central Europe, sunset was almost upon us. It graced us with some rays of warm evening sunshine, whose slowly but steadily fading light felt like the final curtain being drawn upon the trusty DC-10's history as a passenger aircraft. Yet, the fantastic light allowed it to leave the stage in style!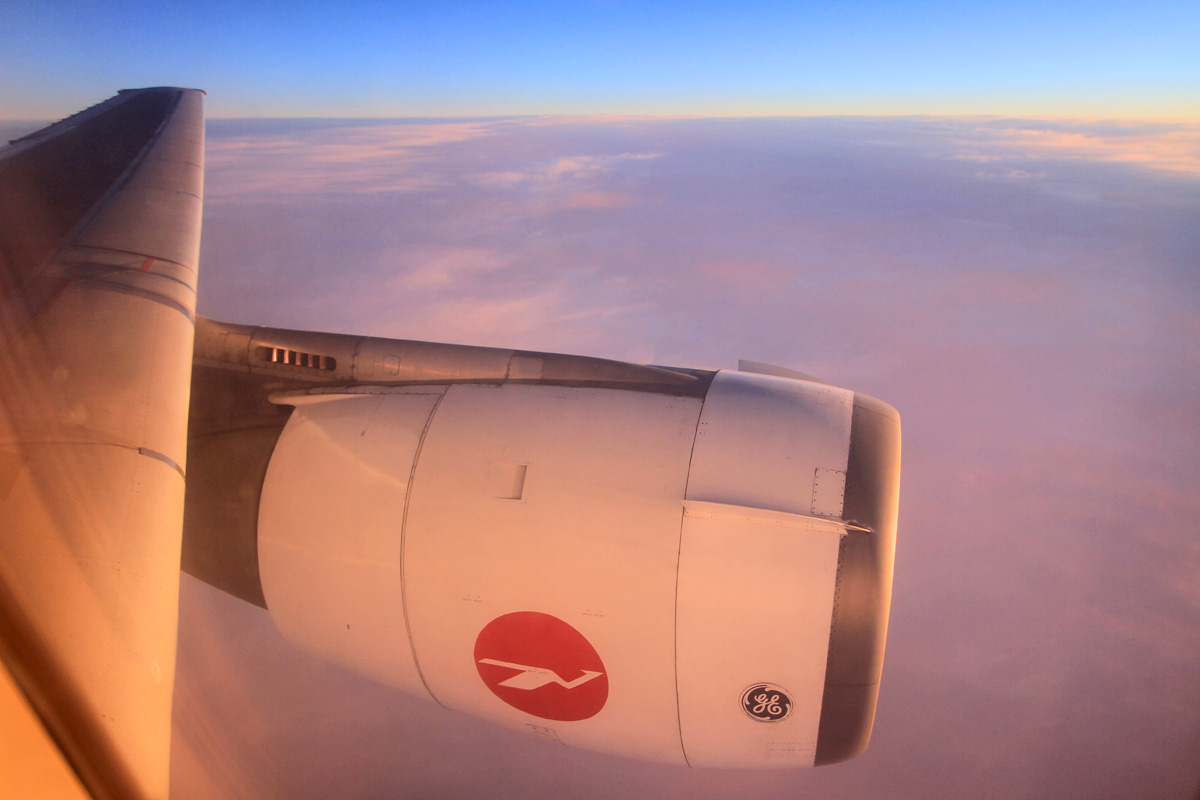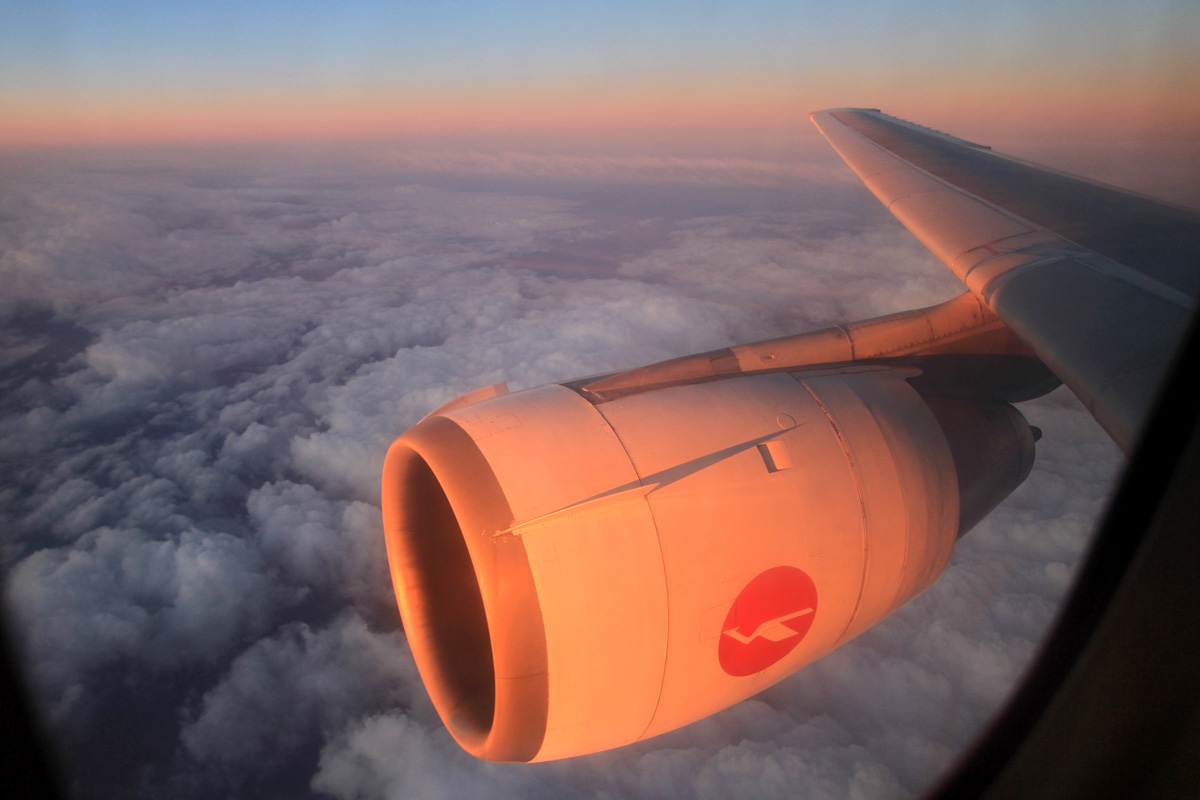 And as if on cue, as we descended into Birmingham, the sun finally set.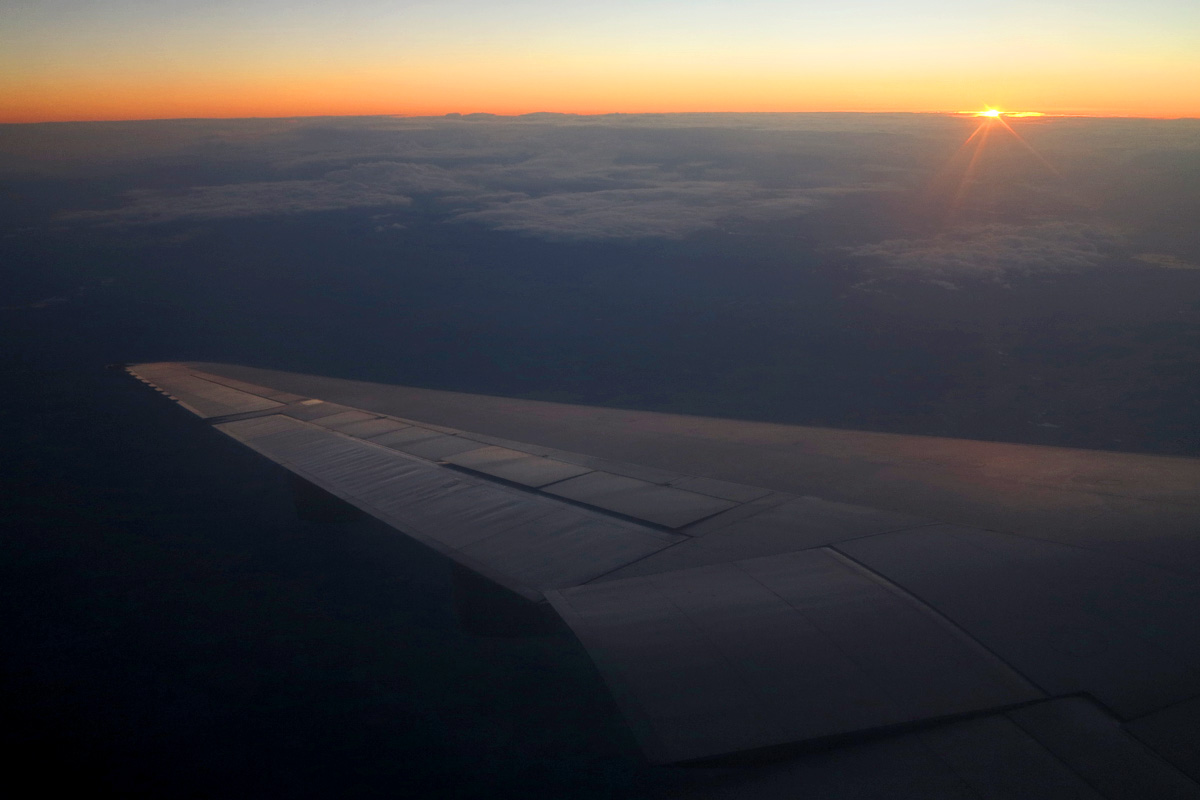 Arrival to Runway 33 was slightly bumpy, but nothing the experienced lady (or the equally experienced crew) couldn't handle. We approached with about 140 knots, and this time the landing distance was a more moderate 1,6km.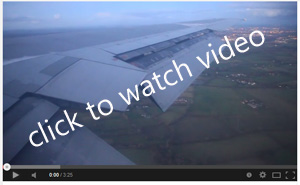 (video by me)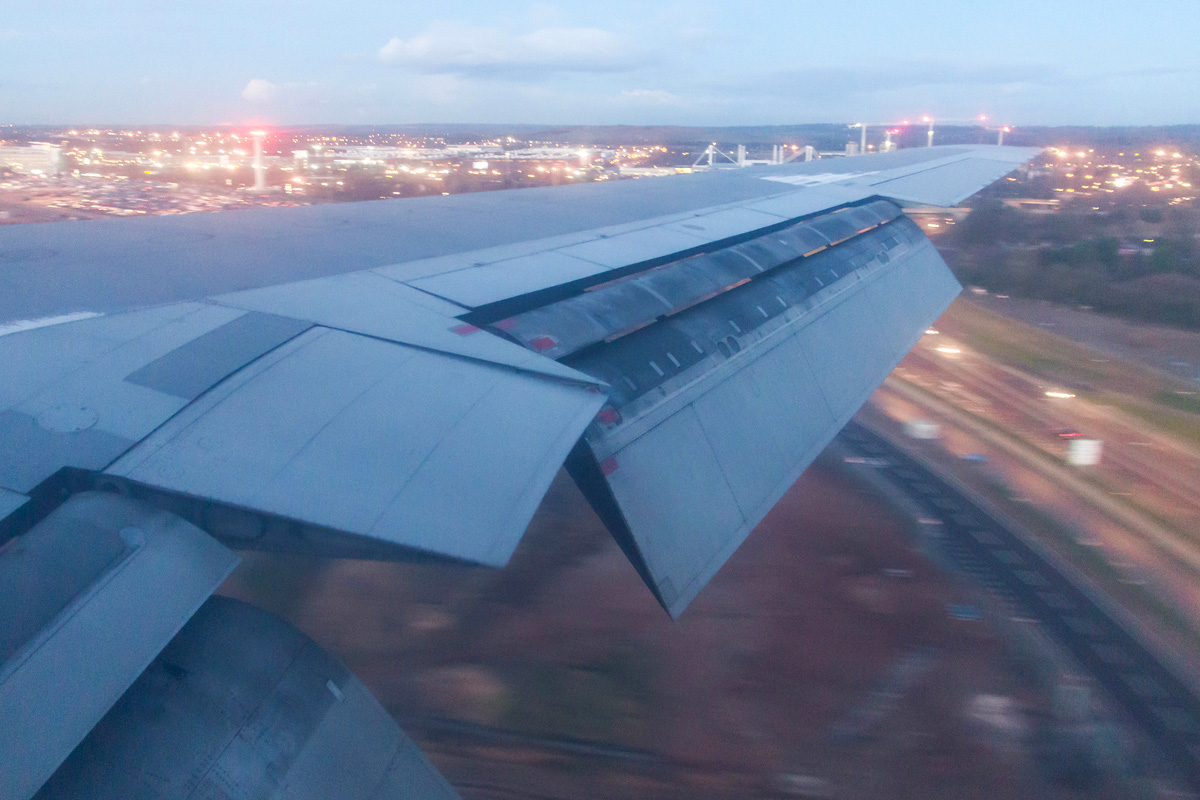 Once we had found our remote stand, it was time for the excited group to leave the plane which had become home for the past 14 hours, and bid it a final farewell.
We emerged to a chilly and windy English winter evening, yet couldn't resist taking a long last glance at the mighty DC-10. Thanks for taking us here safely!
After surprising the staff at immigration (who clearly weren't expecting any international flights at that time) and waiting quite long for checked bags, the group dispersed into all different directions, various exciting travel plans on their minds.
Me and my friend had planned to stick around for two more days and watch the DC-10 perform its joyrides out of Birmingham. To pass the one day when it didn't fly, we jumped on a Virgin train north…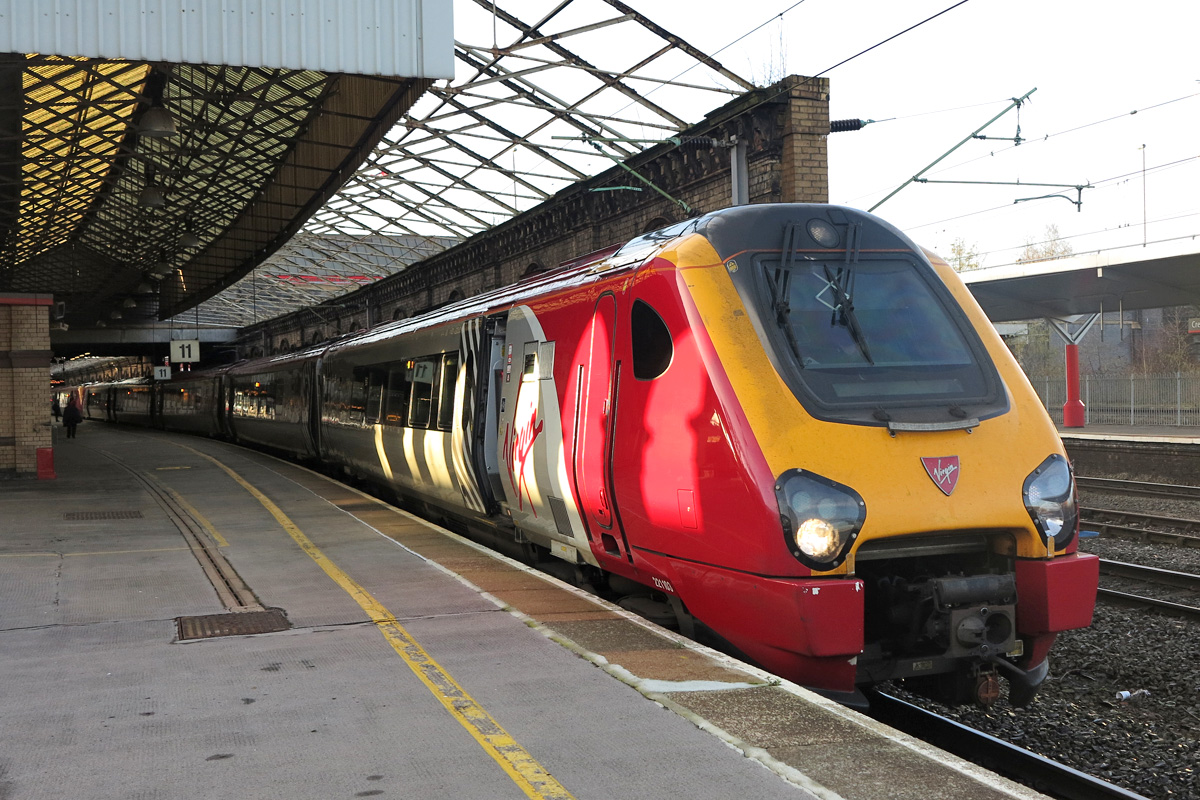 …and spent the day taking pictures at Manchester Airport!
To warm up after that long day out, we chose the English national beverage – plus something else that caught my eye, something I thought could only have been created by some seriously derailed English taste buds. But apparently the 'Coke Float' is an American invention after all. I'm just glad it never made it to Switzerland…!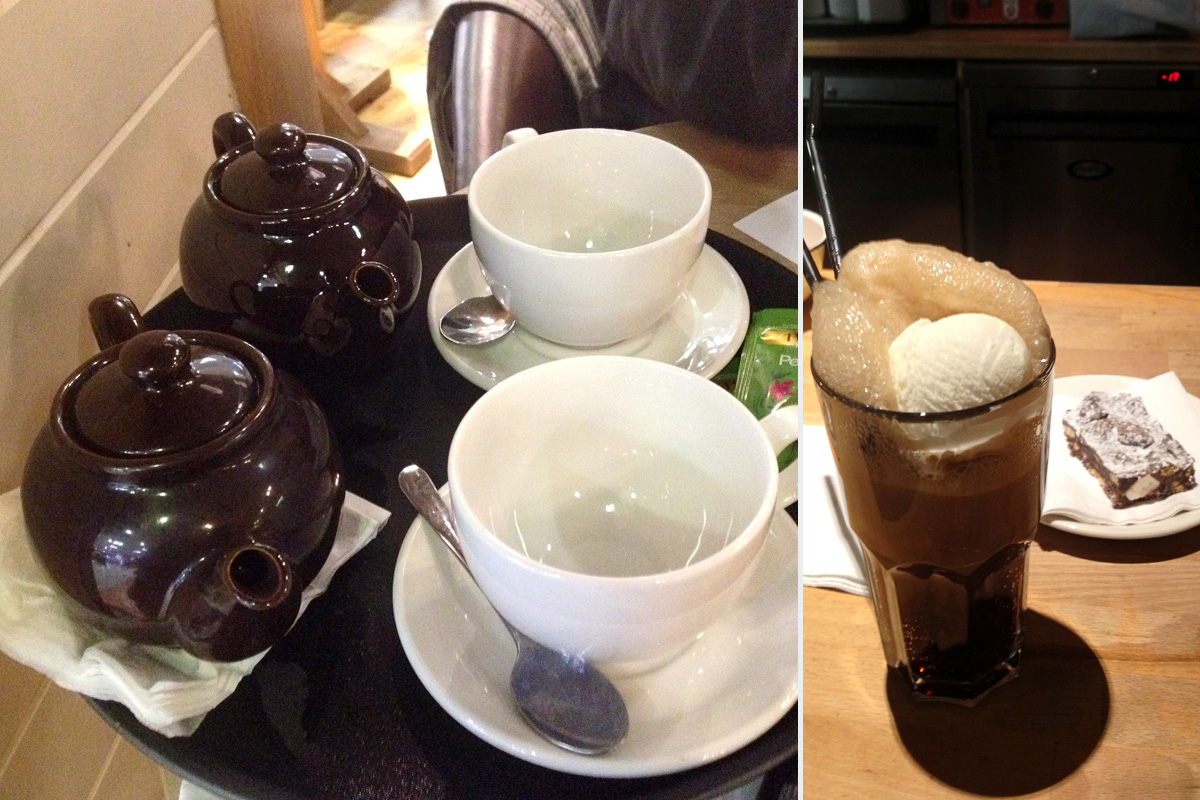 The next day (Saturday) was to be the first of three where Biman offered one-hour joyrides on their DC10 out of Birmingham. With a delay of almost 45 minutes, here's the first take-off of the old bird!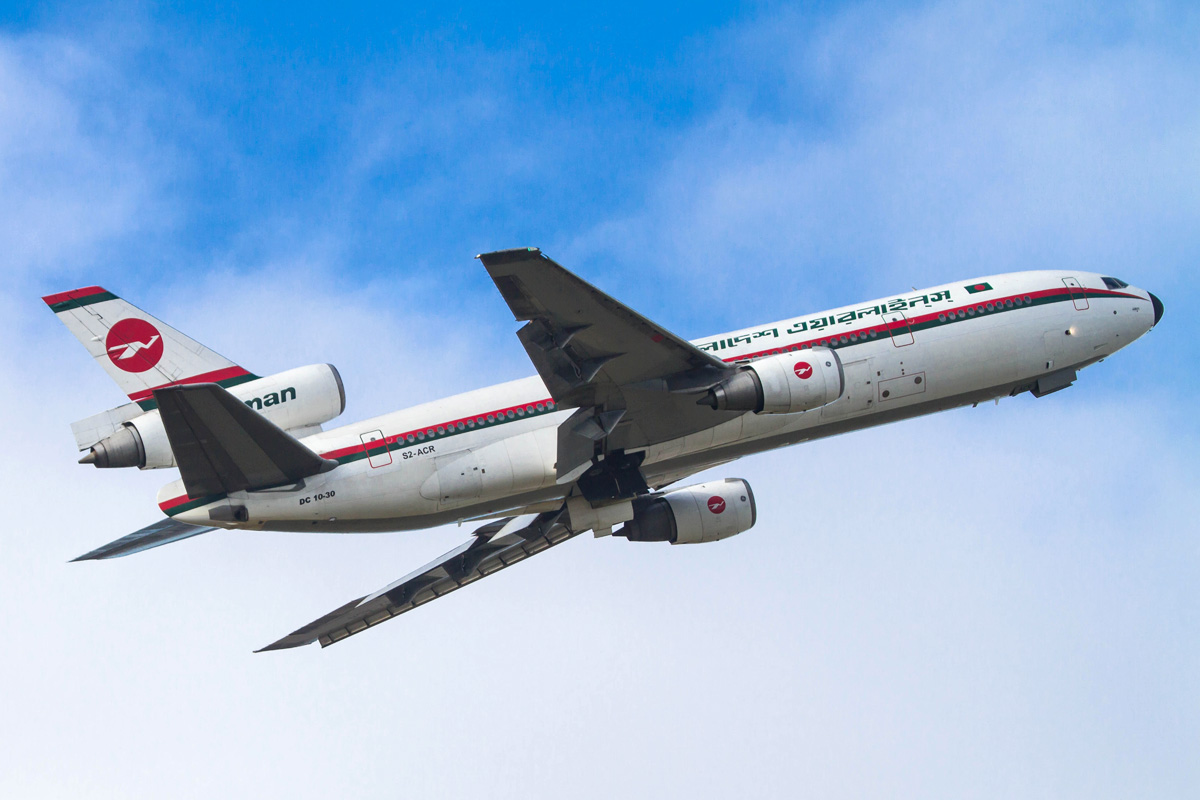 Waiting for the second flight to take off, I shot some local movements…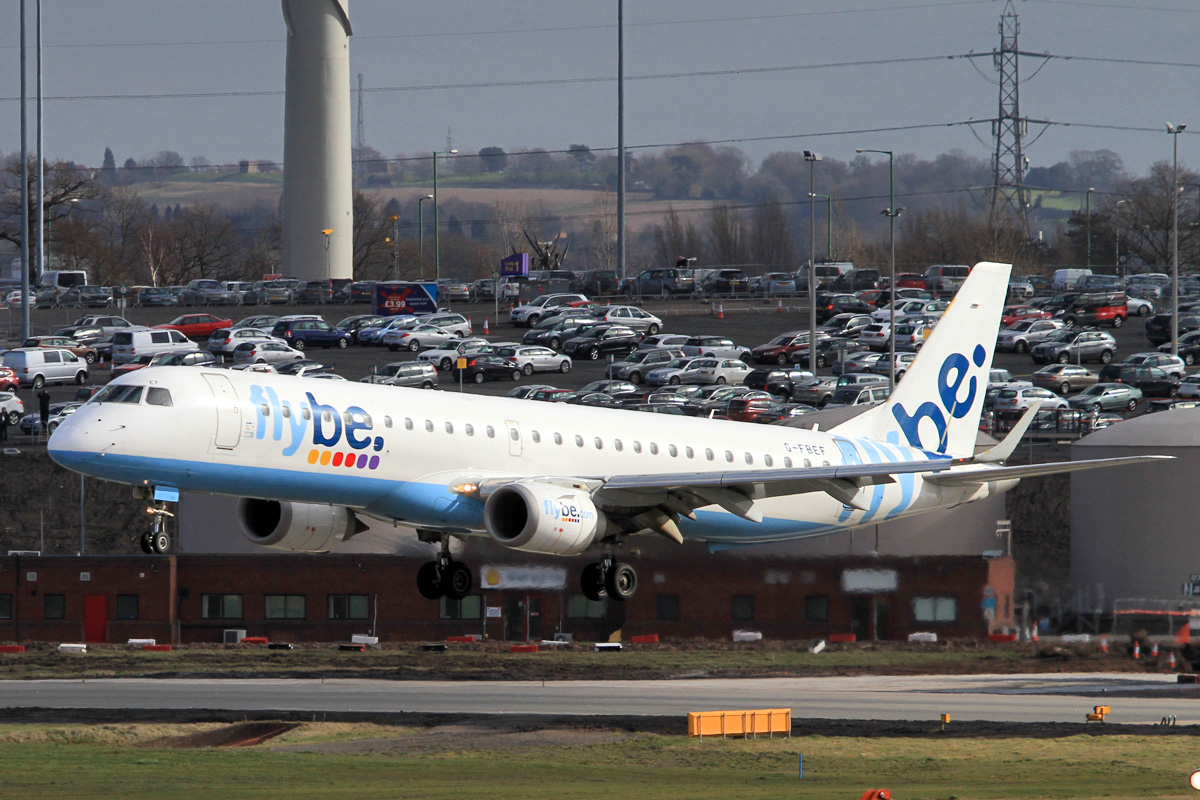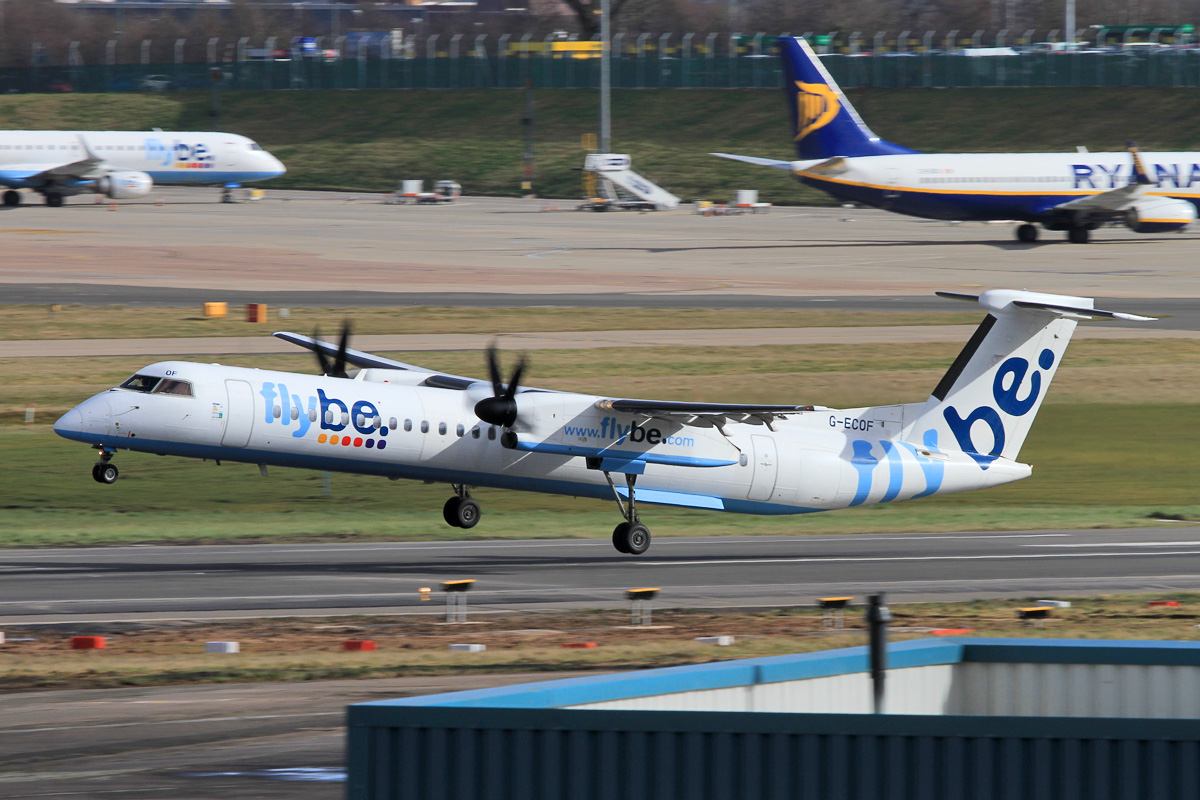 …and then it was time for my real, definite and ultimate farewell to the mighty ten! Still looks aggressive…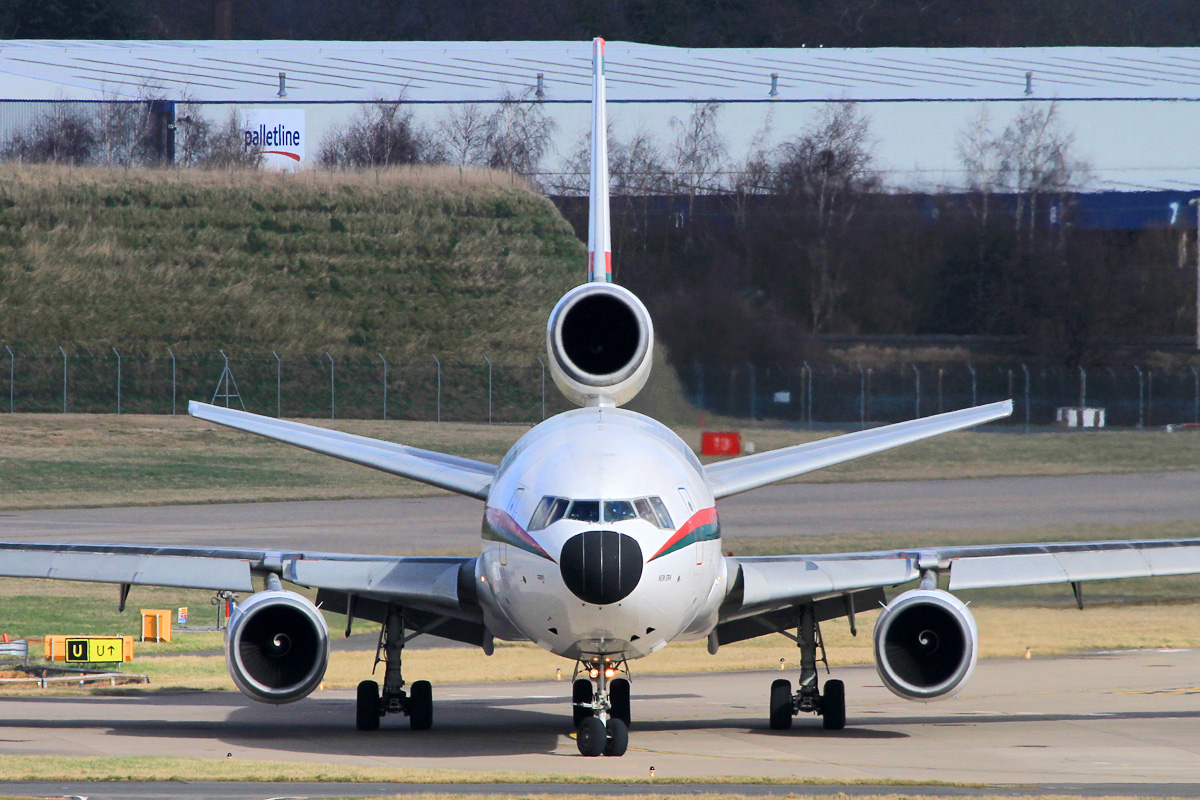 …and elegant at the same time!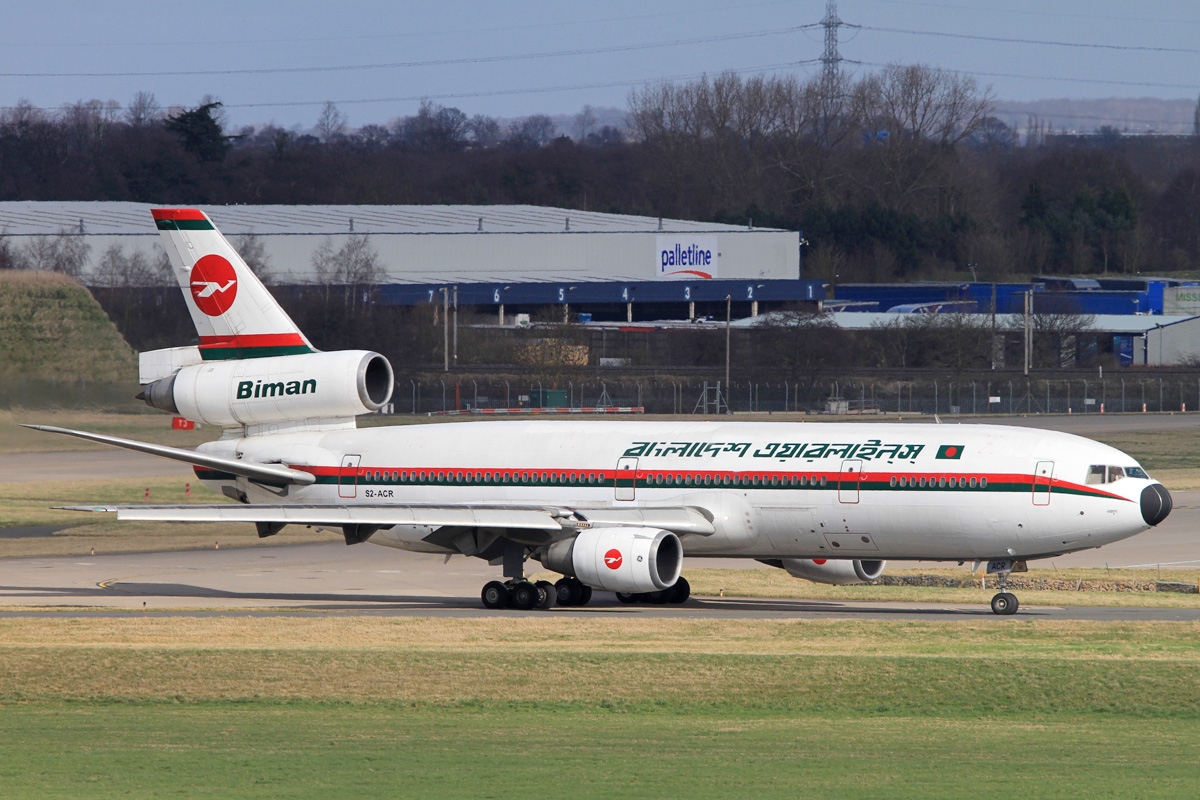 55 minutes later, and just in time for my very tight schedule, it touched down again, burning some rubber on 33. A fitting last image of hers!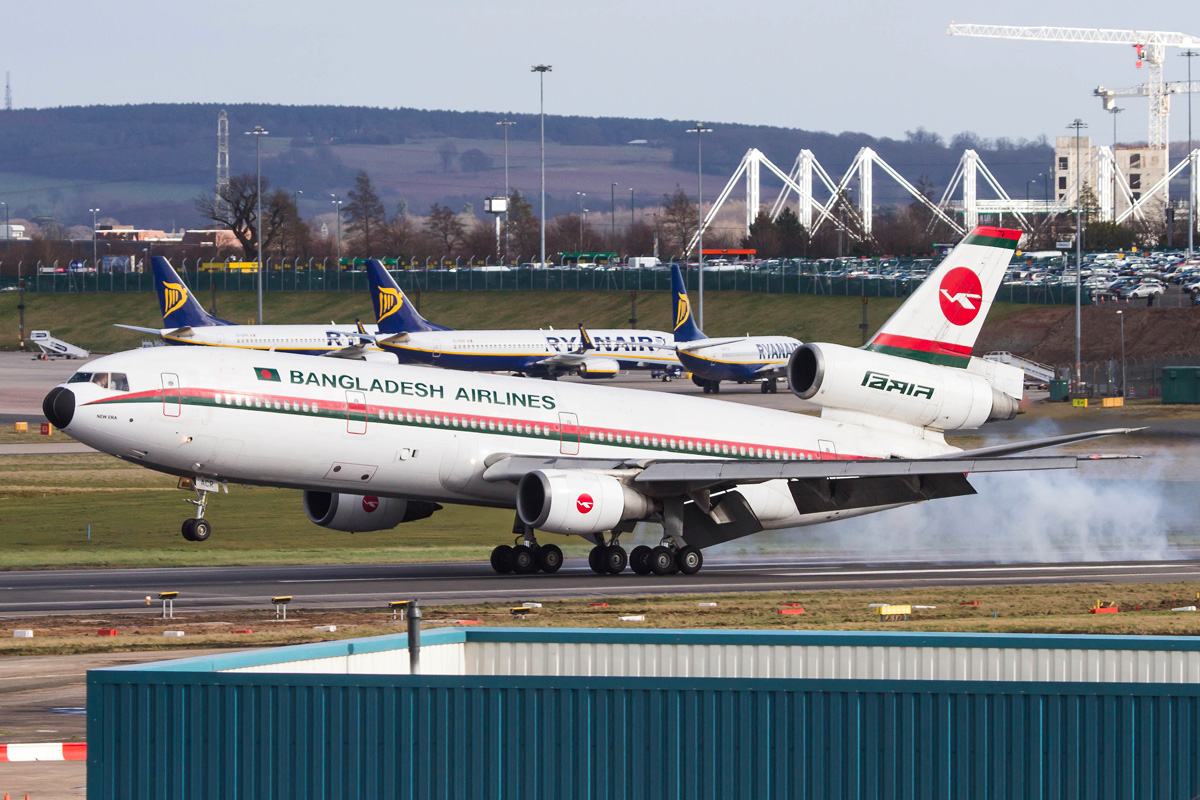 Now it was high time to race back downtown and catch the train south to London, which we managed just in time. After a one-hour ride through the pleasant English countryside…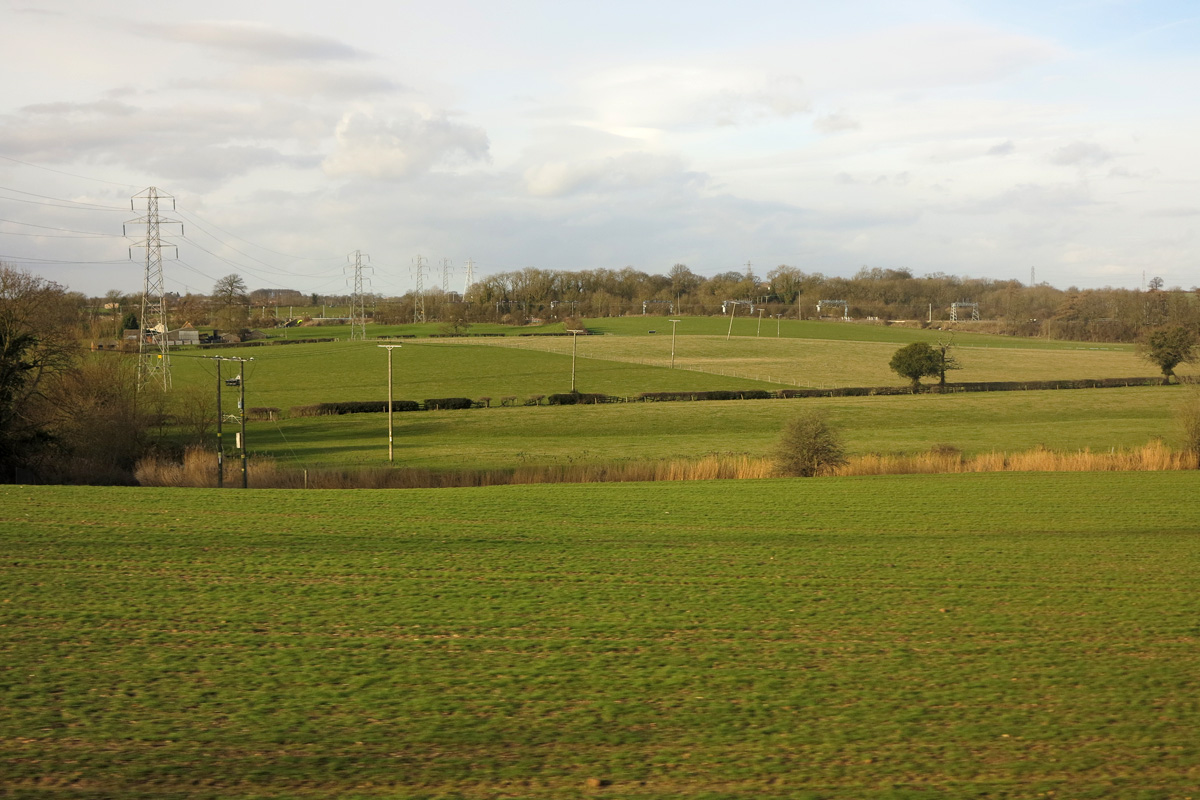 …we reached London with a delay of 20 minutes (which we accumulated waiting for an engine driver out of Birmingham). We hurriedly ran from Euston to St. Pancras station, suitcase in trail, and once again just barely made it onto the second train, which would take us through London and south to Gatwick Airport.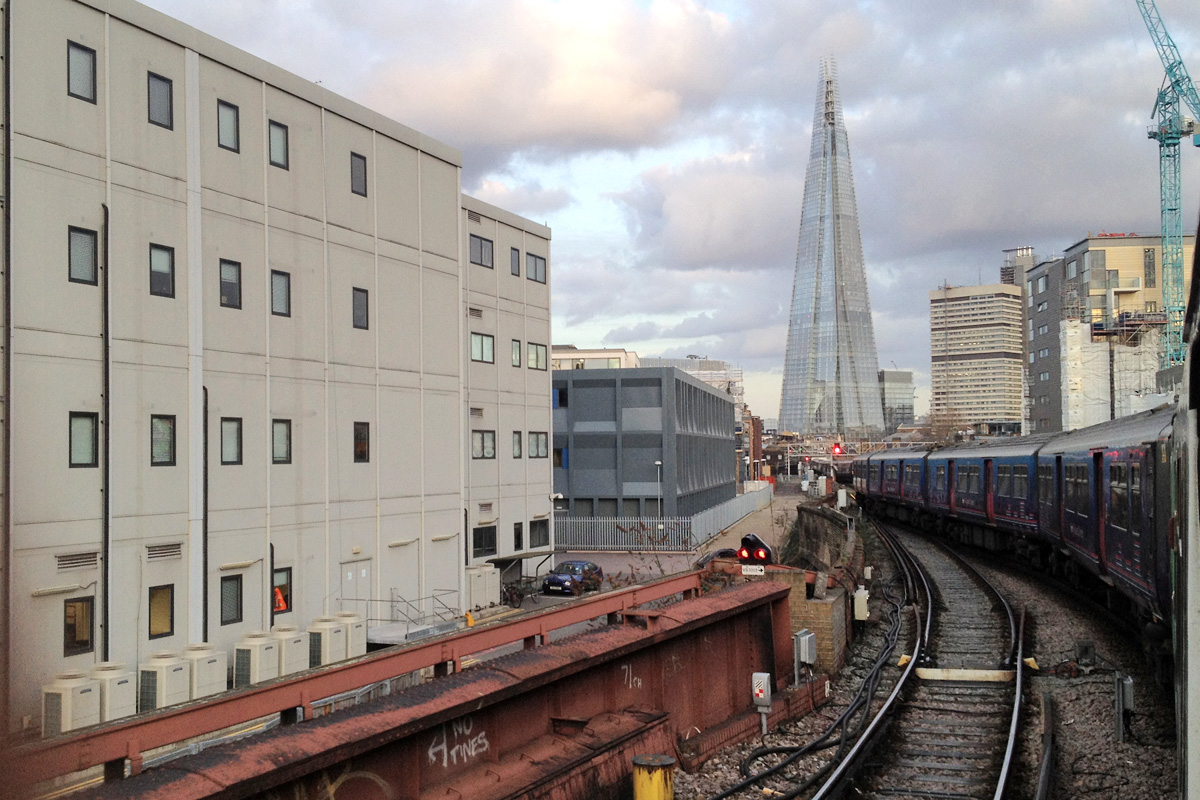 Reaching Gatwick, we quickly found the Flybe counter and checked in for the encore of our tri-mot goodbye trip: A day on the Channel Islands flying the Trislander!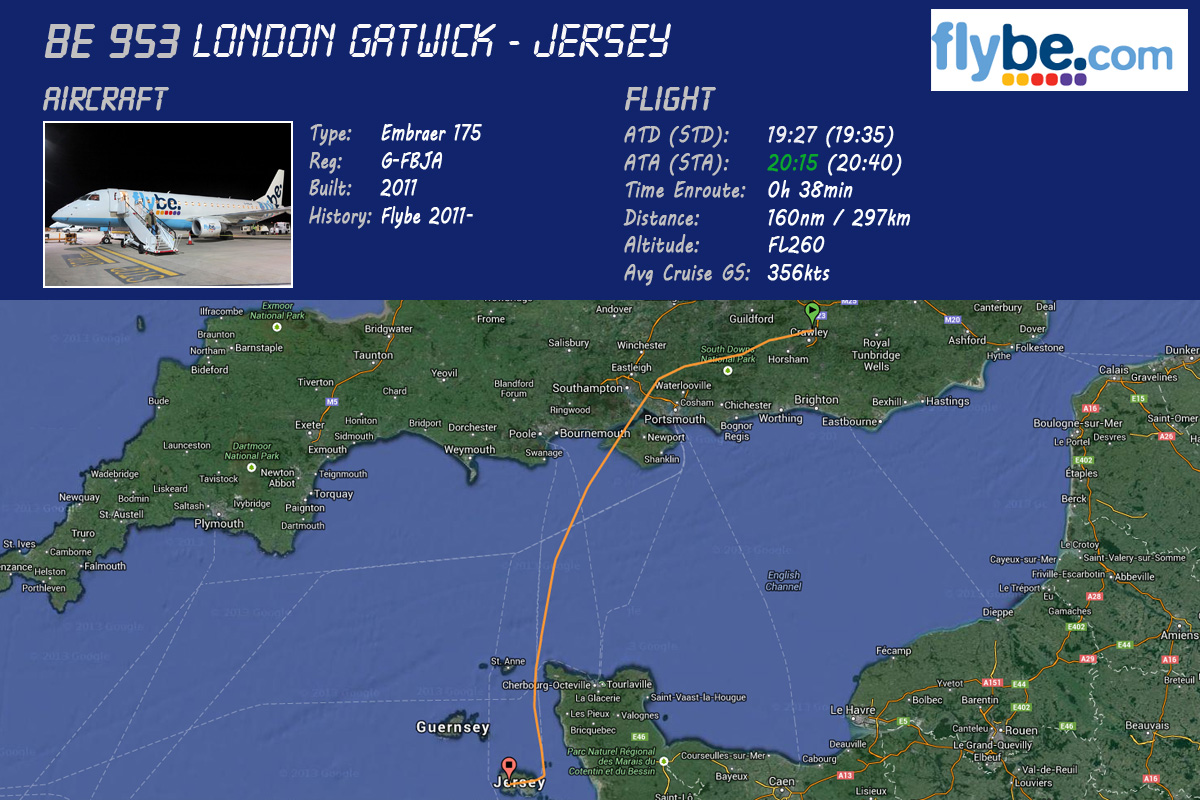 The half-empty cabin of the Embraer 175 (which climbed like a rocket and got us to Jersey in record time) looked very clean, roomy and inviting!
Oh and look, even the young Embraer participated in the motto of the trip!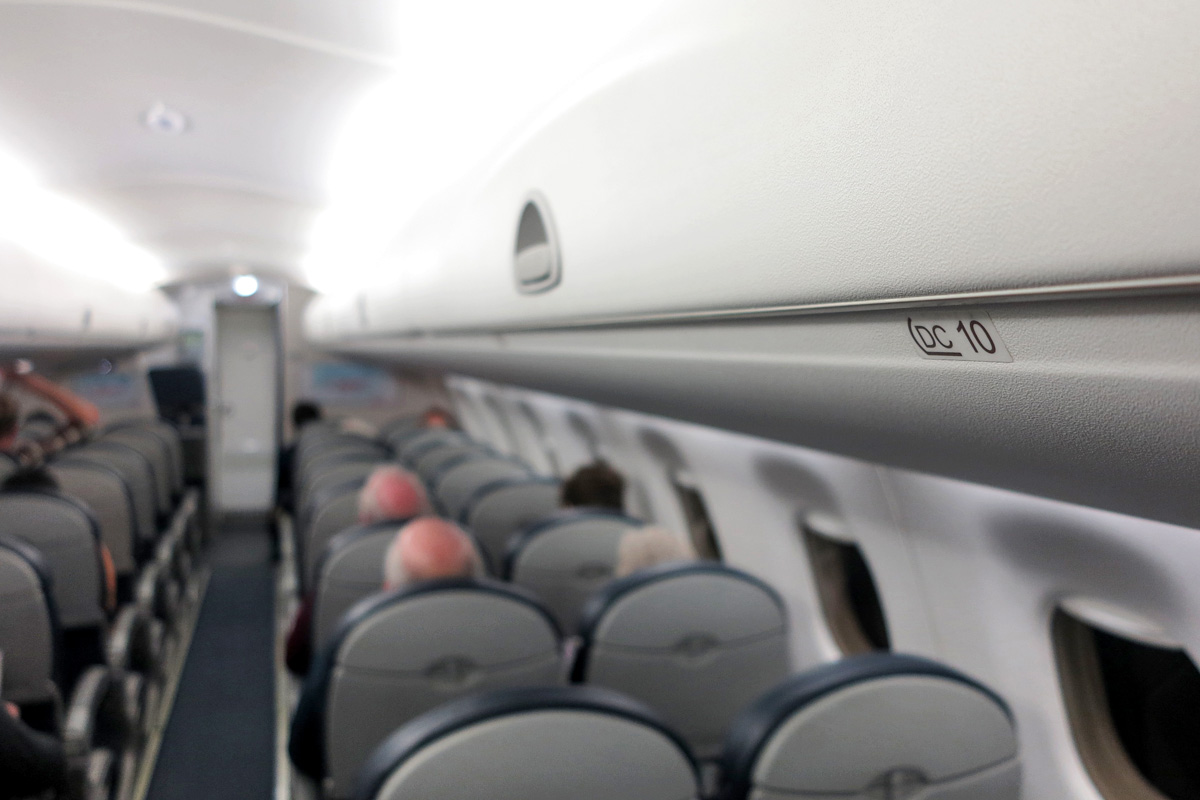 (just after that shot I was barkingly informed by one of the F/As that taking pictures in front of Row 10 was prohibited. I have no idea what possible reasons there are to justify such a ridiculous rule, but I do know that reminiscing about the freedom aboard the DC-10 made it even more absurd) :D
I wasn't too interested in taking any more pictures anyway, and just enjoyed the quick hop to Jersey. Arriving 25 minutes before schedule (on a one-hour flight!), there was plenty of time to grab a quick picture of our plane though. From forward of Row 10, mind you!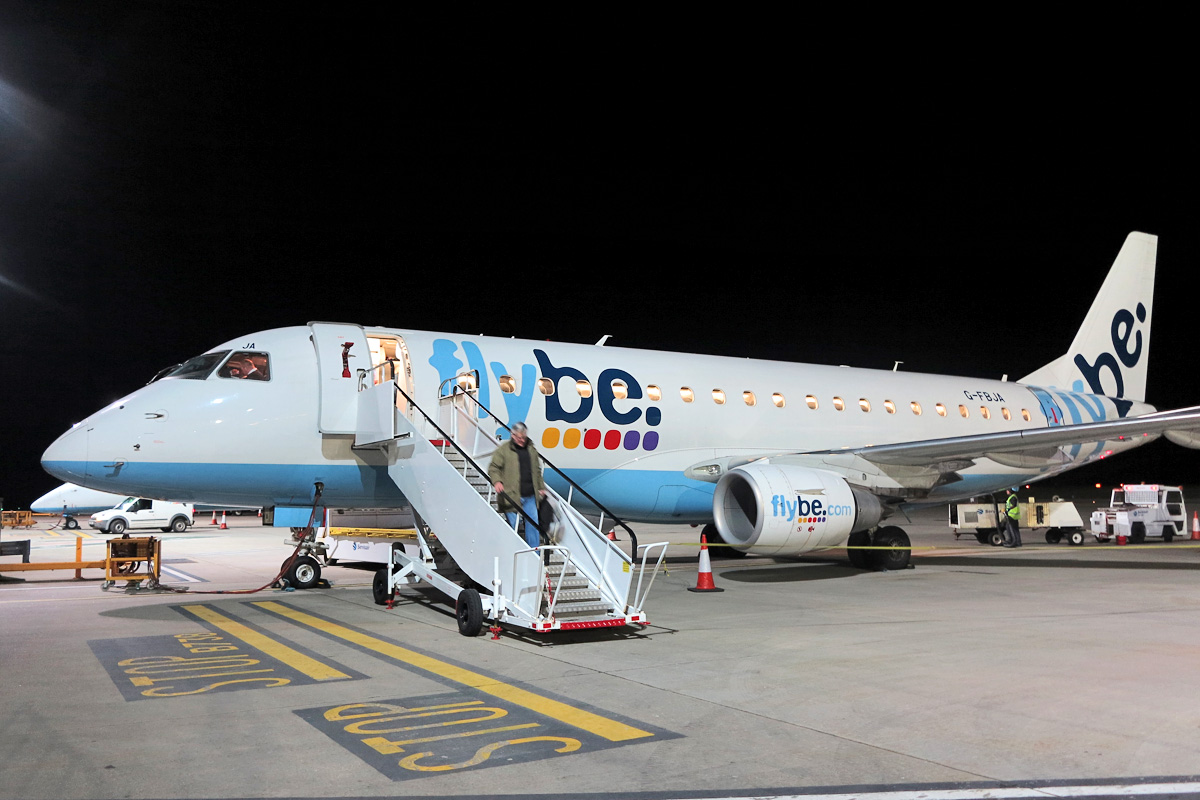 20 minutes later we jumped on the local bus, a double-decker one, and enjoyed rattling over the narrow streets from the upper floor – something I always find very thrilling!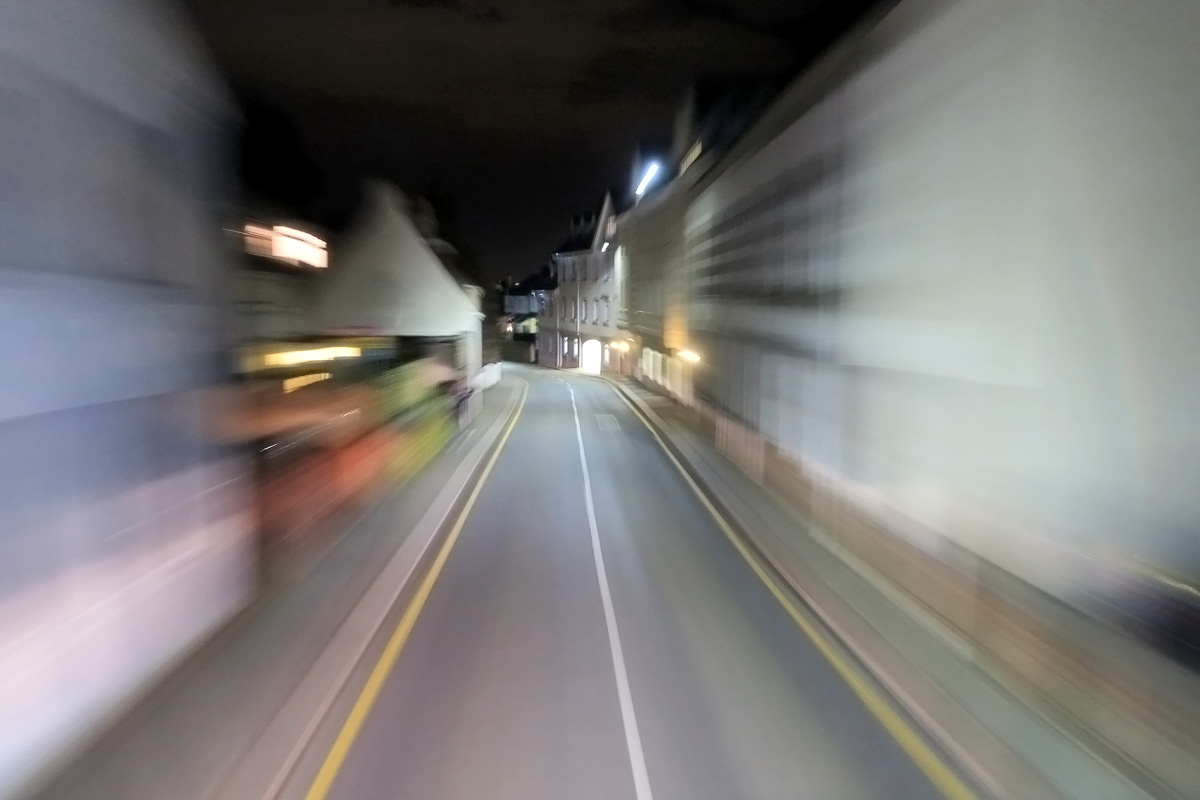 Our destination for the day was this cozy B&B, the Lyndhurst Guesthouse, where we were warmly welcomed by the kind owner who had stayed up just to let us in. Thanks!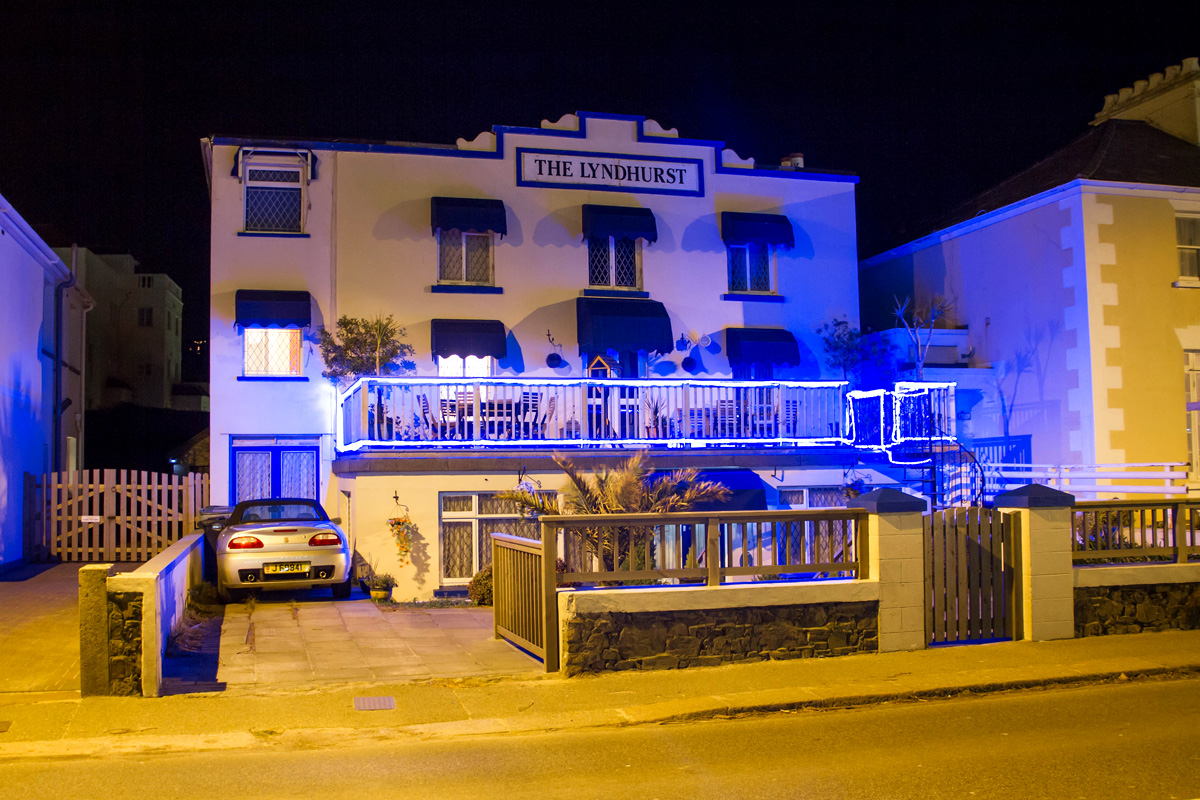 Being from a landlocked country, and staying in an Inn right at the beach, we couldn't help but have a quick dip in the ice-cold waters. I'll spare you any explanation of just how cold it was, and rather show you the view along the beach towards St. Aubin instead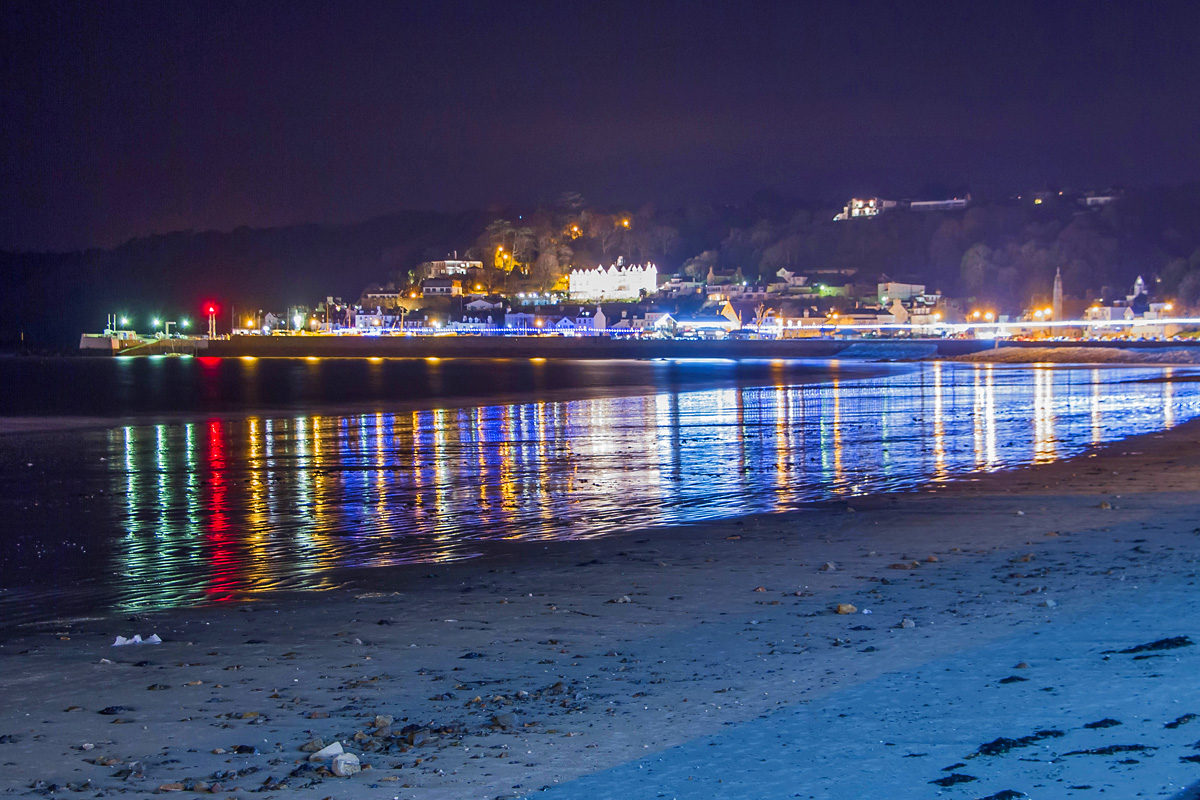 Unfortunately this was the only thing we got to see of beautiful Jersey (we vowed to return as soon as possible though), since we were already back at the airport by 7 the next morning. Time for the second farewell of the trip! Aurigny's famous Britten-Norman Trislanders are to be retired later this year and replaced by Dornier 228s, as their operating costs are insane and maintenance is getting trickier by the month.
Here we are in the nice Aurigny gate lounge at Jersey airport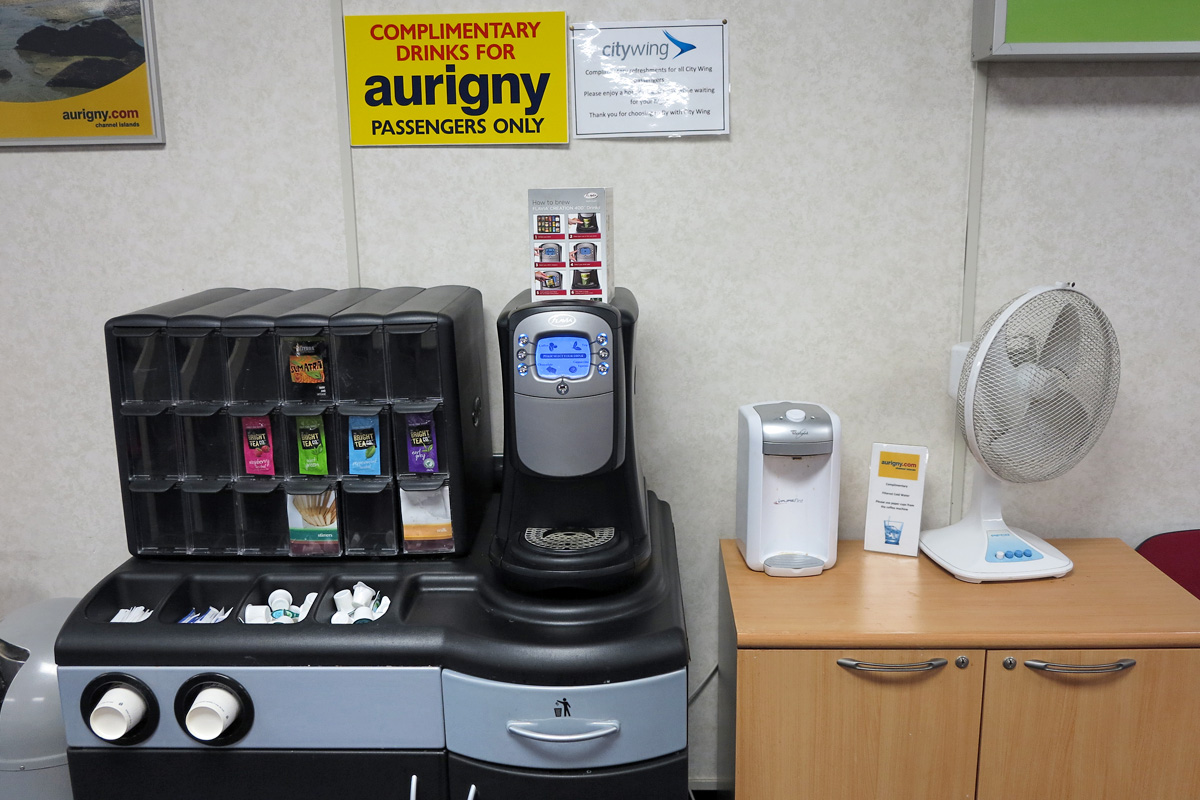 And now, let's go!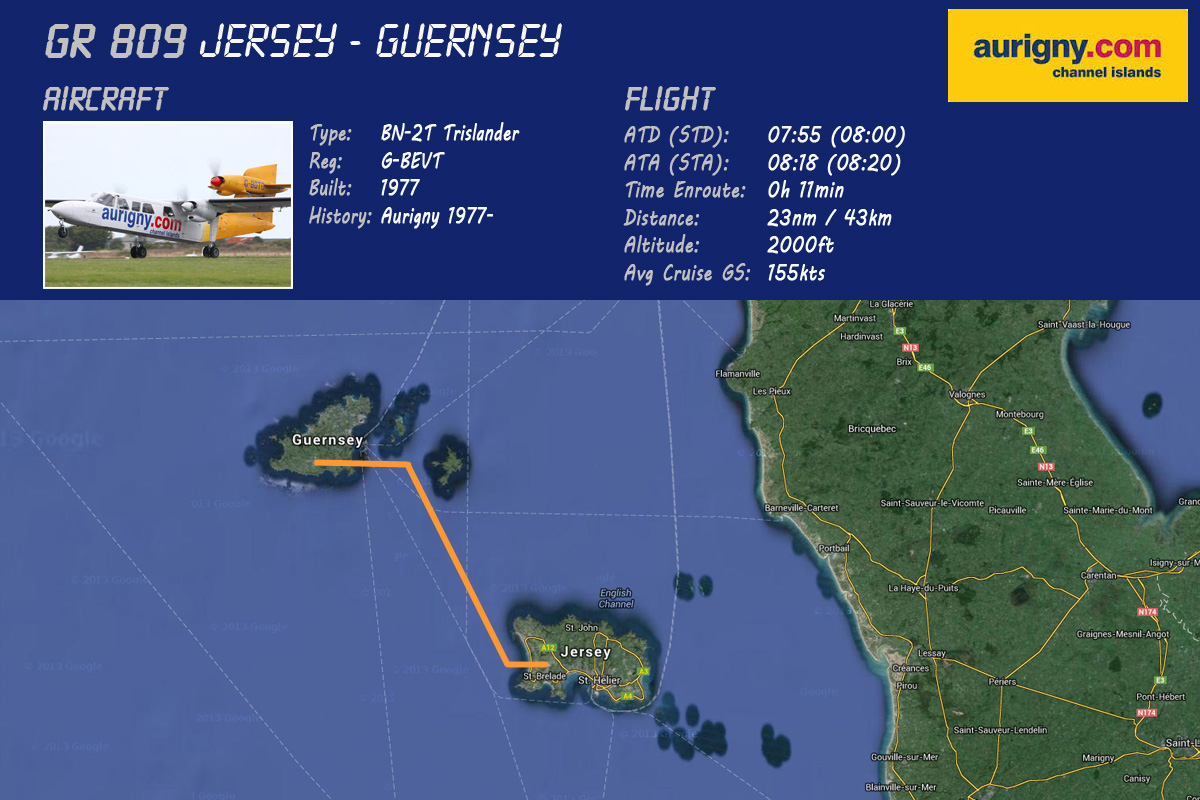 Here it is, our beautiful Trislander – going strong even after 35 years of service (10 years more than the Biman DC-10)! It spent the night on Jersey and then quickly taxied out for refueling (I assume) and is now returning to its stand.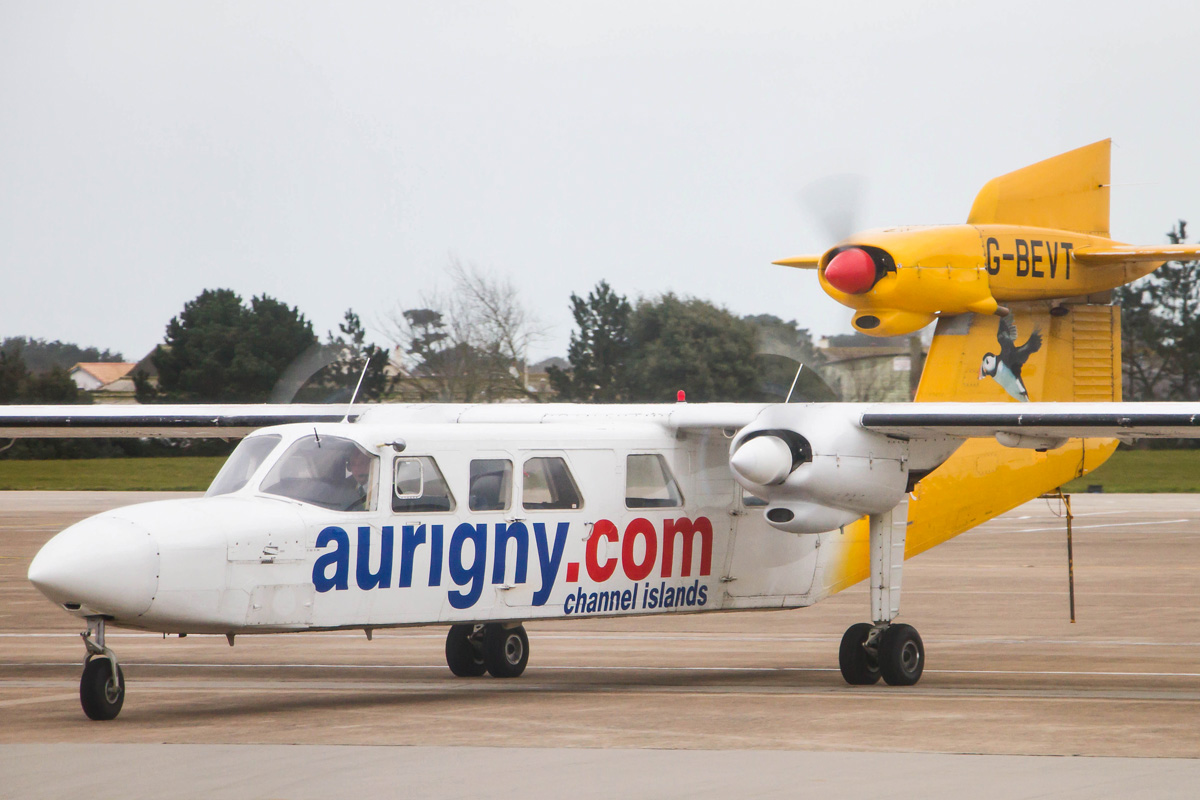 As usual, upon boarding, people stood around the plane and were then called up and appointed to their respective seats by the Captain.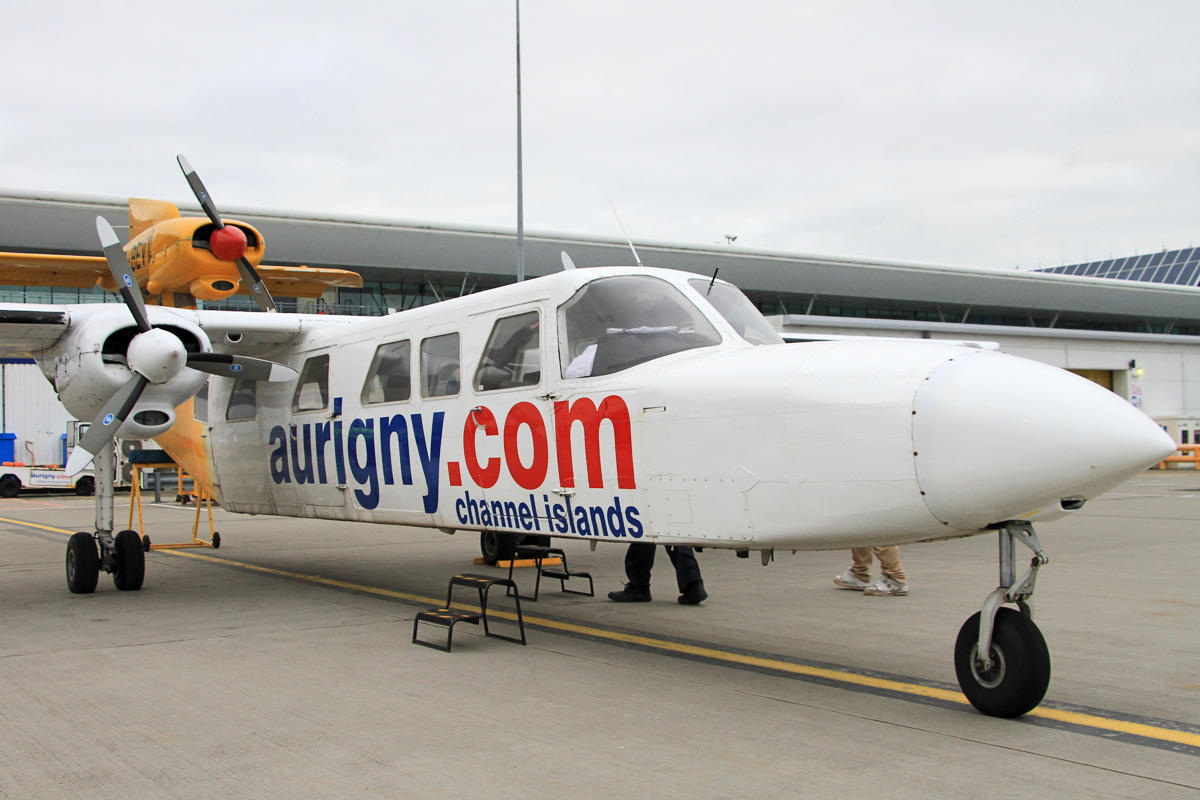 Once everyone was settled in, it took only seconds to start the three Lycoming piston engines and get going. A looooong taxi around the whole apron and to Runway 27 followed, and when we got there, we were instantly ready to go! Too bad the window fogged up a bit…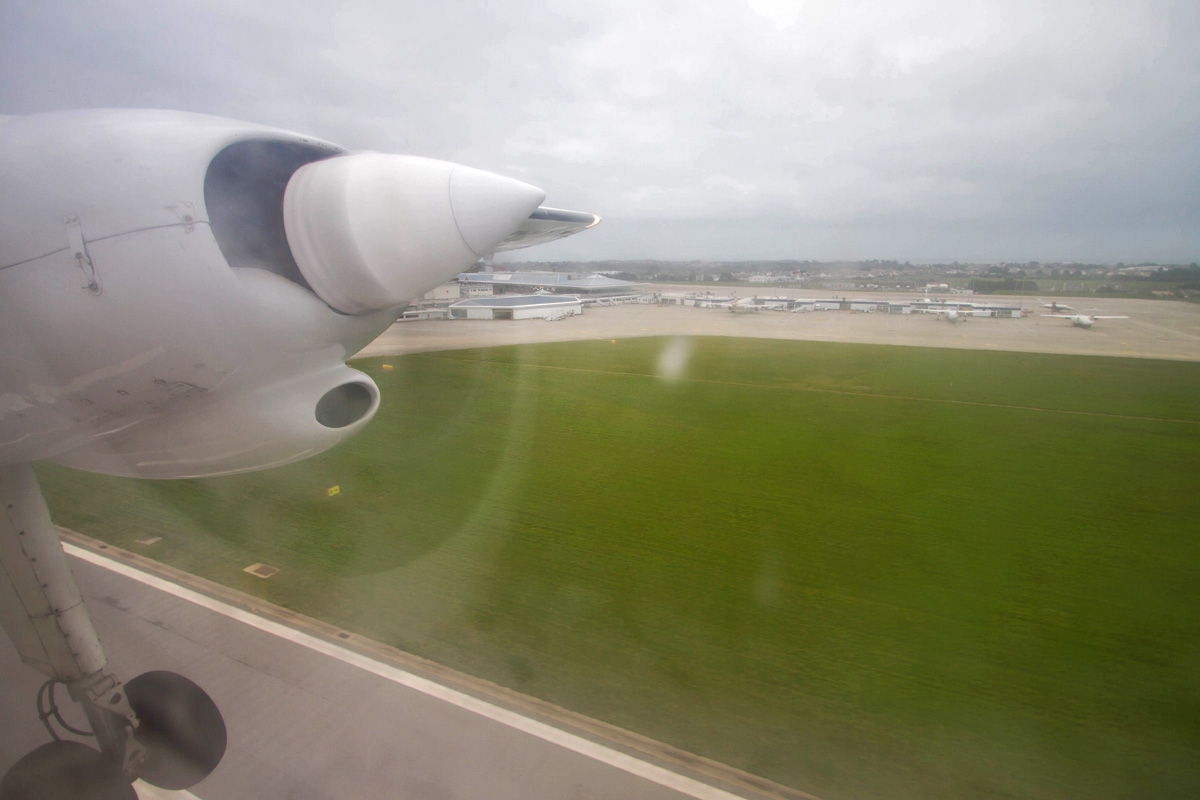 Soon after, we climbed out over St. Ouen's Bay and up to 2'000ft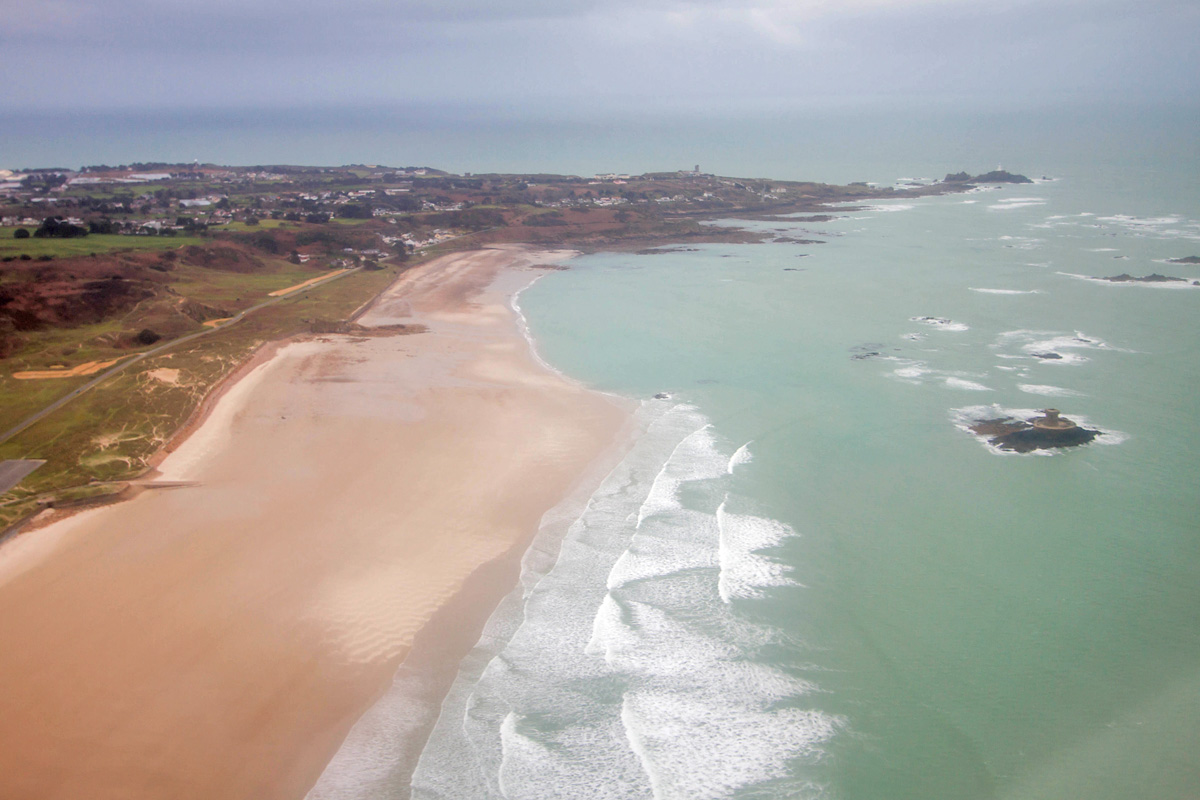 This Trislander was fitted with a modern GPS and I think some digital flight instruments as well. Our route, including the missed approach procedure, had already been programmed too. Definitely facilitating the single-pilot IFR operations here, but I'm sure they'd find their destinations even blindfolded :)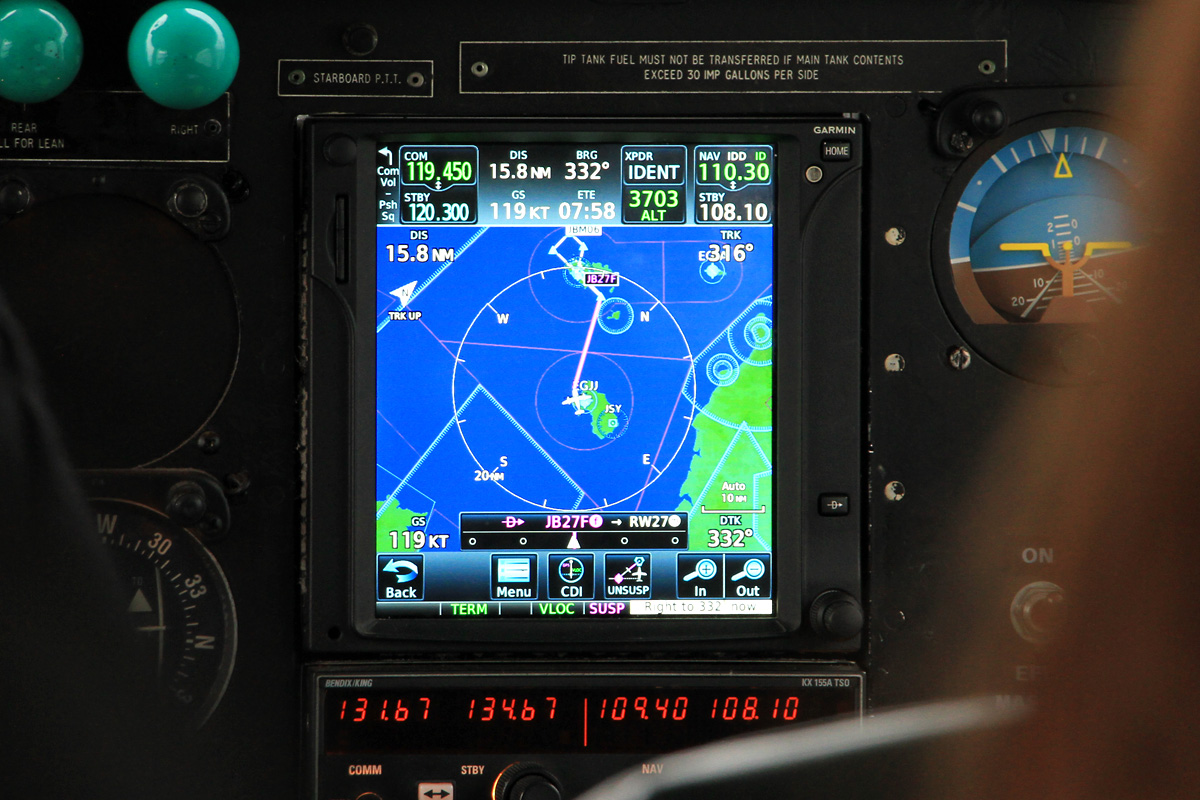 Some cabin details…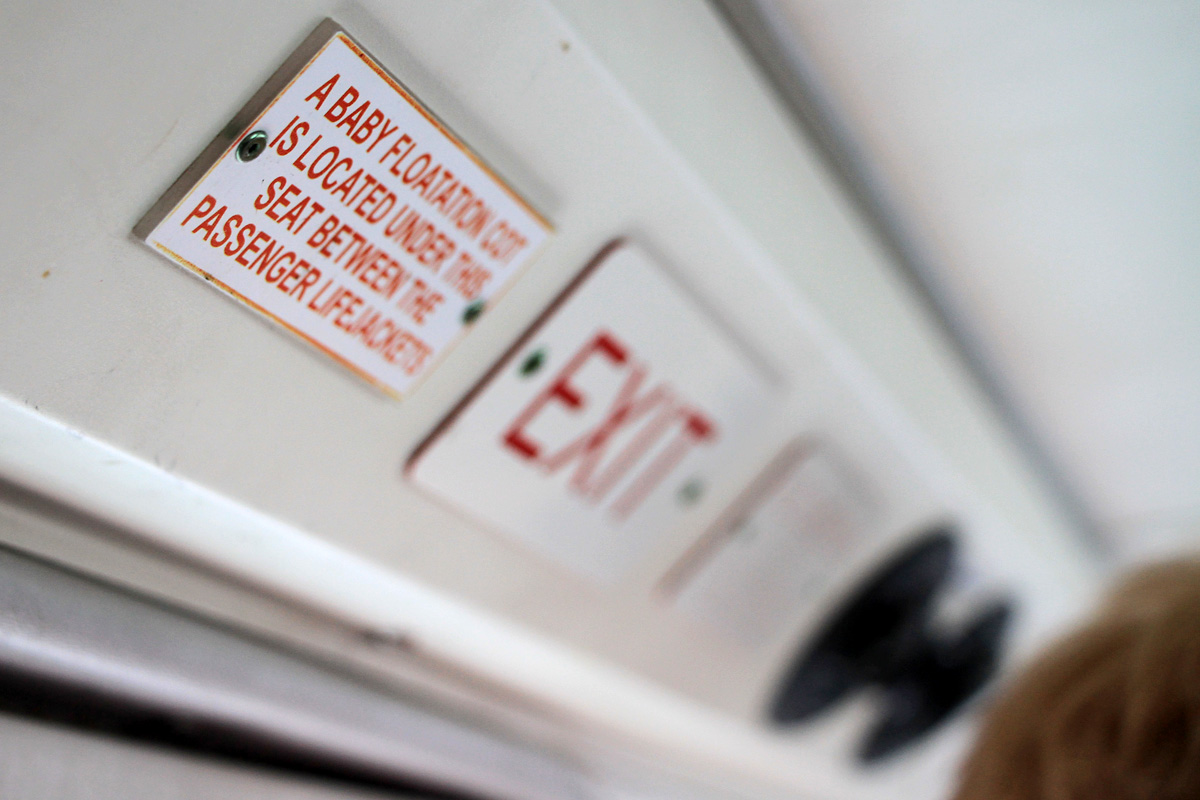 With winds of 15 to 20 knots, the sea was quite choppy that morning, and as bumpy was the flight. Lots of fun!
After some minutes over water, Guernsey's main town of St. Peter Port came into sight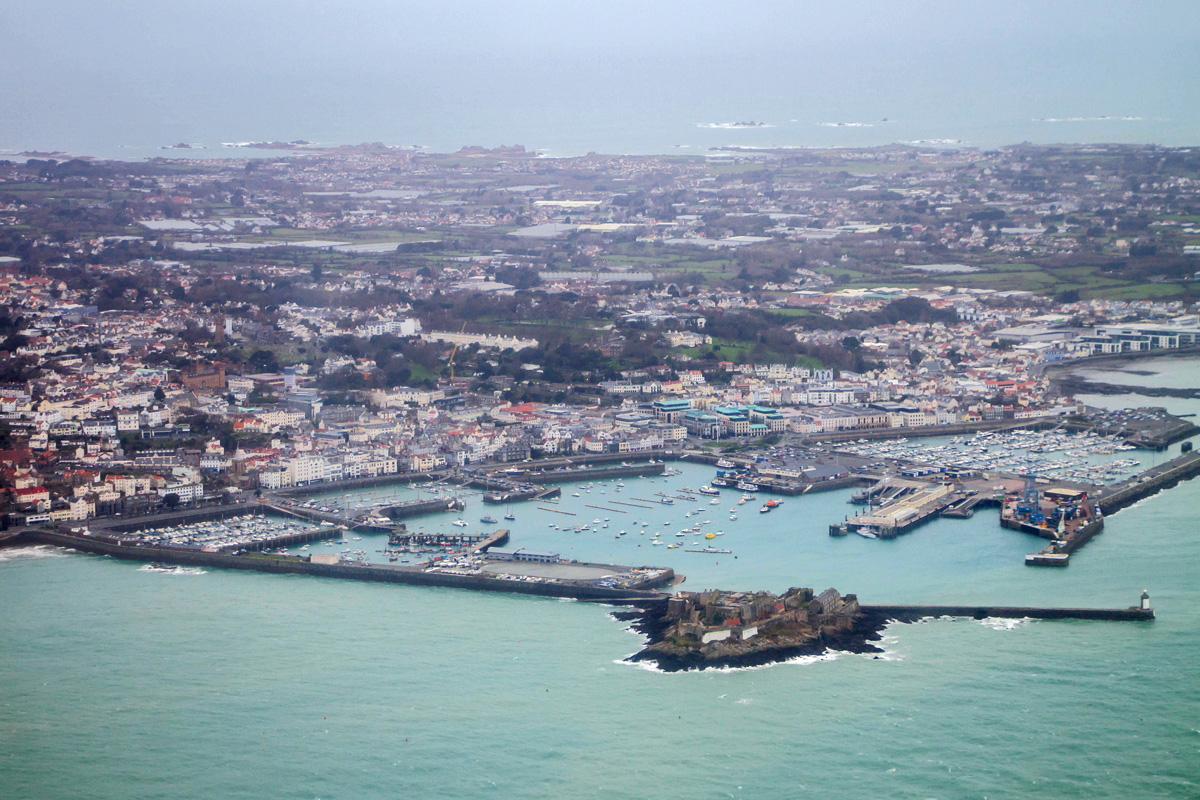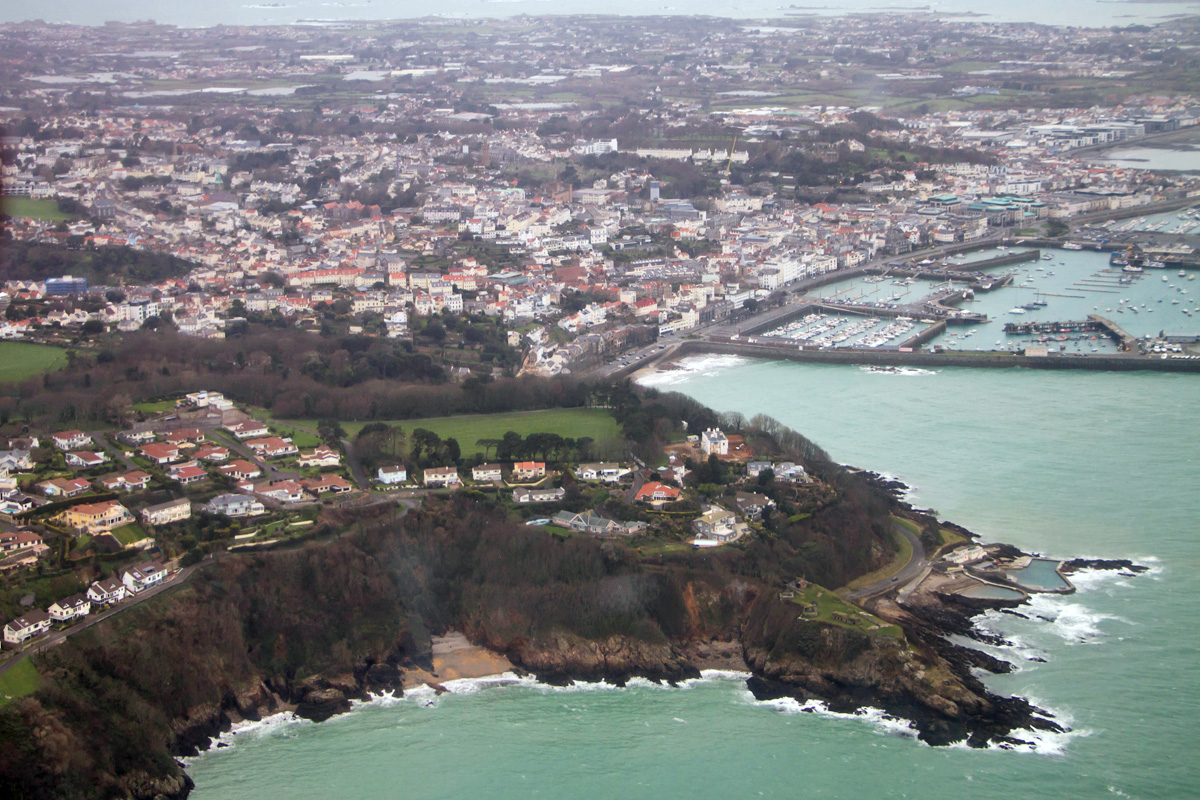 Crosswinds were so strong that my friend, who sat on the other side, reported that he could constantly see the runway out of his side window. But we made it down without a fuss! Guess bad weather is a normal occurrence here!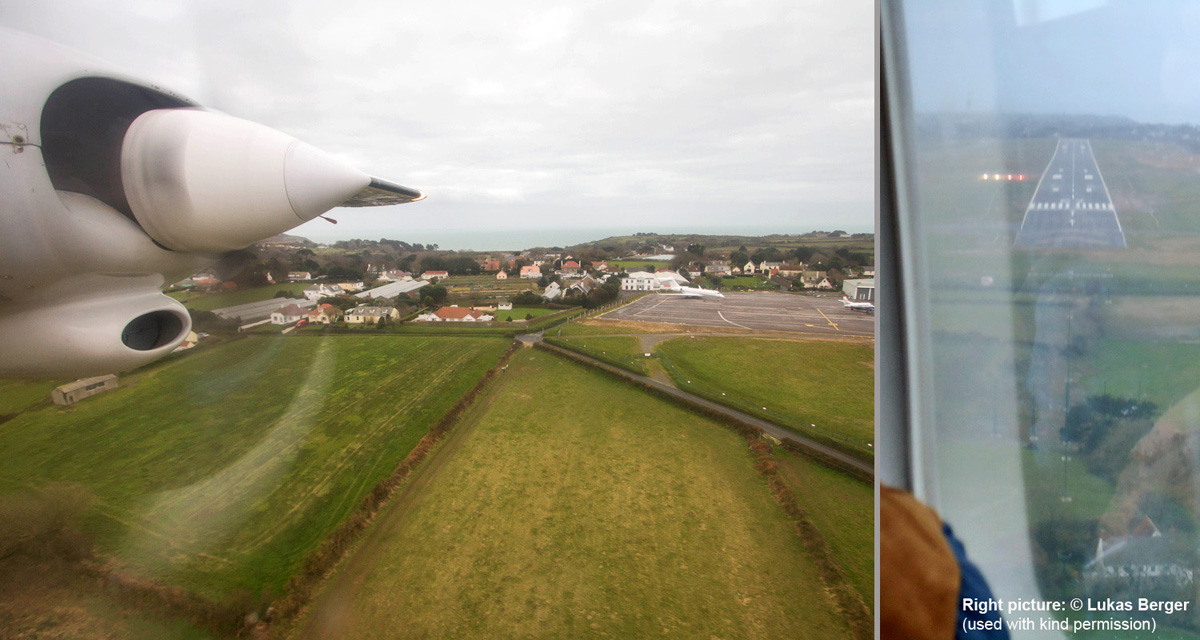 Oh what fun it was! The Trislander is really a unique aircraft, and a perfect fit for those rugged islands. Too bad it will be gone from European passenger service in a few months' time! Fortunately we had another two rides on it planned just now – after a 20 minute connection we would continue up to Alderney and from there on to Southampton. Or wouldn't we?
The winds had something against our plans. Alderney reported crosswinds of 30 knots with gusts up to 38, which was way beyond the limitations. The Trislander's normal crosswind limit is 25 knots. However, as the grass on the sides of Alderney's narrow runway was too wet at that time and couldn't be included in the available width, the limit was further reduced to 20 knots. Thus, the Aurigny flight was delayed for 6 hours to wait for improvements.
After an hour of waiting my friend noticed a direct Flybe flight to Southampton that would leave Guernsey within half an hour. We pointed this out to the kind Aurigny gate staff, and they realized quickly that this would be our only chance of still reaching our flight from Southampton home to Geneva in the afternoon. They quickly called their friends at Flybe, who re-opened their flight, booked us two seats and checked us in in a matter of minutes.
Of course we had to pay the new flight ourselves (which will be left to the travel insurance to deal with). Yet, the kind cooperation and help from the guys at Aurigny (and Flybe) was really surprising! It was none of Aurigny's business to help us get to our destination before they even cancelled their flight (due to weather anyway), and yet they helped. That's customer service!
Alas, that's the new routing, the old one in white: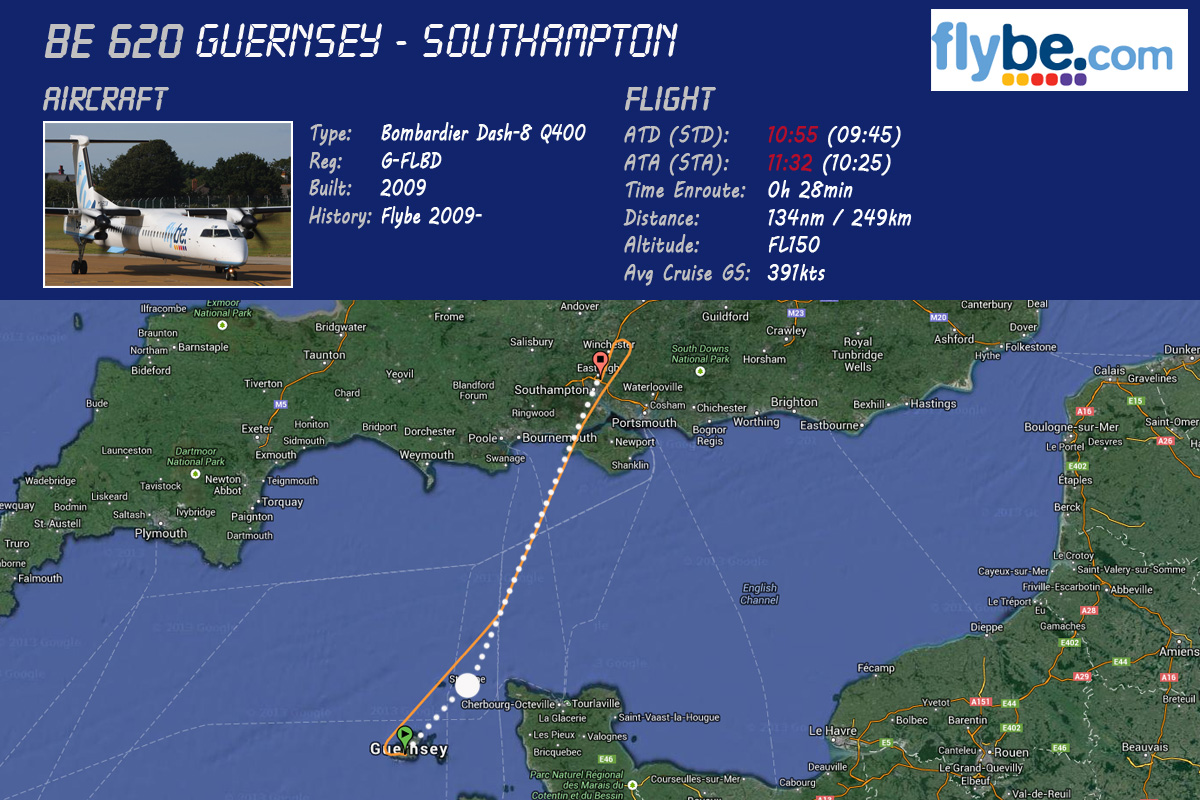 Here we are welcomed by Mary Peters, Olympic gold medalist of 1972. Luckily, Flybe's original Q400 for the flight to Southampton went tech and they had a replacement one flown in from Gatwick, resulting in a one-hour delay – just the time we needed to make up our minds, let go of our Trislander hopes, and re-book!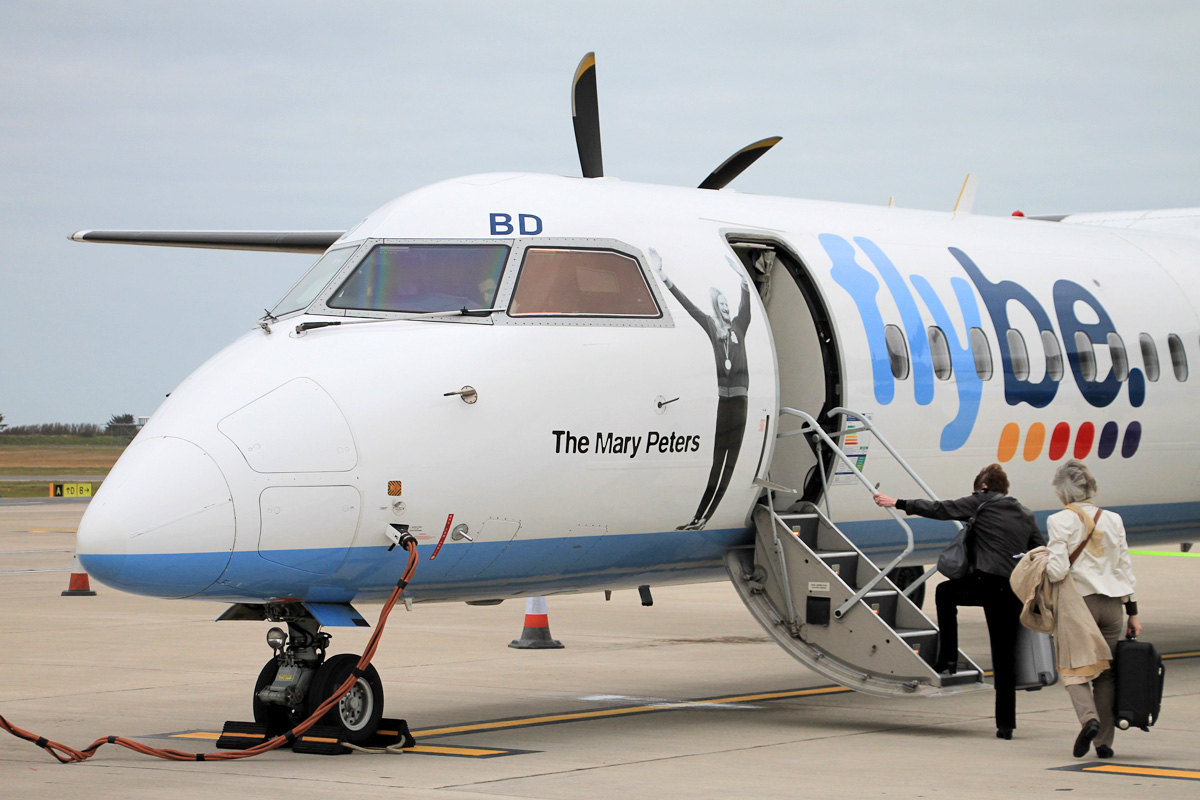 Shortly after, we were climbing out of Guernsey's Runway 27…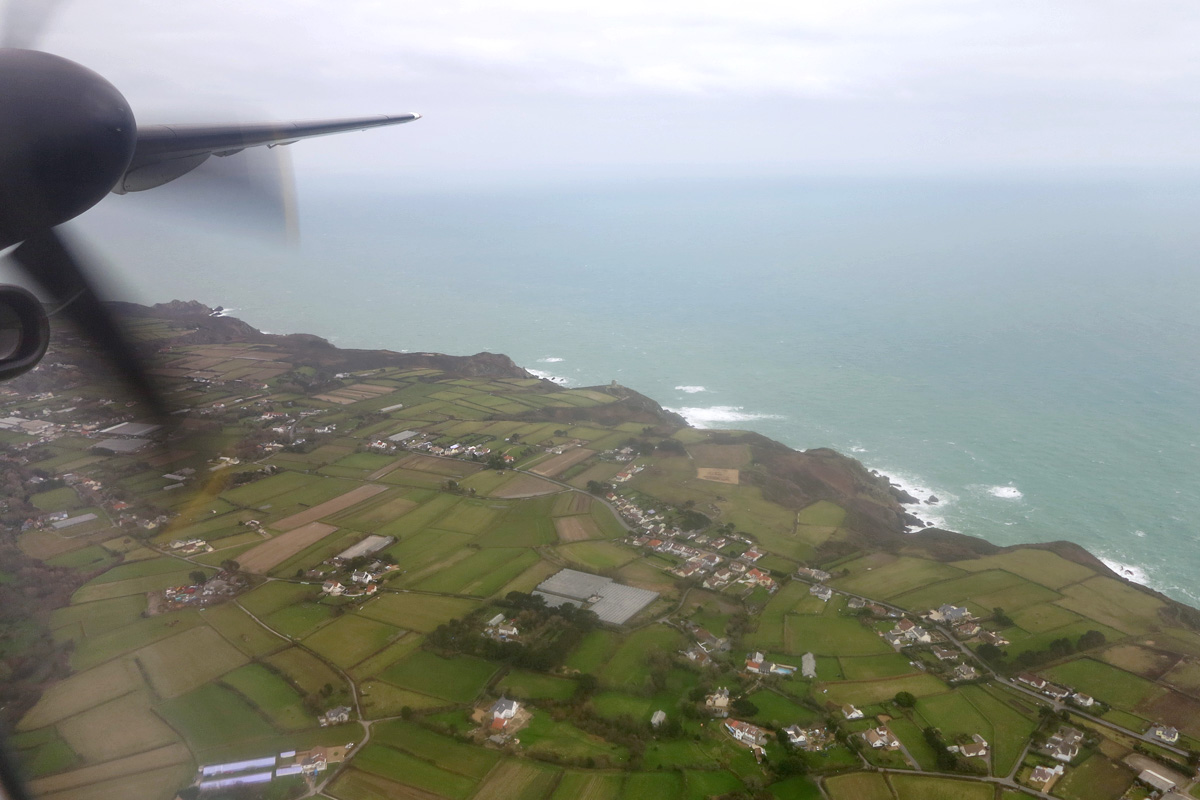 …and after an ordinary run above the clouds we reached windy Southampton in less than half an hour.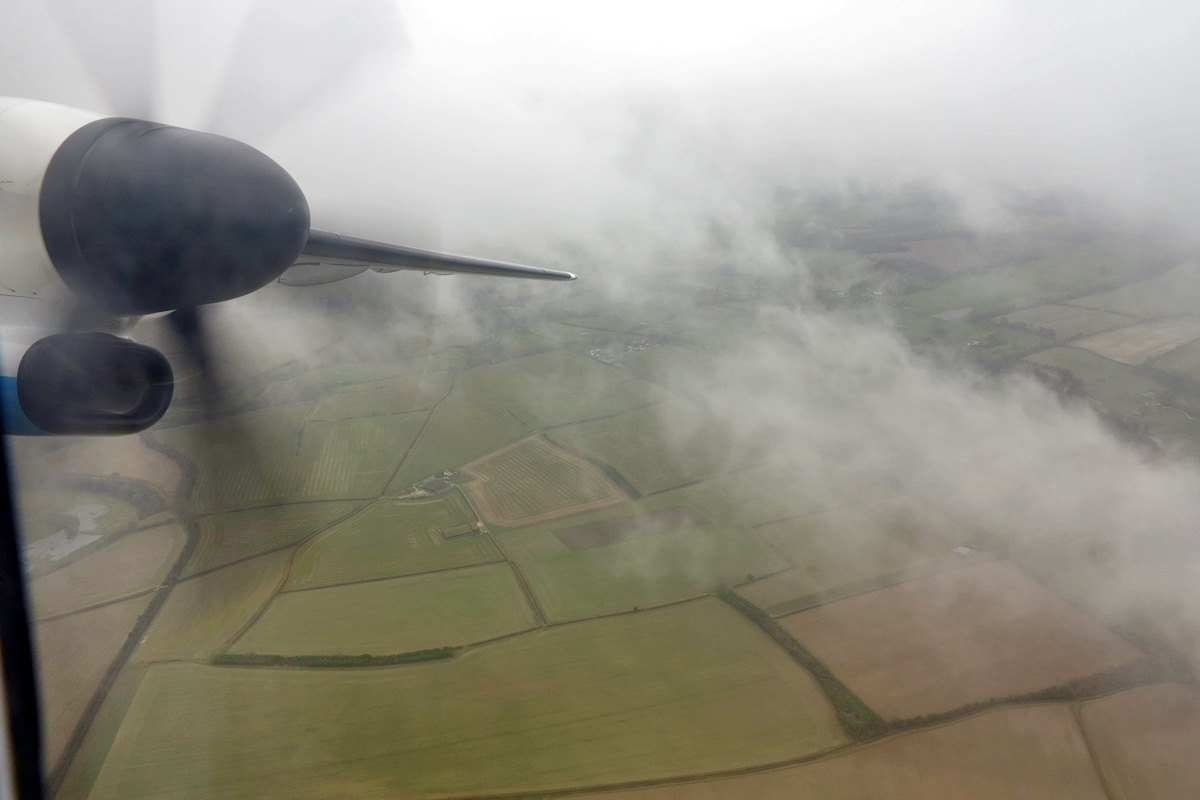 Here we are on finals to Rwy 20, crossing overhead any trainspotter's dream; Eastleigh works, a locomotive and wagon building facility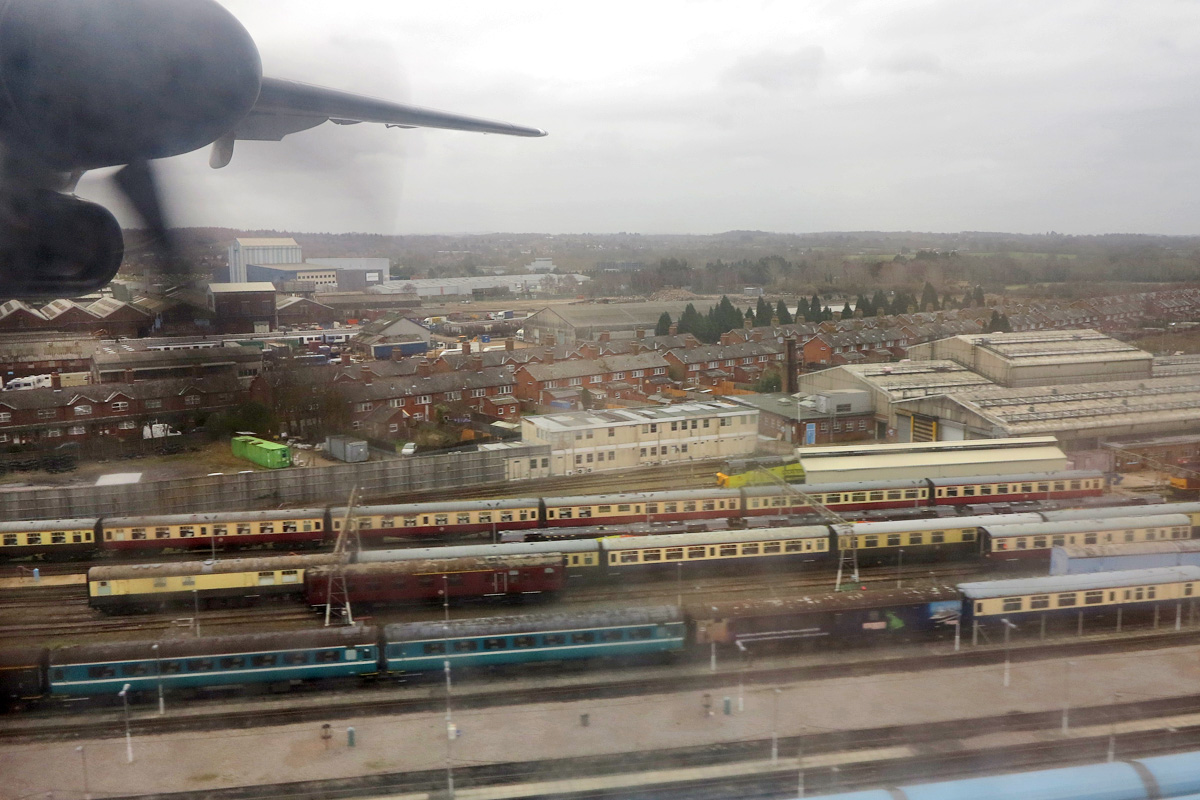 After another three and a half hours, mostly spent eating Fish & Chips and buying Cadbury Creme Eggs, it was time for our final flight of the trip: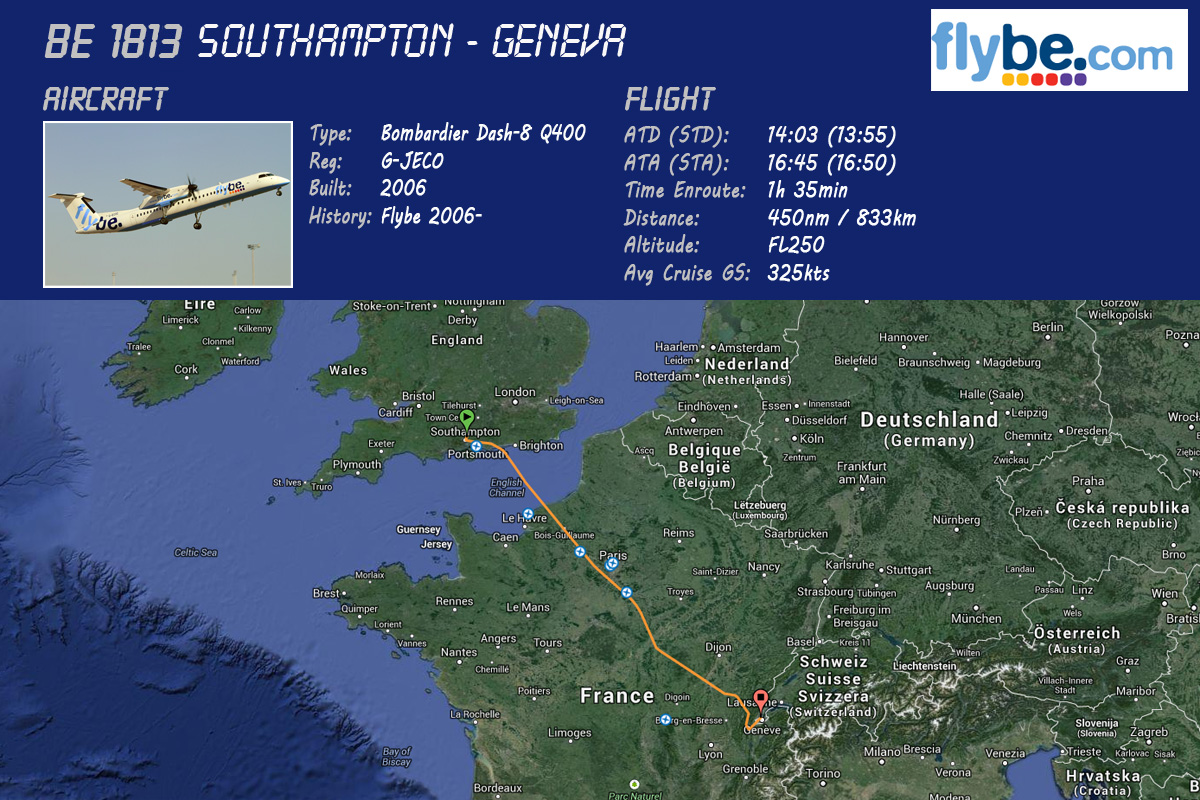 Once again entering a Flybe Q400, performing the second of two Sunday ski flights to Geneva. However, there were only about 20 passengers on board, and so it was a very relaxing experience!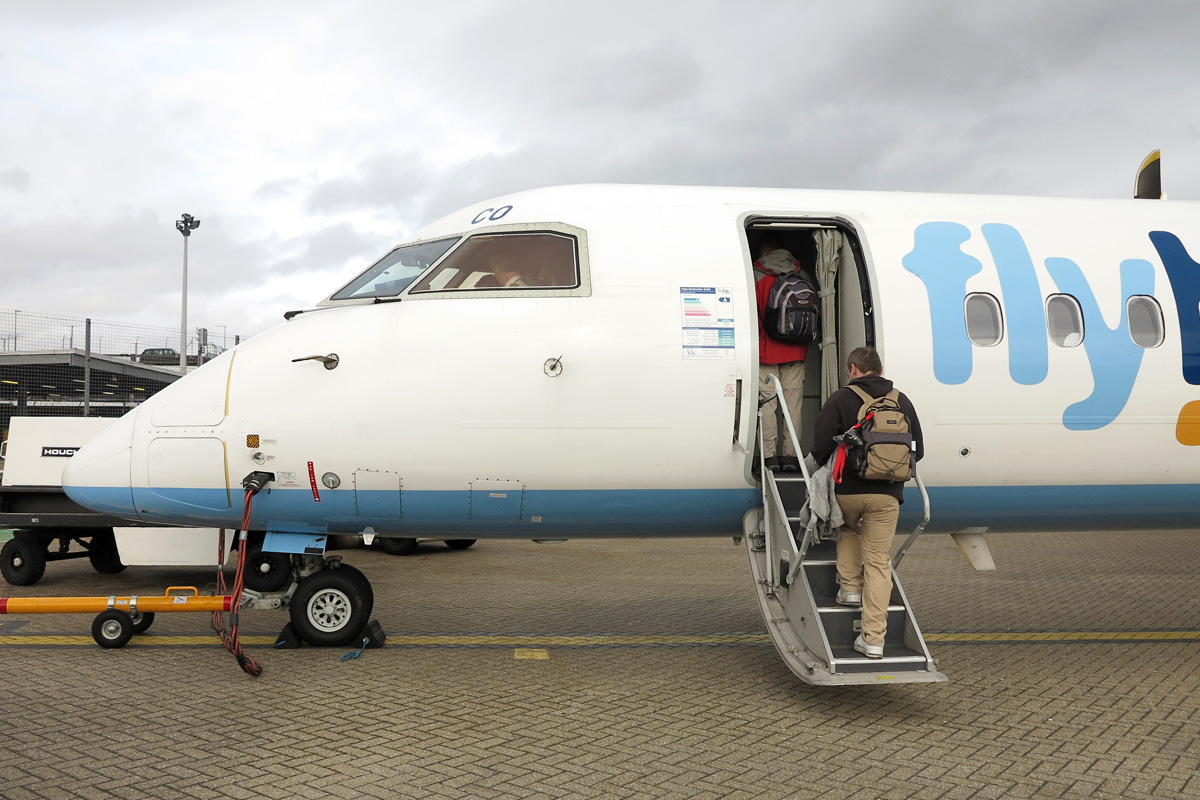 Meanwhile it had cleared up considerably, and so we took off from Runway 20 in nice sunshine!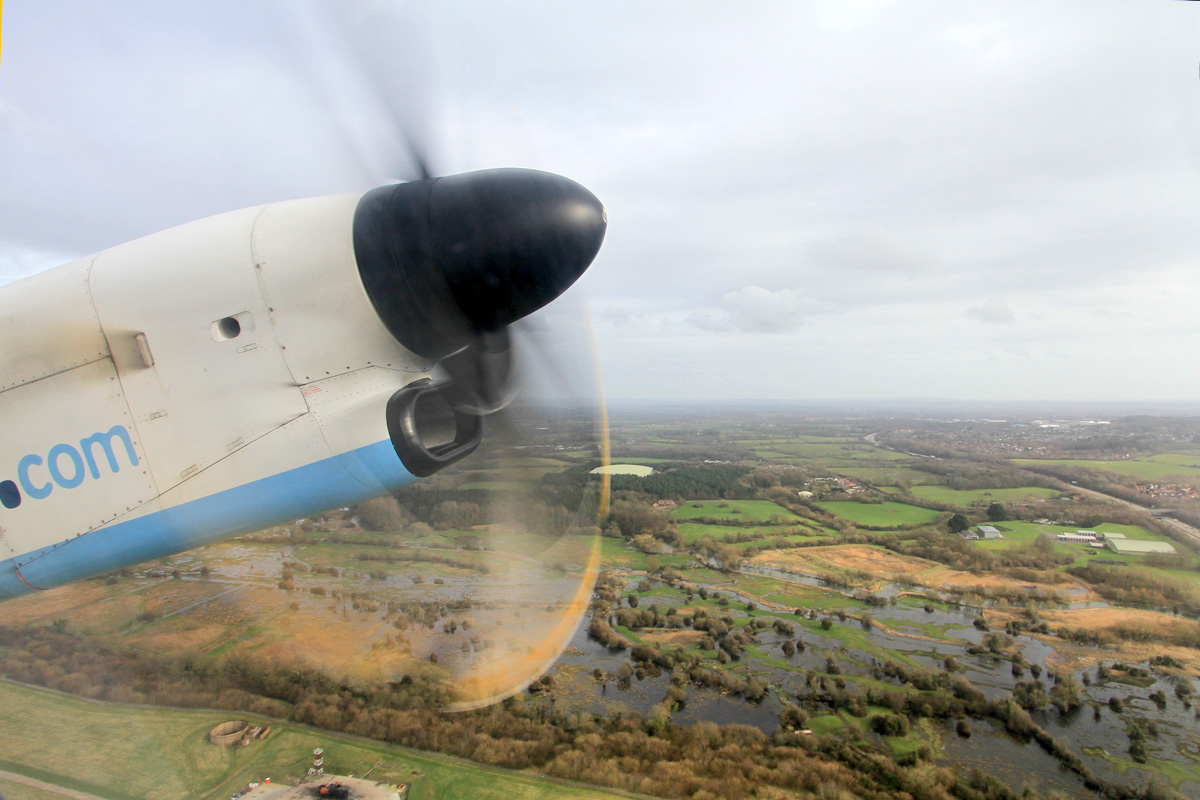 Turning left towards Rouen right over downtown Southampton – how nice!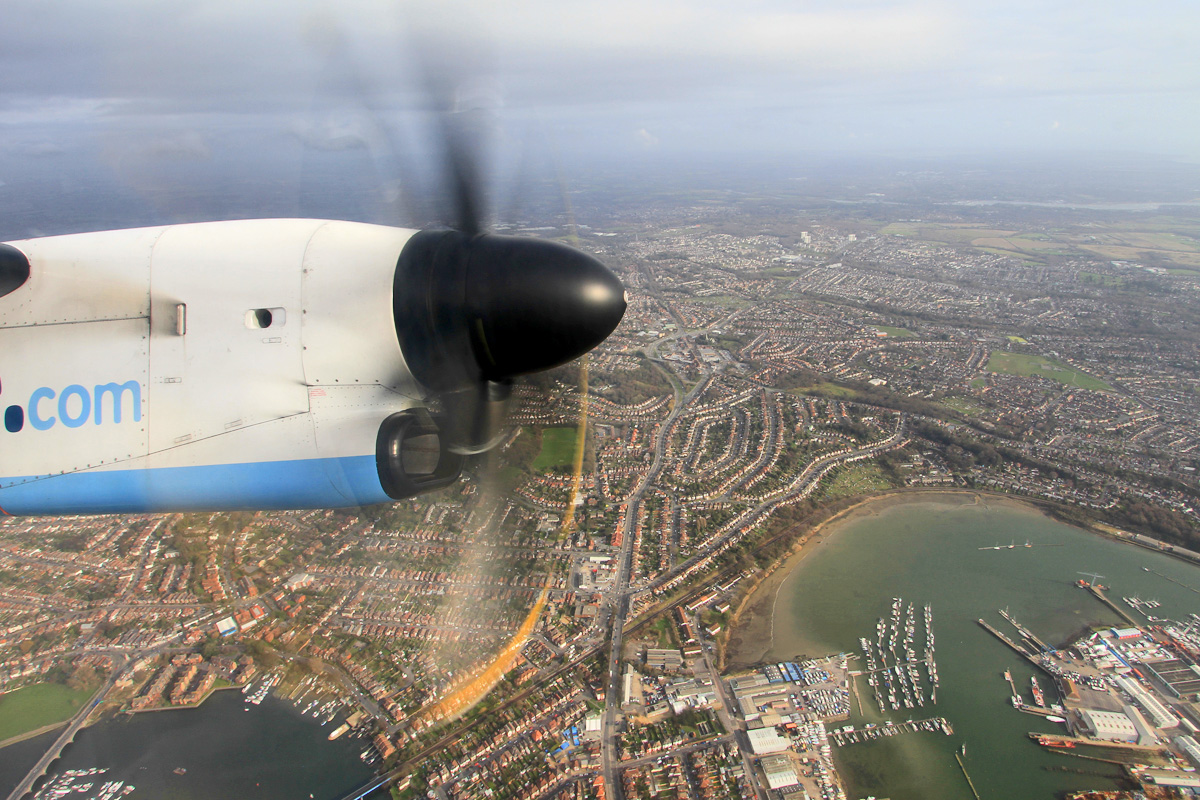 Half an hour later, the penultimate attraction of the trip materialized outside the Dash's clean windows: The city of Paris, of which we enjoyed splendid views from FL250. Here's La Defense, with its unmistakable landmarks…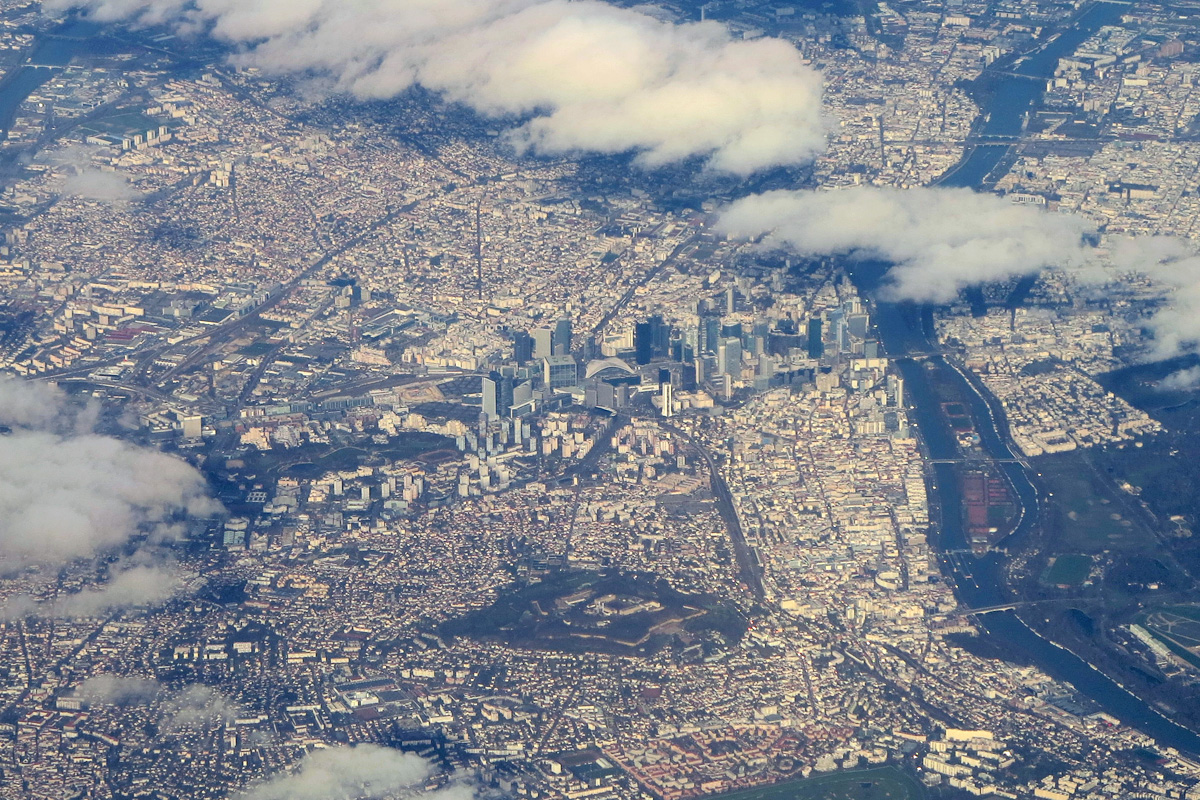 …and here's the older part of the city, with the Eiffel Tower hiding in the shadows about one sixth from the top. A bit easier to spot is the Arc de Triomphe a bit to the left, with the 12 avenues radiating from it.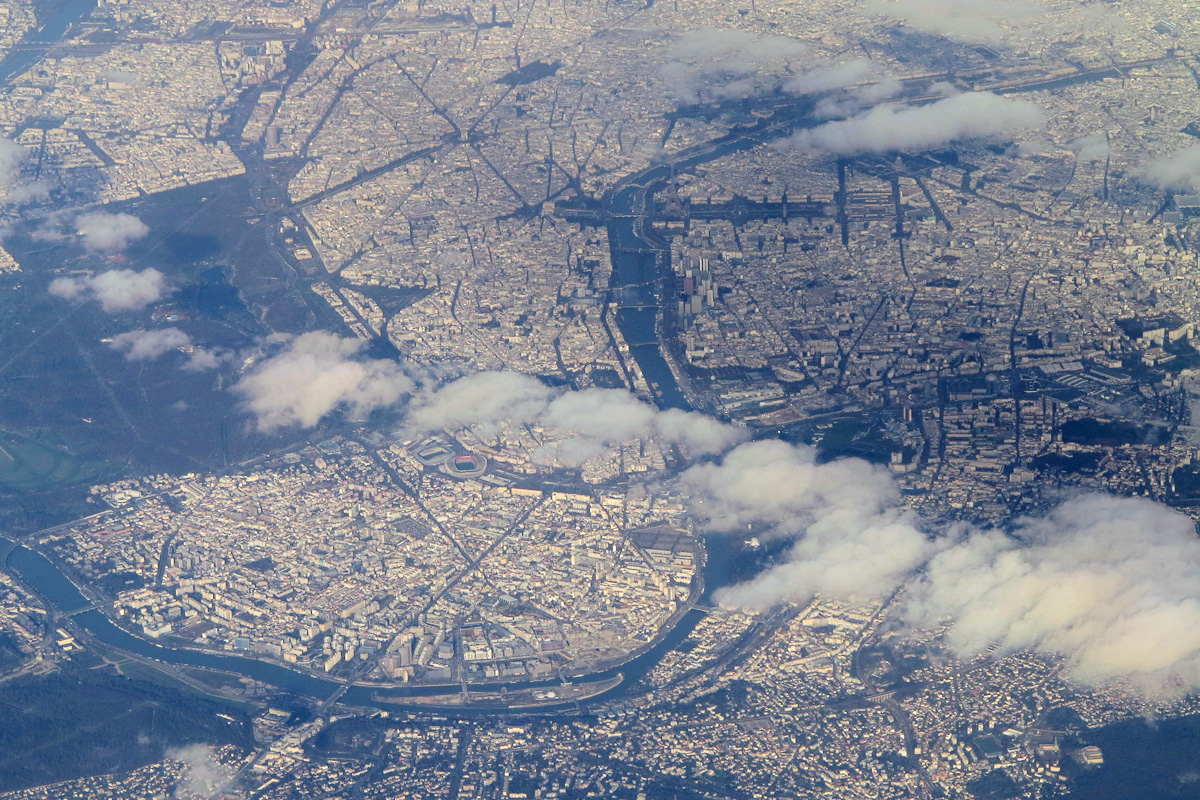 Finally, another landmark we know only too well – Orly Airport!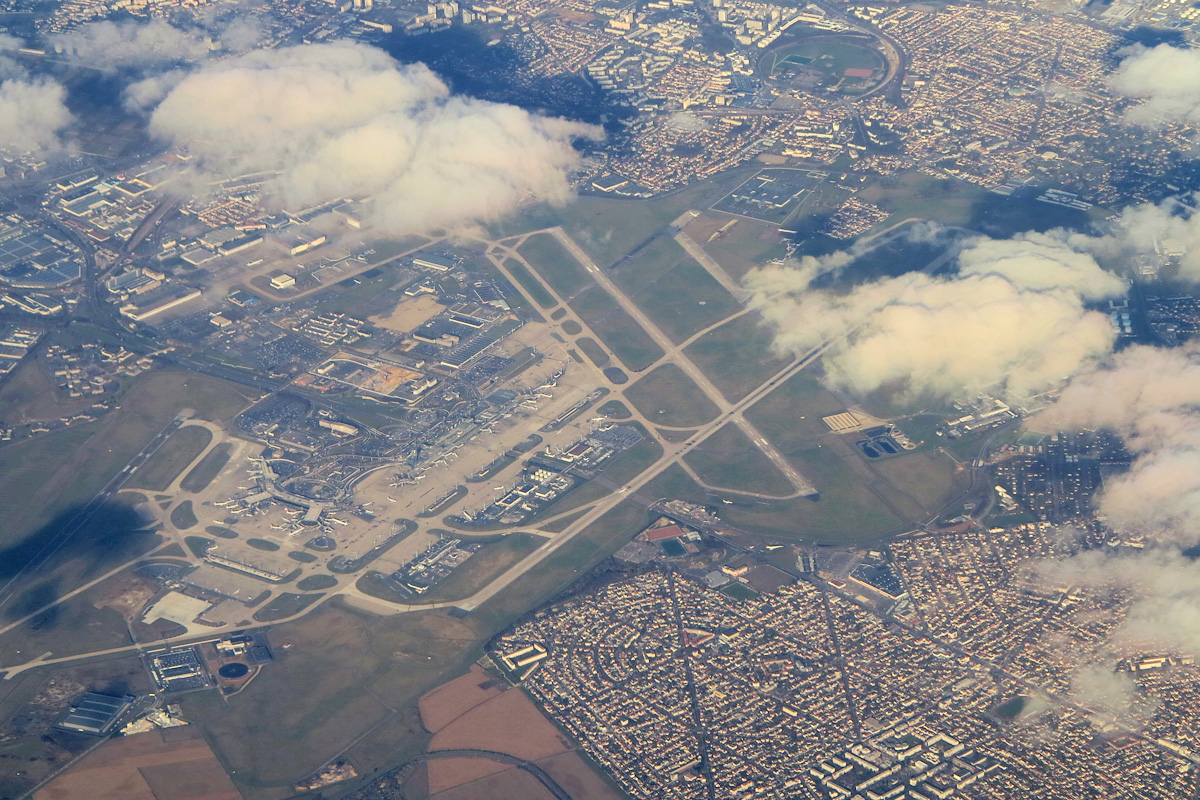 After some more relaxing cruising on FL250, descent was initiated, and on the horizon a faint white band came into view: The Alps! The first sign of home! Drawing closer, they materialized as individual mountains and became ever more impressive. While joining a left hand downwind for Runway 05, you can see the Alps topped by Mont Blanc in the distance, the city of Geneva, its lake and the airport in the middle of the picture, and the Jura mountain chain just below us, reaching up 1'720m or 5'300ft.
A close-up of whopping Mont Blanc, more than 100 kilometers away from our position! At 4'810 meters (15'780ft), it is the highest mountain of the Alps and the European Union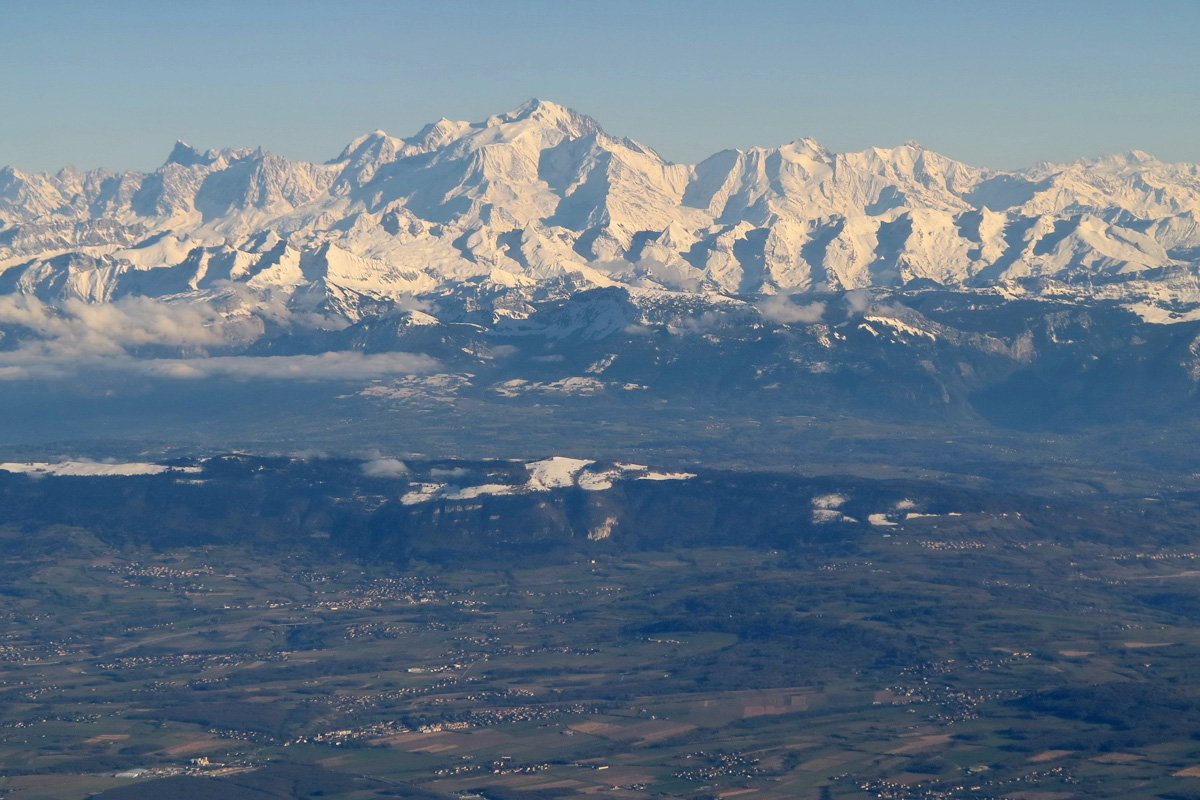 While turning base, there was a nice view down the idyllic Rhône Valley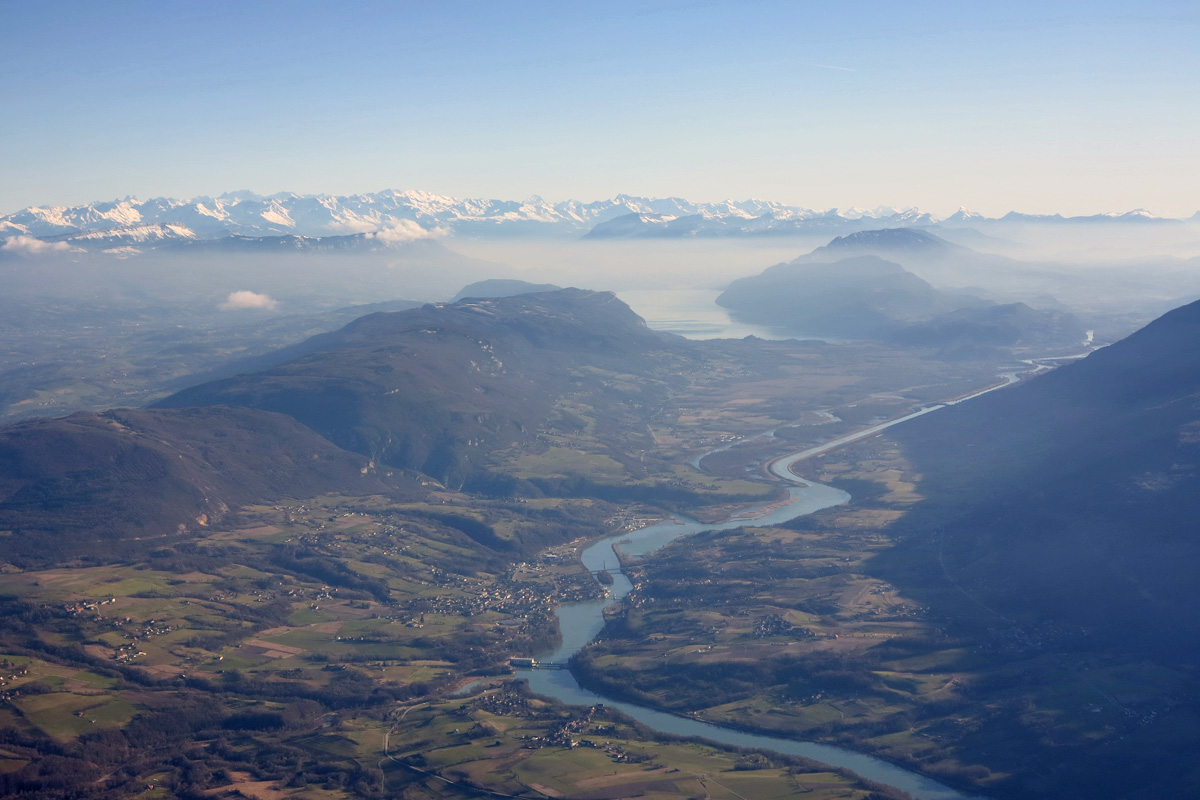 On finals it was time for some of my beloved air-to-ground photography, the picturesque French scenery providing the ideal setting. Here's a nice arc formed by the A40 motorway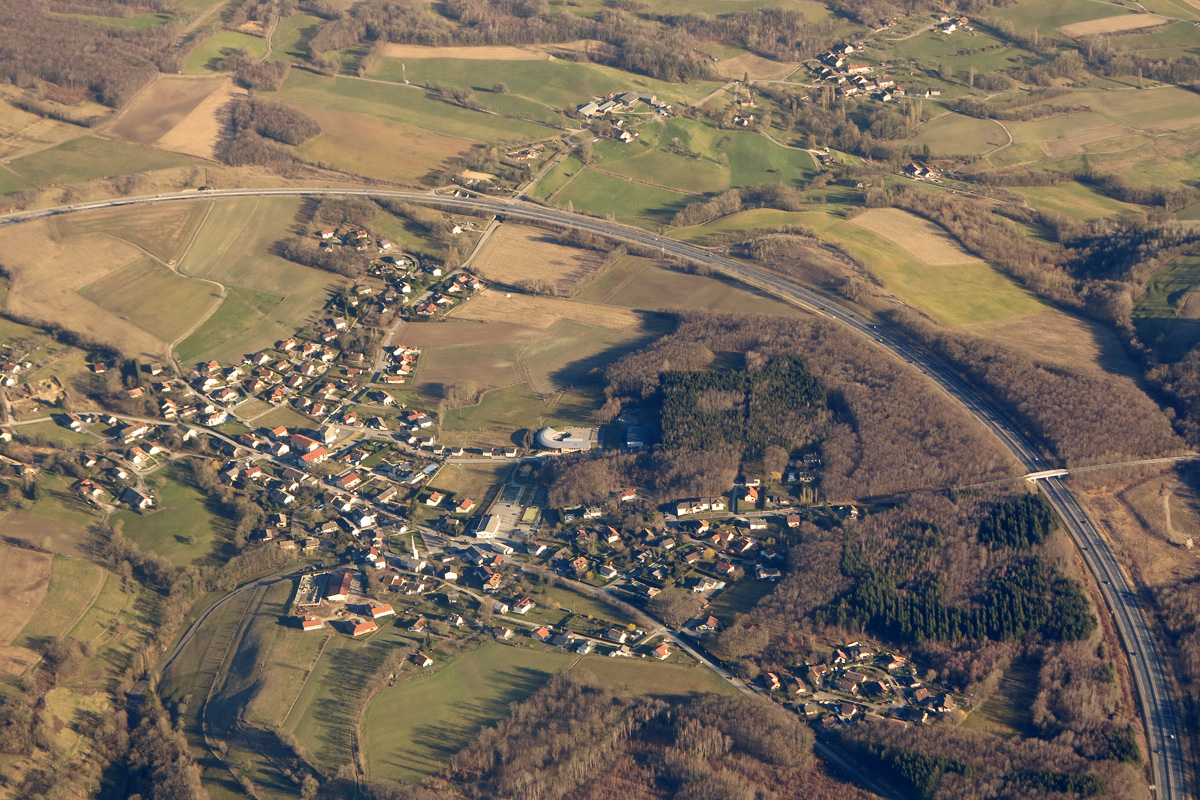 A farm along the main road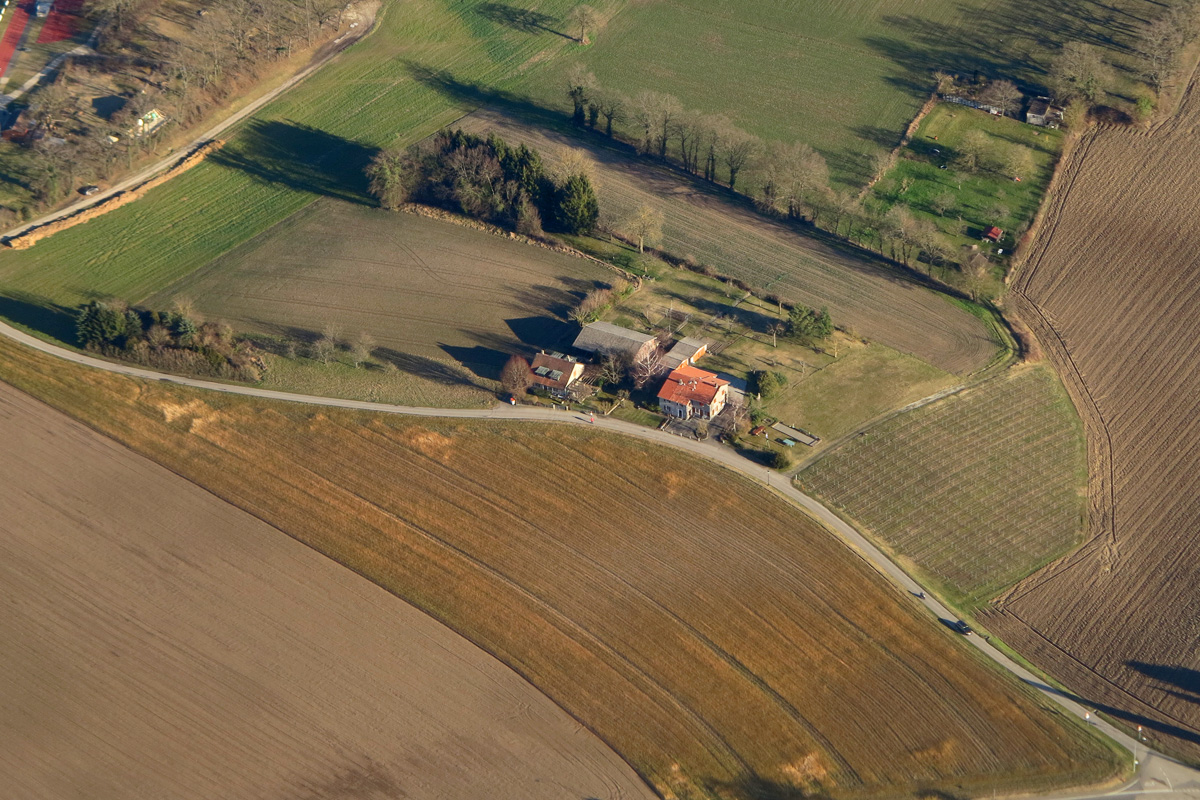 And an even simpler composition :)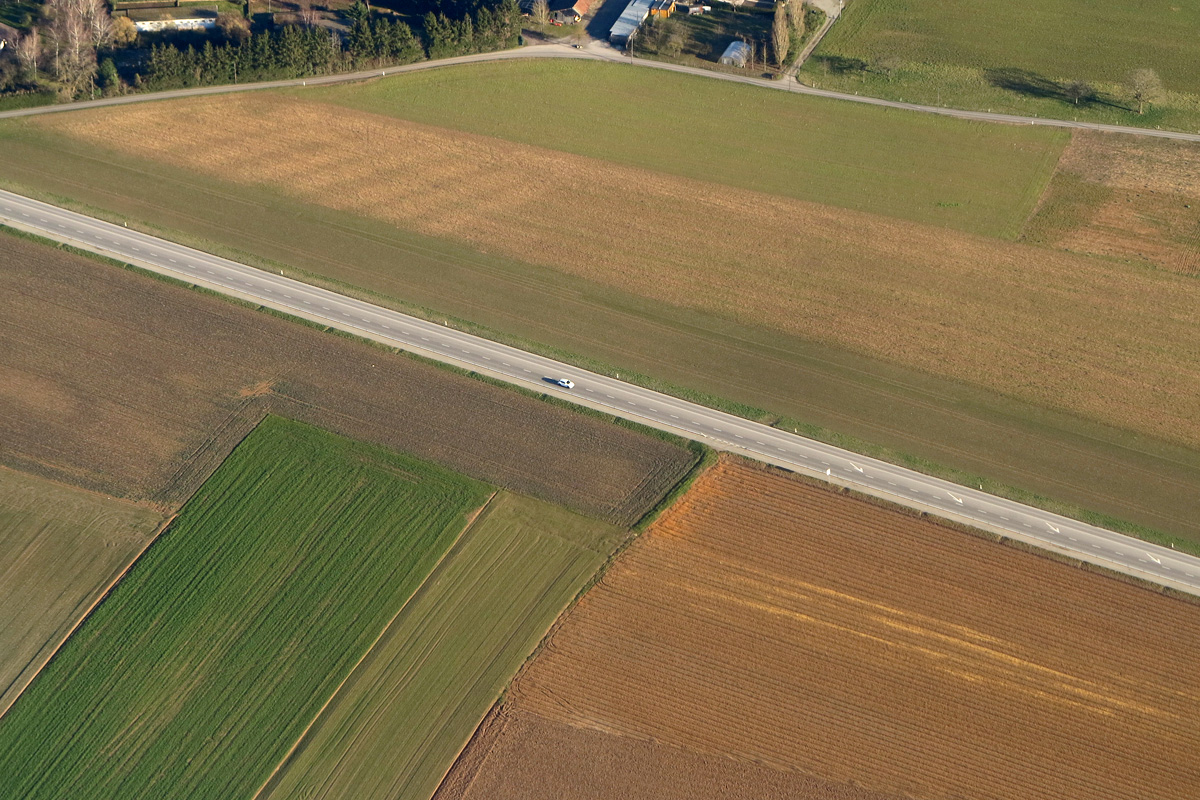 Who doesn't like winding roads?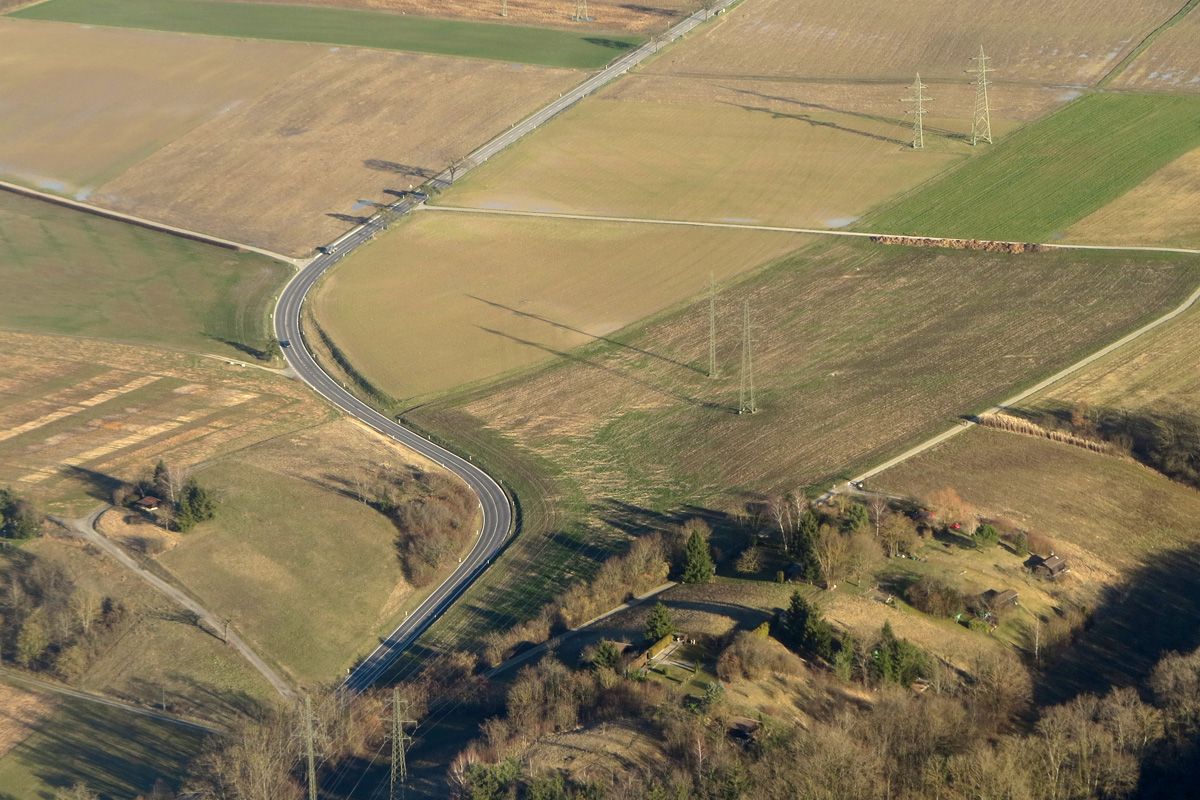 And then we touched down in Geneva, on home soil, a few minutes before schedule. This was followed by a quick immigration, a warm welcome from a friend, a leisurely stroll to the airport's own train station, and ultimately a 3-hour train ride back to Zurich to end the trip. First thing I did when I got home? Unpack all the DC-10 memorabilia and relive this unforgettable journey!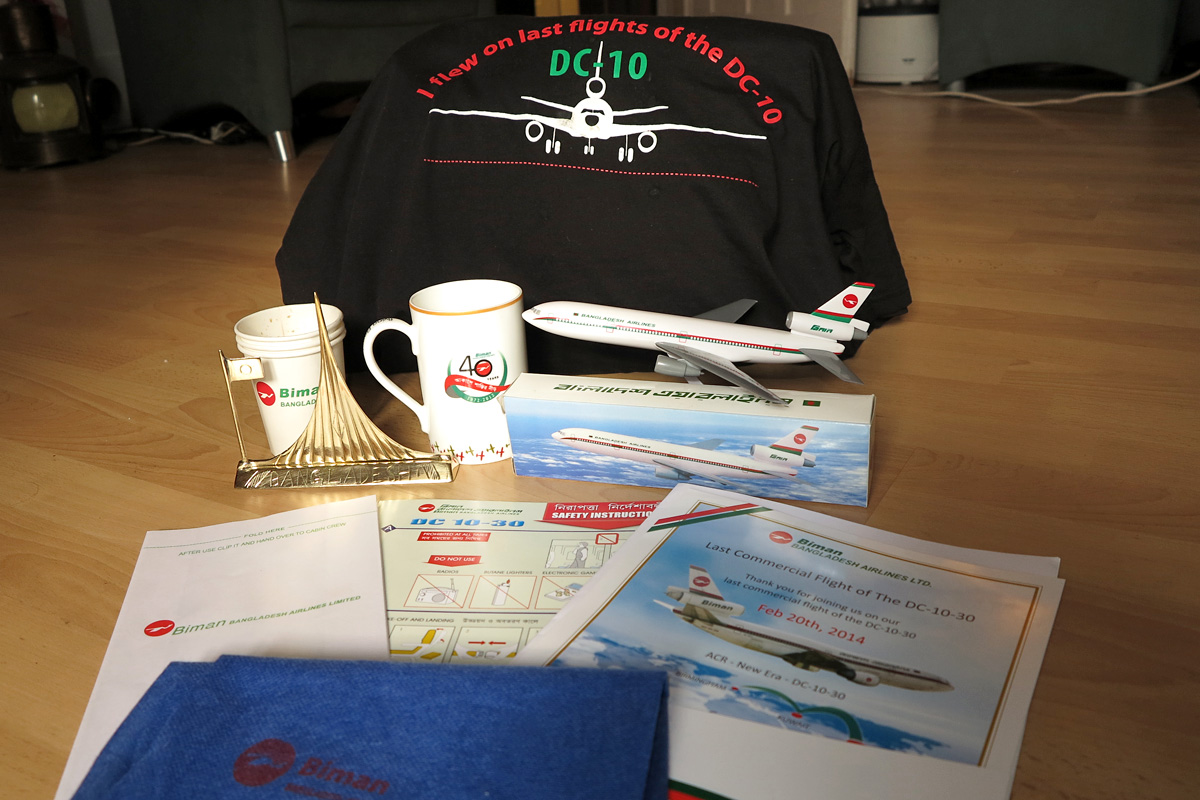 Needless to say, I was more than happy with flying on these two special planes one last time, and I'll cherish these memories for a long time. Especially the 14-hour stay aboard the DC10, packed together with a small bunch of other enthusiasts, was something very special I had never experienced before. I hope I was able to capture some of these fond memories in this report, and preserve them for eternity. I also hope that you had some fun reading it and liked looking at the pictures. Any comments and inputs are always highly appreciated!