Spotting Tips: Corfu Ioannis Kapodistrias (CFU/LGKR)
Caution: Based on data and experiences of Summers 2004 and 2005!
Introduction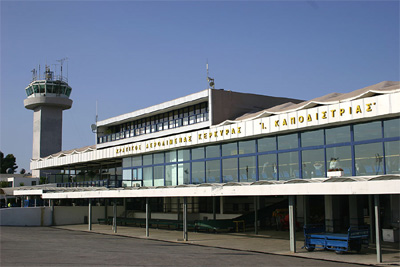 The international airport of Corfu island has the ICAO-Code LGKR and the IATA-Code CFU. The airport of medium size is located just beside the caital city of the island, Corfu City.
The airport was built into a beautiful lagoon and a big part of the runway is actually surrounded by water. On the eastern side of the airport there is Kanoni hill which is running along the runway and which offers spectacular views down on the runway with departing and arriving aircrafts. This must be the main reason why Corfu is one of the post popular airports for plane-spotting, as you are very near by the action, have a wonderful overview and a sensational backdrop.

Traffic
Corfu's traffic depends very much on the seasons. The only normal flights are carried out by Olympic and Aegean and connect Corfu with Athens and Thessaloniki.
The biggest part of the traffic are charters.
During the summer season the airport is crowded by european charter airlines, from time to time you can spot some eastern or russian highlights, too.
The most planes you will see are the ones of Britannia/Thompsonfly, Thomas Cook, Hapag-Lloyd and AirBerlin. In addition to that there are many smaller companies like LTU, Lauda, Edelweiss, Futura, Malev Holidays, Novair, Transavia.

In Corfu traffic is divided by day with every day offering a big variety of planes from only one region. Tuesday is German's day, Friday there are many planes from the U.K., etc... Below a short description of what can be seen each day, based on a week in July 2005.


| | |
| --- | --- |
| Day: | Regions: |
| Monday: | Best day: Big variety and intensity of english charters |
| Tuesday: | Few charters from Germany, Austria, Switzerland and Belgium |
| Wednesday: | - |
| Thursday: | - |
| Friday: | Britannia-Flyin, some Futuras, Thomas Cooks, MyTravels |
| Saturday: | Many from Germany and Austria |
| Sunday: | |


From time to time even a heavy plane can be seen in Corfu which is always a special highlight.

LTU from Dusseldorf on saturday with A330-200. Check Amadeus.net for date & time
Britannia/Thomsonfly 2x 767 on fridays
Novair using A330 on Fridays


ATC-Frequencies
Corfu is equipped with an ATIS-, APP- and TWR-frequency which are in use daily. Departing aircrafts are handed off to APP ("Kerkyra Radar") who clears them about to FL200. Then they have to switch to a Radar station, Brindisi for westbound flights and Athens for eastbounds.

Incoming traffic is being handed off by Brindisi or Athens to APP who brings them near the airport. Then, about overhead they change to the Tower frequency where they stay until shutdown.


| | |
| --- | --- |
| Corfu ATIS | 126.35 |
| Corfu GND | 121.7 - never in use |
| Corfu TWR | 120.85 |
| Corfu APP | 122.35 |
| Brindisi Control | 132.075 |
| Athens Control | 125.67 |


Procedures
Luckily Corfu has only got one runway, so you cannot miss anything. But there isn't really a system behind the runway usage, and the active runway varies all the time because the wind is mostly calm.
For landings Rwy35 is the favourite one. In busy times this is the best option because planes can land and vacate the runway instantly without performing a backtrack.
But also Rwy17-landings are very popular, often requested by pilots coming from the north (which is about 85% of the traffic ;)). So they don't have to fly around the whole island but can approach straight-in.

For departures Rwy17 is used more often because so the planes can be sent home quite uncomplicated. Rwy17 is also used for heavies which might have a problem performing a takeoff on Rwy35 because of the preceeding 180°-turn on the runway. But there are many pilots who choose Rwy17 nevertheless, despite the loss of time caused bythe backtrack.

Despite the fact that Rwy17 might be in use a little more often during the day I'd recommend you to go to the spotting points at Rwy35, because they are simply more beautiful and better equipped. And even if Rwy17 is in use you can spot some planes, either when breaking down on runway17 or when lifting off and climbing out of Rwy17.

Spotting Points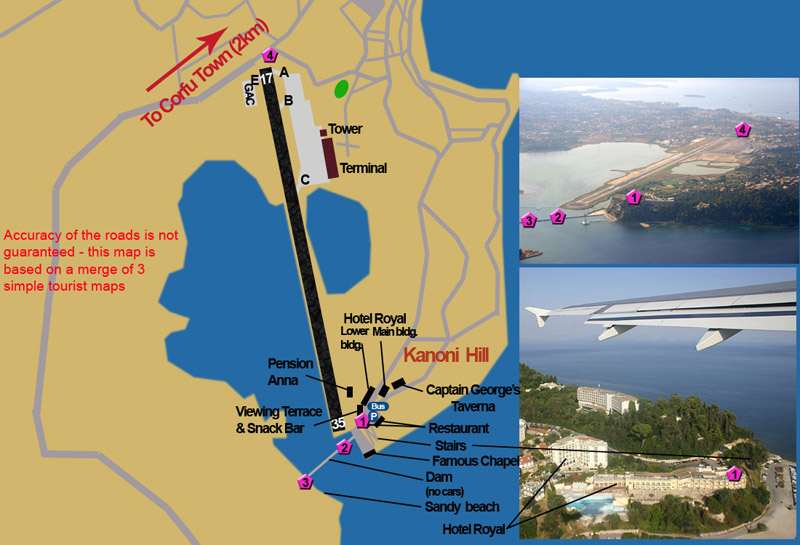 Corfu is a real "eldorado" for spotters, offering a nice variety of spotting points, most of which are located in the region of the treshold of Rwy35. Here's a short description of each point.

Location 1: Kanoni-Hill
The Kanoni hill is the hill running along the runway on the eastern side. It ends at the same point as Runway17. There, at the end of the hill is the viewing point where you have a great view on Mouse Island, the most famous landmark of Corfu. But we're more interested in the planes which you can also see from this place ;)
The point is equipped very well, there are small stores and two restaurants, so have a seast on the terrace, drink something cold and watch the planes. Where else can you do that? ;)
From this point you have a superb overview and you can see the whole runway lying below you. From this place you see the planes during the whole approach to Rwy35 until they finally pass you by at the same level or some feet below you when they're on final.
the perspectives are quite special because here you are actually above the landing plane, and so there are many possibilities for nice planeshots with a sensational backdrop.

Getting there: Bus Nr.7 from the city centre, about a 10 minute ride
Equipment: Two restaurants with perfect terrasses, two hotels with runway-facing rooms.
Zoom: 50-100mm for 90°-Shots, for 45°-shots of approaching planes I recommend 250mm or more.
Time: Early morning (superb light!) until noon (12-14 o' clock)
Perspectives: 45° from the front to 45° from behind. You're on the same level with approaching planes
Example shots:
| | | | | | |
| --- | --- | --- | --- | --- | --- |
| Approach Rwy35 | 90° during Final Rwy35 | Landing Rwy35 | Climbout Rwy17 | Backtrack Rwy35 | Rollouts Rwy17 |




Location 2: The dam
Just in front of the treshold of Rwy35 there is a dam running across the lagoon, connecting the Kanoni-Hill with the other side.
From this dam which is built for pedestrians, bikes and motocycles only you have a good view on planes approaching Rwy35 (quite low over your head) aswell as on planes backtracking Rwy35. If the aircrafts are taking off from Rwy17 they are too high for good shots, but you can try ;)
Depending on your position on the dam there are many different perspectives possible and there is a big variety you can try out!

Getting there: WLike to Kanoni, then 5 minutes of walking down stairs
Equipment: a dam about 2 meter wide
Zoom: 25-75mm for Rwy35-landings, 200-300mm for backtracks
Time: Depending on where on the dam you're going. Tip: Sunset-Shots!
Perspectives: Pics from below or half-below the landing aircrafts, shots of backtracking aircrafts presenting themselves from all angles.
Example shots:
| | | | |
| --- | --- | --- | --- |
| Backtrack Rwy35 | Takeoff Rwy17 | Sunset shots | On the dam |




Location 3: The beach
On the western side of the treshold of Rwy35 just at the end of the dam there is a small, sandy beach. There you can rent sunbeds and umbrellas for 2 Euros per day. So you can lay in your sunbed and watch the planes! And if there is no plane around you can quickly refresh yourself in the beautiful sea. I can really recommend the beach because there you can have a very nice day and watch planes at the same time.
If you only want to shoot aircrafts landing on Rwy35 you can do that from your sunbed. But you can also climb on the dam (10 meters) where you have a better overview of the situation and can also see planes on the runway.

Getting there: From Kanoni, 5 minutes down to the dam and another 5 minutes across the dam to the beach.
Equipment: Schöner Sandstrand, Liegestühle und Sonnenschirme werden vermietet; Keine Verpflegungsstände
Zoom: 50-100mm for 90°-Shots, for 45°-pics of approaching aircrafts 200mm or more are recommended.
Time: Afternoon to the late evening with the light getting better with every minute!
Perspectives: 45° from the front to 45° from behind; Planes are coming in (maybe a little to) near and low
Example shots:
| | | | | | |
| --- | --- | --- | --- | --- | --- |
| Overview | Backtrack Rwy35 | Backtrack Rwy35 | Final Rwy35 | Very short final Rwy35 | That's Corfu! |



Location 4: Rwy17
(I've never been there, only passed the location by car)
Rwy17 is located just at the main road to the airport, with the road running only about 10 meters behind the runway. So you can get really close to the many planes departing on Rwy17 or the ones coming to land there.
But be careful when an aircraft is departing: There is a traffic light which turns to red when there is an aircraft on the runway to keep the space behind the aircraft clear. I was told that there have already been numerous cars blown upside down, so I don't want even to know or to experience what would happen to humans.
But if you're careful this spot will be worth a visit because you are really near the aircrafts. You have a good view on the GA- and Bizjet-Stands, as well as on aircrafts rolling to and departing from Rwy17. Of course there is a fence between you and the airpot.
But there are the planes which are approaching Rwy17 and they are passing by really near and low.

Getting there: To the airport by public transport, then a walk of 10 minutes
Equipment: Street intersection with quite a lot of traffic. "Lidl" supermarket 300-500m from the spot.
Zoom: (Approx:) BizJets: 150-250mm, Takeoffs Rwy17: 100mm, Landings Rwy17: 150mm
Time: The best point is a little east of the runway so the morning will be best. But maybe there is a place on the other side of the runway axis, too.
Perspectives: Taxiing and departing aircrafts on the same level as you are, incoming planes might be a little too high.




Example shots:
| | | |
| --- | --- | --- |
| Departing on Rwy35 (© by Martin Wieczorek) | Vacating Rwy35 (© by Martin Wieczorek) | Taxi to Rwy17 (© by Martin Wieczorek) |




Where to stay & where to eat...
Accomodation: Hotel Royal
There is a fantastic possibility to spend your night directly beside the runway. It is "Hotel Royal", to which also belongs the restaurant on Kanoni Hill (Spotting Point 1)
It is no first class hotel but the rooms are clean and equipped nicely. Balcony, TV, shower and toilets are all in the room.
There are many rooms directly facing the runway providing you with a view like from the restaurant on Kanoni Hill. A double-room is available for 70 Euros per night.
Just write them a fax in advance and ask for a room facing the runway. I have stayed there twice so far and I always got a good room with a superb view.

Fax-Nr: (outside Greece) +30 661 38 786

There is also another accomodation. It's pension "Anna Bouzi" located directly beside the runway in a pretty and small house. I can't tell you anything about it, but there is a nice homepage where you can find some infos: >>click!<<

Eating: "Captain George"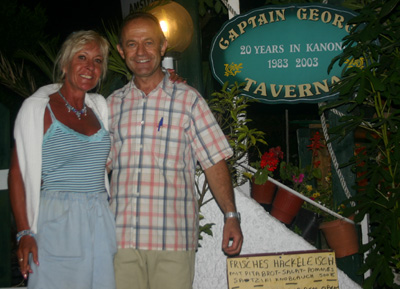 The best end for a long spotting day at Corfu is to dine at Captain George's. George, the chief is always in a class of his own, always with a smile on his face. Food is good though, you really have to try the Tsatziki as it is one of the best I had so far on Corfu. And if you start chatting with George he will be happy to bring you his big (and fastly growing) collection of guestbooks where you can find the names of many famous spotters.
I can really recommend this tavern. It is located about 100m up the hill from Kanoni viewing point, directly at the street.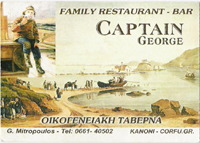 A day in Corfu
Corfu is an ideal place to spend a complete day at the airport. There are plenty of spotting points so that you can always have the sun in your back. And if there are some calm minutes without any traffic, have a cold drink on Kanoni Hill or go swimming in the sea!


Here a description how I usually spend my days at Corfu airport.

Early in the morning (8 to 9 o'clock) I am going to Kanoni Hill. Have a seat in one of the restaurants and have breakfast. Watch the planes approaching runway 35 in the beautiful morning light! >>Example<<
You can stay here (Spotting Point 1) until noon when the sun is approaching the zenith. Then you can go down onto the dam and take some pictures from that location. >>Example<<
In the early afternoon you can go along the dam to the other side of the runway axis and stay near the beach. Of course you can also rent a sunbed and relax on the sandy beach. From this spot you can take pictures until late in the evening with the light getting better every minute. >>Example<<
WIf you want you can stay there until sunset or you can change to the other end of the dam to shoot some pics with approaching planes and the setting sun in the background. >>Example<<
After that you have spent a lot of time at the airport and maybe you're ready for your bed. Of course you can also position yourself on the Kanoni Hill, and using your night-equipment shoot some cool nightshots. >>Example<< Another suggestion is to go dining at Captain George's and let the evening end in style. Then you can go home or, if you have a room in Hotel Royal, sit on your balcony and continue taking nightshots from up here. There is some nice traffic around 1-2am if you can't sleep ;)

On which days shall you go? I'd suggest the following: Go on friday morning, do photographing the whole day and spend the night in Hotel Royal. So you already have a lot of english charters on Friday. After an interesting night spent on your balcony watching the planes you will be spotting the whole saturday as almost every German charter-airline can be seen. And if that's not enough for you, then just go spottin on Monday to watch the heavy traffic, mostly consisting of english airlines. If you go spotting these 3 days you might be able to cover about 80% of the airlines flying to Corfu.